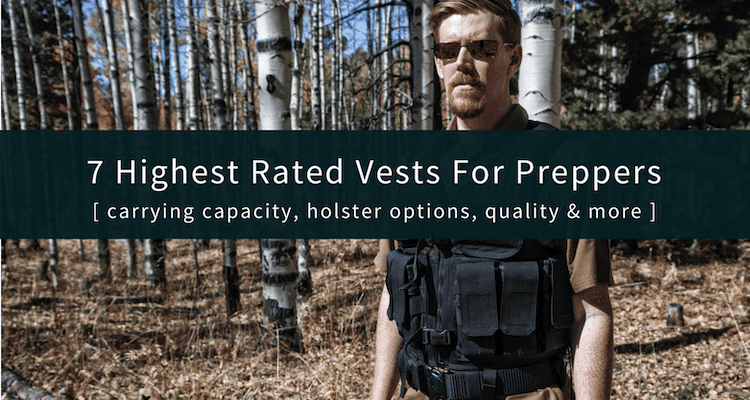 Survival vests became popular after the military equipped fighter pilots with them. The idea is simple, to keep the absolute essentials on your body in the case of a crash. However, it's not hard to see why the prepper community has embraced the product: bug out bags, while essential, aren't ideal at distributing the weight of your pack. Also, if you need something like a lighter or your pocket knife quickly, it's going to take a while to sort through your bug out bag.
However, survival vests aren't meant to replace bug out bags. Both products work together to provide you the best chance of surviving the elements.
Meanwhile, survival vests allow you to move freely and without an achy back. The best survival packs allow you to keep medical supplies, weapons, ammo, emergency food bars, and more. Survival vests become an advantage when you're navigating through the woods or the rural landscape.
Most preppers already have their favorite means of carrying supplies, whether that be a bug out bag or a survival vest. However, it can be hard to find a vest for your personal needs. In this article, we'll break down the best survival vests on the market and guide you through everything you need to know about this lifesaving product.
The Short Answer
Manufactured from durable 600D Polyester
45º angle quick draw holster
3 ammo pouches
Zip-up document pouches
Adjustable pistol belt with removable holster.
This tactical survival vest is our favorite due to its functionality and durability, as well as the budget-friendly price (about $85 after shipping). If you live in an open-carry state like Ohio, the pistol holster makes a great place to store your primary handgun.
The 45º angle of the holster helps you draw your weapon urgently and safely. Meanwhile, the three ammo pouches allow you to store ample ammunition on your body to back up the magazines you carry with you. If you're carrying a standard handgun magazine, you can also store three loaded magazines on your survival vest.
Another great aspect of this survival vest is the material, which is somehow both durable enough for combat and breathable enough to keep you cool. You can also adjust this tactical vest to fit your frame perfectly. You can adjust the shoulder straps to keep your survival vest above your belt, making it easier to sit down and kneel in high-stress environments.
If you don't have any need for a pistol holster (for the AR and AK fans out there), you can unfasten the pistol belt and use the loops for additional pockets you can buy online. For example, the double-ply mesh allows for the addition of a hydration bladder when you can reach your canteen.
More of the Best Survival Vests
Heavy-duty stitching, materials, and zippers
Customizable configuration for pockets and accessories
3 chest sizes
Company with proven track record
This is a great all-around survival vest because it can suit you up for both urban and rural areas. The lightweight materials and construction allow for the ultimate breathability, while never sacrificing the quality and durability.
When you're out in the field, the last thing you need is for a loop to snap, and then you don't notice that you just lost a vital resource. With the high-grade stitching and materials, you only need to focus on the task ahead: this survival vest has your back (literally). The heavy-duty zippers and chest buckles make sure your favorite survival vest is strapped firmly to your body, without any chance of slipping off in the worst of circumstances.
The side loops, and the loops across the stomach and chest, allow for pockets to store your handgun, a radio, perhaps a survival knife, and pockets for extra magazines and rounds. If you don't like the pockets included with this vest, it's easier than ever to switch pockets seamlessly.
5.11 is a great brand with a strong reputation for producing industry-standard survival gear, especially with their survival vests. With three different chest sizes, you can make sure you're ordering the perfect size to make travel by foot or vehicle easy and pain-free.
Ultra high quality 1000 denier Cordura Nylon.
Enough pockets to store magazines, ammunition boxes, and more
Zip-up pockets on the inside for documents
Proudly made in the U.S.A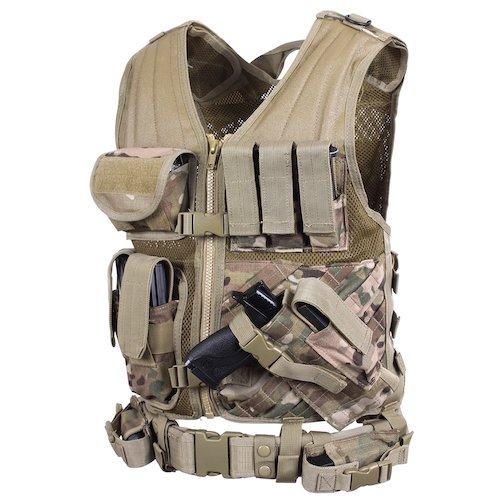 The Multicam CrossDraw survival vest, is a great option for those with a bigger budget. After shipping, this will likely cost around $110. And with this steeper price comes more durable manufacturing: the fundamental aspect of any survival gear.
Rothco's Multicam survival vest, trusted by the armed services, is a great choice for anyone planning on carrying self-defense tools. This can be everything from firearms to bear spray, depending on your individual circumstances. For example, if you cannot rest and sip on your canteen, you can add a hydration bladder with purified water.
Many chest and torso pockets allow you to carry loaded magazines and boxes of extra rounds for those planning on carrying firearms and ammunition. This survival vest comes packed with a holster spanning across your left hip––an easy place and angle to draw from in a crisis.
Whether you predominantly spend time in urban or rural settings, Rothco has a color option for you. The official colors are "Olive Drab, ACU Digital Camouflage, Black, Coyote Brown." Each of which gives you an advantage in the appropriate regions.
More lightweight and breathable than traditional combat vests
Low left AR magazine pockets
Integrated D-ring secures your keys
Compatible with 5.11's holster for small to medium-sized handguns
This survival vest differs from the previous products we listed, as it's much more civilian in appearance. The black or beige color schemes work well in forested areas with ample fallen leaves and brush. On your lower left torso, 5.11 included AR magazine pockets suited for the standard 30-round magazine.
5.11's tactical jacket would also work well for anyone planning on staying near their property since the durable D-ring keeps your necessary keys right on your chest. If you have more money left in your budget, 5.11 also sells a compatible holster that fits smaller to medium-sized handguns.
It's important to note, this is not a product law enforcement would send their officers outfitted into possible combat scenarios. Instead, this is for someone who isn't preparing for too much close combat. While you're waiting for the apocalypse, this is also one of the best survival vests for hunting. You can easily store extra survival supplies like a hunting knife, or various tools and products like firestarters and emergency meal supplies.
Holds 6 magazines
Features a cross draw holster
Completely adjustable for length and girth
Made of heavy-duty nylon mesh for maximum breathability
This survival vest from Blackhawk is one of the best on the market, and for a good reason. This is a great product for anyone looking to carry a load long-rifle, such as an AR, AK, or M-16/MR, as well as a handgun with several backup clips. Blackhawk's holster is a cross-body feature, which makes for safer open carry.
If you were carrying around your waist, some people might find it harder to maneuver than the included cross-body holster along the ribcage. When it's just you and your resources, this survival vest won't let you down. Blackhawk constructed the vest with high-grade nylon that won't wear down or tire you out.
This product is suited more toward those who already have a bug out bag since you won't store much emergency food with this survival vest. This is definitely gear toward situations when you're in a close combat situation, and firepower is your only way out.
Another cool fact is the fitting system, which allows you to shape this survival vest perfectly to your body's form. This survival vest is adjustable for length and girth; up to 6″ length, additional 32″ girth.
The ideal blend of soft cotton and breathable polyester material
Three D-rings for easy key storage and hanging up your survival vest
Over a dozen pockets to suit your survival needs
This product was designed more for the preppers operating on a limited budget. While this survival vest isn't designed for combat, you can still get great use out of Rothco's "Uncle Milty" survival vest. In total, there are thirteen front pockets sealed either by the zipper or the single-lock buttons.
At $45, this survival vest can help store necessary water and food, as well as various tools you might need along the way. Rothco also kept comfort in mind designing this survival vest, since the vest is the perfect blend between cotton and polyester to keep you cool and relaxed.
Even though this vest isn't the best for possible combat scenarios, there are still pockets that will help you store extra rounds of ammunition, as well as two pockets for loaded magazines (which are suited more toward smaller handguns than larger, long-rifle clips.
In case you might need to ditch both your bug out bag, as well as your survival vest, Rothco's survival vest features a heavy-duty front zipper and a belt clip. This feature makes it easier to quickly strip off the survival vest and run for cover more quickly.
In total, there are over a dozen pockets in one of Rothco's best survival vests. This means you can store extra tools such as a pocket knife, first aid equipment, and more.
And finally, the two D-rings on the vest's chest allow you to store necessary keys, such as to a gun safe or your home. There's also another D-ring on the back, which allows you to leave your vest on a nearby hook when you don't need it.
Constructed with breathable nylon that stands the test of time
Adjustable length and girth
Quick-release zipper and side buckles for quick donning and ditching
Padded sniper shoulder for efficient
Our final addition is Blackhawk's Omega survival vest, designed originally for hunting and security purposes. Unlike some of the products above, this security vest doesn't feature a holster for your handgun. However, there are still pockets designed to hold extra magazines, just in case.
The heavy-duty nylon mesh ensures you won't lose too much hydration on those scorching summer days. Furthermore, Blackhawk wanted to make it easier than ever to put on and take off your vest in a split second. The heavy-duty zipper and side-release buckles allow you to move with urgency and help you avoid any costly hang-ups.
The reason this survival vest didn't rank higher on our list has to do with the quality and price of this particular vest. With a final price of around $150, this particular vest's quality doesn't stand out from similar priced items. However, this is still a great option compared to cheaper and less durable products. The cutout shoulders allow for maximum flexibility when aiming for a long rifle.
What to Look for In Your Survival Vest
If you're new to survival vests, everything above might seem like too much information to learn in a short period of time. In this section, we'll try to break it down even further and give you a novice buyer's guide.
Buy a vest With "ripstop fabric"
You need to focus on the manufacturing quality because chances are you'll expose your survival vest to the worst of conditions. With that in mind, make sure you're buying a survival vest with ripstop fabric.
This will help you out if you're maneuvering through the woods since you won't see your survival vest degrade over time. Some other factors to keep in mind are that the company takes the extra steps with strong zippers and heavy-duty stitching.
Plate carrier, holster, or other extras
When it comes to survival vests, there is a wide variety to suit your specific needs. For example, survival vests given to the Coast Guard and the Navy have special pockets to inflate into a life vest.
Meanwhile, the military distributes MOLLE Vests and other combat survival vests to soldiers fighting on the ground. Law enforcement agencies equip their officers with vests specially fitted with holsters, plate carriers and bulletproof gear, extra ammo, and other gear needed to protect citizens.
If you ever find yourself in a jam, you can even make a survival vest out of those vests used by fishermen and photographers. Both products have enough pockets, and generally enough durability, to get the job done.
Make sure to leave room between the bottom of your vest and your waist
You don't want to have a survival vest that drapes down to your hips. While this might not be the case for active law enforcement officers, when it comes to long-term survival, leaving room between your waist and the bottom of your vest will make it more comfortable to hunch over, sit down, and kneel.
If you don't want gear digging into you each time you rest, make sure to follow the manufacturers fitting instructions, and take the time to make sure your vest fits.
FAQs
What should I store in my survival vest?
The best survival vests are great because they make those tools you need in emergency available. Tools such as pocket knives, flashlights, batteries, water purifiers, lighters, whistles, and bear spray can all be strapped to your survival vest.
However, many survival vests come with a back pocket so you can store your sleeping blankets, canvas, maps, and more. Ultimately, you want your survival vest to compliment your bug out bag. Survival vests are less complicated, which gives you an advantage when you need to quickly accomplish a task, such as fending off a bear with spray strapped right to your survival vest.
What are the different types of survival vest pockets?
Over the years, law enforcement officials and outdoorsmen have created a market for survival vests. Even the Coast Guard equip their people with survival vests, in the case that someone falls from the boat and is stuck at sea.
Law enforcement vests hold bulletproof plates on the front and back while having various pockets to hold different gear like tasers, pepper spray, and breathalyzers. Meanwhile, anglers love vests because the many pockets allow you to carry bait or lures draped right over your soldiers.
Militia members and open carry enthusiasts love the tactical MOLLE vests because they can hold magazines packed with ammo.
Regardless, any survival vest can help you endure when SHTF. You need to consider what size fits you best, which vest holds everything you'll need in an emergency, and if the company you're purchasing from takes special care in manufacturing the vest for durability.
What's the difference between a survival vest and a bug out bag?
Basically, the difference between a survival vest and a bug out bag is what you can store. A bug out bag serves best as a place to store supplies you won't need in an emergency, such as meals ready to eat (MRE's) and extra boxes of ammo.
However, when it comes to your survival vest, one of the essential advantages is the ease of access. At the same time, you still want to store the essentials on your emergency vest if you have to dump your bug out bag. And this isn't an uncommon occurrence, since you might need to store your bug out bag in a safe place while escaping from a short-term danger.
Bottom Line
Survival vests are a great addition to any prepper's arsenal, and we've listed some affordable options that perform to product class's peak capabilities. At the end of the day, the Rothco Cross Draw MOLLE Tactical Vest is, in our humble opinion, the best survival vests on the market. This is because of both performance and durability, but also because of budget-friendliness.
The 45º angle of the holster helps you draw your weapon urgently and safely. Meanwhile, the three ammo pouches allow you to store ample rounds on your body to back up the magazines you carry with you. If you're carrying a standard handgun magazine, you can also store three loaded magazines on your survival vest.
If you don't have any need for a pistol holster (for the AR and AK fans out there), you can unfasten the pistol belt and use the loops for additional pockets you can buy online. For example, the double-ply mesh allows for the addition of a hydration bladder when you can reach your canteen.