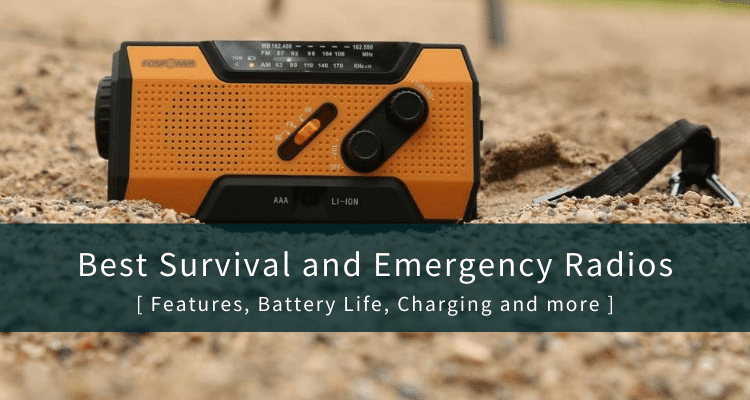 When you're miles away from civilization and power, or simply living a minimalist off-grid life, a survival radio can be an indispensable piece of equipment. Not only will they keep you apprised of atmospheric conditions and weather emergencies, but they also feature an array of other functions and features. These definitely aren't your dad's old hand-crank radio!
These portable powerhouses will keep you safe and informed, but what makes each one special? What makes one stand out over the others, and at what cost?
The Short Answer
In a hurry? Here's our pick for the best combination of features, functionality, quality, and value:
One of the main criteria to make this list was the ability to charge or power the radio in several ways. The last thing you need in the bush is a dead battery because, at that point, it's just dead weight. The FosPower radio can run and charge devices from conventional AAA batteries, but it can also charge the internal battery from the built-in solar panel, the hand crank dynamo, and from a Micro USB source.
The FosPower Emergency Radio had the standard AM/FM receiver so that you can enjoy some audio enrichment during your time in the wilderness. It also has a powerful 1W LED flashlight and handy reading light if you need more diffused light for a small area. The respectable 2000mAh internal power bank will help keep devices like your smartphone and your GoPro charged up and ready for adventure.
Additionally, it has the ability to receive NOAA stations and emergency alerts. This can be crucial if you are in a wilderness area prone to powerful storms, flash floods, or even natural disasters like tornadoes, hurricanes, or earthquakes. Having even a few minutes advance notice can literally save your life. If the worst happens, and you need help, it features an SOS alarm to act as a beacon should you need to notify others of your position and situation.
With the nearly perfect blend of necessities and extra features, stuffed in a compact and rugged housing, and available for less than $40, the FosPower Emergency Radio is our pick for the overall best pick.
Other Great Survival Radios
The Kaito KA500 is packed with features that other models don't have, but it also weighs nearly a half-pound more than any other unit and has a higher price point. Not only does it have the usual AM/FM and NOAA support, but this radio also has a dual-range shortwave radio receiver as well. The radio reception is assisted by another feature that other radios don't have, which is a signal strength meter and advanced reception circuitry. Once tuned in, be even more economical with your battery by using the built-in headphone jack for private listening.
The internal NiMH battery can be charged via the solar panel, hand crank dynamo, Mini USB or AC/DC adapter. The radio can also be powered by 3 AA disposable batteries. Once powered up, you will be able to listen to the radio, receive NOAA and PEAS emergency alerts, or use the built-in flashlight or reading lamp, or charge your devices from the 5V USB output. In an emergency situation, the red LED SOS light can be used to signal for help.
The Midland ER310 sets itself apart from the pack with a couple of unique features. Once you have used the hand crank, solar panel, or USB charger to charge it fully, you will have up to 32 hours of radio operation. The digital tuner makes it easy to find your favorite station, or tune in clearly to local broadcasts. If you need any of the preprogrammed weather bands, it will automatically lock on to the strongest signal based on your location. If you are unable to charge it with renewable sources, it can also accept 6 AA batteries, although they will significantly increase its weight.
If you end up needing the SOS beacon, the super bright CREE LED has a strobe function that is highly visible and has adjustable brightness, and the built-in ultrasonic dog whistle can help to guide search and rescue to your location. An absolutely invaluable tool in areas prone to earthquakes, where you may find yourself trapped and unable to otherwise signal your location. The 2600mAh lithium battery helps extend the life of your digital devices such as smartphones, another key element, and possible lifeline.
The American Red Cross Emergency NOAA Weather Radio has a unique shape that guards the volume and tuning knobs from being bumped or accidentally changed. Not only does it come with a respectable 2600mAh lithium-ion battery, but that battery can be charged quickly with the ergonomic and low-effort hand crank, and maintained with the built-in solar panel. The included AC charger offers the quickest charging if you have access to an AC source.
The east to read LCD readout indicates the current power source, the digitally tuned station, and the battery level. The battery pack can reliably power up your digital devices, and the bright but efficient LED flashlight helps significantly in low light situations. The beacon function is comprised of a single red LED.
The RunningSnail Emergency NOAA Portable Radio packs a surprising amount of power and features into a very modest package. While it can be powered with 3 AAA disposable batteries, you will probably never need to, considering the massive 4000mAh internal power bank it contains. Before you may need to use it, just make sure the battery is topped off via hand crank, solar panel, or Micro USB charging cord, and have hours upon hours of radio time, SOS alarm, reading light, or flashlight use.
In addition to the usual AM/FM/NOAA radio receiver, this unit has an AUX input, so not only can it keep your phone, tablet, or other digital device charged up, but simply connect an AUX cord and have access to your entire digital music collection. AUX input is something none of the other models provide and could be a crucial feature to those who may find themselves using this on more than just an emergency or a periodic basis. The giant LCD display shows detailed battery levels, current power source, and digital volume and tuner information.
An excellent budget entry, the RunningSnail Emergency Self Powered Weather Radio has all the standard features, with none of the fluff or extras, and is available for less than twenty dollars. The modest 1000mAh internal power bank can be filled by the hand crank, solar panel, or Micro USB cable. At a brisk 2-3 revolutions per second on the crank, this can be fully charged in 4 hours, much faster if charged via USB before it's needed.
The analog tuner and volume control can effectively tune into any AM, FM, or NOAA station for continuous listening or receiving alerts. The powerful 1 watt LED flashlight will easily light your way, and the automatically-activated reading light will keep your campsite or tent gently illuminated for evening activities. In a pinch, the internal power bank can give your phone a boost, possibly helping make that crucial phone call in emergencies.
What To Look For In Your Survival Radio
The most important thing to keep in mind is battery capacity.
Battery capacity is going to closely align with your desired usage of the radio. If you plan on using it for periodically listening to the weather, or playing the radio fireside in the evenings, then anything with 1000mAh bank will work just fine.
If you plan on using a reading light for a while, listening to the radio or weather for longer periods or more frequently, or keeping digital devices like a phone, tablet, or camera charged and ready, then you will want at least a 2000mAh power bank.
The 2nd factor to consider is the potential for emergency use.
If you are plan on using the radio for receiving emergency alerts, or possibly sending SOS signals in a help-needed situation, then make sure you pick a unit that has those functions, along with the largest battery bank possible. If you need to use an SOS, you won't want it draining the battery before you have the chance to attract attention.
The 3rd point to pay attention to is your charging and power options.
All of the radios we've evaluated can be charged via built-in solar and hand crank, but some have additional ways to power them or fill the power bank.
If you are going to be going from grid power to no power, then an option that fast charges from USB or AC power and has a disposable battery option might be just what you need to juice up before your getaway. If you generate your own power and are more frugal with its consumption, then having it slow charge via the built-in panel is low stress and a green way to fill that internal bank.
FAQs
What is the difference between lithium-ion and NiMH batteries?
  Lithium-ion batteries are a relatively newer technology, while NiMH batteries have been around for a long time. You have probably seen NiMH batteries in cordless home phones. They usually have a series of small cells that are bound together, and connect to the device with a small pigtail. Lithium batteries are similar in appearance but are far more effective in their duties. Lithium batteries can hold larger charges, have longer lifespans, and can discharge to a lower level without battery damage than NiMH cells.
 Are any of these radios waterproof?
Yes! All of the radios we've highlighted have at least a rating of IPX3 water resistance. This means they can be in running water of up to 10 liters per minute for 5 minutes. While they shouldn't be submerged, they will stand up to being in heavy rain or storms.
How quickly can I charge these radios?
 Generally speaking, the hand crank dynamos can recharge approximately 250mAh per hour, when cranked at roughly 2-3 revolutions per second. The solar panels are going to be largely for maintenance charging and keeping the power bank full and will take at least 6-8 hours of direct sun to fill the internal battery. On units that have Micro USB or AC charging, a full charge can occur in just a couple of hours or less depending on battery capacity.
Do the SOS functions send any sort of radio signal?
 No. None of these radios are capable of broadcasting in the manner of an EPIRB, or emergency position indicating radio beacon, for example. The SOS functions are limited to an emergency flashing LED or an audible SOS alarm that can be heard from a significant distance in the wilderness.
 How much do these units weigh?
The weight will vary from model to model, but the units we evaluated ranged from a super lightweight 7.8 ounces for the RunningSnail Emergency Self Powered Weather Radio, to a still respectable and easily packed 1.4 pounds for the Kaito KA500. With every radio being under one and a half pounds, none of these units are going to add much to your pack or weigh you down.
What's The Bottom Line?
When it comes down to it, our favorite is the FosPower Emergency Radio. However, it may or may not be exactly what you need. It is important to take into account your personal situation, and your personal needs and wants when making your decision.
You may prefer a larger battery bank, or perhaps digital tuning will be that one thing that really catches your eye. Reading our breakdown of the leading models will ensure you are prepared to make a well-informed decision on which survival radio is right for you.