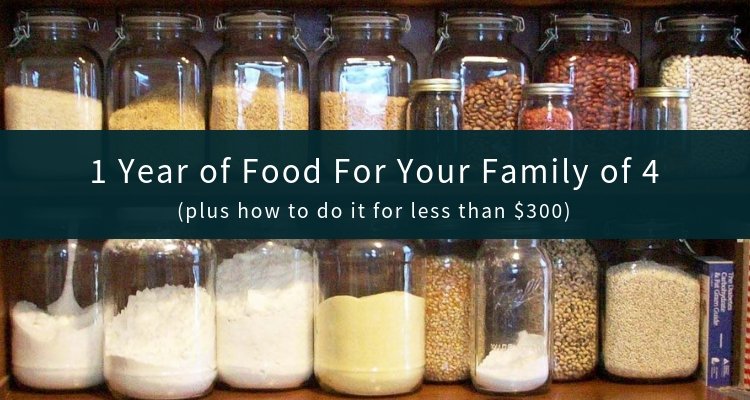 You're ready to crank up the food storage. And you'll be doing it for your family of 4. Fantastic! There are a few different ways to do it. Let's get started!
So, How Do I Stock Up on Food Storage, WITHOUT Breaking The Bank?
There's a few different ways to build up a year's supply of food. You can:
Piece together your food supply a little bit at a time, stocking cans and freeze-dried items from an emergency food list (little by little or bulk sale)
For the people that are really ambitious, you can preserve your own long term foods through canning, dehydrating, and more.
Buy some commercially manufactured, pre-packaged "survival food." Convenient, tasty, and well thought out, but also more expensive.
---
Table of Contents: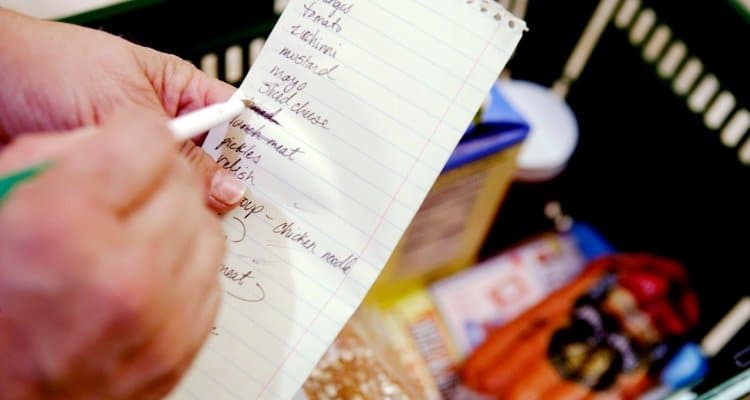 What Should Be on My Emergency Food List? (broken down by category)
We recommend a layered, combination approach. Lots of "little by little" grocery store food, some of your own preservation, and at least a small assortment of the expensive, freeze-dried pouch meals (awesome in bug out bags also).
This guide provides you with our list of emergency food, our recommendations on supplies for creating and preserving your own long term foods, reviews of the best survival food companies, recommendations on emergency food kits, and even an alternative way to feed your family of 4 for a year, on less than $300.
Most people don't have hundreds or thousands of dollars to plunk down on food storage all at once, so the best way to get cheap survival food is to assemble it a little at a time, when there are case lot sales, or other specials.
Without further adieu, here's the list (Amazon links included here for convenience, but remember, if you have the luxury of time on your side, you can find better deals at grocery store case lot sales).
Dry Food Items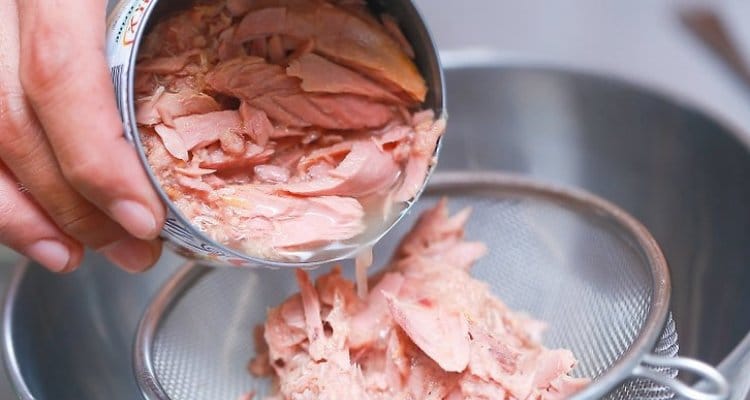 Proteins
Other Canned Foods
What are the best canned foods to store for survival? This is a great question. The best canned foods to store are meats (see the protein section above) and vegetables. The reasons why are simple. These are the hardest kinds of food to get otherwise.
Unlike pasta, rice, and other carbs, meats and vegetables are much more expensive in their freeze-dried or dehydrated forms. Our advice is to incorporate them in their canned form as part of a well rounded food supply.
There are also plenty of soups, pastas, and other convenience foods, but remember, many of these can be had cheaper and lighter in a dehydrated form. Lastly, don't forget a can opener!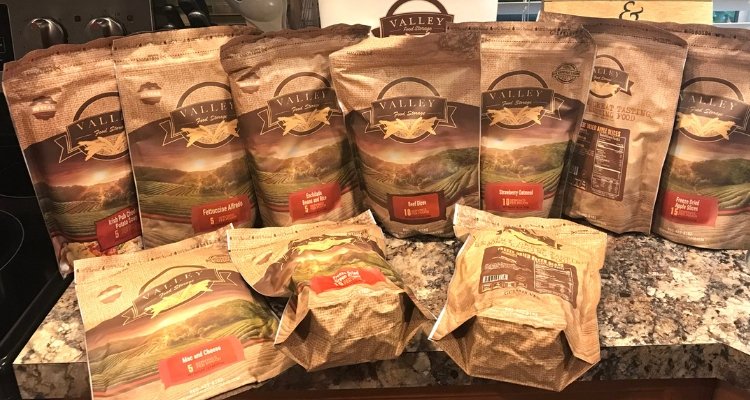 Freeze-Dried Emergency Food Storage
Freeze-dried foods are lighter, more compact, and better tasting than their canned food counterparts. They can be made shelf-stable for several years (sometimes decades), oftentimes with much of the nutritional value preserved. They also typically taste better! However, they are more expensive, and take longer to prepare (reconstitute and cook vs. open a can).
Emergency Food Bars
Bulk Food Storage and Baking Ingredients
Oils
Oils and fat will provide you with energy and flavor food. They are loaded with calories and essential in baking and cooking.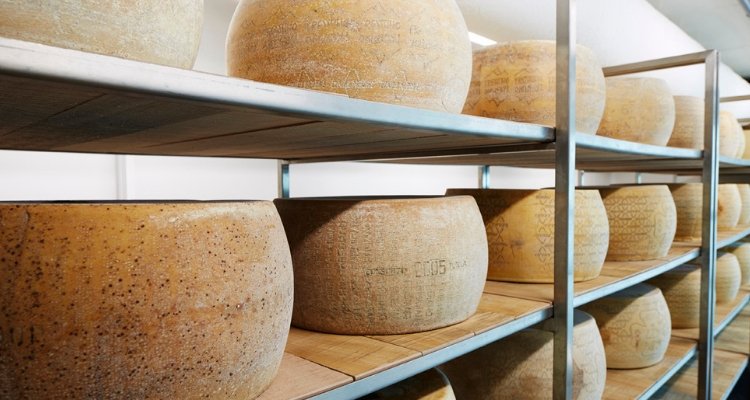 Luxuries and Other
Water and Liquids
It's important to have a 1-2 gallon reserve for each person in your family (per day).
Distilled water
Dehydrated Milk: Look for powdered milk in cans as it will last longer without having to vacuum seal.
Non-perishable pasteurized milk
Animal and Pet Food Storage
Don't forget about the critters in your life! Obviously, ramping up on food storage for your animals runs second to making sure that your family is taken care of, but it is a consideration nonetheless.
The expense here will vary greatly between cats, large dogs, and livestock. It's also important to note that because of included proteins, many cat and dog foods are not shelf stable for longer than a few months.
---
Emergency Food Supplies For Creating and Preserving Your Own Food Storage
If you are trying to build up your emergency food storage, there are a handful of supplies that can assist enormously in the process: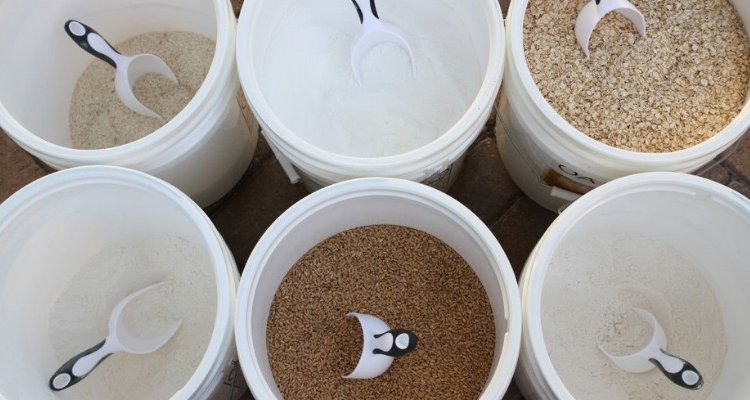 Food Storage Buckets
Food storage buckets are a no-brainer, but there are some important things to keep in mind. First of all, the buckets must be "food grade", to ensure that there is no leaching of the plastic or toxins. Then, remember that the more waterproof and airtight you can keep your buckets, the better and quality and longer time you will be able to preserve your food.
Finally, the bigger your buckets are, the heavier they will end up being. There are 6-gallon food storage buckets on the market, but obviously one of these that's filled to the brim is going to be heavier than a 5-gallon. Likewise, you can find smaller buckets that will be even lighter. You can usually find buckets around town, or you can score them on Amazon here.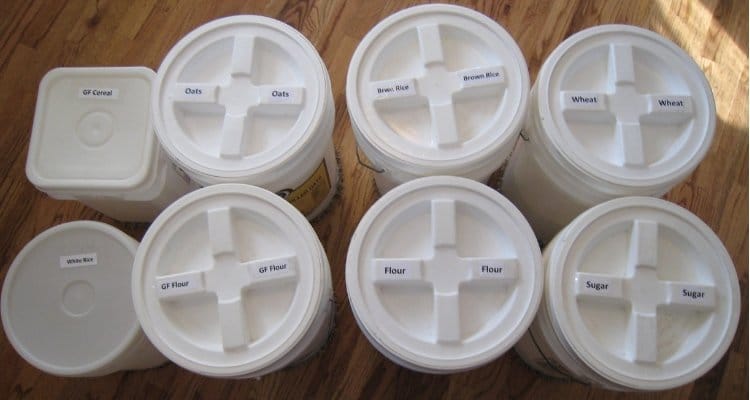 Gamma Seal Lids
You may have heard of Gamma seal lids before. These are the best lids for your food grade buckets. They make buckets both waterproof and airtight, to ensure the absolute longest possible shelf life for your food.
You can find Gamma lids at Lowes, Walmart, Home Depot, Costco, and several other places. You can also get them shipped directly to your house by purchasing them from online.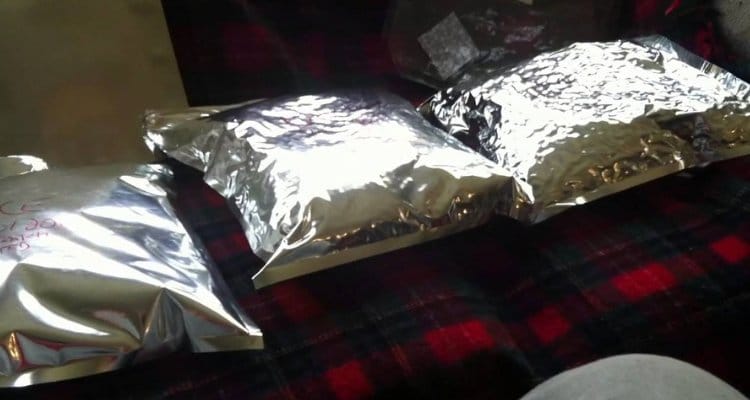 Mylar Food Storage Bags
While the shelf life of food stored in mylar food storage bags isn't quite as long as food in buckets or #10 cans, it is excellent for situations where you want a little more flexibility. It's also a lighter container, so food stored this way can be a little more portable if you need to box it up or throw it in suitcases.
Some folks that really want to ensure food preservation quality, will even store food in mylar bags, that they then put inside of 5 gallon buckets.
See the lowest prices on these bags here.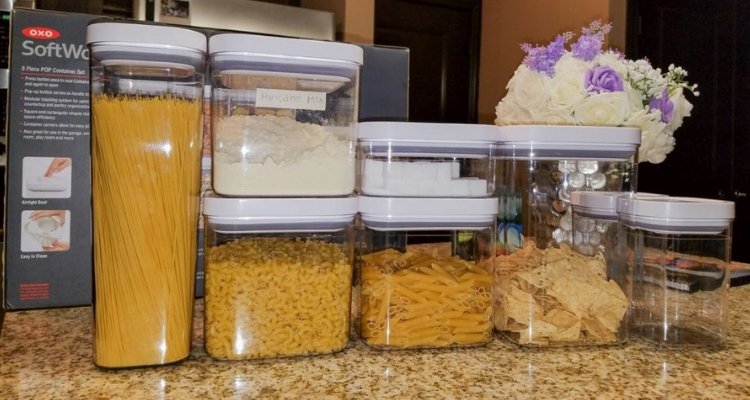 Dried Food Storage Containers
There are a variety of dried food storage containers that you can use to extend the shelf life of your food. 5-gallon buckets are obviously one of the most common, because of their sturdiness, versatility, and large capacity. But as mentioned before, mylar bags and #10 cans are also popular.
Above and beyond that, it's obviously possible to store food in any container you want. The major factors are that the containers are: food grade, waterproof, and airtight. The more that your containers meet this criteria, the longer your food will keep. Here is a selection of some of the most popular choices for containers to keep your long term food in.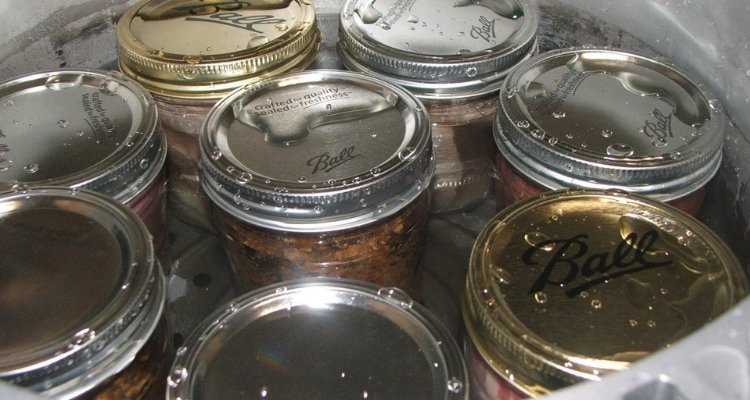 Pressure Canners
A solid pressure canner is a must for anybody that is serious about preserving their own food. While hot water bath canning is excellent for fruit, tomatoes, and other foods with higher acidity, pressure canning allows you to preserve foods like meat, soup, and vegetables.
The process is slightly more involved and involves extreme temps, but the outcome is that you will be able to shelf a much bigger variety of high quality food with a pressure canner.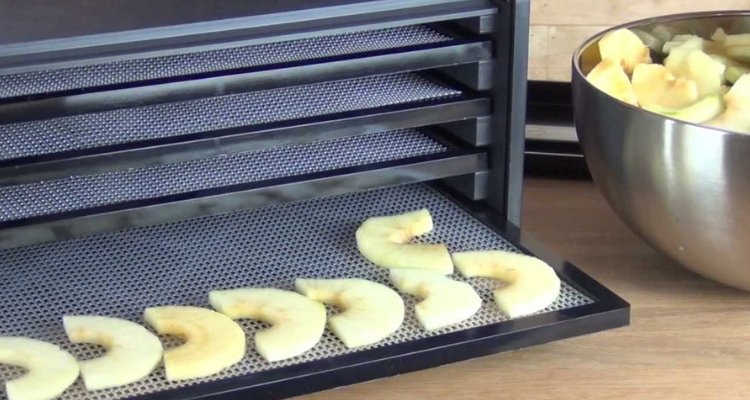 Food Dehydrators
As the name implies, a food dehydrator works by eliminating the moisture from your food, so that it can be stored for longer periods of time without spoiling. It can also make some foods more transportable and easy to eat.
Think about it–it would be a little difficult to throw a steak in your backpack to eat for lunch, but with food dehydrators it's easy to make some beef jerky. The same is true of many foods.
Dehydrators are particularly awesome for making jerky and dried fruit. Once dehydrated, your food can be stored for months or years, particularly if you have a means of vacuum sealing it, or otherwise keeping it air tight. Later, you can enjoy your food in it's dried form, or if you want, you can rehydrated it with water (usually for things you will be using in cooking).
The Excalibur is the gold standard of food dehydrators. Although they are not cheap, they are seriously high quality, and the company stands behind their products with a fantastic warranty.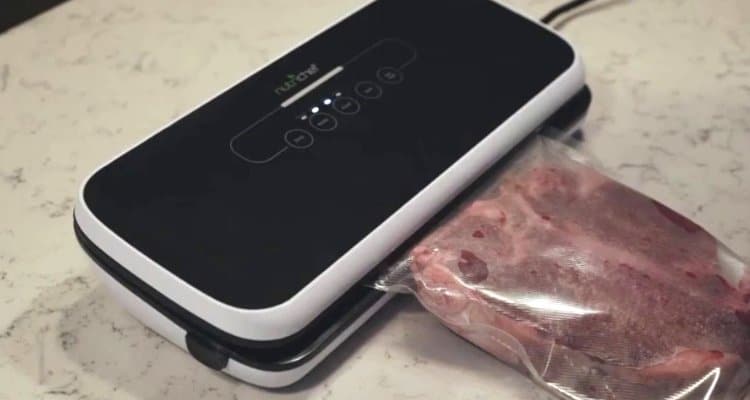 Vacuum Sealers
A vacuum sealer allows you to package up the food that you are planning to store in a water-tight, air-tight container. They are great for meats and veggies that will be kept in the freezer. They are also good for dry ingredients that need a more durable or air-tight seal than the packaging that they were sold in. These machines look kind of like a laminator, and work similar too.
Check out the best sealers for food storage here.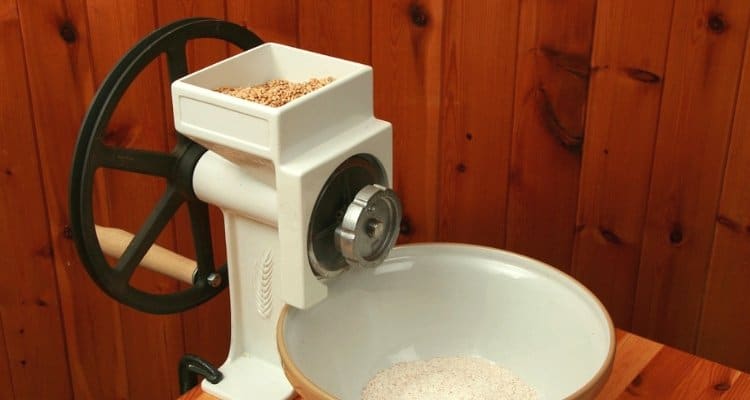 Wheat Grinders and Grain Mills
If you will be storing whole wheat and other grains, a wheat grinder allows you to process them into flour, for cooking. People have been turning grains into flour since the beginning of time, so it's fair to say that there are a bunch out there on the market today. The absolute best however, is the Country Living Grain Mill.
I have had one of these since 2012, and it is awesome. For starters, it can be used as either a hand-cranked grinder, or you can power it with a small motor. There's even a belt attachment to hook it up with a bicycle, so the grinder is cranked as you pedal! This flexibility is great for emergency situations, because you might not actually have electricity when you want to use it.
The construction is also really heavy duty. They are American-made of solid, aircraft aluminum. The bearings that turn the crank are industrial level, and the cutters inside are made of high-quality, high-carbon steel (so they won't dull quickly). The powder coatings are all FDA approved to be food safe. I also really like that it has the options to temporarily clamp it to your kitchen counter, or permanently bolt it in.
These suckers aren't cheap (like, several hundred bucks not cheap), but they are hands down, the best, and will last throughout generations.
---
So, What Is The Best Survival and Emergency Food Supply Company for Your Family?
For folks that are in a position to buy commercially manufactured survival food, there are a handful of solid options available. However, commercial, pre-packaged food is more expensive. These products are made to be shelf-stable for several years, and even decades in some cases.
Plus, let's be honest, there are a lot of marketing dollars that pump the prices.
First, figure out how much food you're getting for your money
One of the most confusing aspects of buying long term food from a manufacturer is trying to figure out how much you're actually going to to get. Why? Because companies all use different measurements in their marketing and product descriptions, like "meals", "servings", "entrees", and "pouches." These can be subjective and hard to gauge.
To cut through some of the fog, we recommend people take a look at the actual calories they're buying. This is an objective benchmark, that isn't really up for debate or interpretation. We also like to take a look at the "cost per 2,000 calories." This is simply because some packages are bigger than others. It might actually end up being a better deal to buy 2 or 3 of a smaller package, rather than 1 bigger package.
To help you take a quick glance at some of the more popular 1-year food supplies, we put together this handy chart:
Company
Price
Total Calories
Cost Per 2,000
Calories
Augason Farms
$3,499.99
1,932,950
$3.62
See Complete Details
E Foods Direct
$2,887.00
720,480
$8.01
See Complete Details
Saratoga Farms
$2,713.05
735,243
$7.38
See Complete Details
Survival Cave Food
$6,818.00
1,387,920
$9.82
See Complete Details
Wise
$4,405.78
1,059,840
$8.31
See Complete Details
Legacy
$8,790.00
1,698,720
$10.35
See Complete Details
Lindon Farms
$3,899.00
730,000
$10.68
See Complete Details
My Food Storage
$8,163.99
1,590,620
$10.27
See Complete Details
Emergency Essentials
$5,999.95
679,530
$17.66
See Complete Details
Valley Food Storage
$2,209.00
299,665
$14.74
See Complete Details
Daily Bread
$6,103.20
720,672
$16.94
See Complete Details
Backpacker's Pantry
$47,080.00
2,467,860
$38.15
See Complete Details
Mountain House
$4,999.99
724,890
$13.80
See Complete Details
*prices last checked in May 2019
That's not to say that these foods are terrible products. In fact, some of them are great. They taste good, store compactly, and keep for several years. It's just that they won't be the cheapest. If you're ok with spending a little more, by all means, pick up a month's or year's supply for your family.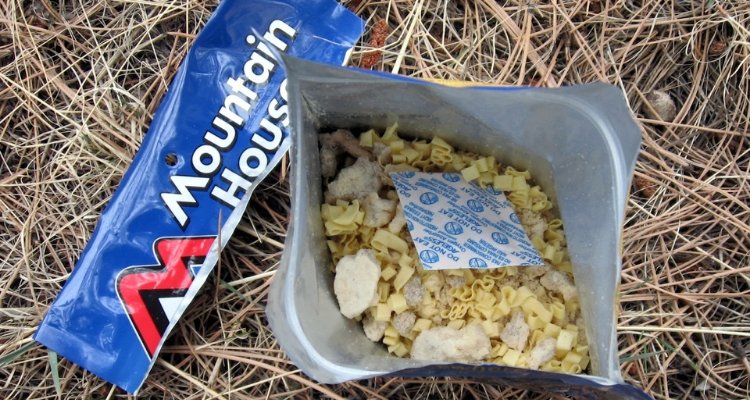 1. Mountain House
Mountain House is the grandpa of the bunch. Started in 1969, they have the distinction of being the pioneer in the freeze-dried food game. Their food pouches were originally created for outdoor enthusiasts, that needed easy and nutritious meals in the wild.
Over time, Mountain House has added a variety of different prepper and emergency foods, conveniently offered in different sized packages. They have 2-day food supplies, all the way up to 14-day food supplies. They also sell emergency food storage kits, which have the advantage of being slightly more portable.
One of the greatest things about Mountain House is the taste. People always comment how surprised they are that the food just tastes exactly like anything else you would buy at the store (or better!). Overall, Mountain House is one of the most-respected, well-liked food storage companies, and an excellent choice for your food supply.
Check The Lowest Price on Mountain House Here
---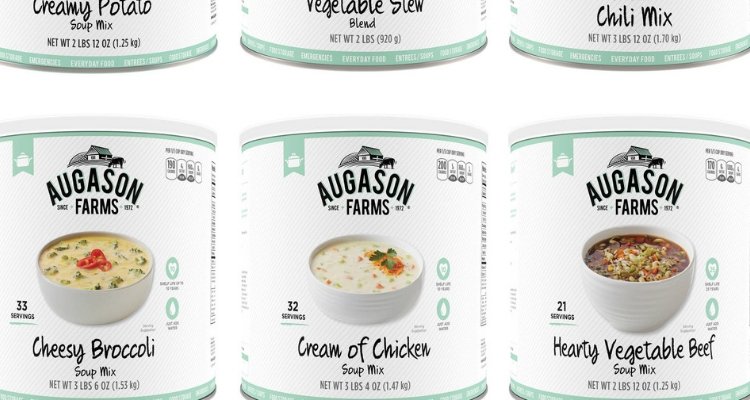 2. Augason Farms
Augason Farms is best known for its #10 cans of individual food storage items (such as apples, bananas, or scrambled eggs). In addition to these however, they also offer complete entree meals, and month long buckets as well.
The Augason Farms packaging is usually in larger serving sizes (i.e. a 7-serving bag of macaroni), instead of a more individually-sized pouch. Because of this, it's better suited to preparation at home in a kitchen, than in the wilderness.
While people aren't necessarily over the moon about Augason, they generally have positive things to say about the taste and value. Whereas other companies may use "servings", or number of days as a measurement, Augason's "total calories included" is a very transparent and much-appreciated way to quantify exactly how much food you are getting.
Check the Lowest Price on Augason Farms Here
---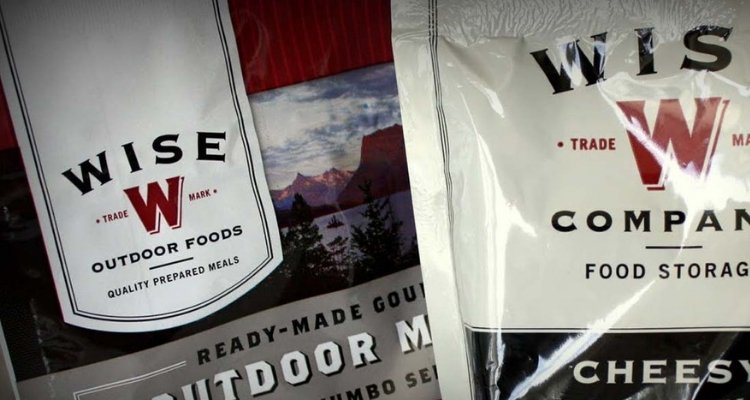 3. Wise Food Storage
Though not quite as old school and original as Mountain House, Wise Food Storage broke onto the scene fairly early as well. In contrast to Mountain House however, Wise was created from the beginning with the prepper in mind.
They developed their food to be shelf stable for an incredibly long time (up to 25 years!). They also have a handful of entrees that are 100% vegetarian, so it's great for those that might have specific diet requirements (always check ingredients list to be sure).
One thing to keep in mind with Wise Foods is that the actual pouches contain 4 servings. This is great if you will be sharing each meal with other people, but if you are alone, and want to really make your food last, it will mean that you need to store and re-(h)eat later. If you are at home, no big deal, but if you happen to be on the go, this could be a little tougher. This can also be a little misleading to some people when they are trying to figure out exactly what they are getting. What is advertised as "60 Servings", actually shows up in 15 pouches.
We also don't seem to hear quite as many glowing reviews about the taste of Wise Food Storage. Some people complain about it, and others say it's just "ok."
Even in light of these considerations, Wise is still a reputable company with great selection, and they offer lots of different configurations of food types in the buckets your buy.
Check the Lowest Price on Wise Food Storage Here
---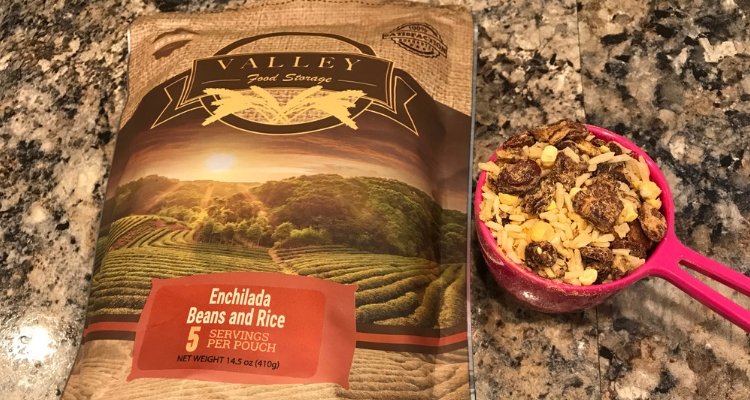 4. Valley Food Storage
More than perhaps any other food storage company on the market today, Valley Food Storage bills themselves as the "healthy" food storage option. They make a really concerted effort to not use any "unhealthy preservatives", MSG, and a bunch of other cheap filler industrio-food.
Some people may not actually care about whether of not their survival food had MSG in it or not, but for those that do, this effort is applaudable.
Like most of the other companies, they offer several different sized bundles and configurations (1, 3, 6, and 12 month options for long term food), and a handful of shorter time-period options as well.
Satisfaction guarantee, customer service, and an overall good track record.
Check the Lowest Price on Valley Food Storage Here
---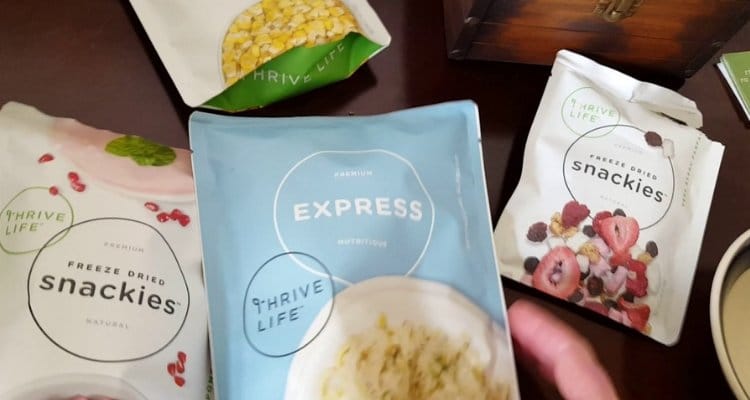 5. Thrive
Thrive Life is another brand that you've likely heard of, if you've spent any time researching prepper food. Thrive is known for its #10 cans of freeze-dried ingredients–fruits, vegetables, grains, meats, sauces, and more. You name it, and they have it.
Many people don't realize about Thrive is that their company actually used to be called Shelf Reliance, and their flagship product was industrial strength rotating food storage shelves. They got into the food storage game shortly thereafter, and their food has been a huge success.
One thing that's a little bit unique to Thrive is that they actually have a bit of a "network marketing" (or MLM) model for selling their food. Yes, you can buy it on Amazon or elsewhere, but you can also sign up to be a distributor and sell it yourself if you'd like to. Most folks are ok just eating the food, but hey, if it's your gig–knock yourself out.
Check the Lowest Price on Thrive Life Food
---

6. Legacy Emergency Food
A relative newcomer to the survival food scene, Legacy totes themselves as the "lowest cost per pound" food storage provider. They figure this by calculating the total cost (including shipping), then divide by the total pounds. Per their graphics, they also claim to be the lowest per calorie.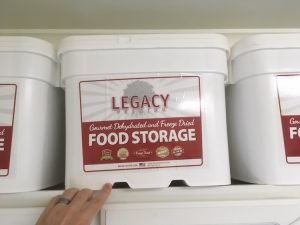 Much like the other companies, in Legacy's food buckets, they offer several different entrees, breakfast meals, snacks, drinks, and more. Compared to many food storage companies our there, people love the larger portion sizes. Legacy maintains a consistently high rating on Amazon (4.4/5 at the time of writing).
As a great tasting, modestly priced food storage, Legacy offers some tremendous value.
Check the Lowest Price on Legacy Emergency Food
---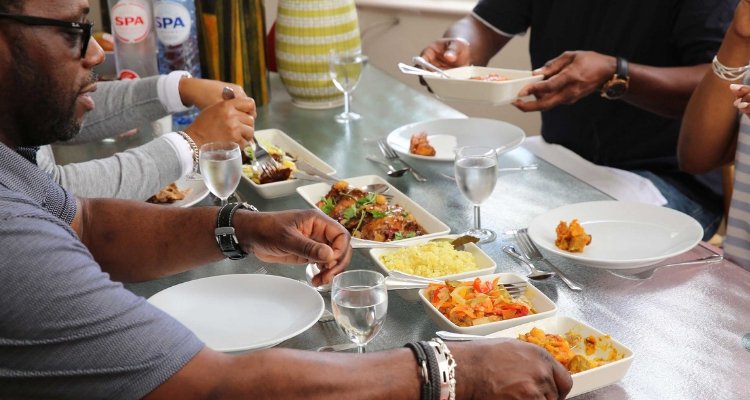 You Want Some Free Emergency Food Samples?
If you're on the fence about which survival food you should purchase, several companies will send you out a free sample of their freeze dried food (although you usually have to cover shipping). This is a cool option, because obviously, it can be expensive to buy weeks or months of your food supply, only to learn later that you hate it.
Date before you marry right?
Your best bet for scoring a free sample is to hit up the actual company (not Amazon or a retailer), although when it comes time to purchase your survival food, usually Amazon has the best price. Simply go to their website, look for the contact page, and ask them if they can send you a sample. More often than not, if they offer free samples, you will see it advertised plainly on their home page or in the website menu.
Here's a quick list of some of the food storage companies that offer free samples, and the pages where you can request a sample:
---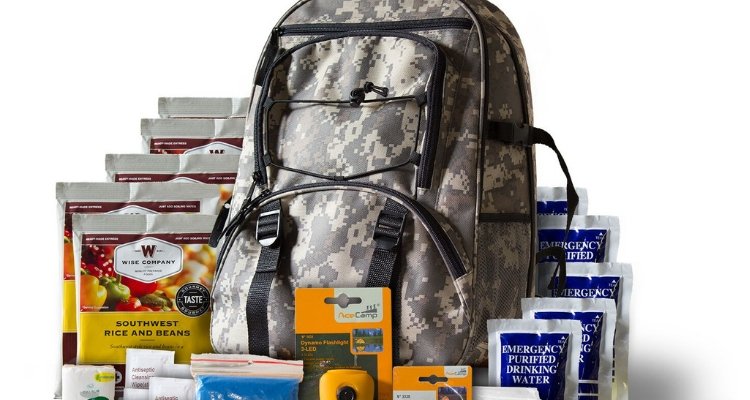 Emergency Food Kits
If you are want to be able to grab and run, a 1-2 week emergency "kit" could be just the thing. With emergency food kits, you get the benefit of a nicely organized, well-thought out kit of survival food, in case the need should ever arise.
Emergency food kits are usually packaged up to be all the food supplies that you will need for a shorter term disaster, such as a black out, storm, fire or flood. Because the kits are portable, they are great to take with you on the run.
How about combining some prepper food with a handful of other survival supplies into a nifty little package? In some cases, companies (such as Wise) are even offering survival kits with food in them, packaged up in a nice backpack, so they can be used as a "grab n go" or "bug out" bag.
Seems like a home run right?
---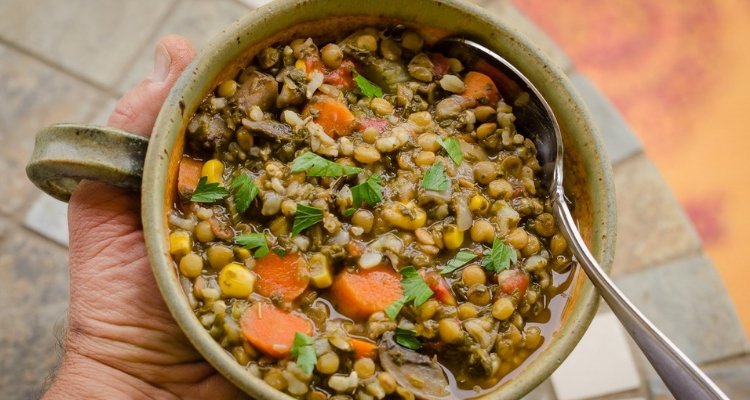 How To Feed a family of 4 for 1 year, for less than $300
This plan is the fastest, cheapest and easiest way to start a food storage program. It has become semi "internet famous", and is appropriately referred to as "survival soup."
Think about this:
You are done in a weekend.
There are no hassles with rotating. Pack it and forget.
It's space efficient – everything is consolidated into a few 5-gallon buckets.
You'll sleep content, knowing that you have a one-year food supply on hand for your family should you ever need it.
With the exception of dairy and Vitamin B12, this bean soup recipe will fulfill your basic nutritional needs. It won't fill all of your wants, but using this as your starting point, you can add the stuff that you want.
All of the food and storing supplies listed below plus 2 55-gallon recycled barrels to be used for rain catchment cost me $296, including taxes. I purchased rice, bouillon and salt from Sam's Club. You can buy small bags of barley at the grocery store, but if you don't mind waiting a few days, special ordering a bulk bag from Whole Foods was cheaper.
All of the beans I purchased from Kroger's in 1-lb bags. Supplies can be purchased online, although it is usually possible to find more opportunistic deals "on the ground."
Supplies you need for Survival Soup:
How To Store It
Install the gamma lids on the bucket and insert mylar bags. Place 2 or 3 bay leaves in the bottom and fill the buckets, adding more bay leaves after each 1/3 to full. Place an oxygen absorber in the top. Label buckets with the contents and date. Fill:
3 buckets with rice (shake it down good. Get it all in there!)
1 bucket of kidney beans
1 bucket of barley
1 yellow lentils
In 1 bucket, store the split green peas, garbanzo beans, salt, measuring cup and bouillon (I removed the bouillon from the box and vacuum sealed it as bouillon contains a small amount of oil.).
Yep, that's a total of 7 buckets, so far.
I place a broom handle across the bucket and wrap the ends of the mylar bag over the broom handle to give me some support. Then, slowly and smoothly, run a hot iron over the mylar bag to seal all except the last 2 inches. I press out as much air as possible before sealing the remaining 2 inches.
Make sure your mylar is completely sealed from end to end. Now, stuff the bag into the bucket and rotate the gamma lid into place. This will protect your food for about 25 years. You'll have excess mylar bag at the top. Don't cut it off, that way if you have to cut it open to get into it, you have enough bag remaining to reseal.
Where To Store Your Soup Supplies
It's pretty easy to find a place for 7 to 8 5-gallon buckets, even in the smallest of apartments. You could:
Discard a set of box springs and lay a kid's mattress on top of the buckets
Line the back of a large closet with the buckets
Make a couch table by stacking buckets two high between the couch and the wall. The buckets are about 6" taller than the back of the couch. Add a shelf and drape and it looks fine; a convenient place for a lamp and books.
Get creative!
Cooking Your Survival Bean Soup
Measure out
8 oz of rice
2 oz of red kidney beans
2 oz of pearl barley
2 oz of lintels
1 oz of split green peas
1 oz of chick peas/garbanzo's
Add 6-7 quarts of water. Add bouillon or salt to taste. Then add any other meats, vegetables, potatoes or seasonings you have on hand. Bring to a boil and then let simmer for two hours. You should have enough to feed 4 people for two days. This is thick and hearty. You will be warm on the inside and full with one large bowl. Kids usually eat half a bowl.
After The Emergency Is Over
This system allows you to open the Mylar bags, retrieve as much of the ingredients as is needed and then reseal everything after the emergency has passed. Just be sure to replace the ingredients used so that you always have a one-year supply.
Other Survival Food Items I Would Want (Keep These in The 8th bucket)
This list isn't included in the $300. This falls into the "what I want" category. As money and resources became available, I'd just go crazy adding all of my indulgences, starting with coffee! You can add what you want, but I'd fill it with:
Dry onion. Let's face it, what's bean soup without onion! Sprinkle on the onions just before serving.
"Just add water" cornbread mix packets. I just can't eat bean soup without cornbread.
Beef jerky and Vienna sausages. Add protein and zest to the bean soup
Instant oatmeal. Do you really want bean soup for breakfast? Freeze the oatmeal for 3 days before packing to kill any bugs.
10 lbs of jellybeans. Now, don't laugh – it's a bean. Jellybeans don't melt like chocolate might. The high sugar content is quick energy, and a morale booster – with just enough of a high to help you over the really bad days. Easter is about here – stock up!
Before Filling Your Final Bucket
Buy small bags of the ingredients and fix a big pot of bean soup for dinner. Eat the leftovers the second night, and 3rd night, until it's all gone. Find out now – rather than later – what your family might like to add to it. Anything tastes great the first meal, but quickly becomes boring after the 3rd or 4th repeat.
Don't wait until the emergency happens to discover what you SHOULD have stored in your 8th bucket. … Maybe some Beano!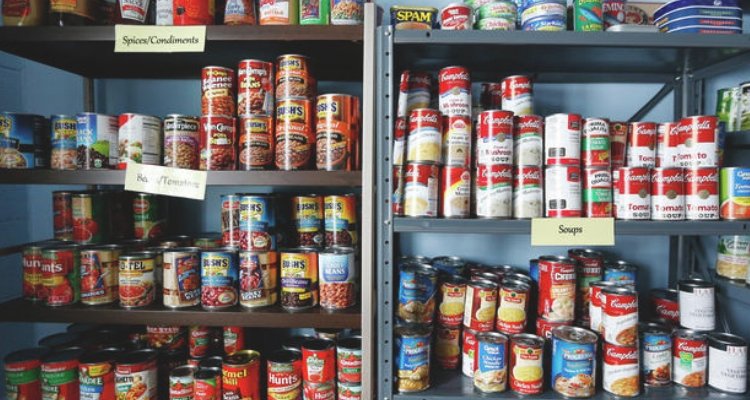 Emergency Food FAQ
How Much is A Year's Worth of Food?
One of the best "calorie for the dollar" food storage companies is Auguson Farms. For a family of 4 people, a year's worth of emergency food would cost $5,250 (at 2,000 calories per person, per day). This amount is obviously very general, and the calorie amount of food needed for your family would be different if you had small children vs. 4 adults.
How much rice do I need for a year supply?
Rice is one of the better foods to store because of its low cost and long shelf life. Families should store at least 300 pounds of grains per person, of which 25-60 pounds should be rice. This provides a solid staple food store that can be built around.
How much does freeze dried food cost?
Because of the intense processing it undergoes, freeze dried food is sold at a premium price, with prices ranging from $3-17 per 2,000 calories (one food storage company actually sells their food at a price of $38 per 2,000 calories!).
How do you store food for a disaster?
Emergency food storage should be "shelf stable" for the long term (as long as 25 years in some cases). It is best stored in air-tight, water-tight containers in cool, dark places. Some of the most effective and convenient ways to store bulk staples (such as rice, pasta, and other grains) are in sealed #10 cans, or plastic 5-gallon buckets. The amount of light and heat in the storage area has a direct relationship to the time it takes for food stores to break down and/or spoil.
Ready to Get Going?
Good! We're excited to be with you on the journey of helping your family be more prepared. Before you get started however, a couple quick reminders.
First, if it's possible, it's great to have your stored food be a balance of:
True "emergency" food – think food bars, MREs, and freeze-dried pouch meals
Short term "regular" food – things that can be eaten easily in the short term (cans, box dinners, and other things that you would normally get at a grocery store)
Hardcore "long term" food storage – This is your dry bulk food, stuff like 25 pounds of beans, or "hard red wheat berries" that provides shelf-stable calories for decades if needed.
And second, remember that nobody else has a perfect "formula" for YOUR family.
Because so many people get intimidated out of taking any action, we recommend that you do a little of everything. In reality, storing food is less about following some specific recipe, and more about heading in a general direction. And at the end of the day, the goal is to do it in the way that best fits you and your family.
Feeding a family of 4 is a big responsibility, so it's good to be thinking about it. Like you know, there are a number of things that could happen to disrupt the food supply of grocery stores and distributors that service your area–floods, fires, earthquakes, or economic crises.
But there are also "personal disasters" that can affect you and your family, whether or not anybody else ever even knows about them. These are things like job losses, illnesses, injuries, car accidents, or death in the family. During these times, having emergency food is a wonderful blessing. Even 1-2 weeks' worth of food can really ease the financial pressure of the moment. So having several months or year's worth of food on hand is even better!
If you're looking for other great ideas for your long term food storage, check out this food storage guide.
Emergency Food Supply FAQ
How Much is A Year's Worth of Food?
One of the best calorie for the dollar food storage companies is Auguson Farms. For a family of 4 people, a year's worth of emergency food would cost $5,250 (at 2,000 calories per person, per day). This amount is obviously very general, and the calorie amount of food needed for your family would be different if you had small children vs. 4 adults.
How much rice do I need for a year supply?
Rice is one of the better foods to store because of its low cost and long shelf life. Families should store at least 300 pounds of grains per person, of which 25-60 pounds should be rice. This provides a solid staple food store that can be built around.
How much does freeze dried food cost?
Because of the intense processing it undergoes, freeze dried food is sold at a premium price, with prices ranging from $3-17 per 2,000 calories (one food storage company actually sells their food at a price of $38 per 2,000 calories!
How do you store food for a disaster?
Emergency food storage should be shelf stable for the long term (as long as 25 years in some cases). It is best stored in air-tight, water-tight containers in cool, dark places. Some of the most effective and convenient ways to store bulk staples (such as rice, pasta, and other grains) are in sealed number 10 cans, or plastic 5-gallon buckets. The amount of light and heat in the storage area has a direct relationship to the time it takes for food stores to break down and/or spoil.