The WaterBob bathtub bladder is an ideal water storage solution for emergency situations. Due to the food-grade plastic, WaterBob's drinking water storage system keeps up to 100 gallons of water safe for 16 weeks.
People like this product because:
It's inexpensive (price hovers right around $35)
It's easier to store than other water storage strategies, such as large barrels.
You can deploy it easily, with just a few minutes (as long as it would take to fill up a bathtub)
Like what you hear? You can see the full specs and details on the official WaterBob bathtub bag on Amazon here.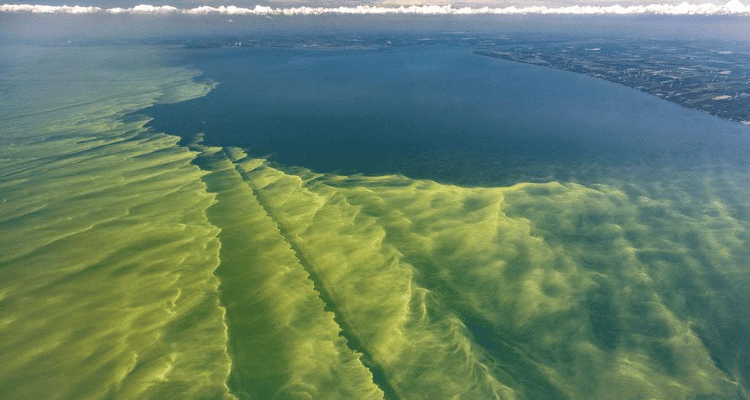 Here's the quick version:
There have always been threats to our supply of clean drinking water–tornados, hurricanes, earthquakes, and other natural disasters. I had family members near Toledo who had to use bottled water for nearly a month. Due to an unusually warm summer, toxic algae eventually contaminated the surrounding water supply.
One of the most critical things to remember is that if you are on municipal water, a power outage almost always means no water as well (pumps can't run).
Without a solid emergency water plan , you leave yourself vulnerable during survival situations. Once the grocery stores run out of clean water, you'll find yourself at the mercy of strangers and organizations like FEMA and the Red Cross.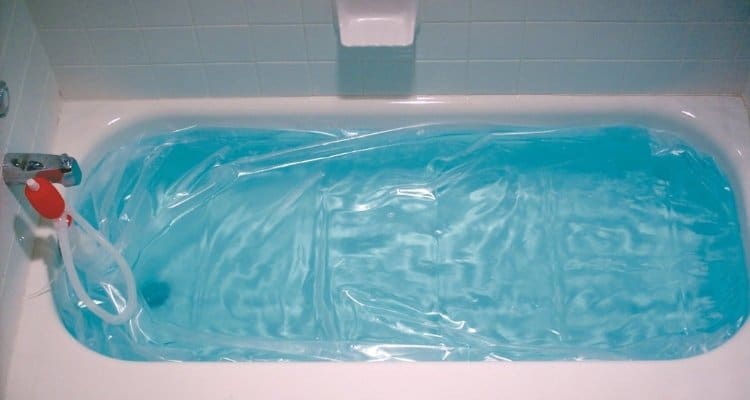 Real Stories of the WaterBob in the Wild
Since WaterBob began selling its bathtub water storage system, people from all over the world have attested to the product's usefulness. With over 1,200 ratings on Amazon, this puppy has a 4.7/5 (at time of writing).
In one 5-star review, a two-time hurricane survivor wrote:
A Florida resident faced the worst-case scenario: no power for an entire week:
Finally, a Hurricane Matthew victim found the WaterBob Bathtub Water Storage useful once the storm hit:
WaterBob Pros
WaterBob's product comes in a small compact container, which makes convenient storage.
Constructed of FDA-approved, food-grade plastic
It's effortless to set up and holds about a hundred gallons of water for up to sixteen weeks.
The included pump system is convenient for filling
WaterBob Cons
The biggest con is that you need to actually have 15-30 minutes of notice, in order to actually fill it up. This makes it PERFECT for disasters like hurricanes, tornadoes, ice storms, rolling blackouts or fires, but probably not a lot of help in something immediate like an earthquake or sudden power outage.
You can only use the WaterBob storage system once. However, it's only $35, so buying another won't wreck your bank account.
Doesn't hold as much water as storage barrels or water bricks
How To Use Your WaterBob
Using the WaterBob water storage container is intentionally straightforward. It's easy to hook up to your bathtub faucet and takes less than half an hour to fill.
Remove the bladder from the box, and unfold it.
Then, you'll find a valve at one end to hook up to your bath's faucet. When you spread the container out in your tub, make sure the filling valve is closest to the drain.
Connect the tube to the lid and tap, and start running the water.
Your WaterBob will take about 15 to 30 minutes to fill, and then you're good to go.
If you're going to add water purification drops, it's a good idea to add them shortly after filling, so you don't forget, and the drops can begin treating the water.
When you need to fill up a day's worth of water in a jug, use the included pump to access the water for drinking, cleaning, cooking, and flushing.
Here's a few more important details:
About WaterBob The Company
Tony Woodruff, the inventor of the WaterBob Bathtub Water Storage, created this product after watching countless people scramble for supplies amid natural disasters. Once officials declared an emergency, people were left to their resources to prepare. In a scramble for survival, the news showed people frantically stocking up on food and bottled water.
Over time, Tony Woodruff developed his water storage system so people would have access to drinking water until help arrived. During events like hurricanes, essential utilities can stay out for weeks at a time. But even if these basic needs remain running, flooding can contaminate essential running water.
WaterBob constructs their water containers using the highest quality, BPA free materials. Various prepper books like Lights Out have mentioned this product, and it's appeared on channels such as CNN and National Geographic. With over a thousand positive reviews, it seems Tony Woodruff succeeded in his goal of creating a secure water storage system.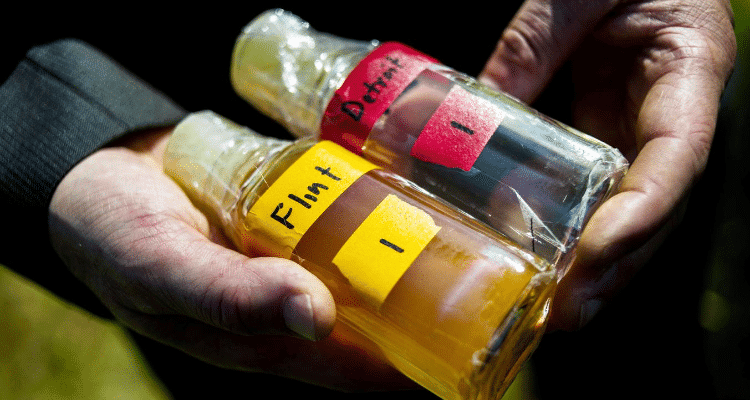 The WaterBob Bathtub Water Storage is Great For Everyone
WaterBob's product is a godsend for those left vulnerable to powerful natural disasters like hurricanes, tornadoes, and more. Having this sixteen-week buffer of drinking water will help to make sure you give help enough time to arrive.
This product is especially suited for people who live in city apartments or who just don't have room for a couple of water barrels. While larger products store more water, many people either can't afford them or don't have the necessary storage space.
Urban preppers especially love this product because the plastic containment system is easy to store. The only thing to keep in mind is storing an unused WaterBob system in a dry place.
Also, when you do fill it with water, try to keep the inflated system away from direct sunlight. Too much exposure can lead to algae growth. WaterBob recommends only using this system once since you might not completely drain it afterward. The excess water can then lead to future contamination after exposure to the outside air.
Why Storing Safe Water is Important
It's never safe to assume your community is immune to water and food shortages, but the events in Flint, Michigan, shattered any lingering misconceptions.
According to the CDC, in 2017, nearly 7,000 Americans died from illnesses contracted via contaminated water. These diseases include dysentery, typhoid, and hepatitis.
According to WaterBob, most people use over 150 gallons of water a day. However, what's frightening is that a person can survive only a couple of days without water. So when you're preparing for an emergency, you should have at least a three-day supply. A general rule for this is one gallon allotted to every person per day.
But you also need to keep in mind that water needs vary from person to person, and preparation requires personally customized plans.
Emergencies strike without warning, often leaving you little to no time for preparation. For example, water scarce areas in the West have already tasted the danger of a water-shortage. This effect will amplify, especially as more water reservoirs dry up from farming and other purposed.
Natural disasters are another big risk, since hurricanes and pandemics can leave people and necessities separated for a long time. WaterBob's storage system costs only $35, meaning you're not sacrificing much for this long-term investment.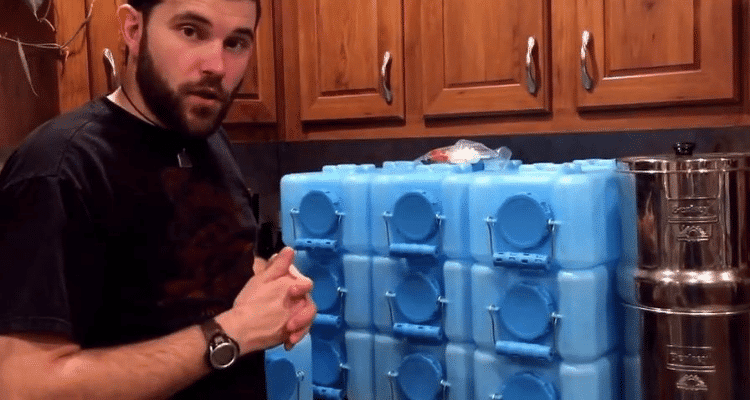 Other Water Storage Solutions
Aquapod Bathtub Bladder
WaterBob isn't the only bathtub bladder company out there; it's just the best. Other companies, such as AquaPod, offer similar products that only hold about 70 gallons. AquaPod's water storage system will keep your water clean, but only for about eight weeks. In comparison, WaterBob's product keeps your water supply clean for up to sixteen weeks.
55 Gallon Water Storage Barrel
Water storage barrels are a great option if you have the real estate and the cash on hand. Each barrel costs somewhere a hundred and two hundred dollars, and take up a considerable amount of space. However, two of these barrels can keep a family of four hydrated for about a month.
Auguson Farms has a great option that includes filtration bottles. When you treat the water, it has a four-year shelf life so long as you store it in a cool area.
Water Bricks
Water bricks are similar to storage barrels. However, water bricks are smaller and storage-friendly to stack. The benefit to products like Reliance's "Aqua-tainer" is that it holds seven gallons and only costs around $15 on Amazon.
While water bricks are more accessible to store than barrels, they don't hold nearly the same amount of water as products like WaterBob's bathtub bladder. They also pose a logistical nightmare when you think about rotating out the water in them on a yearly basis.
FAQs About The WaterBob and Water Storage
Can my bathtub actually support the weight of a full WaterBob?
A WaterBob will hold 100 gallons of water. At 8.3 lbs. per gallon, that is about 830 pounds of weight in your bathtub. This seems like a lot of weight, but remember, it's the same amount of weight that a bathtub always holds when it's full of water…. only this time, it's in a plastic bag.
How does the Water Bob hand pump work?
You get the water out via a hand-pump device, a "siphon pump"; you unscrew a cap and place the pump when you want to take water out, and replace the cap when you are finished removing water, until the next time.
The hand pump is a simple device. It has an opaque plastic hose attached. You are supposed to place a water containment unit (pitcher, whatever you want to put the water in) BELOW the level of the hand pump. That could get tough as the water reduces in the tub, just being honest about it.
Can I really only use the Water Bob once?
Per the instructions that come with WaterBob, you should scrap it after 1 use. To quote the instructions:
"When fresh water is no longer needed, slit the side of the liner and drain the remaining water. The bladder should be disposed of and recycled."
I called the company and inquired as to "why". The answer was about what I expected: "because it's impossible to get all the water out and it can be contaminated." Translation? Covering our butts so when someone claims they got sick from repeated use, we can say, "we told you to use it once." Because a Waterbob is difficult to fully dry, contamination from mold and mildew are a potential threat forever afterwards.
However, some preppers that live in hurricane prone areas have reported using them more than once, exclusively for showering and flushing toilets.
How often do I need to rotate my water supply?
About every year, you should switch out the water in your containers. While proper storage allows you to store water indefinitely, it's always safe to change out the supply. This process is necessary because different bacteria can form over time. Also, the longer you store water, the worst it will taste over time. Combat this by swishing around the contents to mix it with more oxygen.
Conclusion
The WaterBob water storage system is one of the best short-term solutions. Developed to help people stranded by hurricanes and other natural disasters, it uses the space of your bathtub to give you a relatively low-cost way to quickly store 100 gallons of water, and is a superior alternative to fighting through the crowds for a week's worth of water bottles.