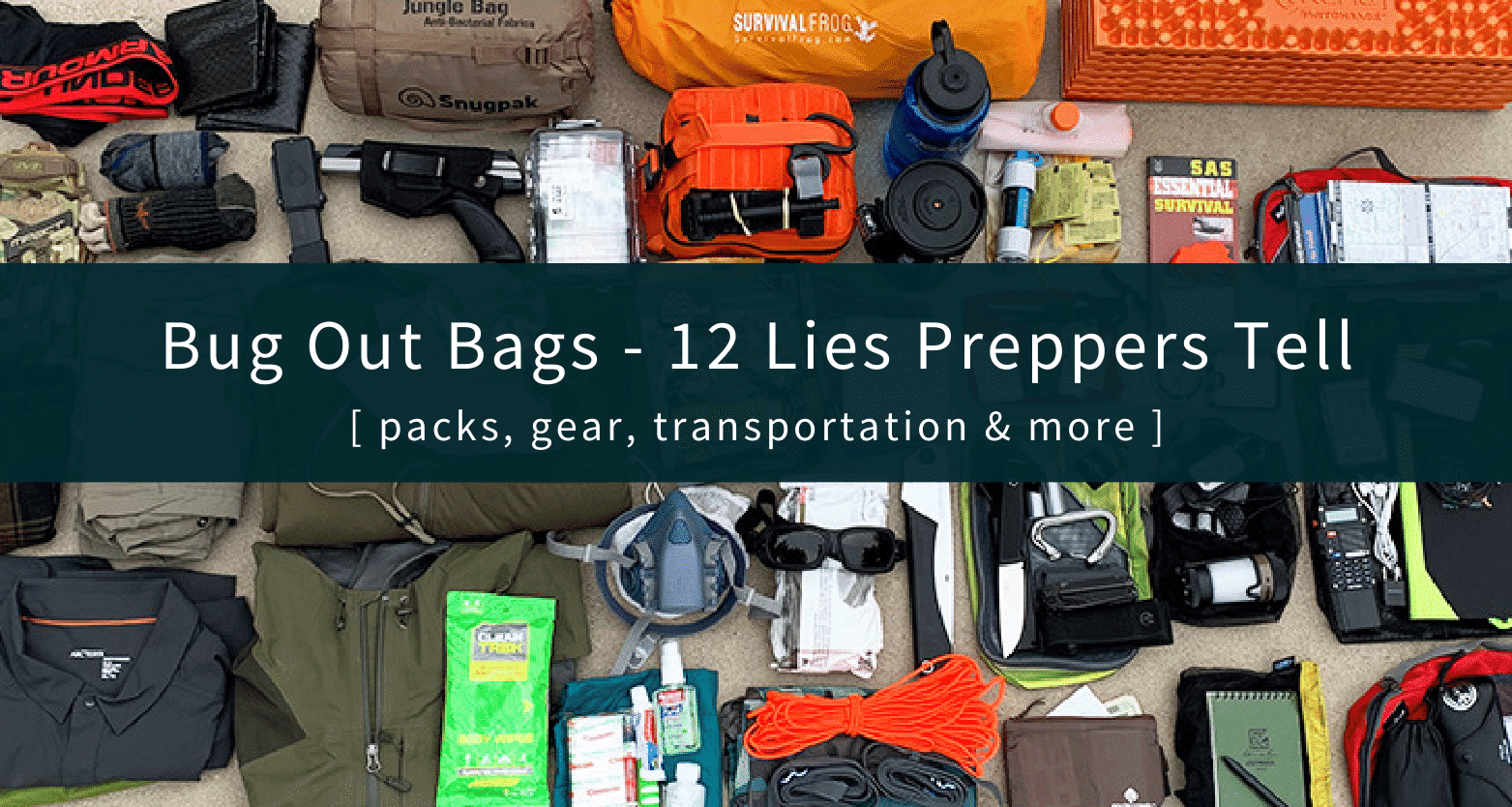 By this time everybody has heard the term "bug out bag." You know, the bag that holds all your supplies and gear for when the shit hits the fan (SHTF)?
You've probably also heard bug out bags called by any of their many synonyms too:
Bail out bag
Survival kit
72-hour kit
Go bag
Go kit
GOOD bag (Get Out of Dodge)
But no matter what you call it, bug out bags have been the subject of a lot of talk in recent years. And unfortunately, due to the increasing number of marketers and manufacturers entering the space, there's a cesspool of bad information too (that's right, I said "cesspool").
If you go to Google, a search for "bug out bag" or "survival kit" will usually yield you results that fall into 2 categories:
Ecommerce stores selling prepackaged $100 kits (these always have photo studio images and lots of plastic
Bloggers pimping high priced bug out backpacks (but not really talking much about what should go in them)
In each flavor, you'll find the exact kind of bad information and "fakeness" that I'm talking about. Exorbitant prices, shock and fear tactics, generic stock images of products that might not exist, or from people that have never actually held them in their hands. In some cases, the fakeness is minor, but in others, we're talking downright, wild-ass fiction.
So, in an effort to set the record straight, here are the most common, most untrue lies that are being told to you about bug out bags:
Lie #1: Your Bug Out Bag Needs to Sustain You "Off The Grid."
As cool and fun as it seems, you're not going to run up into mountains with your rifle and live in a tent with your family because a wildfire is getting close. You'll be heading to your aunt Teresa's house to spend a couple nights until it passes. You're going to be sitting in traffic on a freeway. You'll be at a hotel an hour and a half away.
Accordingly, your bug out bag doesn't need to have snares and giant fixed-blade survival knives. It needs charging devices and cash. It needs backup documents, and prescription medication. In the same way that you shouldn't bug out if you can "bug in", you're not going to run into the woods if you there's a town an hour away that's safe. Leave the woods for Red Dawn.
Lie #2: You Will Be Carrying Your Bug Out Bag On Foot
The truth is, if you're in the United States, you will probably be bugging out in your car. How do I know? A little something called history.
Take a look at the majority of evacuations that have happened in the last few decades. Hurricanes Katrina and Sandy. The 2020 wildfires in the western states. Winter Nor'easters and Mt. St. Helens. The east coast power outage of 2003. And yes, even people fleeing riots and civil unrest. People aren't running out their front door on foot. And neither will you. We'll be in our cars, with our bug out bags sitting comfortably in the back.
Remember, cars can:
go further
shelter you from the elements
provide more comfort
double as accommodations for a few nights if needed
Lie #3: The Backpack is the Most Important Part of Your Bug Out Bag
What a load of marketing crap! There's WAY too much attention and money going towards the backpack portion of your bug out bag.
Here is the honest truth–you should NOT have a nice, new, fancy backpack for your bug out bag. Why not? Because if you do, you'll be tempted to use it for other stuff–hiking, camping, traveling, ski trips, and a hundred different things. And one of the most important tenets of a solid bug out bag is that it's allowed to be left alone, and never "borrowed" from.
A bug out bag backpack doesn't need to be uber-tactical, have lots of Molly webbing, D-rings, or dozens of fasteners. It doesn't need to have a hydration bladder compartment, self healing YKK zippers, special back panels, tons of padding or suspension, or be made of some fancy ballistic nylon. It doesn't need to be an assault pack, or something that sounds like it could beat you up. It honestly doesn't even need to have the absolute perfect, down to the milimeter fit.
The other reason it doesn't need to be new and fancy is that a bug out bag is something that you will MAYBE use once every five to seven years for a few days–IF THAT.
It should be sturdy, and it should be comfortable enough to walk in, but likely not going to be hiking through the mountains for days on end. Also, you want to blend in and not call too much attention. Having a super tactical backpack that's covered in camouflage or a lot of MOLLE webbing on the outside runs counter to that. 
Lie #4: Lots of Cheap Plastic Crap is Better Than a Few High Quality Items
If you've done a single search for "survival kit", I guarantee you've seen ads for the the 192,000-piece bags full of Aqua Blox, tissues, an orange plastic container for matches with a "signal mirror" inside, a whistle on one end, and something that looks like a pencil lead, that's supposed to be a fire starter.
These kits always make sure to have a nice ball of plastic rope and a tin foil sleeping bag for if it's cold. You'll get a few different sizes of cheap carabiners, a dynamo flashlight that gives 9 seconds of light for a minute and a half of cranking, a first aid kit with lots of latex gloves, a plastic rain poncho, a wad of plastic triage flags, and if you're really lucky, you'll get a 32-function Swiss Army knife knockoff.
Plastic, plastic, and more plastic. Cheap, cheap, and more cheap.
Yet people have bought these in droves for the last couple decades, because they offer the promise of being "prepared" (read: "done") for $100 or less.
Far better to put together a kit with fewer, higher quality items that you actually know how to use.
Lie #5: Your Bug Out Bag Doesn't Need to Have a Change of Clothes
Spoiler: it does.
Protection from the elements is critical, and your clothing is your first line of defense. Anybody that's heard of the rule of 3's, knows that exposure to the elements can kill you faster than dehydration or famine (3 hours, 3 days, and 3 weeks respectively). If your clothing gets wet or ripped, or if you need another layer to keep warm, it's not something you should be without.
And perhaps even more important, you need to have a sturdy pair of shoes. If the moment comes to grab your bug out bag and go, and you happen to be wearing sandals or high heels, you could be in a world of hurt. Rather than being stuck with them for the next week, wouldn't it be a life-saver if you had a comfortable pair in your pack?
Yet again and again, you see posts on the internet without a single word mentioned of extra clothing or shoes.
Lie #6: Hygiene and Sanitation are Second-Tier Considerations in Your Bug Out Bag
In most bug out bag chatter, there is very little (if any) mention of hygiene and sanitation.
But the truth is, soap, wipes, hand sanitizer, toothbrushes and fresh socks and undies can mean the difference between sick and healthy, and they make a GIANT difference in how you feel. Toilet paper, butt wipes, and a sanitary means of taking a dump and disposing of it, are likewise, HUGELY important (hint: plastic bags are a good place to start).
The COVID-19 pandemic has got people thinking (overreacting) a bit about sanitation, but it's still a fairly pronounced blind spot in most bug out bags.
The straight truth is that human beings are animals covered in bacteria. Some of it doesn't hurt anything, some of it smells like hell, and some of it can be downright dangerous. But managing sanitation is a big ingredient to staying alive. Over the history of the world, many more people have died from infection than wars or accidents (on that note, if you are looking for antibiotics you can stock up, fish antibiotics make a perfect substitute–no lie).
And can I just re-emphasize 1 more time… WIPES. Such a simple, and life changing thing. Rather than have to get to water or use some of the water you're carrying, get clean with a wipe that you can use and get rid of.
Lie #7: A Tin Foil Emergency Blanket in Your Bug Out Bag is Good Enough
Without exception, every pre-packaged survival kit on the market will include some version of a reflective emergency blanket. You know, those single use things that crinkle like crazy when you unfold them?
These things are pure junk. I know because I've slept in them multiple times And if you have slept in one too, you're nodding your head right now.
What's not to like? Let me count the ways:
they're not warm
they're not comfortable
they don't breathe (so you get a layer of condensation all over the inside)
they snag and rip easily
If you haven't ever slept in one of these things, it can be really easy to pass over it with a broad brush stroke, and think that it "checks the box" for your emergency sleeping solution. But it doesn't.
Manufacturers and others will agree that these aren't perfect, but they'll explain that for a stopgap, "just keep you alive" situation, it's a good solution. For many things in your bug out kit, this is a true, valid way of thinking. But not for sleeping.
You need something real and substantial for sleeping–either a sleeping bag that you can dedicate to your BOB, or a couple of warm blankets. Yes, it will cost more. And yes, it will take up more space in your pack. But when you're tired, freezing and shaky, it will give you a truly comfortable "safe place", where you can shelter for the night and regroup. And a space blanket will not.
Note: I mentioned that I've spent multiple nights in these things, which is true. What I didn't say however, was that 3 of the times I slept in these reflective emergency sleeping bags I was in San Diego. I was freezing, shivering, and barely slept. If you're in Michigan in the winter you're really screwed!
Lie #8: You'll Be Bugging Out Because of a War or Societal Collapse
Sensationalists love to talk about the fighting, the riots, the "us against them" parts of survival, and bugging out is no exception. In these scenarios, it's you and your bug out bag against the bad guys.
As you move swiftly through the city, you have to make sure that your "grey man" disguise goes undetected, or the bad guys will get you. You'll have your primary firearm, your sidearm, and body armor, so that when it's time to start face shooting each other, you're not going down.
After the director yells "Cut!" however, here's the reality: you'll be bugging out because of a storm, fire, or flood. Look at history–these are the emergencies that people leave their homes for. And this is what your bug out bag should be packed for.
Lie #9: Important Documents Are Second-Tier Considerations in Your Bug Out Bag
If you are trying to prepare yourself for emergencies and live more self-sufficiently, you will likely have come across people talking about their "emergency binder." The concept is simple: combine all the most important information in your life in one place. This includes phone numbers, medical information, insurance information, etc.
Some people choose to include copies of actual certificates, licenses, and titles as well. Think birth certificates, marriage certificates, passports, vehicle titles and more.
Having access to critical information ensures that if your life does get wildly disrupted in an emergency, you can more quickly and easily pick up the pieces afterwards.
Need to file an insurance claim after your house gets ruined by a flood or burns down in a fire? Your insurance information is right there.
Need to prove that everybody in your vehicle is your family? No problem–you have your birth certificates and IDs.
Need to get a prescription filled? You have it with you at all times.
There is a some dispute about exactly how much sensitive information to include in something like this, because it could potentially fall into the wrong hands.
I actually recommend that people store scanned images of this information on an encrypted USB drive on their keychain. If you really want to go above and beyond, you can opt to add a small external hard drive to your bug out bag, with both emergency info, survivalist handbooks, and photos you want to make sure not to lose. Although in an emergency where you don't have access to a computer or electricity, USB drives and hard drives become unusable.
Regardless of how many documents you choose to include or in what form, make SURE to include emergency information as part of your bug out bag. This is something that almost nobody in the hardcore bug out bag is talking about, but critically important.
Lie #10: It Doesn't Matter if Your Pack is Small
When you're scanning the internet, frequently you'll see smaller style backpacks being used as a bug out bag. If you want to do your bug out bag for real though, these are a bad choice.
With a quick reference to Lies #5 and #7 above, you'll remember that your bug out bag needs to hold a change of clothing and a sleeping bag or blankets. On their own, these take up a fair amount of space. But then if you add in a first aid kit, water, any kind of tools, and everything else, you're out of space in a hurry.
Remember that as you're getting ready to leave your house, you'll probably be grabbing your laptop, charging cables, a hard drive, perhaps some important mail or documents, your camera, stuff for the dog, and any other valuables or last minute odds and ends.
Like I mentioned earlier, you will almost certainly be bugging out in your car, so it is possible to throw boxes or loose stuff in the back, but if you have the space in your pack, you will definitely use it.
Ever see a homeless person with a tiny little purse? Granted, this is a different situation, but you get the point.
Lie #11: It's OK To Use Your Bug Out Bag Gear for Camping
To be fair, I'm not sure if anybody is actually preaching this from the pulpit, but it's something that happens all too frequently.
You're headed out for a camping trip, but you need a flashlight, so you go get the one from your bug out bag. Or a sleeping bag. Or lighters, Or any of 100 different things that are earmarked as 'survival gear' and put in your bug out bag.
Then, you forget to return it when you get back. Or it gets broken or lost. Or you put it on the ground right next to the bag, but you don't actually put it in. Or you eat the Mountain House meals you had in your kit, and don't replenish it with anything new.
There are lots of different scenarios where this kind of thing is happening, but the upshot is, it undermines your bug out bag.
Your bug out bag is sacrosanct. Let it live untouched except for emergencies. That's why it's a bad idea to get a bunch of new gear or a shiny new pack to use for it. You'll be too tempted to use it in other situations.
The solution?
Get nicer, nicer camping gear, and buy older or less-expensive stuff for your survival kit. This is why I recommend getting used stuff so much. With a little diligence, you can find deals on Facebook Marketplace or Craigslist, for high-quality stuff that still has plenty of life in it.
Lie #12: You'll Be Living Out of Your Bug Out Bag, Like It's Your Suitcase
One of the common misbeliefs is that during a disaster, you're going to be living out of your backpack like you would a suitcase.
In reality however, think about your survival kit more as a grab bag of things you may need to use once, rather than a suitcase you'll be continuously living out of during some period known as "survival." There's not really a survival time period, with a start and finish. Things happen little by little (either fast or slow), but not all at once.
And in the same way that we're not going to be running around in the woods shooting wild animals when there's grocery stores the next town over, we're not going to all of a sudden be relegated to only the supplies in our kits.
Like lots of other prepper fallacies, this is predicated on worst-case, 'all or nothing' scenario. But in reality, it's not as much about the complete breakdown of society, as it is needing to retreat elsewhere for a few days.
Maybe you're riding out a storm in a local shelter or church. You don't really need to build a cookfire or use a flashlight because they already have food and electricity for you. But having your own sleeping bag or blankets is super handy. Boom–bug out bag.
Don't get married to the idea that you're going to use your pack like you do when you're camping or backpacking. If you end up using 3 or 4 things out of your bug out bag, awesome.
FAQs
To go along with the words of wisdom above, here are a handful of related considerations and frequently asked questions that are important to keep in mind:
Is it better to create my own bug out bag, or buy a preassembled one?
Create your own. Less money, higher quality stuff, more personalized to your needs, more beneficial planning and thought process while you're putting it together.
Where should I bug out to?
Great question. Lots of survivalists talk about having a "bug out location" ("BOL"), usually some off grid cabin in the middle of nowhere, that they plan to go to if things get bad. Most of us will never do that though.
What I recommend is that you set up a reciprocal agreement with a couple friends and family members that will let you and your family come stay for a few days or weeks if needed. In turn, if they need to bug out of their home, they have permission to come crash at your place.
If you go this route, I recommend that you:
Choose somebody that is 2-5 hours away. This puts their location far enough away from you that you probably won't be experiencing the same regional threats at the same time.
Actually call or email these people and make it official. There are a lot of offers thrown around in loose terms during the good times, but things can change quickly when an emergency hits. Even a well-meaning friend might turn you down if you wait to ask about coming to stay until something cataclysmic happens. It might be that he's had 4 other similar phone calls from relatives or friends, and doesn't have the space to put you up.
I still don't think I know enough to get going–Where can I got to research this more?
If you think back over your life, there are people that you know that are "analyzers." They read specs and how-to manuals, ask a lot of questions, compare, watch YouTube videos, and learn a lot, but do little.
On the other hand, you'll find people that excel at their "thing" but are missing some of the terminology, or don't know the full history. But while the analyzers are on the sidelines, they are taking action, having fun, and getting better much faster than the analyzers.
When it comes to your bug out kit–don't be a perennial researcher. Manufacturers and affiliate marketers make money on specs, and product models, and comparing, so it's in their interest to dive into the weeds and make a big deal out of things that don't need to be.
Get started with what you know first, and keep sourcing ideas along the way.
Owning Does Not Equal Becoming
In truth, a lot of the most unrealistic things about bug out bags reflect similarly unrealistic ideas and attitudes about what survival situations will be like in general.
One of the most seductive and false beliefs that people latch onto in life is the idea that owning something equals becoming something.
But buying a gym membership does not make you fit. Buying a guitar does not make you a guitarist, and buying a bug out bag does not make you prepared for emergencies.
A solid bug out bag is about 65% thought and time, and probably only 35% gear and products. So if you really want to become prepared, you can't shortcut it by swiping your credit card once and then getting on with life. Spend the time, think it through, and enjoy the feeling that comes from honestly accounting with yourself and knowing that you've done what you can.