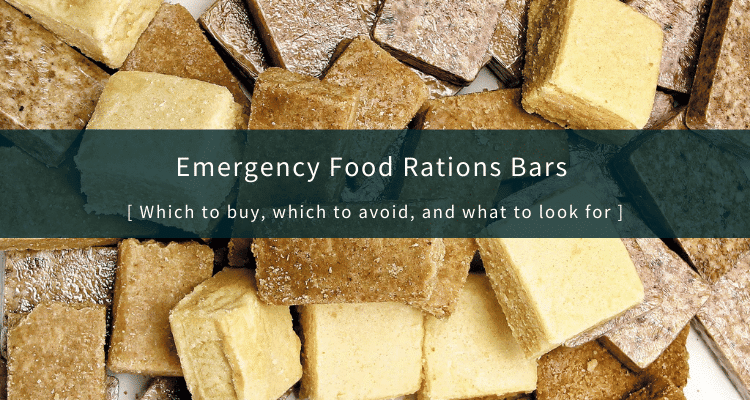 Emergency food bars make a useful companion for anyone planning to go at least a couple of days without easy access to food. Unlike more long term food storage that you keep in your house, food bars are small and easy to store in your backpack, and they don't require any cooking. Just open the packaging and eat.
As a result of the density in calories and nutrients, emergency food bars are also easy to share amongst a group of people. This efficient source of energy will keep your body functioning, until you can get to other food.
In this article, we'll review the best emergency food bars available on Amazon. We judged these products based on a matrix of factors, such as caloric & nutrient density, price as it relates to the value, shelf life, size, and flavor.
The Short Answer
In a rush? Here's out pick for the best emergency food bar available on market.
What Makes It Great:
3,600 calories per package
Nine individual bars designed not to make you thirsty
Made in the U.S.A.
5-year shelf life approved by the U.S. Coast Guard
S.O.S.'s emergency ration bar made the top of our list, in part because the nine 400-calorie bars consistently set the industry's highest standards. Approved by the Coast Guard, S.O.S. Food Lab's emergency food bar becomes a key to survival in all conditions.
If you're in a water-restricted area, this food bar's ideal recipe helps your body to avoid any increased need for water. Prepper's love this product because the five-year shelf life means you can store these rations and forget about them. S.O.S.'s packaging and ration bar can withstand stressful environments, and hold up regardless of the temperature.
Other Great Emergency Food Bars
What Makes It Great:
3,600 calories per bar (3-day supply)
Cut into (9) 400-calorie rations
5-year shelf life
Enriched with vitamins and minerals
Grizzly Gear's emergency food bars come precut into nine 400-calories bars to help someone survive for three days, or until help arrives. At 24 ounces, backpackers or disaster refugees can store more than one package in any weather condition. This ration bar won't provoke thirst, which makes it ideal for when access to clean drinking water becomes precarious.
This specific emergency ration finds wide appeal because it meets the standards of both Kosher and Halal, making mass-dispersal a reasonable solution for governments and relief organizations like the Red Cross and branches of the U.N.
The vitamins and minerals exceed universal standards in providing the healthiest meal replacement. The United States Coast Guard has approved Grizzly Gear's ration bar, as it meets the standards we've listed below the review. With a five-year shelf life, this product endures any temperature between the range of -22º F to 149º F.
What Makes It Great:
The most amount of nutrients packed in minimalist tablets
A total concentration of 60% carbohydrates, 10% proteins, 5% vitamins, minerals, and fibers, 25% fats
Easily store away until you need it most
Made from 15 essential vitamins and minerals
The Survival Tabs packets provide for 8 days of continuous nutrition for a single person. All four pouches contain 24 20-calorie tablets in different flavors (Butterscotch, Vanilla, Strawberry, and Chocolate) for a total of 92 tablets.
Each tablet is condensed to provide 100% of only 15 vitamins and minerals. The exact formula is a total concentration of 60% carbohydrates, 10% proteins, 5% vitamins, minerals, and fibers, and 25% fats. This is a great option for anyone spending time outdoors because each pouch weighs only ten ounces.
You can easily store this in your pack full of essentials before the next overnight hunting trip or hurricane season. Whether you're preparing for a natural disaster or food shortage, The Survival Tabs packets will sustain you long enough to find help outside your immediate surroundings.
What Makes It Great:
48 total 200-calorie emergency food bars per package
Each package contains 2,400 calories
Approved by the U.S. Coast Guard for its 5-year shelf-life
Hikers and campers in particular rave about DATREX's emergency food rations. On top of that, the U.S. Coast Guard's endorses the product as suitable for its lifeboat rations. Each package means two more days-worth of coconut flavored emergency food.
There's no preparation needed when it comes to DATREX's ration bars, unlike similar MREs and freeze-dried foods. Instead, the all-natural ingredients of minerals and vitamins are ready to eat whenever the occasion arises. Extreme heat and cold does nothing to diminish the quality since these products initially served the needs of besieged soldiers.
The five-year shelf life means you can store these rations away until you need them. And despite the conditions, the packaging and contents of your DATREX endure well past the 5-year expiration date. Still, it's wise to replace your ration supply every five years to optimize the value of your worst-case scenario source of energy.
What Makes It Great:
Every package comes packed with over 3,600 calories
Cinnamon and coconut flavors that won't leave you parched
Pre-cut into 9 separate bars to make long-term rationing easy
5-year shelf life in almost any condition & approved by the U.S. Coast Guard
The S.O.S. brand's 3,600 emergency food bar comes in two different flavors: cinnamon and coconut. With each package containing 3,600 calories, the nine food bars will keep you sustained until someone can come to your rescue.
At $20 per packet, this is an affordable option for hiking and camping groups, as well as hunting trips into remote areas. Compared to similar products, this sits about in the middle when it comes to price. However, the quality far exceeds the competitive price.
S.O.S.'s non-thirst provoking formula ensures you can survive in areas with limited access to clean drinking water. The packaging and contents endure both extremes of weather, and the five-year shelf life ensures this ration is ready when you need it most (not to mention that the new coconut flavor is delicious).
What Makes It Great:
(18) 200-calorie emergency food bars per package
Pre-cut to make daily rationing easy
Ready to eat, no preparations necessary
U.S. Coast Guard approved, 5-year shelf life
DATREX also sells a 3,600 emergency food ration with the same 5-year guaranteed shelf-life. And like most emergency food rations, this time frame is the minimum amount of time the ration can last. As long as the packaging and contents don't experience too much stress, this ration can easily last ten to fifteen years.
While the contents don't look too appealing in appearance, the coconut flavor makes it so you can eat the 18 food bars even if you're seasick. Even more, the Coast Guard approved DATREX's product for its lifeboats, meaning you can trust this ration to help you endure regardless of the circumstances.
With precut bars, rationing has never been easier, and at $15 you can purchase in bulk for the entire family. Even if your area experiences a food shortage, you'll be prepared to survive for as long as needed.
What Makes It Great:
3,600-calorie packages cut into 400-calorie food bars
Ready-to-eat & can withstand a temperature range of -40º F to 300º F
Mainstay is Kosher & meets the dictates for Halal
6-year shelf life preserve freshness, meaning the bars won't exacerbate thirst
With a total calorie-count of 3,600, Mainstay precut their individual food bars into nine individual 400-calorie meals. And, this puppy boasts a longer shelf life than many–6 years.
Part of this has to do with the durability of the food and packaging, and the contents of Mainstay's emergency food bars endure a temperate range of 40º F t0 300º F. The contents themselves consist of lean vitamins and minerals presented on a lemon-tasting bar.
Mainstay's formula also ensures their rations don't force your body into needing even more water, making it ideal for those stranded or exploring in water-scare regions. This product is ideal for everyone, regardless of your religious and cultural background, because Mainstay's emergency rations are Kosher and meet the standard for Halal.
What Makes It Great:
Great deal for a 5-pack of S.O.S emergency food bars
3,600-calorie packages
5-year shelf life & approved by the U.S. Coast Guard
At $40, the 5-pack deal for S.O.S.'s emergency ration bars is so good it's borderline monopolistic. If you have a large family and a limited budget, without a doubt, this is the option for you. It's the same industry-standard formula that prevents you from needing even more drinking water in an emergency event.
The Coast Guard's approval, compounded with the 5-year shelf life means you can account for your entire family. The pre-cut bars make it easy for to ration for an extended amount of time, meaning less headaches and you figure out what to do.
What Makes It Great:
Lemon, raspberry, cherry, tropical fruit, and orange-flavored bars
Great for emergencies during natural disasters, food shortages, camping, boating, hiking, hunting and more
Mylar vacuum packaging resists damage
5-year shelf life that also guarantees a fresh taste
S.O.S. designed its Millenium series of ration bars for those consumers worried about the taste of the food. This is why we designated this as the best food bar for kids, with a spectrum of flavors including lemon, raspberry, cherry, tropical fruit, and orange-flavored bars.
These food bars are non-perishable and won't diminish in flavor over time. This endurance in taste, partly, has to do with the mylar vacuum packaging that resists damage, heat, and the cold. Because of this durability, this is a great meal replacement option when planning for natural disasters, food shortages, camping, boating, hiking, hunting, and more.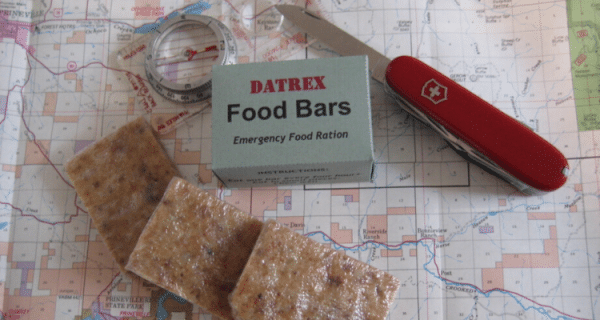 What To Look for In Your Emergency Food Bars
Preppers love emergency food bars because they're relatively inexpensive when compared to other emergency measures that eat at your budget. What's more is that emergency food bars sport an average five-year shelf life, and their contents and packaging can withstand almost any stress.
Before you go stocking up however, here's what you need to know about emergency food bars:
The Ration Bar's Nutrients are Essential
Emergency food bars feature with complex carbohydrates, relatively low protein, and rich vitamins and minerals. Most products feature a perfect balance of these ingredients, combined in such a way to resemble the texture of a dense cake. The recipes were chosen by various companies to ensure that the contents will not spoil in the heat of a Sahara, and won't deteriorate in the cold of the Arctic.
The U.S. Coast Guard's Approval is a Solid Baseline
The U.S. Coast Guard developed a series of guidelines for it to choose requitable emergency ration bars. Members of the Coast Guard need durable emergency food sources because they encounter searing heat and bone-chilling temperatures. As a result, the Safety of Life at Sea (SOLAS) has served as a baseline for determining high-value ration bars.
First, the emergency food bars need to withstand extreme temperature at both ends of the spectrum, and not experience any significant deterioration to the contents or packaging.
Then, the food bars need to find the perfect balance between not increasing someone's need for water, while also providing enough salt and protein to sustain a person without them needing to burn their fat reserves.
Furthermore, the emergency food bars must be small enough in size and lightweight to not impose any significant burden to the Coast Guard's lifeboats. The food bars must also meet a standard of taste so even ill-passengers can scarf down enough calories to survive. They must also not cause diarrhea or constipation in survivors.
Pick Ration Bars Designed to Withstand All Conditions
One of the reasons emergency food bars found the fancy of preppers from all backgrounds has to do with durability. Both the ingredients and the actual food bar itself must withstand any condition.
The United States Coast Guard approved of the products we've listed in this article, in part because they've demonstrated the ability to resist damage to both the packaging and contents. Armed forces across the globe rely on emergency food bars to sustain themselves during critical battles when access to standard food supplies dries up, and survival becomes the only goal.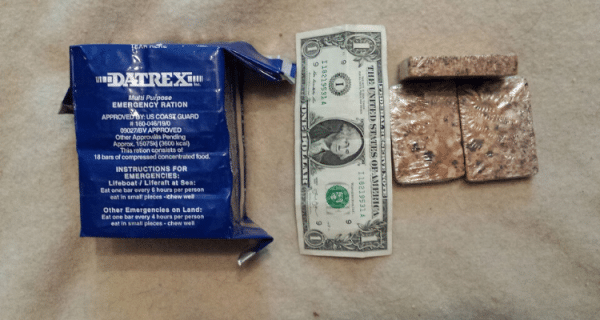 FAQs
What is a ration bar?
Ration bars provide enough calories to help you survive in a prolonged emergency. The bars don't "provoke thirst," as most companies advertise, because often your access to clean drinking water is eliminated amid a crisis.
Many in the prepper community invest in ration bars because they have a long shelf-life, so the emergency food bars are always ready when you need them most. Unlike MRE's, emergency food bars don't require boiling water or any other preparations.
Emergency food bars and MRE's as we know them today began out of a need in the military during the fifties and sixties. When soldiers engaged in long, intense battles, the military would drop food rations from an airplane to keep the soldiers alive until more troops could move in to help. However, these rations cost a lot and tasted worse than dirt.
So the government contracted private companies to develop alternatives, and eventually, the civilian population took notice. The companies developing emergency food bars formulate their products with the ideal balance of carbs, salts, proteins, fats, other vitamins, and minerals.
However, it's essential to keep in mind that these products shouldn't replace conventional meals whenever possible. Emergency food bars provide only the baseline amount of calories you need to function in a disaster.
What do ration bars taste like?
Taste depends on the product and the company, but many companies try to mix up their flavors to avoid the fatigue associated with eating food bars from earlier times. Some companies include options like cinnamon or lemon, raspberry, raspberry, cherry, tropical fruit, and orange.
What are the benefits of an emergency food bar?
Emergency foods bars are extremely calorie dense, designed to provide the most amount of energy in as small a size as possible—which frees up space in your storage areas and gear for camping or hunting, for example.
Another benefit to emergency food bars has to do with its ability to stave off thirst. Food bars don't require water to digest, a critical feature when your access to sterile drinking water becomes precarious. This feature also means you don't need any water to prepare the meals, unlike MRE's or Mountain House's freeze-dried entrées.
What are the drawbacks of emergency food bars?
It's almost unfair to apply the label of "drawbacks" to any emergency food bar, because these products serve a very specific, niche role. Food bars provide just enough calories to keep you alive until help arrives.
They won't give you the optimal strength needed to complete day to day activities like hunting or fishing. As a result, the nutritional value of food bars doesn't make them a long-term solution. That's where supplementing your supply with some of the foods listed below will become useful.
Lastly: these blocks might be compact and great for long-term storage, but that doesn't mean they're lightweight. If you're preparing a bug out bag to evacuate your home, you might not want to pack more than a couple in your travel bag. Also, food bars are a little boring eat–though many brands have made strides concerning taste.
How long do emergency rations last?
The extensive shelf-life for high-value emergency food bars is five years, give or take a year from brand to brand. However, in reality, most ration bars last far beyond their official expiration date.
Manufacturers include this date as a baseline to help you determine when the added ingredients are fresh and optimal. But you should still consider updating your emergency food storage after the expiration dates just to be safe.
What is the best survival food?
Emergency food bars and MRE's exist for those worst-case scenarios, so it's best to prepare with other foods as well.
My personal favorites are, in no particular order:
Canned…

Fruit (berries, apples)
Soup
Fish & Poultry (tuna, salmon, chicken, and other meats)

Brown Rice
Dried Beans
Shelf-stable, non-dairy milk
Bulk Nuts & Seeds
Peanut Butter
Trail mix
Granola
Protein Bars
Energy bars
Chocolate Bars
Beef Jerky
Instant Coffee
Canned Peaches
See my complete survival food list here.
How many emergency food bars should I store for emergencies?
That ultimately depends on your situation in regard to your distance from grocery stores, the number of people dependent on you, the size of your budget, and more. Most packages come in blocks of approximately 3,600 calories, which allots around 1,200 calories a day for three days.
Using this baseline, consider the threat most likely to strike your home, city, or country, and determine how long you and your loved ones might have to go without food. Emergency food bars only provide the bare essential amount of energy to survive, so supplementing your supply with the foods listed above will go a long way.
How do I store emergency food bars?
Companies like S.O.S. designed their products to withstand the elements in nature's quiver so that you can store emergency food bars in almost any condition. However, if it's possible, you should try and save the food bars in a dry place around 60º F.
Bottom Line
In this article, we've covered the different factors you need to consider before investing in an emergency food ration product. Various features, such as shelf-life, temperature-resistance, and the amount of time your meals buy you, play a factor in deciding which product is the best fit for you.
Our recommendation is S.O.S.'s emergency food bars. A single package can help someone survive for three days until help arrives. And at a total of 24 ounces, anyone can carry more than one package on their person or in their backpack.
As we mentioned, S.O.S. designed their specific emergency bars to avoid any increased need for water, making a great and reasonable solution for governments and relief organizations like the Red Cross and branches of the U.N.
Emergency food bars are one of the best tools when preparing for violent storms, political & economic upheaval, food shortages and more.