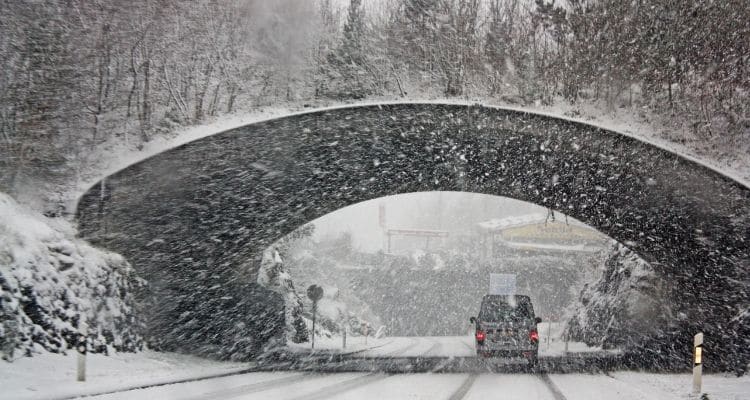 The weather is not always predictable, as we know. When temperatures hover around freezing, rain can turn to sleet and sleet to snow. One inch of rain equals approximately ten inches of snow.
In October of 2013, the Black Hills of South Dakota had a storm system come in that was just supposed to produce rain. Torrential rains turned to sleet and then to snow. The weight of the freezing rain and sleet snapped power lines.
Two days later with four feet of snow on the ground, and much of the area without power, the storm passed. Entire herds of cattle, horses and sheep on open range, soaked by rain, could not withstand the freezing temperatures and died. Many people were without power for a week.
The longest known power outage that I know of in North America, 3 weeks, due to sleet was in Canada about 25 years ago. It can happen.
Let's pretend that a winter storm is predicted for your area, you have 3 hours notice. What will you do?
Are You Prepared?
The winter storm has knocked power out for 24 hours…
The winter storm has knocked power out for 3 days…
The winter storm has knocked power out for a week…
The winter storm has knocked power out for 2 weeks…
The winter storm has knocked power out for 3 weeks…
Everyone is in different situations, but you are at home without power in cold temperatures for your area. If you are reading this, you are into preparedness and should have no problem with 1 -3 days without power. But what about a week? Two weeks? Three weeks?
If you can only keep one room in your home warm, when do you decide to turn off the water and drain the pipes? Do you unplug your appliances or turn off the electrical panel switch to prevent power surges? What about 3 weeks with no bathroom facilities? Do you cooperate with your neighbors (And how for how long?) or hoard and go into self defense mode?
What If You're Caught in a Blizzard or Snow Storm in Your Car?
Yes, this happened to me and it could have turned out badly…
I was coming home from a conference 200 miles from home in a winter storm that turned into a blizzard. As I was going down the interstate listening to the radio I could hear numerous road closings just behind me.
It was wicked going at about 30 mph, basically following tail lights of the vehicle ahead of me. It was white knuckle driving in near white out conditions with numerous cars and tractor trailers in the ditch.
I finally got off the interstate within 20 miles of home and was stunned to see no snow plows on the road. The radio was reporting that the snow plows had stopped because of hazardous conditions. Well, what about those of us stuck trying to get home!
I was within 7 miles of home in my little Escort wagon with about 6 inches of snow on the road and a hill, not a big one either, to climb. Half way up, pushing snow with my front end, I was stopped. I tried it a half dozen more times and was now stuck on the road in the middle of the lane.
That little car wasn't going anywhere!
This is before I was into preparedness, but still had a winter bag in the car with extra snow boots and a parka. And I did have a cell phone at the time. I called Bob and told him where I was and that I was stuck. He informed me that our 4 wheel drive truck was in the pasture (where we had last hauled wood) and there was no way to come and get me.
The radio was announcing that there would be no emergency rescues that night. To just stay put in your car, if you were stuck, with the emergency lights on and call in your location to 911 for when the snowplows would start clearing the roads in the morning.
What would YOU do?
What if I had gone down in the ditch with the tailpipe covered in snow, but the engine was running for warmth?
What if the car would not run for warmth (out of gas or whatever), what then?
Other thoughts?
The rest of the story…
The little valley I was in blocked enough of the driving snow that I could see a farmhouse in the distance with a light on – it was nighttime. I pulled on my heavy boots and parka and made my way through deep snow and high winds to the farmhouse. They knew me; I knew them. Their son had a 4 wheel drive truck and took me home.
I left my keys in the car with the flashers on and they moved it in the morning when the snow plows started up again. Not fun, but it could have been far worse.
Something to think about…
We are coming up on the Christmas season and your sons, daughters, or grandkids may not have as much sense as you do about what could happen. Please talk to them about winter preparedness and if they don't have a winter bag in their car, it may be a good gift.
You could save a life.
These questions and this scenario is not at all farfetched–think ahead!