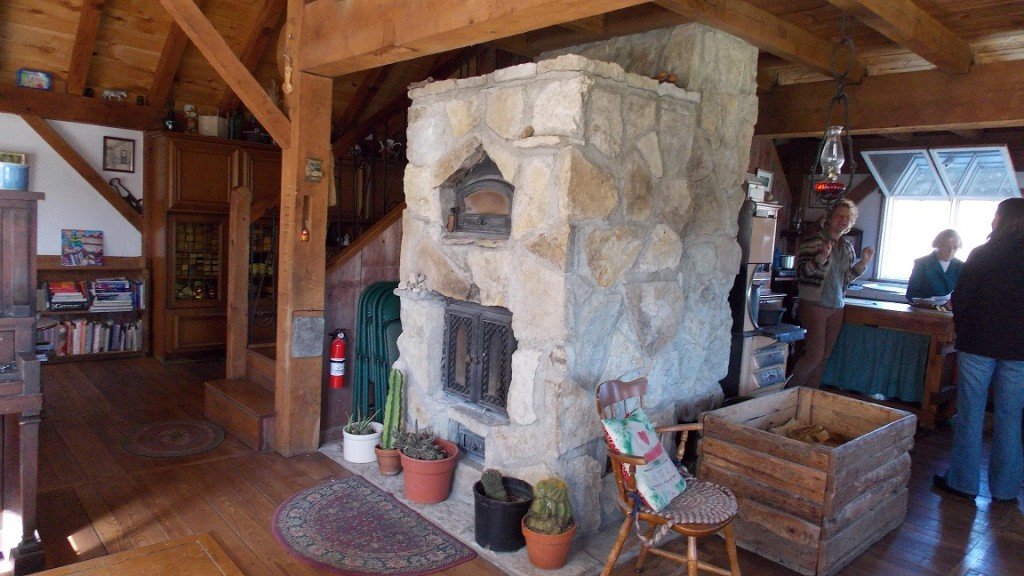 The heart of a homestead is the hearth. And when our off grid family was making building decisions, the choice to have a masonry heater was the first one they made.
Their masonry wood heater was a DIY project built from native limestone and includes a baking oven. It was built in the center of the home so that its warmth could radiate outward and upward to keep the whole home cozy and warm in the northern winters.
Only the doors, firebrick, piping and mortar were purchased to create this mammoth heater. The cast iron doors were purchased from a masonry stove dealer in Vermont, and the rest locally.
So just how efficient is it?
Well, the owners of this masonry stove said they only need to burn a fire once a day to keep the whole house warm unless it is below zero, then two fires a day suffice. And they only used three cords of wood between the masonry heater AND the wood cook stove last year!
I was very impressed with that, given that I used an average of seven cords of wood every winter for my very efficient wood stoves.
The upper stove is a baking oven. The owners often bake bread and pizzas in the oven, just after the fire has died down, or use it was a "warming drawer".
In the basement, directly below the masonry stove is this ash can—a large galvanized trash can. Note the strength of the cement block wall to hold the weight of the stone above it. If you have ever dealt with wood stoves you realize immediately how convenient this is to clean out the ashes! Plus the wood ash is excellent for making lye and enriching the garden (do not use wood ash where you plant potatoes as they will scab).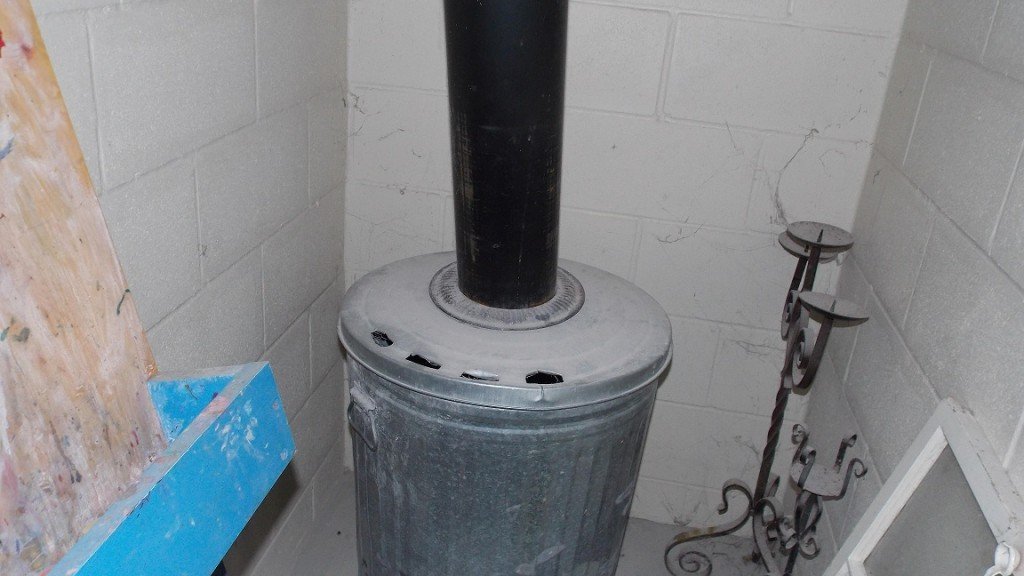 With the masonry heater being the first decision that was made in building this homestead, the rest of the home was designed around the concept. Heat rises and fills the upstairs sleeping areas with warmth. A round antique heat vent in the upstairs of the home allows the radiant heat to rise more efficiently than just through the stairwell.
A Brief History of Masonry Heaters
The earliest known use of masonry heating technology dates back all the way to the Neoglacial and Neolithic periods of human history. These ancient civilizations are said to have used the smoke of fires to provide radiant heat for their underground homes.
In all of human history, the Kang bed-stove is one of the earliest known instances of modern masonry heater technology. From as early as 5000 B.C., these Chinese "bed-stoves" were multi-person dwelling units primarily made of huge blocks of masonry to retain heat in colder climates. Around the world, forms of masonry heat grew organically in low temperature areas like Eastern Europe and Northern Asia, adopting various forms and names in countries like Russia and Sweden.
Eventually, masonry heaters lost popularity to forms of electric and gas heat found in most homes today. With that said, masonry heaters have seen a renewed popularity in recent years for its ability to provide a sustained off-grid source of heat.
Other Names for Masonry Heaters
Masonry heaters have been used in many different cultures and have therefore been called several different names. Here are some of the most common alternative names for masonry heaters:
Masonry Fireplace
Masonry Oven
Masonry Furnace
Masonry Stove
Russian Stove
Additionally, some masonry fireplaces are covered in tile. In these cases, a masonry oven can be referred to as a:
Cocklestove
Kachelofen
Tilestove
Or Ceramic Stove
Why do People Like Masonry Heaters?
People have been using masonry heaters, or early forms of the device, for thousands of years. This is because they are one of the best ways to heat a home for long periods of time, without being overly expensive to run.
Masonry fireplaces can easily warm a dwelling for an entire day, with very little upkeep required. Primarily, masonry furnaces are fueled with firewood. In the right areas with a lot of tree coverage, this makes the system very sustainable and inexpensive for ongoing use.
How do Masonry Heaters work?
Masonry heaters are devices that can be used to warm an interior space with radiant heating (similar to baseboard heaters, or hydronic heating in a floor). As they are named for the material, masonry heaters are made up of masonry, which is typically brick, soapstone, stone, tile, stucco, or a combination of several materials.
To put it simply, masonry heaters work like a sponge. A wood fire is burned rapidly, usually one to two hours. Heat from the fire is captured within bricks, stone, or tile and "soaked in." Once these materials have been warmed, they will continue to radiate heat for many hours. In an enclosed space like a living room, the radiant heat from a masonry furnace can be used to keep interior temperatures high, even in the dead of winter.
Masonry heaters are designed to be easy to both use and clean. Typically, a masonry furnace can be loaded with firewood and burned safely with the smoke escaping through a chimney. When in use, there are a few basic mechanical features that allow for people to safely operate the system, maximizing the amount of heat without comprising safety.
Upkeep is extremely important when considering the lifetime of a masonry heater. In addition to continuously unloading of the burnt ashes, the interior of a chimney should be accessible so that it can be properly cleaned regularly.