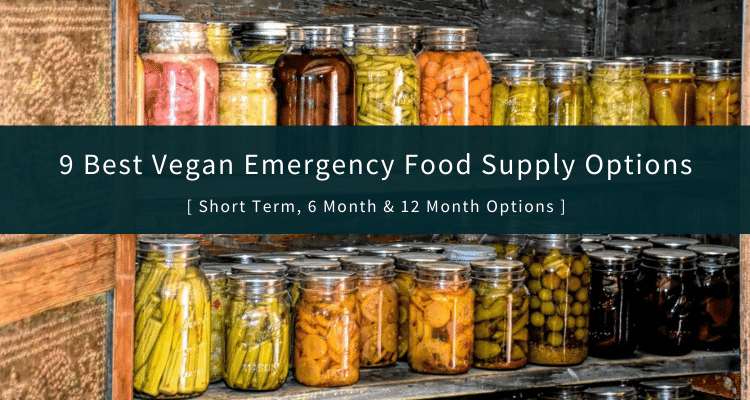 Putting together a vegan emergency food supply is a unique undertaking. For starters, emergencies are something that many of us don't like to think about. And if you are somebody that eats a vegan or plant-based diet, food storage can be even more difficult. Even so we've had people reach out to us about vegan options for emergency food storage.
Even if you're not a vegan, you might become one by necessity. In many areas, prepared meat products like steak and chicken breast virtually disappear in an emergency. In those cases, grains, beans, seeds, and other plant-based products then replace prepared meat products.
For example, when Hurricane Maria devastated Puerto Rico, many refugees were forced to sustain themselves with plant products until help arrived. Luckily, there are some outstanding vegan food supply options
The Short Answer:
What Makes It Great:
The best vegan option for long-term emergencies
Provides one adult 2,000 calories for 180 days
25-year shelf life
Fantastic variety
Re-sealable lids on the #10 cans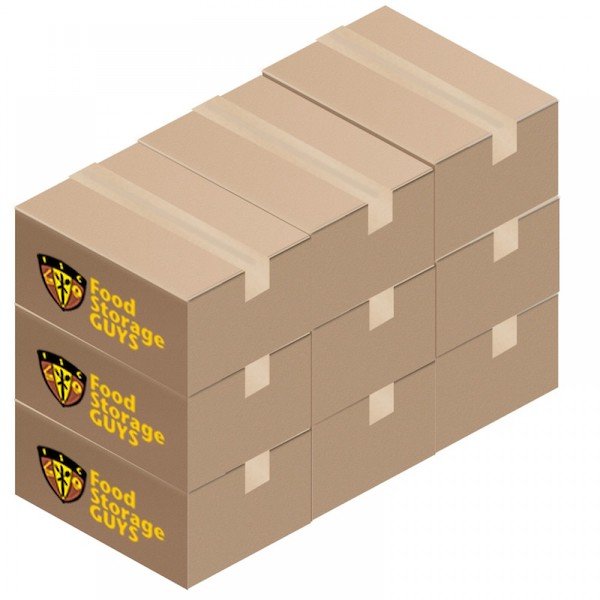 The Food Storage Guys produced a diverse array of meals that will last the average adult 180 days. This vegan food supply is an excellent option that boasts a 25-year shelf life. As long as you keep the #10 cans at room temperature, the meals will be there when you need them most.
In terms of the meal options this vegan emergency food supply includes dried dehydrated and freeze-dried foods. Fruits, vegetables, pasta, beans, rolled grains, seeds, and more.
It's also important to remember that many long-term food storage products can start to taste really similar, and get dull after a couple of weeks. Because of this, the Food Storage guys include seasonings, baking, and cooking supplies. They also include cooking supplies like baking powder, sugar, and salt. You should also supplement this purchase, which comes out to $1,100, with cooking gear and oil.
The meals are a truly high-value option for anyone living in urban areas since food deserts often form during emergencies.
Other Great Vegan Emergency Food Supply Options
What Makes It Great:
Bucket includes six pouches of beans, six pouches of white rice, two pouches of Southwest Rice
These meals are easy to prepare, full of essential protein and fiber
Comes in a durable, waterproof bucket
30-year shelf life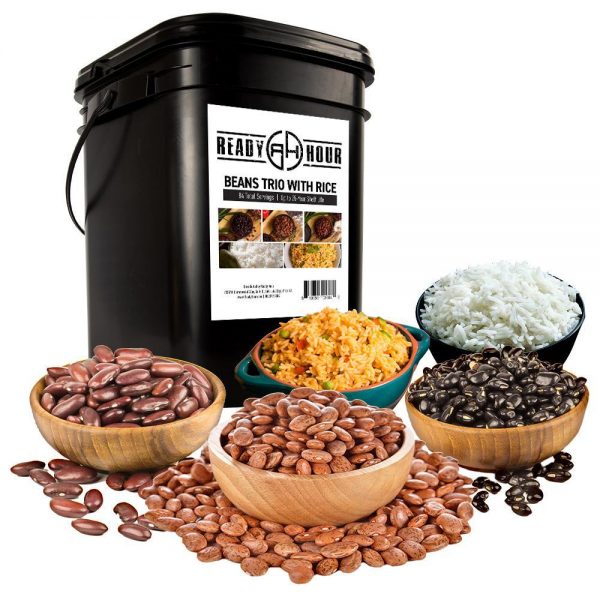 Ready Hour's Bean and Rice kit is a vital addition to your vegan emergency food supply. The 30-year shelf life means you can store these buckets away for easy storage. The entire bucket includes black beans, red beans, pinto beans, long-grain white rice, and southwest rice. Altogether, the 14 pouches have 100 servings for average adults.
These Ready Hour food buckets don't require much work to prepare, since you only need low heat for rehydration. Another benefit of this rehydration method is that it keeps in the flavor and nutrients. Regarding nutritional value, all the food included in this bucket is low in fat and high in fiber (a category that many mainstream emergency food supplies lack in).
As we already mentioned with the Food Storage Guys/ product, as long as you store this food bucket in a dry, cool place, you can expect this bucket to last you at least 30 years. However, in the event of a flood, the bucket's waterproof design will keep your food fresh and secure.
Another great supplement is Augason Farm's fruit pail. The pouches include strawberries, apples, raspberries, blueberries, bananas, and 113 servings of Spiff-E-Whip Dessert Topping. Augason Farms conveniently packages their food individually.
Another reason Augason's fruit pail is an excellent option for when water is scarce because you don't need to wash, peel, slice, or dice the contents. While this shouldn't be the only food you store for an emergency, they're an affordable addition at only $157. As long as you keep these products in a cool and dry place, you can count on this product for 30 years.

In total, this pail boasts just under 6,000 calories. It weighs under 3 pounds, meaning it won't take too much effort to carry, while still containing a load of essential nutrients.
Luckily, with this vegan emergency food supply is ready to eat right out of the packages. The fruit pouches also make great additions to oatmeal, cereal, and yogurt, a great way to add variety during any emergency.
What Makes It Great:
Provides one adult 2,000 calories for 180 days
25-year shelf life
Re-sealable lids on the #10 cans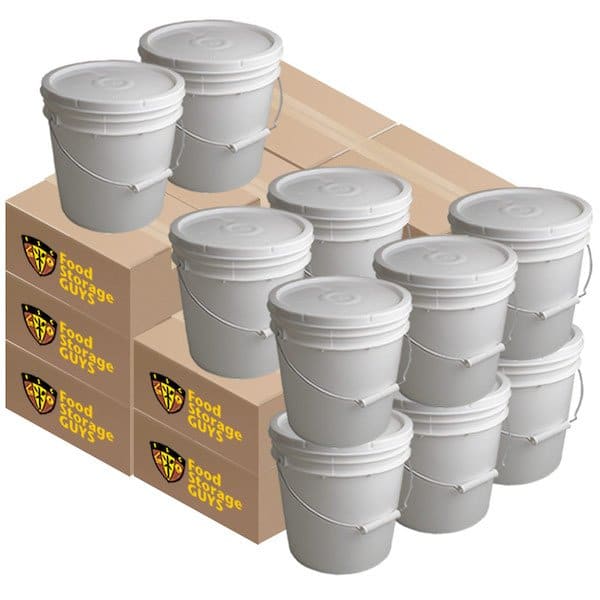 The Food Storage Guys also provide an incredible 1 year vegan food supply. Like their half-year choice, this one year supply of dried, freeze-dried, and dehydrated plant products provide 2,000 calories a day for at least a year. You'll want to supplement this product with a makeshift water supply, such as the WaterBob bathtub bladder or emergency water barrels.
In these uncertain times, it's always ideal for you to have a well-balanced diet. With an abundant supply of fruits, vegetables, pasta, beans, rolled grains, and seasonings, you won't grow bored with the meal options during a long-term crisis.

You also won't spend the days hungry and rationing food, since the Food Storage Guys allotted nine total servings a day for a single adult. If you're expecting to take care of another person, this supply will last you for half a year. And for four people, this supply lasts for about three months.
The single problem with this vegan emergency food supply is the price. At $2,100, the FSG vegan emergency supply is not exactly budget-friendly. If you're able to make this much of an investment, you should consider the one year or the half-year vegan options from FSG. However, if this price doesn't work for you, we have more budget-friendly options below in the product list.
What Makes It Great:
At least a 30-year shelf life
Best deal with this company
A diverse selection of fruits and vegetables
522 total servings that come out to approximately 12,500 calories
Two pails with 26 pouches of fruits and vegetables
If you're not satisfied with only the fruit pail, Auguson Farms offers fruit and vegetable buckets as one item. This deal is excellent for anyone looking for the most affordable way to stock up on essential foods, but with a vegan bent.
Many gluten-free fruits and vegetables are an excellent option for snacks since you can eat the fruit right out of the package. One reason this feature is so valuable is it helps conserve water, which is an ideal feature because most MRE's require warm or boiling water. Boiling water also wastes vital resources besides water, such as gas and cooking oil.
Finally, like all the products we've listed in this article, this fruit and vegetable emergency food will last you throughout the years. Both pails boast a shelf-life of up to 30 years, so long as you store them in a dry and cool place. What's more, is that all the food includes is loaded with vitamins and antioxidants. Even while you're surviving a crisis, you'll have the energy and strength to persist through the harshest conditions.
What Makes It Great:
Certified 100% organic and vegan
High vitamin, minerals and antioxidant content
10 to 15-year shelf life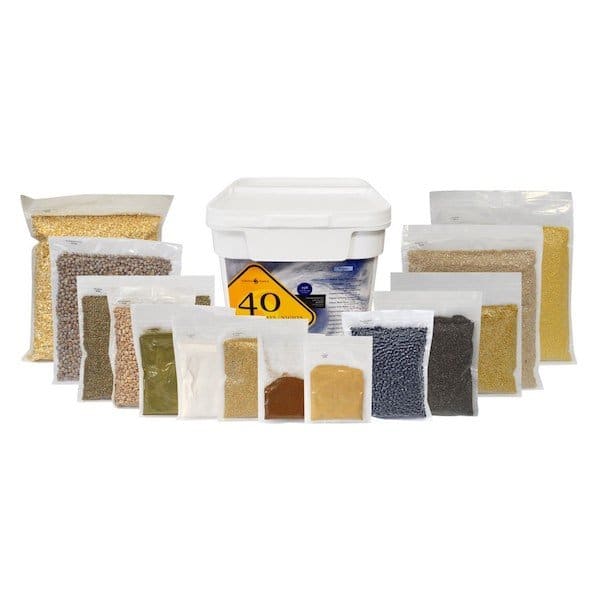 Here's the Food Storage Guy's short term vegan food solution to emergency. For 16-days, you'll have the fuel to keep you going until you're safe. This product is excellent for areas where hurricanes frequent since chances are you'll reach help before your vegan emergency supply runs out.
The contents are rolled oats, white rice, millet, garbanzo beans, green lentils, black beans, pinto beans, quinoa, green superfood powder, chia seeds, fermented miso powder, and cajun spice mix. All of these ingredients have high vitamin, mineral, and antioxidant content. On average, this will provide the average adult with at least 1,000 calories a day.
This supply is also an excellent option for anyone operating within a budget since the total cost comes out to $289 per food supply shipment. Averaged out, this will cost you $6 per day, and you'll thank yourself when you need this supply most. In terms of daily nutrition, this FSG product provides 13 grams of fat and 43 grams of protein every day. In totality, this provides just under 32,300 calories for any crisis you might encounter.
Every shipment with the food storage guys is free for orders over $100.
Here Are Some Other Great "A La Carte" Vegan Food Storage Options
What Makes It Great:
137 Servings totaling 4,795 Calories
25-year shelf life
Great for campers and hikers, as well as preppers
Use as a base for pasta sauce and tomato soup
Gluten-free
The tomato powder from Augason Farms is a great, all-around tool to keep with your long-term food supply. You can make delicious tomato soup from just warm water, adding in your grains like crackers, or use it as a base for your pasta sauce.
It's a great way to change up your food options whenever you find yourself in an emergency. Whether that crisis is a food shortage, hurricane, or anything else nature can throw in our direction this year. All you need to do is add water, and you're ready.
What Makes It Great:
28 servings totaling 1,960 calories
Helpful recipes included in the labeling
Certified gluten-free
At least a 25-year shelf life
This #10 can of dehydrated potato slices holds 28 total servings, equal to just under 2,000 total calories. This product is listed here as supplementary because you can use potato slices in various meals to make your extended vacation from civilization a little more comfortable.
You can store this product with the rest of your emergency food supply and forget about it. Augason guarantees at least a lifetime of 25 years. Also, if you're not a great cook, Augason Farms included a couple of recipes that might come in handy, especially for vegan meals.
What Makes It Great:
30-year shelf life
Ready to eat right out of the can
18 servings totaling 630 calories
Augason Farm's #10 Can provides a fantastic boost to your vegan emergency food supply. While this shouldn't be your sole option for any food crisis, the freeze-dried strawberries make for a great on-the-go snack, as well as an excellent addition to meals such as breakfast and oatmeal.
And, like most emergency meal supplies, as long as you keep your storage in a cool and dry place, each shipment comes with a 30-year guarantee. Part of this has to do with their #10 cans, which Augason Farms produces with high-quality stainless steel. As a result, the cans are water-resistant and keep out any oxygen that would hurt their contents' quality.
Here's a quick account in the wild: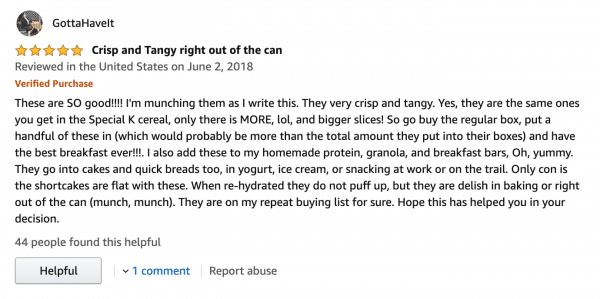 What to Look for in Your Vegan Emergency Food Supply
Certified Vegan & Plant-Based Ingredients
The products we've listed here are certified vegan, created with 100% plant-based products. For most vegan emergency food supply options, animal-based products weren't even in the same building.
However, there are countless other options out there, and you must check to see if they're certified vegan. Many companies will try to pass off ingredients, hoping you won't notice. So always make sure to do your research, especially if you're buying something that didn't make our list.
Shoot for A 15 -30 Year Shelf-Life
Most of the products we've listed in this review boast a shelf-life of 15-30+ years. However, these time forecasts rely on the fact that your store your vegan emergency food supply in a cool and dry place.
Many companies will make their containers––whether they're #10 cans or pails––water-resistant. So in the event of a flood, your food will stay safe, but these measures are baseline. You should also ensure that they are stored somewhere cool and dry, like a basement or garage, to maximize lifespan.
Amount of Food Included
The products we've listed in this article range from a supply that sustains you for about a month to an entire year.
Deciding which product to invest in depends on a couple of factors, such as how long you expect to live without fresh food access. For example, suppose you live in an area prone to hurricanes. In that case, you might only need approximately a month's worth of a vegan emergency food supply.
Another factor is your budget since some of the products listed here cost upwards of $1,000. However, you also have the advantage of buying products over time, since most emergency food supplies last upwards of 15 years.
Nutrients
The transition from a typical diet to a vegan lifestyle, you'll need to supplement nutrients previously derived from animal products. When you're putting together your vegan emergency food supply, you'll need to make sure the products have enough protein, calcium, iron, zinc, and antioxidants.
Most emergency food supply companies list these out in their advertising, so it shouldn't be too hard to find the nutrient content. However, if you'd like some additional ideas for incorporating certain nutrients into your diet, here's some starters:
zinc
vitamin A
vitamin D
iodine
Frequently Asked Questions
Does a Vegan Emergency Food Supply Cost Less?
Overall, meat products will cost you more than plant-based foods. While individual products will fluctuate, following a couple of simple steps so your wallet is the only thing that isn't losing weight.
For example, make sure you buy the raw materials in bulk because this will save you both time and money since you won't need to keep stopping by the produce section.
Another tip is to buy seasonally since something like apples or watermelons will cost more when purchased out of season. Many grocery stores, especially places like Whole Foods, advertise which of their fruits, vegetables, and plant-based products are in season.
What are the best options for water storage?
When it comes to storing water in an emergency, a reliable and sanitary method is vital. Recent events like Hurricane Laura or Hurricane Maria testify to this fact. Some options, such as bathtub storage systems, have a good track record with hurricane victims. You can also take advantage of water bricks or just straight barrels of water.
What are the best fruits & vegetables to store long-term?
According to Peta, some great fruits you can store long term are pretty much anything you can find canned in juice. There are also some dry fruit options with raisins, mandarins, mangoes, and pineapples. You can also store canned green beans and spinach, carrots, corn, tomatoes, peas, and mushrooms.
What is a #10 Can?
Large, No. 10 cans are an incredibly useful container for storing stable shelf food. Not only are they made from high-grade steel, but they are also airtight and made to survive just about any emergency or disaster. They are pest-proof and will keep their contents safe from the elements and any external contamination. And, unopened cans will even float.
#10 Cans are particularly useful because many preppers use them as bases to start their crop grows. The size, capacity, and steel components make them perfect for growing herbs, storing water, and valuables.
Bottom Line
At the end of the day, the Food Storage Guys' 6-month vegan food supply is the best option out there (full details here). Unlike the company's year-long supply, this is the most budget friendly vegan option available right now.
With a 25-year shelf-life, you can store this vegan food supply and forget about it. Meanwhile, the bounty of nutrients––such as fruits, vegetables, grains, beans, seeds, seasonings, baking & cooking stables––will keep you healthy and energized while you survive whatever nature throws our way.