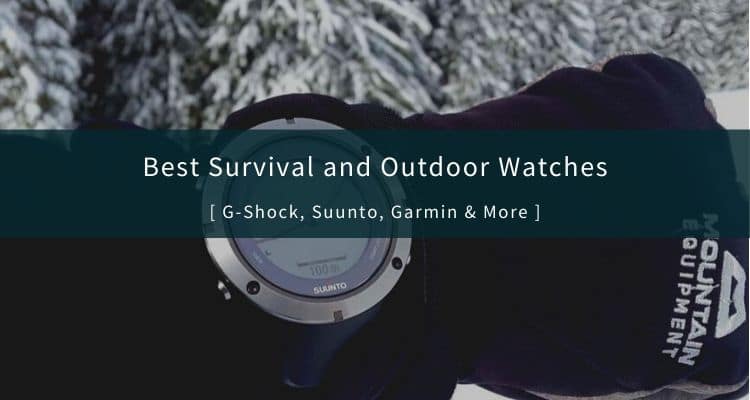 Survival watches are not only extremely durable, but they also include features such as GPS, altimeters, and barometers, to help you negotiate outdoor and tactical situations.
Some outdoor watches even include additional "above and beyond" features such as ambient solar charging, topographical maps, or stored locations for hunting, fishing, and foraging spots. But which watches strike the right balance between 'feature rich' and 'feature bloat'? And how much do added features cost?
The Short Answer
Want to cut to the chase? Here's the best survival watch for your money on the market today:
Casio's G-Shock line is the household name in durable, cool guy watches. And the Rangeman is no exception here. If anything it leads the pack. There's not really another way to say it–People love this watch! With over 3,000 reviews on Amazon, this puppy still has a 4.7 out of 5 stars, even with a handful of haters.
Over and over again, you'll hear people talk about how it doesn't feel bulky or uncomfortable, even though it's a bigger watch. It comes with G-Shock's own "Tough Solar", which ambiently charges the watch, and comes with a full stack of features–digital compass, altimeter, barometer, all the normal timers, stopwatches, calendars, and much more.
Two minor gripes with this watch are:
the altimeter derives its readings using barometric pressure, so it's not always 100% accurate, and
if you opt for the green model with "negative" display, the display can be difficult for some people to see.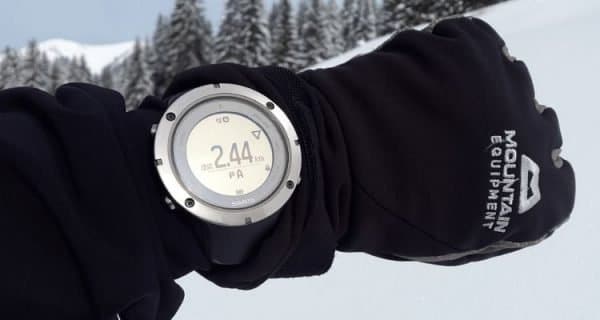 Other Great Survival and Outdoor Watches
Here's what you need to know about each of the top-rated outdoor watches:
Similar to Casio's G-Shock line, the Pathfinder comes equipped with Tough Solar and a triple sensor (altimeter/barometer, compass, and thermometer). It's also racked up a mess of positive reviews on Amazon and other retail sites for its lightweight construction, it's easy to use timer, it's modest price point, and dead-on durability.
Unlike the G-Shock however, this watch comes with a titanium band which lends a slightly more smoothed down, grown-up feel, to an otherwise aggressively tough watch. People love the accuracy, the looks, and much more.
Casio Pro Trek
Why It's Great:
200 meter water resistance
Smaller watch face
More expensive than Pathfinder & Rangeman
Another Casio, and more of the same goodness. Really the Pro Trek bears many of the same positive qualities and reviews as the Pathfinder and Rangeman.
The water resistance is 100 meters deeper, at 200. The watch case and face are also a hair smaller (47 mm vs. 54 for the Rangeman). It comes in slightly more expensive than the other 2 Casios in the lineup–roughly $40 more than the Rangeman and $60 more than the Pathfinder.
Otherwise however, you get the same great "Tough Solar" charging, the altimeter, barometer, compass and thermometer, and the same "compliment a day" good looks.
Garmin Instinct
If you're looking for a slightly more robust feature set and solid navigational performance, the Garmin Instinct might be your guy. The Instinct has a sleeker, smoother appearance, featuring the popular 'black on black on black' coloration (case, band, and backlighting), and a variety of color combinations.
As one of the original pioneers in the space, Garmin knows a little bit about GPS. The Instinct couples a 3 axis compass with multiple satellite navigation systems (GPS, Glonass, and Galileo), giving you even more reliability in off-the-grid locations and challenging environments. Want to mark the exact location of a good trail, fishing or hunting spot? No problem–you can easily store the coordinates.
It also offers an impressive array of heart rate and activity tracking, and boasts an insane battery life–14 hours in smartwatch mode, 16 hours in GPS mode, and up to 40 hours in battery saving mode.
Armitron Sport 40/8284 (Best For A Budget)
Here's one you might not have expected. But listen, sometimes the basic watch you have is better than the fancy watch you don't. Wait, isn't that just a fancy way of saying "something is better than nothing?" Yep, damn straight.
Before making too many concessions however, it IS a pretty solid something. It's durable, it's easy to read, easy to operate, and offers convenient switching between 12 and 24-hour (military) time modes. All this for less than $20 is pretty intriguing.
Hey, maybe this is the survival watch you buy a few of and keep sealed up in bug out bags in case you need another one in a tough situation (if you do this, keep the battery separate).
Suunto Traverse Alpha
Why It's Great:
Automatic shot placement (for hunters)
Breadcrumb trail way-finding
Topographic maps
Mixed reviews on apps and software
The Traverse Alpha has loads of hunting, fishing, and outdoor features–not to mention brutish good looks. For hunters, the Traverse Alpha has automatic shot placement, which stores the coordinates of any location where you take a shot–in case you need to return to pack an animal out or want to check the location for action again later.
It also comes with automatic bread crumb trails, to ensure that you can go as deep into the wilderness as you want and not get lost. Moon phases, barometric pressure, a built in flashlight, topographic maps, altitude paths, a battery life that nearly everybody raves about, and much more.
With all of this to love, it should be noted that this watch does get some mixed reviews–primarily with the watch's ability to correctly connect and interface with the apps that power all the features. Suunto has 2 apps, and there are several reviews in both the Android and Apple app stores reporting difficulty pairing and slow synchronizing times.
Suunto Core
This watch has several of the same features as the Traverse, and like the Traverse, gets lots of head nods for its incredible battery life. It also has a budget sensitive price tag (roughly $150 cheaper than the Suunto Traverse Alpha), and a storm alert, that provides advanced warning when inclimate weather is approaching.
It has a small contingent of people that say it's difficult to see the display, and a small assortment of quality/service complaints–not related to any one thing in specific. There are also people that rave about their Core after years of use however, and for that reason and the great features it offers, it's included on this list.
What To Look For in Your Survival Watch
A good outdoor watch has features that can help you navigate a survival or emergency situation. They also offer reliability, and all around performance as part of your EDC (everyday carry).
Many people depend on a quality timepiece as part of their EDC, and appreciate the ease of being able to quickly access navigational and weather related information, especially if a smart phone isn't handy (or its battery is dead).
Remember, most survival or outdoor watches will have a much longer battery life than a cell phone, so if you do find yourself in an emergency situation, a good survival watch gives you solid performance even after your cell phone battery is dead.
Anybody that wants to give him or herself an added edge would benefit from a capable survival watch on their wrist.
Here are the most important things to look for and keep in mind when you are choosing your watch:
Water Resistance
Kind of a no-brainer, but if you're buying a watch in the 21st century, and you are wanting it to function as any kind of outdoor or survival watch, then getting one that has a high level of water resistance is an absolute must. Now, it doesn't need to be a diver's watch, but it should be solid and should be rated for water resistance up to at least 100 meters, 200 better.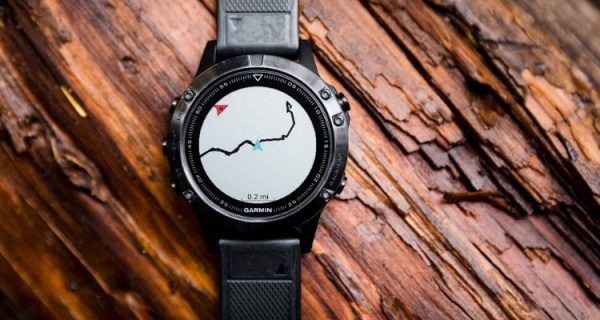 Durable Construction
This is another non-negotiable. Using a watch in outdoor situations necessitates that it be rugged and tough. Why? Because it will get knocked and nicked and scuffed and have things drop on it. It needs to "take a lickin' and keep on tickin" (literally!). Stainless steel watch cases are the best, but there are also several polymer/composite/resin materials that can also be extremely durable.
GPS/Compass
We have become so used to the convenience of GPS, that it seems we almost couldn't make it across the room without turning on navigation. Slight exaggeration obviously, but it's fair to say that GPS is almost ubiquitous in our daily lives.
Higher end, smartwatch style survival watches will offer GPS or similar navigational capability, to help you get "un-lost" and make sure that you stay that way. More streamlined and affordable watch models will often still offer some kind of compass. Look for this as core feature.
Thermometer
In a survival situation, the temperature has a lot to do with whether you live or die. Getting an outdoor watch with a thermometer ensures that you'll always have the temperature at your fingertips, to help you quickly make important decisions.
Altimeter
For any who might not immediately know what this is, it's the tool that measures altitude. A solid survival watch will usually include an altimeter as part of a triple sensor (thermometer, barometer and altimeter).
Higher elevations mean less oxygen, cooler temps, possibly more wind, and a host of other factors that could come into play in outdoor situations. For watches that include an altimeter, a quick check of the wrist is all that you'll need to understand what you're up against.
Barometer
As mentioned above, a barometer feature is usually accompanied in watches with an altimeter and thermometer. Without getting too sciency on you, a barometer measures the pressure in the air, which is directly related to rain and storm systems.
A drop in barometric pressures signifies an oncoming storm (the quicker the drop, the faster the storm will approach…. The more it drops, the more intense it will be, etc).
Believe it or not, barometric pressure can also affect hunting and fishing. According to Weather.com, a steady, high-pressure system provides the most consistent all-around fishing, while there may be a feeding frenzy prior to the barometric pressure dropping.
Long Battery Life
A long battery life can make up for a multitude of other sins in a survival watch. And conversely, all the features in the world don't matter if your watch dies.
Battery life is more of an issue with smartwatches, where the sheer amount of bells and whistles necessitate regular charging (like your cell phone). Old school style watches almost never require a battery change–with batteries lasting years in many cases, and the dying battery giving plenty of warning before it goes.
Consider this carefully as you weigh the balance between a watch that can do a lot of cool stuff, verses one that will last forever without needing to be charged.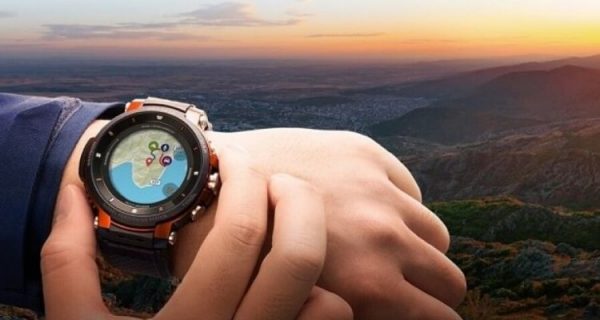 Maps and Topography
Only found in the most loaded outdoor watches, mapping and topography features are a luxury that can prove incredibly helpful in a survival situation. Trying to plan the most low-energy route back to safety? Need to identify the low areas to give you the best shot of finding water? Topography maps can help you locate these.
Hunting/Fishing Specific Features
As mentioned above, the savvy outdoorsman can glean bits of hunting and fishing information from a barometer.
Additionally, watches such as the Suunto Traverse Alpha provide lunar phase information, which corresponds with tides, and can be helpful in planning fishing or hunting activity.
Still other GPS style outdoor watches like the Garmin Instinct allow you to record and store the coordinates of specific hunting, fishing, or foraging locations so you can access later. These features are definitely "above and beyond" when you're looking for a watch.
Solar Powered
A solar-powered watch removes the dependence on a limited storage battery, and instead allows you to power your phone (and all of it's features) with the sun. Not a bad way to go right? In theory this should be an upgrade over traditional batteries, but not everybody loves the solar charging feature.
Battery technology has been around a lot longer than solar technology (especially watch-integrated solar), and the fail-points and surprises with solar have all yet to be discovered. While most people absolutely love solar-charging, and its usefulness as an outdoor watch can't be denied, you will occasionally hear reports of people that have had some kind of solar-charging issue.
FAQ
How much do survival watches cost?
We could sit here and say, "uh… prices vary…. disclaimer… blah blah blah." The short answer is this–you can expect to spend roughly $200 to get a high quality, well-constructed survival watch.
What is an 'ABC' watch?
With watches the acronym 'ABC' commonly refers to 'altimeter, barometer, and compass', features commonly bundled together.
Related
Bottom Line
At the end of the day, the watch you wear is a matter of personal preference, and depends upon your situation. With these recommendations however, you're on the right path.
If you're going in completely blind and just want to be treated to a solid, high-performing watch with solid features for survival and outdoor situations, go with the G-Shock Rangeman, and you won't be disappointed.