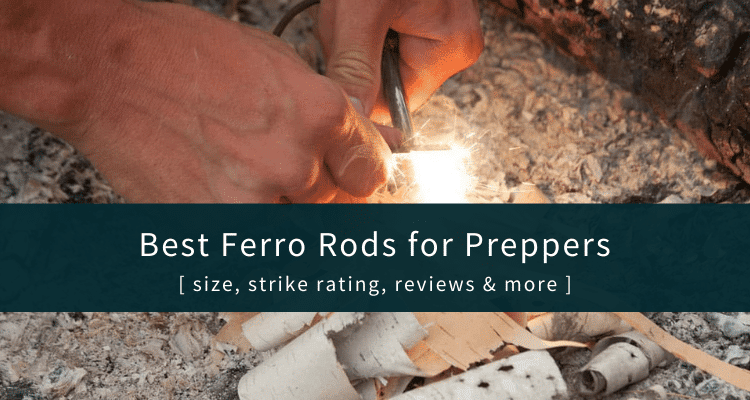 The ability to create fire can literally mean the difference between life and death. Whether you are in a wilderness survival situation, an unforeseen emergency on the road, or even just trying to make a quick campfire to cook dinner while on a weekend camping trip, being able to quickly create a hot fire with minimal supplies is invaluable.
That's where a Ferro rod is worth its weight in gold.
The Short Answer:
The überleben Zünden Fire Starter is just about the most versatile, portable, and outright functional Ferro rod you can get for a reasonable price. It is constructed with a raw hardwood handle meant to season over time, and one of three available diameters that will give you anywhere from 12,000 to over 20,000 strikes per rod. The manageable 5-inch length includes nearly 3 inches of spark belching Ferro rod.
With a shower of 5,000-degree sparks, the überleben Zünden Fire Starter is able to start a fire in just about any conditions. Wind, rain, and snow will not stop this Ferro rod from shedding countless bits of molten metal onto your tinder pile.
Once your fire is raging, use the paracord to hang some clothes out to dry. The striker doubles as a multi-tool, able to act as a tinder scraper, map scale marker, micro ruler, hex wrench, and bottle opener.
Other Great Ferro Rods
If you are looking for a great little Ferro rod that can be stored just about anywhere and comes in at less than twenty bucks, the Swiss Safe 5-in-1 Fire Starter just might be for you. Even better, it's a two-pack. Just rained? No problem. Break out the Swiss Safe 5-in-1 Fire Starter and get your tinder going, the rest of the wood will be dry in no time.
The dual Ferro rods are rated for over 16,000 strikes and because it is an alloy that included magnesium as well, the sparks burn at over 5,000 degrees Fahrenheit. Each toolset comes with the rod, striker, 450lb paracord, and features a built-in compass, and a 150dB safety whistle. Not only will this get your fire going in any conditions, but the compass and whistle are handy extras in a bad situation.
4-inch rod provides portability and effectiveness
Hardened striker is designed to maximize the spark shower
Drilled one-piece rod is super strong
Bayite Ferro rods are some of the toughest Ferro rods on the market. The wide variety of diameters and lengths gives you the ability to find the perfect balance of portability and spark volume. With sizes up to six inches long and a half-inch diameter, you have the ability to drop a steady flow of molten metal onto your tinder bed, getting that fire raging no matter what kind of weather you are out in.
The rod comes coated in a protective coating that scrapes off with a few simple strokes and gives you access to the ferrocerium firestarter beneath. This is a perfect addition to your bug out bag, tackle box, scout pack, cooking gear, and just about any other set of preparatory equipment you have that you might use out in the bush. This rod is a great match for all your kits.
The Fire-Fast Trekker is a unique Ferro rod in that it comes with the usual rod and striker, but it also includes a built-in military-grade magnesium rod to give an incredible boost to your fire in the early stages. Just use the hardened striker to scrape a little magnesium off into your tinder bed, and then make your sparks and the magnesium will be ignited by the 5,000-degree sparks and will add an intense burst of flame to your fire.
The 9.5mm diameter rod is three inches long, so it is extremely portable. The handle grip can even be scraped to produce dry tinder in an emergency. The rod is good for thousands of starts, so you will always be able to get warm or cook a hot meal with the Fire-Fast Trekker in your bag or pocket.
Each box is a 2-pack
Paracord leash that doubles as tinder
Built-in emergency whistle and a navigational compass
For a budget set of emergency Ferro rods, you really can't go wrong with the AOFAR AF-381 5-in-1 Fire Starter set. They pack quite a few features into a pretty small and portable package. They also come in a two-pack by default, so you can enjoy one and give one as a gift, or merely stock up twice as fast for yourself. Keep on in the glove box, one in the tackle box, one with the camping kitchen supplies, it's hard to have too many emergency supplies.
The AOFAR AF-381 5-in-1 Fire Starter combines a straightforward Ferro rod set, with a compass, safety whistle, and survival paracord rope. The 5-inch rod and unique 3-inch scraper put out an impressive shower of sparks for such a small tool. Works every time, no matter the weather conditions.
Robust ⅜" diameter Ferro rod
Paracord lanyard includes survival strands
Compact size fits just about anywhere
The Texas Bushcraft Fire Starter is a super sturdy Ferro rod and scraper set. Not only will it send 5,000-degree sparks, but the thick three-eighths inch thick rod and an even thicker wooden handle grip make sure that it happens quickly and easily. The rod is rated for over 15,000 strikes, so if you lit 3 fires every single day, you would be lighting fires for almost 14 years!
Small enough to fit nearly anywhere, the rod and scraper of the Texas Bushcraft Fire Starter are attached with more than 10 feet of 550lb paracord that includes 3 survival strands of waxed cotton tinder, polyethylene fishing line, and waxed thread. Doubling as a versatile multi-tool, the scraper features additional functions of a map scale, bottle opener, hex wrench, tinder scraper, rod scraper, and micro ruler.
Convenient necklace or lanyard carrying
A scraper that incorporates multiple tools
40-inch paracord lanyard
If you find other Ferro rods to be a bit, dainty, and if storage space isn't at a minimum, you are probably perfect for the Ferro rod from Holtzman's. The super-chunky half-inch diameter, six-inch-long ferro rod is perfect for folks with big hands, difficulty gripping smaller items, or those who might need an extreme spark volume.
The six-inch drilled Ferro rod comes with a multi-tool scraper and military-grade paracord to bind them together, and it even comes in a very sleek and elegant gift box. The scraper also includes a bottle opener and a ruler, and the rod is rated for more than 12,000 strikes. With that many uses and a robust half-inch diameter, the Holtzman's Ferro Rod is sure to stand up to the abuse of the wilderness and will last for years.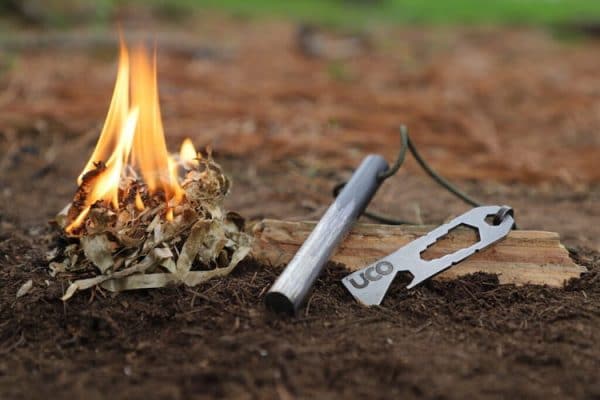 What To Look For
Created sometime around the turn of the twentieth century, ferrocerium is an alloy of iron and the rare-earth element cerium. It is pyrophoric, meaning that when fragments of it are exposed to air, they spontaneously ignite.
Ferrocerium is extremely brittle, and when the striker is scraped down the rod, it scrapes and chips off tiny fragments that then ignite in the open air and burn around 5,000 degrees Fahrenheit. Ferrocerium is often known by the misnomer "flint" when encountered in familiar objects like cigarette lighters and strikers for cutting or welding torches.
No matter if you are looking for a Ferro rod for your glove box, your bug out bag, or your standard camping gear or wood cooking supplies, it all starts with looking at what options are out there. But when you search, it seems like there are hundreds of them, page after page, and it feels like it might start to get complicated. Sure the number of different options out there can be overwhelming, but we've taken the time to evaluate some of the absolute best Ferro rods on the market, and why people love them.
When it comes to choosing the best Ferro rods, there are a few factors to consider before you pick one.
Length: longer ferro rods give you more sparks
The length is an important consideration since it will impact how you can store it, and how easy it is to hold securely during use. It will also factor into the overall spark volume. Shorter Ferro rods can be stored, packed, and transported more easily, but give a shorter stroke, thus producing a smaller volume of sparks.
Larger bars are easier to grip firmly and provide a longer scraper stroke. The downside to the thicker or longer bars is that you can't as easily carry them as a necklace or keychain, and if you are storing them with gear or in bug out bags, they will take up a bit more space and have a bit more weight.
Diameter: not critical
While the diameter of your Ferro rod is going to impact its performance and its life expectancy, it is not exactly a make-or-break factor. The diameter will also affect the spark density, for example, if you have a half-inch diameter rod and a quarter-inch diameter rod of the same length, the half-inch rod will put out more spark per stroke than the thinner rod.
Thinner rods – Thinner rods will be lighter and are more likely to be able to be carried as a keychain or necklace. The spark density per stroke will be negligibly less than from thicker rods, but not to any significant degree.
Thicker rods – Thicker rods will have a bit more mass since they are comprised of a significant percentage of iron, but unless you are concerned with the difference of a few ounces, that won't be a huge issue. Thicker rods will have a bit higher spark density than thinner rods and may provide a more sure grip in the absence of an attached handle.
Extras: nice but not necessary
Many Ferro rod sets will include some extras. Often this will be things like paracord, multi-tool scrapers, and so on. Since these are extras, and not considered necessary for the operation of the Ferro rod, they should not hold too much weight in your decision. But, all other things being equal, free stuff is always good.
Navigational Compass – Like some survival watches or whistles, some ferro rod firestarters will offer a built-in navigational compass. Often it will be molded into the grip or the hilt. This is nice if you have a separate compass since it can then help you eliminate redundant gear.
Multi-Tool Scraper – Scrapers are often designed to fit the specific diameter of the Ferro rod they come with, this is to help maximize the exposure to the rod surface. Sometimes the scraper will also be given additional functions. They can contain ruler markings, map scale markings, hex wrenches, flathead screwdriver blades, bottle openers, and more.
Survival Strands – This is an extra that is often braided into the paracord or the lanyard. Survival strands can include things like polyethylene fishing line, waxed cotton tinder, sewing thread, twine, or monofilament.
Multiple Ferro Rods – The only thing better than finding a great Ferro rod, is finding out you get two for the price of one! Some manufacturers of smaller rods actually give you two sets, so not only do you have the one you wanted in the first place, but you have an extra or spare for a second location.
FAQs
Q: How do I use a Ferro rod?
A: Using a Ferro rod is pretty straightforward, and only requires a few steps, but the key lies in your preparation. Before you begin, you will want to make sure you have a sufficient amount of dry tinder on your tinder bed ready for the sparks, and increasingly large twigs and sticks to feed it as it grows. If you are in a particularly wet or rainy location, or if dry tinder is not readily available, you may want to consider using a few magnesium shavings or a little bit of powder to drop your sparks on to give your fire a boost to dry your tinder.
Once your tinder and wood are ready, to operate your Ferro rod:
Hold your Ferro rod at about a 45-degree angle, with the far end as close to your ember bed as possible. Sparks will be coming from that end, do you want it placed and pointed where your fire should end up.
Grab your scraper, and hold it as close as possible and comfortable to the end you are holding. Many scrapers will have a special notch or cutout that is designed to be used for fire-starting, if yours has this use it, if not, use a hardened square edge.
PULL THE ROD BACK NOT THE SCRAPER. This is a very important step and technique. By holding the scraper stationary and pulling the rod back, you keep the sparks focused on the tinder. When you run the scraper down the rod, there is an inconsistent distancing, so you will have large amounts of sparks lost due to under or overshooting the tinder.
Q: Are Ferro rods safe?
A: As a matter of fact Ferro rods are quite possibly the single safest way to start a fire. Not only are they the most reliable way to start a fire, and are usable even after being submerged in liquids, and after sitting for years and years without maintenance, but they do it all without worrying about having a dangerous or even flammable fuel. Since they themselves don't burn, there are no fumes or smoke to worry about. As long as it is used properly, the sparks are only discharged away from you and toward your tinder pile, and there is an extremely small chance of burns.
Ferro Rod Tips And Tricks
Duct Tape
If you have a bare bar or a bar without a handle, wrapping a small strip o duct tape around the top end can provide a few benefits down the road. Aside from being a good grip in adverse or wet conditions, but it is a piece of duct tape. It can be used as a portable repair item for a rip in your pack or shoe, even wilderness first aid. Duct tape can help hold a bandage in place or a wound closed. Another thing it is great for is a source of flammable material. Fray an edge and pull off some sticky strands, and you have a bit of dry flammable material that will catch fire easily and burn hot for a short period.
Every Inch Counts
Your entire Ferro rod is usable as a firestarter. Every ounce of that bar can be transformed into spark in the field. Remember that you can scrape with pressure but no speed to scrape material from the bar into a small pile to assist in starting fires in very wet locations. Once it has been collected into a small pile, put a little spark in it and look out. It should produce a prodigious amount of very bright and very hot molten metal. The resulting fireball should be enough to force your tinder bed to catch.
No Scraper No Problem
Nearly every Ferro rod will come with a scraper, probably already attached to the rod by some paracord. But, if you needed the paracord and then lost the scraper? Well, if you have any other hardened steel implement, you can use that. One of the best things to use if you don't have a scraper is the square spine of a hardened knife blade. This is particularly useful because while some of the Ferro rods will have a handle or a grip on them, the strikers almost never have such. Using a survival knife you are comfortable with allows you to leverage the knife handle for removing more material from the bar ad making more sparks.
Keep It Round To Keep It Around
As you use your Ferro rod, you will undoubtedly have some irregularities in how to use it time after time. Over time this will cause "speed bumps" in your rod, they will actually be more like gradual ripples or dents. This is both a good thing and the beginnings of a bad thing. On one hand, this is good because it tells you two things, firstly it tells you that your technique needs a little adjustment, and secondly, it tells you where and how you need to adjust.
So when you examine your Ferro rod, and you see some ripples or uneven thickness it is an indication that you are applying an inconsistent pressure or speed at some point during your strikes, and the deeper ripples show you where you are pressing hardest, or moving slowest. Look at the dips and ripples and see if you can make an effort to apply more even pressure, and pull the rod at a more even speed.
To fix the speed bumps, take a standard metal file and grab a comfy seat outside. Guide the file over the Ferro rod while rolling and rotating the rod constantly to keep it rounded. If left unchecked, these speed bumps can get deeper and deeper, eventually leading to a failure where the rod breaks at a thin, weak spot. Make sure you do it outside away from anything flammable since filing down the rod will create sparks as the material is removed.
Use It
It sounds silly, but you would be surprised how common it is to buy a piece of gear, stow it away where it belongs, only to never practice or become comfortable and effective at using it. You don't buy a hunting rifle to not use it, you practice to make sure your skills stay sharp so when the time comes to fill the freezer you can do it effectively.
Your Ferro rod is the same way. You will probably not wear it out by practicing and becoming effective with it, since most are rated for at least 12,000 strikes. Use it any time you need to start a fire, practice your stroke and pressure several times a month. Make sure that if you need it in a survival situation, you will be able to confidently use it, and have a fire growing in just a stroke or two.
The Bottom Line
When it comes down to it, being able to start a fire is a skill that could save your life one day. As you are aware, not all fire starters are the best for every situation. Matches are useless if they're wet, lighters run out of fluid.
Your best bet for being able to start a fire any time, anywhere, is a Ferro rod, such as the überleben Zünden Fire Starter. They come in 3 different sizes so you can pick the right one for your needs.
Ultimately, the best Ferro rod really comes down to your needs and personal preferences. Firestarters come in various sizes and some come with other survival tools. Whether you're heading out for a weekend of camping in the mountains or you want a firestarter to keep in your emergency kit, there is a Ferro rod out there for you.