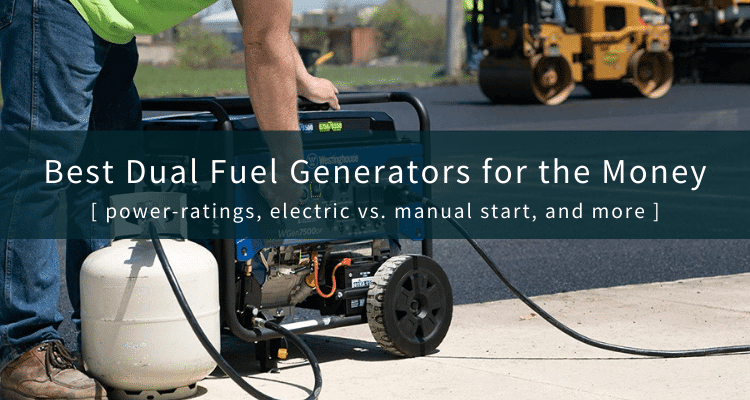 A generator is an incredibly important piece of equipment, and a dual fuel generator takes that portable power generation station and runs it off of either gasoline or liquid propane.
Whether you use a generator for supplemental daily power at your remote living area, amenities for the weekend at the hunting camp, portable power for camping or boondocking, or emergencies during grid power outages and powering your bug-out location, there is a dual-fuel generator for you.
There are a lot of advantages to using a dual fuel generator. With the flip of a switch, you can change from a conventional gasoline-powered generator to a more versatile propane-powered generator. Being able to use two fuels adds a degree of versatility to your generator, and can even help you save on fuel costs.
Gasoline is readily available, but with gasoline futures speculators and oil commodity prices getting higher and higher, it may not be long before gasoline is too expensive to be used in an engine that doesn't travel.
Propane gives you the option of having a much larger reserve of fuel on hand at any one time. It's difficult to safely store several hundred hours worth of gasoline safely, but you can store hundreds of gallons of liquid propane in the large residential tanks, and you can store it without it going bad like gasoline eventually will.
Convinced that a dual fuel generator is what you need? Here are the models worth seriously considering:
The Short Answer
L14-30R 120/240V 30A twist-lock outlet
Includes remote start key fob
Capable of on the fly fuel switching
The Westinghouse WGen7500DF Dual Fuel Portable Generator is the top dual fuel generator for a few reasons. Not only does it have Westinghouse lifetime support, but every single one is tested for functionality before leaving the factory. The 420cc Westinghouse 4-stroke OHV engine has a low-oil auto-shutdown that helps extend the life of the cast iron sleeve even further.
While on gasoline the WGen7500DF puts out 7500 running watts with 9500 peak watts, and while on propane, it produces 6750 running watts with a peak wattage of 8550 watts, though both lower and higher output models are available in the same line.
One of the many great features of the WGen7500DF is the ability to switch fuels on the fly. Gas up the 6.6-gallon 16-hour tank, connect a propane source, and when the gas tank is empty you simply turn the switch and change fuel sources without skipping a beat.
It is also Westinghouse Smart Switch ready, so you can have your WGen7500DF take over if the utility power goes out, providing a seamless backup power source for your home. Start it whenever you'd like from the comfort of your home with the remote start key fob, it will reach your generator more than 100 yards away. This generator also has a push-button start on the unit, as well as a manual pull start.
Export your power through a main 30 amp L14-30R 120/240V twist-lock outlet, and two 20 amp duplex GFCI 5-20R 120V household outlets, so you have plenty of sources and plenty of juice. The digital hour meter helps you track your use at a glance, so you always know how long until your next maintenance task.
This unit is no featherweight, but the built-in handle and never-flat wheels make moving and positioning it almost a one-handed job. The vibration-reducing rubber feet make sure it stays where you put it. The price point on this one is definitely worth it with the features and capabilities that this unit has.
Other Great Dual Fuel Generators:
Digital multimeter to help track performance and usage
MX2 technology allows using 120V and 240V output at the same time
Robust all-metal construction
The DuroMax XP8500EH is a powerful generator with a 16HP, 420cc engine that is designed to run on both gasoline and liquid propane spin a high-performance magneto with all copper windings. The all-metal construction gives this generator an added element of durability, even down to the control panel.
Generating 7000 running watts and 8500 watts at surge, this unit is strong enough to run most loads in your home, including refrigerators and freezers, air conditioners, lights, and tools. For distributing your power, the front panel has 4 120V 20 amp outlets, a single 120V/240V 30 amp twist-lock outlet, two 5V 3 amp USB outlets, and even a 12V DC automobile outlet. There are breakers for the DC outlets, one for each duplex 120V outlet, and one for the main 120V/240V outlet.
The DuroMax XP8500EH also comes with the DuroMax MX2 technology. MX2 allows the user to choose between operating the generator strictly on 120V, or splitting the output and using the 120V output and the 240V output at the same time. While activating the MX2 will slightly reduce the total available output, it allows greater flexibility for those who can utilize the dual output for high drain loads.
At 220lbs before adding in a full 7.9-gallon tank of gas this generator is one of the heavier ones in our rundown, however, the built-in handle and never-flat tires make it fairly easy to move and reposition when needed. You aren't going to want to move it often, as it is a bit unwieldy, but you generally don't buy units like these with a goal of maximum portability anyway.
Large 8.3-gallon fuel capacity
All copper windings for increased longevity
Includes MX2 technology that adds voltage versatility
The Durostar DS10000EH is a very robust generator, cranking out 8,000 running watts, and a massive 10,000 peak watts from the 440cc 18HP engine. This power is put out through the 2 120V household outlets, 1 120V 30A twist lock outlet, 1 120V/240V 30A twist-lock outlet, and 1 120V/240V 50A heavy duty outlet. The generator construction is all metal, down to the control panel.
While running, the Durostar DS10000EH can configure the power output with the MX2 switch. One way diverts all power produced to the 120V outlets, and the other allows the use of the dual voltage 120V/240V 30A and 50A at the same time. This is a great feature if you need to run household appliances as well as high drain items like power tools or shop equipment. The high output and versatile voltage make this generator an ideal option for worksites, larger cabins, or homes with a larger load that would need to be maintained in an emergency situation.
Other features of the Durostar DS10000EH include an analog voltmeter, for making sure that your power levels are good at a glance. An idle control switch to control the idle fuel consumption when no loads are connected. DC charging posts make sure you can charge another battery easily while the generator is running. Separate main breaker for added safety. EPA approved safe for use in US National Parks, and the modest noise level makes them a good neighbor.
RV ready generator sets up quickly
Fuel switch allows you to change between gas and propane quickly and safely
Easy to start in cold weather
The Champion Power Equipment 76533 dual fuel generator gives you access to a substantial powerplant with a bend toward being easily portable and RV ready. Running on gasoline, the Champion Power Equipment 76533 produces 3,800 running watts with 4,750 surge watts available. On liquid propane, both outputs are decreased but only by incredibly small amounts, giving you 3,420 running watts, and 4,275 surge watts.
The electric start quickly gets the 224cc Champion motor turned over and started. The digital Intelligauge helps you easily track the operating hertz and voltage, as well as the running time. This means you know how the generator is performing, and how long until your next maintenance milestone at a glance. The safety fuel switch makes sure the selector is not changed by accident or when fuel is not available.
Equipped with Cold Start Technology, the generator is designed to be easily started in the coldest weather and will run for 9 hours on one 3.4-gallon tank of gas, or up to 10.5 hours on a 20lb propane tank while only at half load. You have access to this power through 1 120V 30A TT-30R RV outlet, 1 120V 30A L5-30R twist-lock, and 2 120V 20A 5-20R household outlets.
This generator is a great choice for someone who has a relatively low number of appliances to run. For a small cabin or small to medium RV, this unit has plenty of power, plus the convenience of already having an RV outlet right on the panel, which is something that is becoming harder to find, in lieu of the twist-lock type of plug used for higher amperage connections.
Can easily switch between gasoline and propane with the turn of a dial
Flip a switch to change from 120V to 240V
Electric start with key
The WEN DF475T Dual Fuel 120V/240V Portable Generator is capable of generating 3,800 running watts and 4,750 surge watts when it is connected and running off of the gasoline fuel tank. When running propane, as is normal, the output is slightly reduced, but you still get a very respectable 3,500 watts running, and 4,350 watts in a momentary peak. The fuel source can be changed in just a moment by turning the dial.
Running for nearly 11 hours on a full 4-gallon tank of regular gasoline, this generator is loaded with outlets so that you can access your power without the hassle of converters and adapters. Including 2 120V 5-20R GFCI outlets, a 120V/240V L14-30R NEMA 30A twist lock, and a 12V DC cigarette lighter plug. The convenient voltage selector lets you choose between 120V and 240V, depending on what your power needs are at the home.
What To Look For
Power Ratings
This is usually the primary concern when you are shopping for a generator. You need a generator to power your things, so you need to be sure that it's going to actually power those things, right?
First, you need to know what you are going to run, and how much power you will need. Many appliances will have an area where the power specifications are stamped, often this is a small metal plate or badge. This is where having energy efficient appliances can go a long way. Add up all the wattage requirements for the appliances that you will be running concurrently, add the highest starting load possible from those appliances, and add a generous percentage for fluctuation and surges, usually 20% or so, and that is the ballpark minimum output that you will need from your generator.
To give you an example: If you need to run a small cabin that has a refrigerator & freezer, tv, coffee maker, and some lights that could conceivably all be on at once, you are looking at an approximate total running wattage of around 2,500 watts or so. With the heaviest starting load of those appliances is the fridge and freezer, which needs a jumpstart of around 2,500 watts, giving us a running load and surge load total of around 5kw. If we add 20% to that, we have 6kw. So 6,000 watts is your minimum power need, without considering anything like tools, computers or digital devices, or internet equipment.
If you have a scenario like this, then either the Westinghouse WGen7500DF and the DuroMax XP8500EH would be ideal, since they put out 8kw and 7kw respectively, giving you plenty of wiggle room to power extras and unforeseen hookups. For more modest power needs, the Champion Power Equipment 76533 and the WEN DF475T both offer a generator platform with 3,800 running watts. This gives enough power for necessities without a lot of surplus power and wasted fuel that you won't utilize.
Pull Start vs. Electric Start (or Remote Start!)
This feature can be a deal-breaker for many people. While a generator is always able to be started with the pull-cord, an electric start is always a more convenient and faster option. Electric start is not without its drawbacks, however. There is also the possibility of a remote start on some models as well.
Pull Start: This is the most common type of way to start small engines like those on generators. Just like with many other types of applications, the pull start cord is pulled quickly to rotate the engine and begin the combustion process. Many people do not mind a pull-start, but many also prefer to only use it as a failsafe or a backup if the electric start isn't functioning for one reason or another.
The downside to this method is that it can be physically intensive to start if you have grip or movement issues. The cord is also a replaceable part, meaning it will eventually wear out and break, and will then need to be replaced. Without fail, this will happen at an inopportune time, and is most likely to happen when you do not have a spare on hand, so plan accordingly!
Electric Start: Electric start is the method preferred by most people to start their generator. It works just like the electric start on a car or motorcycle. There are a battery and a starter motor, and when the button is pressed or the key is turned, the starter motor spins the engine to start it running. Once it starts up the button or key is released and the engine is running.
Just like with a pull-start, there are components of an electric start system that will wear out or need to be replaced on occasion. There is a battery that will need to be kept charged and in good condition, and there is the starter motor that may need to be replaced if the solenoid goes bad or it otherwise wears out.
The battery is particularly important to store properly and keep maintained for those who do not use the generator regularly. For users that operate the generator on any sort of regular daily, weekly, or even monthly schedule, this will likely not be a problem since running the generator will keep the battery charged and maintained.
Remote Start: This is the current height of convenience for standard generators. This natural progression of the electric start, allowing the user to start the generator from distances up to 100 yards simply by pressing a button on a key fob. It functions just like the remote start function on a vehicle.
There are similar drawbacks to remote start systems as with electric start. There is a battery that needs to be maintained, there is also a starter motor that may need to be replaced someday, but there is also the remote start fob and receiving unit. While it may sound like a great convenience, and that very well may be the case, there are more parts that might end up getting worn out and needing to be replaced.
Main Outlet Type
This is an important factor to keep in mind in order to avoid having to buy an RV adapter or other items to adapt to multiply outlets. Usually, there will be one outlet per circuit breaker on the generator. Frequently there will be duplex outlets for the 120V current, and one each for large outlets that handle more than 20 amp service. Avoiding an adapter can help increase the life of the main outlet by reducing the weight of the plug.
Smart Switch (1 Point for Westinghouse)
This is a relatively newer option that is designed by Westinghouse and is only available on Westinghouse generators at this time. It works by plugging into your house power outlet and into the Smart Switch and monitors the utility power for any losses or outages. The switch allows several other appliances to plug into it, and uses the utility power to keep the generator battery charged and maintained. In the event of a power outage or loss of utility power, provided the generator is fueled up, has oil, and is in the run position, the switch will automatically start the generator and keep the appliances running with an uninterrupted power supply.
FAQs
Q: What Is The Difference Between Starting Watts And Running Watts?
A: There are 2 different types of electrical loads that are placed on generators, running loads and starting loads. When an appliance is running and operating, it generally uses a steady amount of power, for example, the average refrigerator and freezer will use 500-700 watts once it is running, to keep the system running, fan blowing, et cetera. But to start the compressor relay that kicks the sealed system on and actually makes the cold, there is a starting load of between 1,500 and 2,000 watts needed for just a moment or two. This momentary load is known as the starting watts.
Q: Can I Parallel Two Generators Together?
A: While there is a power-doubling feature known as "running in parallel", it is extremely uncommon to see on larger generators, and even more rare on dual fuel generators. Running in parallel is often seen in a smaller class of generators known as "inverter generators." It basically means you run two generators side by side, linked by a special kit or cable. This allows someone with a smaller inverter generator to buy a second unit of the same type and run them in parallel, doubling their initial power without having to invest in a larger generator, or while retaining a higher degree of portability.
The Bottom Line
When it comes down to it, a generator is a piece of equipment that can be extremely important to have, especially if you have one that can run off of gasoline or liquid propane. Dual fuel generators come with several advantages, from versatility to ease of use. You simply flip a switch and you can go from propane to gas with ease.
Some people use their generator as a backup if they have power outages on the grid, and others use it as a daily power supply while living off-grid. No matter what your needs are, there is a generator that can do what you need it to do. Our top pick is the Westinghouse WGen7500DF. This generator comes in handy as a backup power source for a house, as it has a sensor that automatically powers it up if the power to your home goes out. It also has the longevity to be used daily to supplement your existing power if needed. If you're looking for a generator that has a higher fuel capacity, the Durostar DS10000EH Portable Generator may be just what you are looking for. The massive gas tank can hold up to 8.3 gallons of gasoline and will give you a long operation time at half load.
No matter what, having a generator for your off-grid homestead will allow you to have plenty of power so you can still enjoy the conveniences of electricity while still maintaining your off-grid lifestyle.