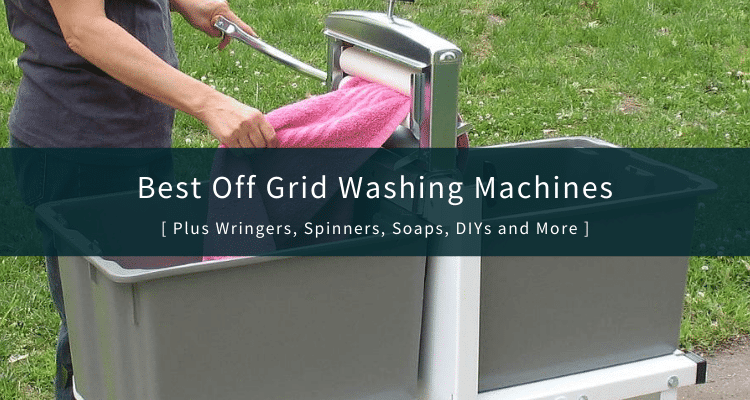 Off grid laundry has come up a number of times as a self-sufficiency topic for 2 reasons:
Because many people in our crowd are wanting to be free from the electrical and water grids, and need find another way of washing clothes.
Because we are also usually looking for ways to save money.
The reality is this though: an off grid washing machine is a necessity for anyone looking to spend a significant amount of time away from cities and towns, living off grid, or simply living a minimalist lifestyle. These machines range from small capacity, manually operated units to larger electric units with washing programs and spin dry capabilities.
The Short Answer
The Giantex Full-Automatic Washing Machine is a great option for making a dent in that laundry pile. It offers full control over washing functions, water levels, and delays via the LCD display. The child lock offers a handy way to lock all buttons and functions and sounds an alarm if the lid is opened, a great feature for homes with curious little ones. The clear lid allows users to monitor the washing progress and water condition.
The modestly sized cabinet is only 33.6" x 19.8" x 19.7", and fits in nearly any nook of your cabin, boat, or camper. Once you have loaded the 9.9-pound capacity stainless steel honeycomb basket, simply hook up the water inlet to your faucet, position the drain hose, and set your wash program. This unit will auto-regulate water intake, and if the load becomes unbalanced, the auto-balance feature will pause the wash cycle and work to redistribute the load more evenly.
Other Great Off-Grid Washing Machines
Electronic control over 10 programs and 5 water levels
Water pump for quick discharge
Includes quick-connect adapters for standard faucets
10-pound capacity
Not only does the Panda PAN6320W have a full array of programs for load types, water levels, and wash durations, but it features a water pump to quickly empty the unit. This water can be discharged via the 55-inch long drain hose to any gray water holding tank or disposal area. It has an included water supply line with adapters ready for any standard US faucet type.
All this comes in a unit that is only 34" x 20" x 19", and even includes casters for simple maneuvering in your RV, camper, or cabin. The stainless steel basket will not rust or corrode and can handle up to 10 pounds of clothes at a time. You will not have to worry about draining your solar battery array or having to stress your generator because this washer only requires 310W to run on a standard 110V grounded outlet.
11-pound wash capacity, 6.6-pound spin-dry capacity
Dual water inlets
Separate wash and spin timers
Gravity drain
The Giantex Mini Twin Tub model cuts out some of the bells and whistles, while still remaining a solid functioning washer, for a lower price point. The washer portion of the unit uses 260W, and the spin dryer uses just 140W, of standard 120V/60Hz power. The dual water intake allows you to fill the washer side manually but also allows some water to be added to the spin side, to better rinse the clothes of any remaining soap, while drying them.
One of the great things about this unit is it is significantly shorter than several others at just under 30 inches. This can be nice if you plan on storing it under a counter, table, or tucked away elsewhere. It measures 28.5" x 24.8" x 15". The small size and lightweight come in handy when it needs to drain, it comes with a 20" hose to facilitate easily gravity draining the washtub.
The KUPPET Compact Twin Tub Portable Mini Washing Machine packs a whopping 18-pound wash capacity in a sleek and modern design. The controls are a clean and uncomplicated set of three dials, for the wash timer, wash selector, and spin timer. The stainless steel snap ring keeps the water supply line securely attached to nearly any faucet size or type.
This high efficiency portable washer can be stored easily as it measures only 33.4" x 27.9" x 17.3", and comes with a 56" drain hose, so when the drain pump empties the tub, you can make sure the water goes where you want it without having to move the unit to drain.
The unit has a 15-minute wash timer and 5-minute dry timer, so you can be sure that you always have full control over your wash cycles, without having to babysit the unit.
8-pound wash capacity, 5-pound dry capacity
Dual water inlet
Gravity drain
Cover plate for spin-dry tub
The SUPER DEAL Portable Compact Mini Twin Tub Washing Machine packs a lot of power into a small cabinet. The unique pulsator agitates the clothes without damaging them or bunching up and throwing the washtub off balance.
Each tub has its own water inlet for easy filling and rinsing. Fill the washer side before starting the 15-minute wash timer, switch tubs and add a small amount of water while spinning in order to help rinse out any remaining soap, and ensure a clean and complete spin out.
The 26" x 13" x 12" cabinet is small enough, and at just over 26 pounds it is light enough, to be stored or moved just about anywhere. It comes with a handy cover plate for the spin tub, that minimizes splashing and keeps the nearly dry clothes from coming out during the spin cycle. Even when both tubs are working, this unit is extra quiet, as long as the loads are balanced.
The Wonder Wash Compact Washing Machine is one of the most well-known and well-loved off grid washing machines. It is a fully non-electric hand washer for clothes, and requires only a slow crank to tumble the drum and agitate your clothes.
While the small 5-pound capacity seems small, the average two to five minute wash time and minimal water usage make it possible to do several loads of laundry per hour.
One of the great things about this fully manual unit is the ease of operation, right down to the lid. Instead of having to screw and unscrew the lid each time, there is a unique lever lock.
Simply lift the lever, swap the load, replace the lid and push the lever down and it's ready for another tumble. This unit is one of the greenest options you can get, using zero electricity, and nearly 90% less water than standard washers.
The Lavario Portable Clothes Washer is another fantastic non-electric washer. Rather than a tumbler method, this washer uses a clothes basket nestled tightly in the water bucket.
Lifting and plunging the clothes basket activates the Powerflow Technology, where the push and pull strokes force water through the fabric to get your clothes clean quickly and completely. It uses minimal arm strength for maximum results. Gravity and buoyancy do most of the work.
Perfect for RVs, cabins, boats, or even apartments and dorm rooms. A typical load of laundry in the Lavario takes less than 20 minutes from first fill to last rinse and empty. Super lightweight and portable, this washer can go pretty much anywhere and doesn't use any electricity.
Ready To Try Your Hand At Some Off Grid Laundry? Keep These Things in Mind:
First of all, remember that if you live in a true "4 seasons" climate, winter is a nasty time to to air dry your clothes. With freezing temps and very little sun, it's easy for clothes to turn to ice on the line.
If you choose to get a wringer, remember that buttons and zippers will have a hard time passing through a wringer, and can actually be broken by it. In order to avoid this, just zip tie a thin sponge around either end – enough give to not break anything, but still get the water out. A manual clothes wringer and a few other types of off grid washing machines allow you to control how fast the clothes go through, so you can keep a closer eye and more careful touch on "problem clothing."
Watch fingers, hair, clothing… and…. other body parts near the wringer!
What To Look For In Your Off-Grid Washing Machine
Size
This is a consideration that many of us face when buying a new appliance for off-grid use. Not only is storage space at a premium, but when it is being used, it has to be worth the space it takes up.
For the electric units, you will need a nook, or closet, under-counter, or under-table space for it to live.
For a smaller non-electric washer or manual washer machine, you can probably store them lots of places, even in the smallest broom closet.
This size vs. function trade-off can be negotiated if you have large amounts of laundry. For example, if you have a spouse and multiple children, that laundry can pile up, and being able to wash 8-10 pounds at a time can make that extra size worth it.
Power
Depending on the type of off-grid environment you plan to use it in, this can be the deciding factor.
For use in situations where you have power, like cabins and RVs, you will want to be as economical as possible with your electricity. To this end, we have made efforts to lists the power consumption where possible, so that you can determine which ones will fit your needs. If you have the power to spare, an electric model might be right for you. They are a great combination of economy, portability, and convenience.
For scenarios where you are unable to spare the electricity, such as just getting started with solar, where you may not have a large battery bank yet, or even extended camping situations where you will not have power at all, then the fully manual models will be the best. You will still be able to do small loads quickly and efficiently.
Capacity
When looking at the capacity, most models are measured in pounds of dry laundry that can fit in the basket. This is another point where you have to evaluate your specific needs. For a single person or a couple, you probably will not need more than a few pounds of laundry at a time, unless you space out your washings. If you wash for more than one or two people, it will probably be more economical for you to get a little larger unit, so that you will not have to do dozens of loads before you finish.
Drying Ability
Drying is nearly a fully luxury option. Even the models that have a spin-dry tub, it will not get your clothes fully dry as a residential unit will. But there will be a convenience and time compromise between
Gravity Or Pump Drain
This is another option that may be a luxury to some and a necessity for others. When you consider where you may be storing and using your washer, you may need the water pump for easy draining, or you might be able to just run the drain hose and let gravity do the work. Obviously the models with a drain pump will need electricity, so keep that in mind when evaluating your possible choices.
What About DIY Washing Setups?
The Windmill
I live on the edge of the prairie and we have several great wind farms within 10 miles of here. I've had a hankering to try building this wind driven washing machine for a while just as an experiment to see if I have enough wind to make this work as this property is nestled in a valley with an old RR truss blocking the west wind and that is what got me back on the subject of laundry.
3-Bucket Setup for Rinsing and Wringing
I stumbled across a couple of posts on off grid laundry that have some unique ideas that I thought you may find valuable.
The poster is working with a standard plunger type manual washer in a bucket, but her rinse setup is what impressed me! Three 5 or 6 gallon buckets, bottom one holds the grey water for reuse, middle one is full of holes to press the water out of the clothes, top one has a lid and you just sit on it to rinse the water out of the clothes. Very simple, low cost, and ingenious!
And what about getting the clothes even drier? The Charming Spinner! Amish built, or at least sold, works with an off-grid battery type setup and regular electric, and Lordy, I want one!
There is no such thing as an energy efficient dryer. Although the ones that have a solid top with the lint removal in front toward the bottom are about 20% more efficient. The thing is that the clothes come out of the washing machine wet, even if you spin them twice. She swears that this little spinner can save 1/2 the time in drying clothes – and yes, you have the grey water to reuse.
I save an easy $75 a year hanging my clothes out during the summer. However, the winter is dryer time. I'm thinking the Charming Spinner would pay for itself in about 2 years and be there in a preparedness situation. Please let me know if you have any experience with this little machine as I had not heard of it before.
The Industrial Mop Bucket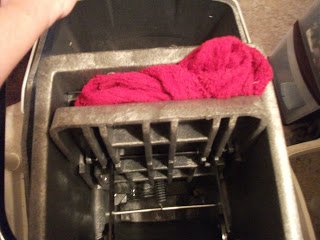 How about the idea of using a simple janitor's mop buck and the wringer as a clothes wringer?
I ran across this really neat manual washing machine with an agitating basket. And then I ran across an article by a gal who is using a simple janitor's bucket to rinse and wring out her clothes – accessible, simple and effective.
FAQs
How do I do laundry off-grid?
Doing laundry off-grid is surprisingly similar to doing laundry using conventional residential washers and dryers, or commercial washers and dryers at a laundromat. For starters, regardless of whether you have an electric or non-electric unit, you will need a water supply.
Most of the electric units will have a water inlet similar to your conventional machines, where if you have a faucet or other source of pressurized water, the inlet hose attaches to that and you fill the machine after loading your clothes and adding your detergent.
You can also fill via the lid, by pouring your water in. This is handy if you use a rainwater catchment that is not pressurized. With a non-electric unit, you simply add the water manually.
Once the unit has your clothes, detergent, and water, it is time to wash. For the electric models, select your wash options and duration, and let it run. For the manual washers, you need to agitate them yourself, then drain and refill for the rinse. Electric units will drain automatically, whether it is via a drain pump or gravity drain. Some electric models will handle the water inlet and monitor the level, so they can wash, drain, and rinse all by themselves.
You want to make sure that you are discharging your dirty water to a greywater collection if you are trying to conserve water because unlike black water, greywater can be added to the garden beds or used for other utilitarian purposes.
How do I use an off grid washing machine?
Using manual washing machines is extremely simple. Just fill them up and add water. Depending on the model, to agitate you will need to manually crank the handle to tumble the load like with the Wonder Wash or pull and push the basket up and down as with the Lavario. Once you have agitated the load for 2-5 minutes, the soiling should be sufficiently mitigated. After the first wash cycle, particularly with manual machines, you may need a second cycle if the clothes were heavily soiled or stained. So just add more water, a little more detergent, and repeat.
To rinse, simply fill with water without detergent, and agitate well for a few more minutes, then drain and either wring out your clothes or take them straight to the line for drying. Particularly with manual washers, wringing will speed up the dry time immensely, because there is no spin cycle to help remove the extra water before hanging up to dry.
Where do I buy an off-grid washing machine?
Like most things these days, you can obtain very economical and well-performing options from online marketplaces like Amazon. They will have enormous amounts of options and variants you can choose from. You will be able to find something that will fit your needs, without devastating your budget.
Of course, there are other options from other sources. There are off-grid suppliers, and shops that sell Amish-built goods, but generally speaking those options are incredibly expensive. There are all-metal manual washers that are nearly a thousand dollars, and for those of us living an off-grid lifestyle, that sort of expense for a laundry item is very nearly out of the question. You can spend about a fifth of that on a very useful electric or non-electric model, and with a few extra dollars at an antique store or yard sale pick up a roller wringer, and you have a laundry set up that will be of service for years to come.
How do I power my off grid washing machine?
There are two options, electricity, or elbow grease. Several of the units we have highlighted make use of conventional 120V power, and a few are fully manual.
Electric units can be powered via a generator, or they can run from a solar or wind-powered washing setup with a battery bank and a modestly priced inverter. With the price of solar systems and lithium batteries becoming much more affordable than even 5 years ago, it is easier than ever before to have steady and reliable power for conveniences like small washers.
The manual washers operate without electricity, and instead use good old fashioned elbow grease. Nearly all types of manual washers require a crank to tumble the clothes, or a plunging motion to forces the water through the clothes and to agitate them. Either way, they tend to move the clothes around more, so your wash cycles with manual units tend to be shorter but more effective.
What kind of soap or laundry detergent will I need for my off grid washing machine?
The great part about all of these units we have showcased, is that they can use anything from standard high efficiency detergent, to homemade dry detergent mixes, to old fashioned bar soap shavings.
One of the bonuses to simplifying your life and going off-grid is that things you use end up being simpler to use as well. These small off-grid washers are simple, yet effective enough, that they do not have the delicate electronics and sensors that can get gummed up by using the "wrong" laundry detergent.
These machines do not have a preference. They use simple motors and simple pumps, so no matter what kind of soap you feed them, they should still do an amazing job of cleaning your clothes without taking up an entire room or costing an arm and a leg.
What's the difference between washers, wringers, and spinners?
Wringing and spinning are both ways to get the water out of your clothes when you are done washing them. You can find wringers and spinners that are electrically powered or manual, although if you're reading this post, I assume you're probably thinking about going off grid (or at least "grid minimal").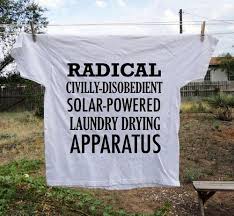 Wringing your clothes sends them through 2 rollers that tightly squeeze almost all the water out.
On the other hand, spinners use centrifugal force to pull water out of clothes as they are quickly spun around. Exact same concept as a washing machine that spins around at the end of the cycle.
Depending on how elaborate of an off grid laundry system you have, a wringer or spinner might be attached somehow or part of your washing machine, or if you're washing your clothes in a bucket, it might be the only contraption you actually have.
On the whole, spinners are usually a better option. They are faster and less effort, and they tend to squeeze more water out of your clothes. Instead of having to crank your clothes through, 1 by 1, you can do a bunch at one time, and then hang them up to dry.
The Bottom Line
When it comes down to it, there is no one right answer for any one particular scenario. If you have power and a little bit of extra space, the Panda PAN6320W is the biggest bang for your buck. You get the convenience of a powerful washer, in a small space, with enough bells and whistles to make the expense worth it.
On the other hand, if power or space is a rare commodity, or you just plan on living without much of either, like extended camping periods, or use on a boat deck, then the Wonder Wash or the Lavario are great options, with the Wonder Wash being easier to use and smaller, with the Lavario able to handle slightly bigger loads and wash a bit more effectively per load.