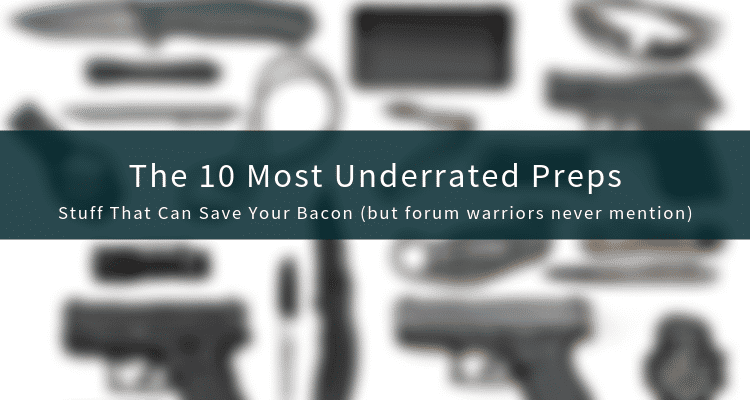 Forum warriors love talking about guns, knives, and backpacks. They're sexy. They're the "lead singers" of prepper gear. Flashy, and ever poised for Hollywood moments, like combat or "bugging out."
But what about the "unsung heroes" of survival gear? You know, the janitors and bean counters. Quietly doing their job and saving your bacon when you really need them to, without clamoring in the limelight.
This list is about remembering those oft forgotten, inexpensive preps that can mean a world of difference in real moments.
An encrypted thumb drive can be purchased for less than $20, yet can mean the difference of hundreds of thousands of dollars or even your life. How so? Because on one, you can digitally recreate your entire family's lives. This is where you can store copies of birth certificates, marriage certificates, passports, contact information, titles to your cars and houses, insurance information, prescription and medical information, and so much more.
After a major disaster hits an area (think hurricane or wildfire), trying to put your life back together is made so much more easier if you have all your information in an organized, ready to go manner. Think of it like a "survival binder", that many people make, only in digital form.
Some of you have alarm bells going off in your heads right now at the thought of all this sensitive information falling into the wrong hands. Remember, the keyword here is "encrypted." You can set this up with a password of your choosing. Put it on your keyring, in case you need to quickly to access something.
An inverter lets you draw AC current from your car (using the cigarette lighter). They are inexpensive, and can power the critical components of your home while you have gas in your tank.
Connect it with your car battery (or in some cases, you can simply plug into your cigarette lighter input), and you're good to go. You won't be able to power a rock concert with it, but it will give you lights, radio, tv, computers, and possibly a microwave or refrigerator at least intermittently. Well worth it.
This puppy is versatile! With just this one filter, you can get clean water from a multitude of different sources. Attach it directly to hoses, spigots, hot water heaters, water bottles, hydration bladders, and more (pretty much anything with threads!).
You can also use the straw portion of it to sip directly from a stream, or in conjunction with a gravity-hung system to purify water as it drips through. As with any water purification method, there are limitations, but this is a piece of gear my wife and I both have.
Super glue is definitely an "unsung hero" for survival gear. In fact, most people don't even think of it as survival gear. It's part of a kid's school supplies. Something for making model airplanes.
But no, in a survival situation, super glue functions nicely as emergency sutures. While it doesn't stop bleeding, once the bleeding is stopped, you can use super glue to put yourself back together. At a cost of next to nothing, this is one prep you definitely want in your first aid kit.
How much more humble can you get than a can opener? Yep, we're talking about just a regular ol' dollar store type can opener. While it is humble however, it's absolutely VITAL to anybody that's hoping to eat canned food in an emergency situation.
You would be in a world of hurt if the shit finally hit the fan, and you realized you had $10,000 worth of food storage, but no way to open it. Do yourself a favor, and stock a few of these puppies (remember…. 2 is 1, and 1 is none).
Nobody is on the forums writing threads about their new cans of Fix-a-Flat. But how many times a day do we all drive cars?
Every single time you get behind the wheel, there is a potential for accident or emergency. Obviously tires are just one of many fail points on a car, but they're one that can easily be bandaged until you can get proper help. Spending a few dollars on a can of Fix-a-Flat means there's one less thing that can leave you helpless on the side of the road.
Already have a spare tire in the back of your car? Great! Most of us do. Unfortunately, many of the things that can cause a flat tire, can just as easily cause 2 at a time (think running of the road, hitting debris, etc). In addition, having a can of tire repair in your car means that you can help somebody else that might need it. Wouldn't it be nice to be able to help a friend, neighbor, or family member in need? Heck, even a desperate stranger on the side of the road.
These cans are well worth the few bucks they cost.
Historically, headlamps were mostly used by miners and other folks doing heavy duty blue collar jobs. Over the last couple decades however, they have skyrocketed in their popularity and availability.
A headlamp doesn't need a long explanation. The simple fact is, a headlamp gives you the light that you need, while still letting you keep both of your hands free to work (or put in your pockets to keep warm!). They are so inexpensive these days that it's a smart idea to have one in the car, your survival kit, and a couple around the house!
How about a nice set of gloves? Gloves are so boring that I'm almost falling asleep as I type this. Yet boring or not, gloves can be vital during emergencies so we don't chew up our hands doing things that we aren't normally used to. Above and beyond that, they can also be really important to keep your hands from getting frostbitten.
For that reason, I actually recommend getting a pair of slightly nicer work gloves that come with insulation. While they will not be quite as warm as winter gloves or mittens, they are a nice sweet spot piece of gear that can be at least serviceable in either capacity.
Under-appreciated? Yes. Lots of value for a tiny little investment? You bet.
Nobody has ever been excited to buy a blanket (unless it's grandma buying a blanket for a newborn baby). The fact remains however, that just having a simple blanket in your pack or car can make a big difference in how comfortable you are during a critical situation.
Wrap up with it when you're cold, or lay it on the ground if you have a roadside emergency that occurs on 140 degree blacktop in Arizona. Blankets are everlastingly common, and everlastingly utilitarian. Plus you can pick them up for a buck or two.
This goes hand in hand with a blanket. For less than you'd spend on a slurpee (we're talking cents in some cases), you can get yourself a beanie that will help you maintain critical heat in cold weather.
In fact, if you find yourself having to sleep a night or 2 without a bed, you can get by with a surprisingly small amount of bedding, if you have good socks and a beanie (yes, socks could go on this list too).
Even if you already have a really nice, fancy-schmancy beanie, you should get an inexpensive one that you can dedicate strictly to your survival kit.
How About 1 of Each? (it's $208 total)
Well, there you have it. Nothing "tacticool" or "ultralight", just some common sense preps that can save you from a world of hurt. They're inexpensive, humble, and at your service.
You can find many of these items at your local dollar store or Walmart, or you can find them on Amazon.
In fact, if these sound like good ideas, and you want to buy one of each of these things, here's the link that will put all of them in your Amazon cart (at the time of publishing, the total is $208.05).
——————————-
Here's a weird thought: you may actually already have several preparedness items that you haven't even thought of. Check out this list of the 20 preparedness items that you probably own right now, without even knowing it.