Everyone seems to have a different idea of how it will happen, but we all know that some sort of calamity is building. The projections and outlook run the gamut; everything from civil unrest and societal breakdown, all the way to asteroid impacts, mega-tsunamis, and other extinction-level events. Depending on who you ask, our future may be bleak, or bright. Like, mushroom cloud bright.
None of this information is wasted on the rich. They see these clouds gathering on the horizon, and they make plans to carry an umbrella. But with the clouds they see these days, the "umbrellas" they pack are highly customized, self-contained, and luxurious, survival bunkers. Their appearance might vary, but their function is the same: to provide a safe haven and secure retreat for plutocrats and the ultra-rich to ride out the apocalypse.
While the rest of us are huddled in boring concrete boxes, these shelters provide a nearly unmatched level of comfort and security. Get out your top hat and monocle, we are going to take a look at some of the most lavish and expensive bunkers that people are building.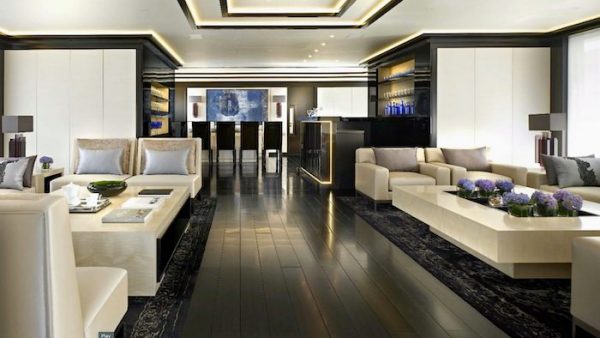 Vivos Europa One
One of the most well-known billionaire bunkers is the Vivos Europa One shelter.
It is built under a mountain in Germany, giving it the ultimate hardened location. Designed with 34 private living quarters, it is already in fully operational condition and is accepting applicants and members.
Complete with opulent leather furniture, fixtures, and overall settings to rival even the most upscale urban lounges, every single corner of Europa One is customized and appointed for the only people that can afford it.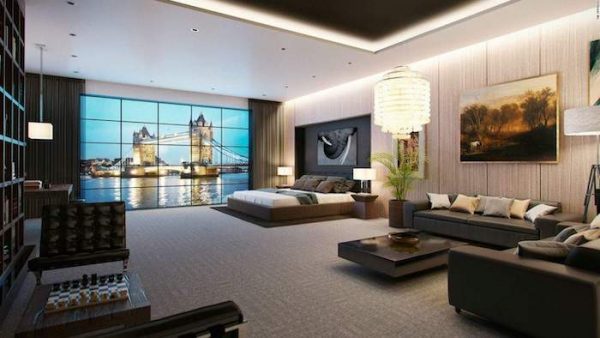 The Oppidum
With more than 323,000 square feet of space in a mansion located on a former military base near Prague, The Oppidum is the height of exclusivity. Every amenity It is built underground and designed to withstand a nuclear impact.
The creator of The Oppidum projects that the inhabitants could survive for up to 10 years with the food storage, water, and alternative energy capabilities of the installation.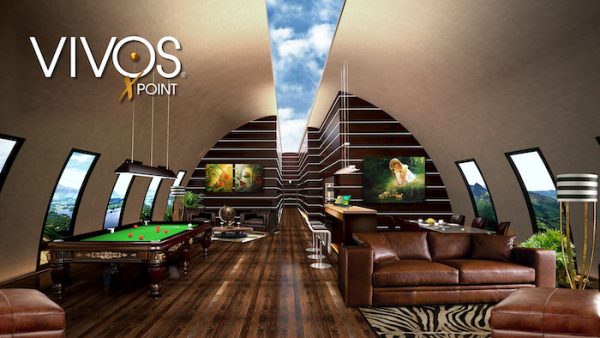 Vivos xPoint
Strategically located at a former munitions depot, Vivos xPoint is approximately 100 miles from any known nuclear targets.
The individual hardened concrete residences are powered with the resident's choice of alternative energy–geothermal, solar, or wind, along with backup generators. Units can be endlessly customized and appointed, even including LED screens to mimic windows and skylights.
Applications are now open for residency.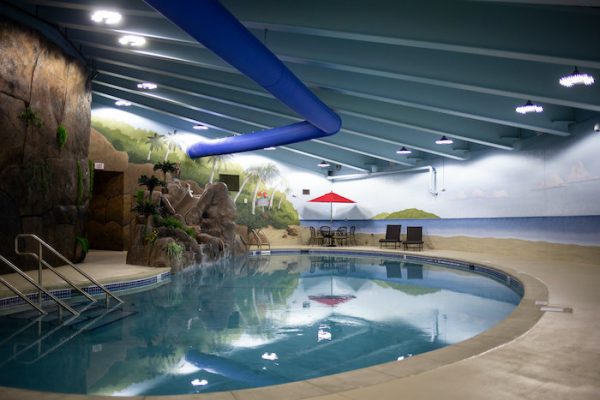 Survival Condo
Known as the "Survival Condo", this renovated and upgraded Titan missile silo has been decommissioned and turned into a top-tier apocalypse hideout.
The original entrance was capped with a dome rated to withstand 500mph winds, and the facility holds several single-floor condos and a few two-floor penthouses, a hydroponics farm, aquaculture setup, library, school, theater, lounge, pool, and gym.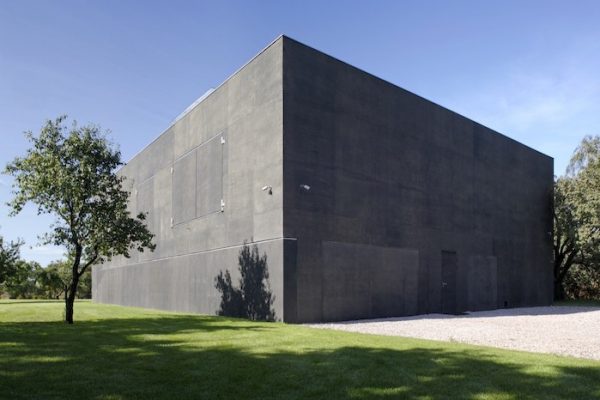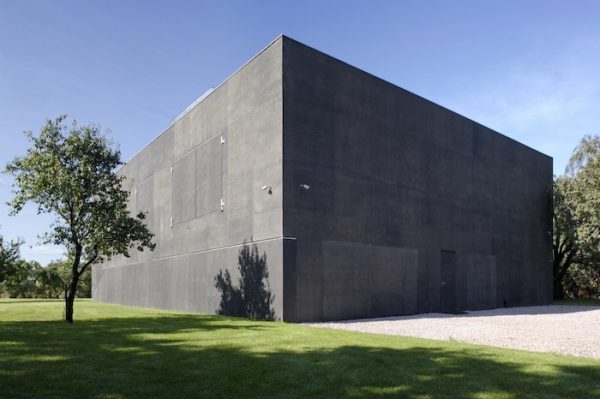 Safe House
Known as "Safe House", and made famous by a movie of the same name, this hardened Polish retreat appears to be an impenetrable concrete fortress built to withstand nuclear aftermath and zombies.
But the concrete shutters swing open 180 degrees and the massive reinforced metal roll-up door retracts to reveal a beautiful and inviting den to survive the worst.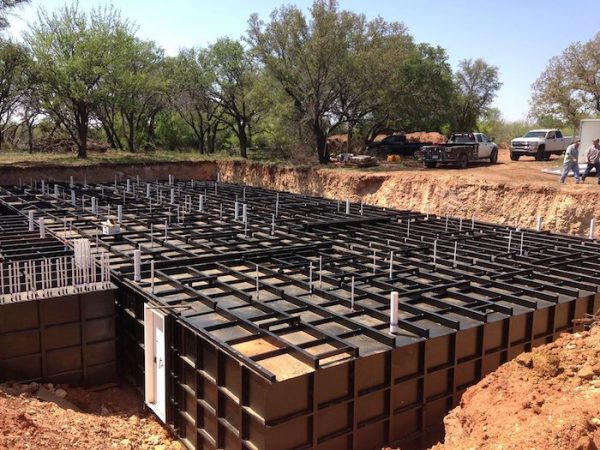 The Aristocrat
When the ultra-rich want to build a shelter in their favorite mansion's backyard, or at an undisclosed location anywhere on the planet, one of the companies they call is Rising S.
Rising S is responsible for building some of the most extensive and lavish modular bunkers available today. The top-tier model of these bunkers is The Aristocrat.
Starting at nearly $8.5M, The Aristocrat contains amenities and facilities for up to 50 people including any personal staff needed, including a motor cave, gym, bowling alley, firing range, sauna, pool, greenhouse, and more.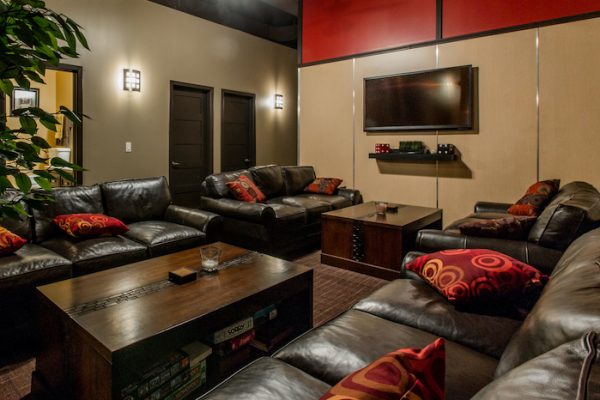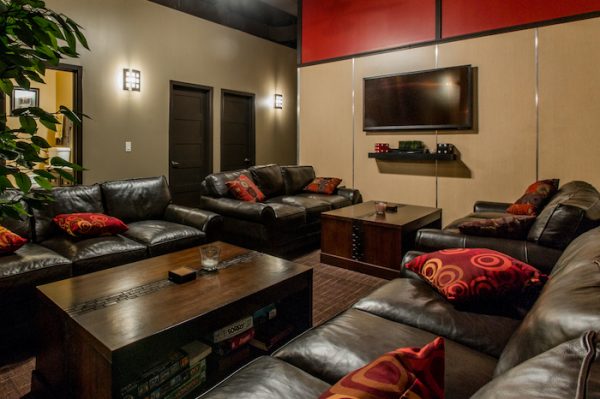 Vivos Indiana
Vivos Indiana is built in a nuclear hardened location, far from any known nuclear target, a safe distance from fault lines, and outside the reach of flood and tsunami damage.
Membership must be applied for and paid for in the case of every family member and may be fast-tracked for those with sought-after skillsets. Amenities like kennels, ATVs, workshop, survival gardens, and more, keep those who can pay their way comfortable for up to a year without ever going up to the surface.
So, What If You Aren't A Hedge Fund Billionaire? (Survival Bunkers for Average Joes)
So what are your options, if you aren't exactly buy-your-own-military-installation rich? Well, the good news is that there are many reasonably affordable and attainable bunkers and bug out shelters that come in various stages of prefabrication, available from several different manufacturers, and in some cases for as low as around $35k.
You might be closer than you think, to at least getting a bunker shell that you can put wherever you want, in order to begin preparing for the day you may need it.
Check these models out: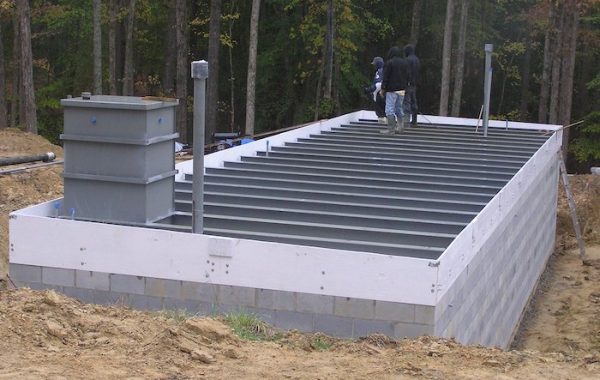 American Safe Room
American Safe Room is a solid option for the average person looking to create a safe and secure environment on-site, without letting entire teams of contractors and half the neighborhood seeing exactly where the crane is dropping your shelter.
They provide all the components you need, minus the concrete, to build your own bomb shelter or safe room. This way, you aren't having an expensive or obvious prefab shelter delivered and hoisted into place in front of prying eyes.
The walls can be made from locally sourced blocks, or formed and poured concrete, then capped with the included truss kit. The included trusses provide a blast rating of nearly 3,000 pounds per square foot and come with a professional engineers certificate. Before they even attempt the certification and blast load calculations, the ceiling, backfill, and a parked vehicle are added on top.
This is a rare example of a shelter with a blast load rating, even if it is in kit form. Their shelter kits are available in four standard sizes, ranging from the 8'8"x20' Series 100 for $18,500, up to the Series 400 which is 14'x20' for $24,500 before shipping. That makes these kits an enormous value in terms of price per square foot.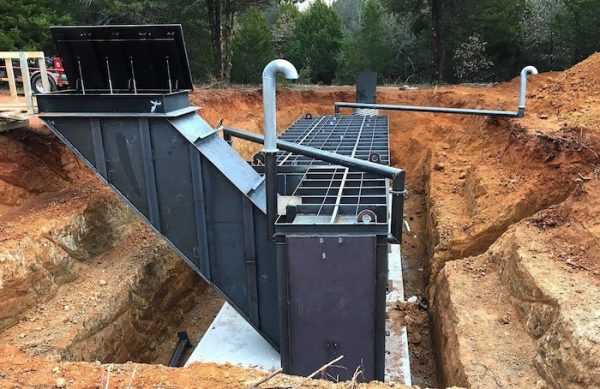 ATLAS Survival Shelters
No matter the scenario you want to prepare for, ATLAS likely has a shelter that will be perfect for you. They have an enormous variety of tornado, bomb, and fire shelters. Not only are they able to offer shelter kits, but they also offer fully functional preassembled bomb shelters with built-in storage and top of the line safety measures.
The underground shelters start at $19k, but if you want a prefab safe room framed into your existing home instead, you could get away for under $10k. They can be installed during new home construction, or built into an excavated space under an existing home.
They also have larger completely prefab bomb shelters that are installed underground. These modular units start at a small 10×20 unit for $65k and can be added to other units from there. Some of the more advanced configurations run into the low to mid $100k range, but they include around a 10×50 foot area and have things like a mudroom, decontamination room, gas-tight marine door, air filtration system, overpressure blast valve, escape pod, and tunnel, pod for a backup generator, shelving units, and gun rack.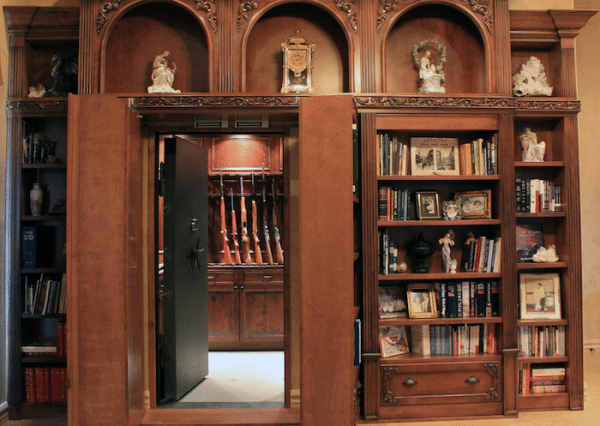 Creative Home Engineering
Many people choose to add their safe room or bomb shelter directly onto their existing home, but how do you ensure that people visiting your home do not become aware of your preparations?
It is widely acknowledged that one of the best things you can do to ensure your safety in your shelter is to keep it hidden from as many people, who will not be using it, as you can. Benjamin Franklin said it best, in that "three can keep a secret, if two of them are dead". That's where Creative Home Engineering comes in clutch.
Their Embassy Series doors are designed to create a secure entrance, indoors or out, in locations with elevated security risks or unique threats.
The Fortress Series is created for locations with a high risk of attack or forced entry attempts. This door can be upgraded to feature basic ballistic resistance of small arms fire, to a futuristic self-healing ceramic compound that can shrug off hundreds of rounds. Engineers conducting a penetration test the door gave up after 77 minutes of hardened assault. Their doors start around $8k.
Once you have the door for your shelter picked out, then it's time to hide it. This is where you can get really creative, if you've seen it before, or can imagine it, they can probably get it done for you. Flex your James Bond or Indiana Jones muscle here, the sky's the limit.
A bookshelf that opens up after triggering a random knick-knack on the shelf? Sure, that's easy. Elegant full-length bathroom mirror that swings open when you twist a lightbulb? A fine choice, indeed. How about a wardrobe or dresser that lets you step through to your hidden place? Make the call, and they'll build it. They customize each job to the client's needs, and they craft these amazing feats of secrecy globally.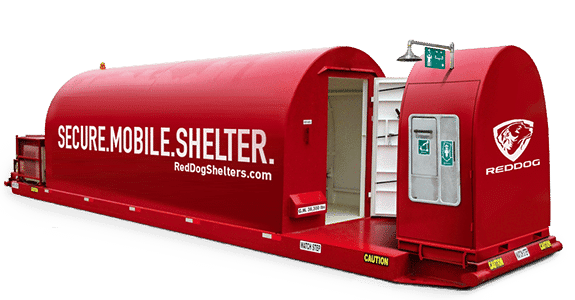 Red Dog Shelters
If you need a portable shelter that is designed to protect you from the most severe weather conditions you will ever encounter, the shelters from Red Dog are a prime option. They come in two varieties, the portable Tow Dog, and the Big Dog. Pricing can be obtained by contacting Red Dog.
The Tow Dog is a small tow-behind, blast-resistant storm shelter. It can provide safety or security for up to 12 adults. Included in the Tow Dog are a generator, AC/heat, benches, desks, lockers, and a rapid cool down station to mitigate core temperature overheating. Once it is in the operational position, it is aerodynamically anchored, so the harder the wind blows, the more secure it becomes.
If you need jobsite shelter or perhaps small community storm sheltering the Big Dog is an amazing option that can guard against so many varied threats. It starts as a blast-resistant storm shelter that can protect 32 people.
Just like its smaller sibling, it does not need to be anchored and is rated to wind speeds of over 350mph. Inside, it has AC/heat, an exclusive body core rapid cool down system for emergency heat recovery, desk, benches, and weather instrumentation. It is classified as an "all-in-one" abatement or mitigation solution for 15 different hazards, including wind, lighting, ballistic damage, and much more.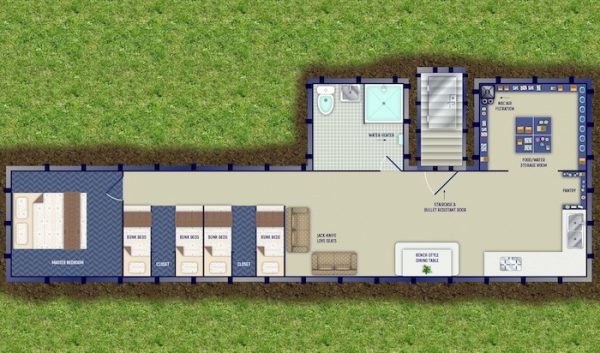 Rising S Company
Rising S bunkers and bomb shelters are prefabricated, one-stop solutions to your underground bomb shelter needs. All of their units are created from solid plate steel and some of the finest structural metals available commercially.
Their shelters are designed with a unique exoskeletal support structure that continuously distributes the loads applied to them. This means that, at least theoretically, there is no limit to the dynamic loads that their shelters can withstand.
The shelters from Rising S are built to last, so make sure you put it somewhere you'll own for a long time. The entire structure is treated with a rubber coating rated for 150 years. This means that as the steel expands and contracts over time, there is no chance for any penetration or permeability of the structure itself. Steel will not mildew or mold, either. When you are planning on a shelter that can be used for generations, Rising S is a prime option.
With modules available for things like a greenhouse, power generation room, gym, living quarters, and even a motor cave and underground garage system, you can customize your shelter to not only your and your family's needs but also the shape and size of the installation site.
The pricing on the shelters varies quite a bit, as you can imagine with the options available the prices are very general, so you should certainly reach out if you need a custom estimate or quote.
Rising S has a respectable number of units for under $100k. They offer an 8'x12' mini-shelter that is essentially a studio apartment for only $39,500 up to what they refer to as the Standard with a 10'x40' upgrade, for $95,500. After they have models that can fit nearly any budget from $100k to more than $8M, if your pockets run that deep, of course.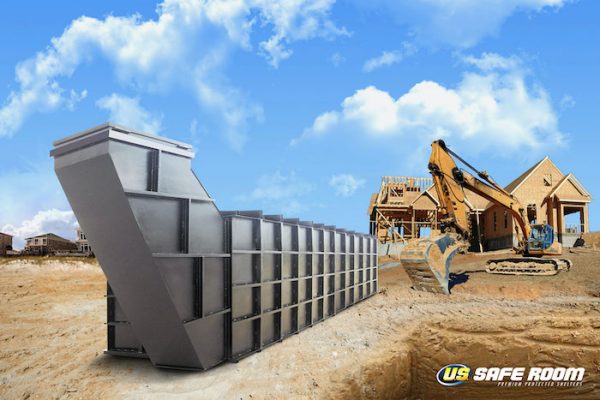 US Safe Room
US Safe Room underground bunkers give you a modular and prefabricated solution to your prepping and bunker needs. They aim to provide a relatively affordable way to protect you and your family while retaining a similar level of quality of life underground while sheltering.
They offer similar sizing to other bunkers, often in ten-foot increments. The smallest model they have is 10'x20', while the largest is 10'x50'. Each one can be fully customized and optimized so that you feel secure and comfortable, without feeling cramped or claustrophobic.
The 10'x20' has a full-sized living room and a bathroom. The living room has space for TVs, a couch, meal table, and kitchen appliances, and can function as a sleeping area. The bathroom is fully functional in case you need to shelter for longer than expected, and also has a sink, counter, and storage. The small model can fit 2-3 people comfortably and can be bought as a shell and furnished yourself.
The largest prefab model, the 10'x50' features a living room, kitchen, bathroom, and master bedroom, and is the best option for full families. The living room has bunk beds, and plenty of storage space, room for another sleeper sofa, and entertainment. The kitchen is big enough for the family to eat together. The bathroom in the larger model has a shower, and the master bedroom can feature its own corner bathtub and king size bed.
Pricing for the standard models is available by contacting US Safe Room. They can do custom sizes and modular compounds, also available through consultation. If needed, they even offer services to install the shelter beneath your existing home, so all you need to do is plan, and prep, and let them handle the rest.