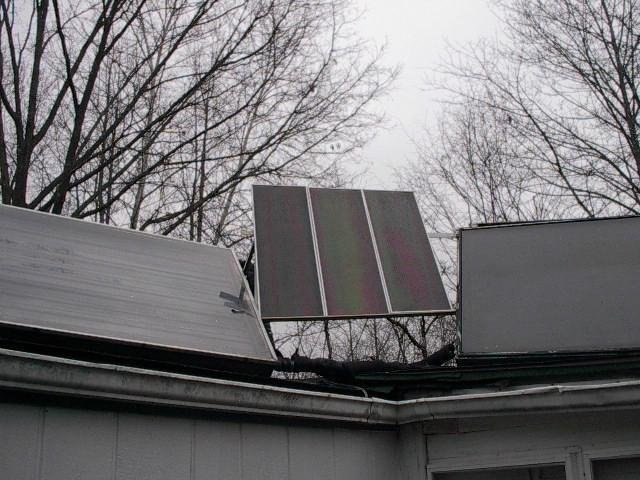 Hello all. I'm Keebler from central Southern Virginia, 30 years now in the boonies and I'm on the end of the power line. I'm in a small prepper start up group in Concord, Virginia, near me where I showed some of my portable solar projects [these are the permanent installations].
I bought this place when returning from Beirut, Lebanon in June 1984, I also bought a used 17 ft. travel trailer in bad shape too. It took almost 4 years, living in my camper, to get power. I had a small 5 watt PV panel that kept the camper battery charged. The camper van has two batteries.
In '89 I finally could afford a bigger trailer. Wanted more solar and I found a used two panel hot water solar panel unit – finally it's on the roof too. Retired in '92, barely surviving, had a stroke in '95 that set me back a few more years.
Solar does wonders to heat water – the well water is around 56 degrees. With just two pumps, one for antifreeze and one for fresh water circulating, the well water gets hotter through a heat exchanger. Heats a 30 gallon water heater, prior to the electric tank – saves me big bucks on the power bill.

In November of 2008 I invested in my alternative energy setup and bought a 45 watt solar kit from Harbor Freight – I think it was $189.99.
I had a better battery by now. Once I got it up on the roof. WOW!!! 3.2 amps – really great, kit had (3) 13 watt CFL's in it & a controller, I still have one hooked up on it in the basement where the Battery Group is,(See picture)Battery's are (Group 4D) very heavy about 160 filled, I bought them from Tractor Supply @ $149.99 each.
I have three all controlled separately via rotary selector switches. I have since added 2 more solar panels @ 90 watts each to the battery group, the H.F. unit still charges just fine. But on Group 27 battery, or my lawnmower start batteries and basement lights.
My next project was 12-24 DC volt well pump when the power is off. Bought a pump for $680, like the one Northern Tool sells – 100 ft. 1/2″ black pipe, pump max in the water says 50 ft. – so that's what I did. 70 ft. pipe to a spigot & another 12 volt 4D battery & switch, I have 95 PSI water. Still needs a pressure switch – coming soon – but it's an emergency system. Soon a solar panel will maintain that battery. got the panels and the bladder tank – just too much to do right now.
Next project after this one will be 24 volt solar panels to a 28 gallon water heater, I tested it and it will work.
My farm truck has solar panel to maintain the battery, so does the camper van.
I have 14 LED lights in the house all off the battery bank. All batteries are either in a safety box or on a safety tray in case of any possible leak – baking soda near too. All output circuits are fused, I only use DC LED volt meters so I know what the load is.
I recently found a DC 12 volt ceiling fan. I took one of the original CFL lamps I modified in a House Bridge lamp, alligator clamps, and I can hook it up to my (Jump Start) battery unit if necessary.