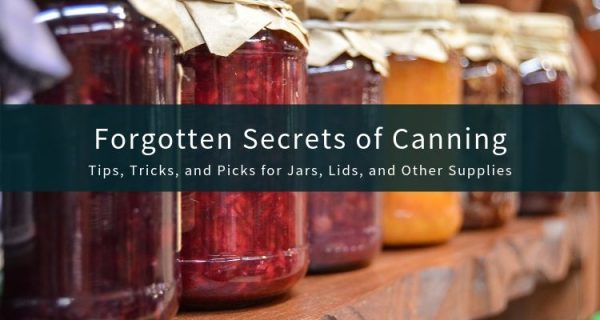 When I was just three years old, we moved from a house in our little home town to a larger home on 1 acre of ground on the outskirts. It came with a big house, a barn, smoke house, with root cellar underneath, and the remnants of a sadly neglected fruit orchard. Since the property had sat vacant for twenty five years, Dad got it for the back taxes.
It had large piles of junk, and we painstakingly picked out all of the metals from the piles for the WWII scrap drive. In the process, we found a very large cast iron witch's type cauldron with a lid. After a careful cleaning and sterilizing, my mother used it in the yard for everything from boiling laundry, to making soap, cooking, and of course, canning.
Mom had been canning in the kettle after the sheet metal mechanic fabricated a rack to set the bottles on, and she decided to start canning meat, pork, rabbit, squirrel and chicken pheasant.  She would only use the half gallon heavy green glass Mason brand jars with the zinc plated caps and replaceable rubber seals.
She would place them in the water bath and I would bring the temperature up to boiling until she told me they had cooked sufficiently and then I would place the heavy fifteen pound cast iron lid on the kettle. She told me to let her know as soon as the steam and pressure lifted the lid a little bit and let the pressure escape.
She would then count the times it raised and when the time came, would have me turn off the fire and let it cool down sufficiently to remove the jars and check the lids for tightness and the dimple in the top that. To the best of my memory she never lost a jar preserved with this method.
Excerpt taken from Harold's "Forgotten Skills" (Harold was a former SCP Survival editor that grew up during the mid-century golden years) 
This article contains some hard-fought, hard-won advice about something that I love–canning. Feel free to browse, or jump straight to the tips you want by using these links:
Why I Like To Can
Canning is one of the simplest food preservation methods out there. There are a few reasons I love it:
It makes for fast meal prep when it comes time to use the food.
When you can your own food, you know what's in there (as opposed to virtually everything else off a grocery store shelf these days).
It allows you to close the entire food loop. If you are raising and harvesting your own food, then canning is an easy way to convert that food into food storage.
Canned fruit, sauces, soups, or other goodies make awesome "thinking about you" or "get well soon" gifts for friends and loved ones. When you want something more than a card, but less than a gift, a lovingly home-canned item goes a long way.
Is it cheaper? The truth is, not always. Especially not when you factor in your labor!
It's hard to say definitively either way though, because if you really want to get right down to it, there are various costs that you could split hairs on (i.e. do you count the costs to grow the food that you are canning? What about the gas it costs to go buy cans from the store? etc). However, it can be done cheaply, and can actually be a fun and satisfying way to spend some time.
Some Canning 101 Basics
There are 2 methods to can food: hot water bath and pressure canning. In either case, you're using hot water to sterilize and then seal the lids on jars with your food in them, so they will stay good. Hot water bath canning is simpler, but can only be done with foods of a certain acidity level–think fruit, jams, jellies, tomatoes, salsa, and a few other things.
On the other hand, pressure canning is possible to do with virtually all foods, whether acidic or not. Most vegetables, all meats and fish, and some of the newer types of tomatoes do not have enough acid in them to make them safe by the hot water bath method. They can be done just fine however with pressure canning.
I also pressure can beef and chicken stock, and stews or soups as long as they do not contain any thickening agent or flour. You can pressure can on a wood stove, but would need to be diligent about keeping the fire built high enough to keep the pressure up and a fire diffuser for an even heat over the bottom of the canner.
Water Bath Canning
As mentioned above, water bath canners are sufficient for high acid foods, the most common of which is tomatoes. However, even tomatoes need a little help. Depending on the variety and the soil in which they were grown, they may not have sufficient levels of acid. That is why it is important to add lemon juice when canning tomatoes.
Adding salt is just a matter of taste – there isn't enough salt to have any effect on food preservation, but the lemon juice guarantees proper acidity. Use one-half teaspoon per pint, one level teaspoon per quart. However, it needs to be BOTTLED lemon juice, not fresh. Bottled is much more consistent in pH (power of hydrogen – the measure of acidity in an aqueous solution), and more likely to produce a safe product.
A water bath canner should NEVER be used to can foods calling for pressure canning. NEVER. No arguments. I don't care if Grandma did it. Water boils at 212 degrees Farenheit, and the minimum standard pressure for home canning any food, at any altitude, is 10 lbs. – this is 240 degrees Farenheit See the discrepancy here? Yeah, you can hurt people like that (or worse).
ANY large pot with a tight-fitting lid can be used as a water bath canner, as long as you have a rack that fits the bottom. My racks from 21-quart units fit nicely in the bottom of a large stainless steel stockpot I own. This stockpot has a nice, tight-fitting lid. I do have a conventional water bath canner, but I prefer the stockpot. It is heavier, has an even-core heat bottom, and just works better, in my opinion.
A boiling water bath canner must be deep enough that it will allow not less than one inch of water covering your jars, plus four (4) inches for "boiling" activity, so that no one gets hurt, and it doesn't boil out of the pot.  So, five (5) inches from the top of a quart jar, minimum clearance.
Some types of water bath canners do not have a flat bottom. These pots should NOT be used on an ELECTRIC burner stove, as they will not heat evenly and safety of canned product can be compromised.
The size of the stove burner you use is important. Most stoves will have at least two different burner sizes. The canner should not extend more than two (2) inches in any direction over the burner.
Some smooth cooktops will allow canners to run without problems, but most will do it for a while, then crack. Check your manufacturer's recommendations, and go to Plan B, if necessary.
Pressure Canning
Let's start with the most frequently asked question. No, you can not blow it up. Not even if you try; not unless you process dynamite, or something stupid like that – as long as there is an overpressure plug or device or "hole".
Never run a pressure canner dry. It will warp the bottom, and, once the bottom is warped, it is useless for canning. Ask this question before buying a used unit online.
Yes, you will need at least one rack that fits. If you are buying a really old one without a rack, good luck finding one that fits. I do a lot of borrowing of racks and that works out fine, but do be aware that with very old units, you may not be able to get replacement parts.
For example: the Presto/National # 7 is a common 16 quart unit, and I can find a dozen of them for sale on ebay right now. They hold 7 quarts and 8 pints. Replacement parts are easy peasy. But, the Presto/National # 5 (the 12 quart) is nearly impossible to find replacement parts for. I had to buy a whole second unit just to get the part I needed for my #5. I have both units, and use both.
Presto was originally National, so, you will often see both names used. Either way, they are the same unit, and use the same replacement parts.
Some of the older Presto/National units have wooden handles; unless you want to oil them constantly, avoid them and go with the black bakelite handle models instead. But if you have a wooden handle unit, olive oil works just fine. Just oil them down after using.
The All-American reigns supreme as "the Cadillac" of canners. I have yet to meet an AA canner who does not love this piece of equipment. But they are very expensive, and parts do break – mostly the hard plastic handles used to tighten and release the lid. It is mostly loved because it is gasketless. If you have one, get spare parts before you need them!
There are also less expensive alternatives.
I have two 1930's Kwik-Kook canners that have nothing but heavy metal parts, since all canners were at one time gasketless. I use my Kwik-Kooks, and they both do the job very well. One is huge, and will hold up to 16 pints or 14 quarts at a run, and the other is a 16-quart (that refers to how much liquid it will safely hold). The 16-quart will run 8 pints or 7 quarts at one time, and is a very common size produced by all canning manufacturers.
Then there is the backbone of the canning industry – National/Presto! Presto has been manufactured out of China for about 20 years now. These canners are thinner, lighter, and do not hold up as well as their vintage American production ancestors. I have two newer ones. The dial gauges are plastic, not metal, and they break a lot. I do not like them, and do not use them except to demonstrate them at classes, i.e., "don't buy this!"
I much prefer my vintage 1970's American-made Presto units. I have two that are 21-quart units in the circa-1970's harvest gold. I did not seek out this color, it just "happened." They come in plain chrome too. They are rock solid, and use the original pressure gauges. I do replace the gaskets and overpressure plugs about once a year, but I am also canning year 'round (there is no "season" for canning when you're a homesteader!).
The pre-80's units are heavier and do a better job of even heating, so they are not as labor intensive. Once you get to know your equipment (which means your canner and how it works with your stove), you can pretty much set it and it will hold pressure very well. I find the newer, thinner models need more "adjusting",  which means more watching, and therefore, more labor intensive.
Save Yourself Some Money and Buy a Used Unit… Just Check the Gasket and Gauge
If buying a used unit, know what you are doing before you buy it.
Does it use a gasket? Count on needing to replace it. Most replacement gaskets also come with a new overpressure plug for that model. Make sure it has the counterweight, or, you may have trouble getting the one to fit the vent pipe for that model (that's the doodad you drop in place to help regulate the pressure).
A good, solid model will not rock and make noise unless you have too much pressure built. This is a warning sign. A pressure cooker must rock and release pressure as it works, but a pressure canner should not need to do that.
If using a dial gauge canner (the only kind I use) please make sure the gauge works correctly in order to safely can food. If in doubt, you can take your unit to your local land grant university county extension office. Most of them have the ability to check it for accuracy, although if it is a really old unit, they will likely tell you they can not check it.
It is O.K. to use a canner with a dial gauge that is "off" in reading, as long as it is NOT off more than two (2) degrees, AND you compensate for that while canning. One of my 1970's Presto units is like this; I have used it for years in this manner; if the recipe calls for 10 lbs. pressure, then I process at 12 lbs. of pressure (I am well below 1,000 ft. altitude). If the gauge ever changes so that it is off by more than 2 degrees, I will replace it.
Be aware that the replacement parts, including gaskets, are all coming out of China. I have bought multiple gaskets for the same canner at one time, only to have one that did not fit properly, so it would not seal and I could not use it, but another from the same shipment worked just fine. This is a good time for: "2 is 1, 1 is none, and 3 makes me happy!".
Also, keep in mind that the majority of sellers on eBay have no idea how a pressure canner works, or what it should look like. They just hope to sell it and make a few bucks. So you see used units in all kinds of conditions. Know what to look for or consult someone who does. If ebay, pay only by Paypal for the buyer protection. If there is any damage to certain parts of a canner, it will not be safe to operate. Some parts are replaceable, some are not.
What You Need to Know About Canning Jars
Jars are an integral part of your equipment. Most canning will be done in either pint or quart (glass) jars.
There is also a half-gallon (2 quart) glass jar which I can get in my area. I do not recommend them. First of all, few families need or want 2 quarts of a product at any one time. You can just as easily open two quarts as one, in the rare occasion when you might.
More importantly, however, there is no proven scientific standard for home canning in half gallon jars. In other words, the folks who do this for a living, testing jars, food, processing times, results, etc., have not done so with half gallon jars. There just isn't enough demand to warrant the time and resources involved in such a study, apparently.
So, bottom line? We have no idea how long you would need to process which foods in order to avoid botulism. That should tell you what you need to know. It's safest to simply not use them.  BTW, they ain't cheap anyway!
It matters which brand jar you purchase. "Golden Harvest" is the cheapest brand you can buy, for a reason. You'll see all kinds of arguments on the internet about them being the same as Ball and Kerr, all manufactured by the same company, etc.  They are not. How do I know? I contacted the parent company and asked.
Just to put those untruths to bed, here's the skinny on it:
Jarden Corporation owns the companies that produce Ball and Kerr. These are their money makers. But anybody who has ever been in business knows that large corporations need something to lose just the right amount of money for tax write-off purposes. That's what Golden Harvest does for Jarden Corp. It is my understanding, based on my conversation with their rep, that Jarden does not own the manufacturing company that produces Golden Harvest – they own the "distribution rights". They lose money on it, and that's the plan.
That should tell you everything you need to know about this product.
All three, as I recall, are out of Indiana. Ball and Kerr are produced by the same manufacturer, and Golden Harvest is produced by a different Indiana manufacturer. Jarden doesn't own any of them, just the distribution rights.
I will tell you that I teach, "don't use Golden Harvest jars". Every jar I have ever lost to thermal shock breakage has been with Golden Harvest jars. They are not worth the "cost savings".
What is "thermal shock" breakage? That's where the temperature differential between the jars, the contents of the jars, and the water temp have enough differential to cause the bottom of the jar to literally break off in a clean circle, and the whole bottom drops right off the jar. This usually occurs because one or the other was too hot or too cool. Either the jars and contents went into water that was too hot, or the too hot jars went into water that was too cool.
Keeping your jars/product hot for hot packing is easy. Just keep the jars in a 250 deg. F oven until ready to fill, and keep the product hot. Don't let water in the canner "boil" prior to adding jars. In other words, be careful to keep the temps of jarred product and water in canner at safe temps that will compliment one another. Not too hot and not too cool for either one.
Be warned, glass does have a "shelf life." It does degrade, with time, and how glass is cared for has everything to do with how quickly it degrades. If you're going to store glass jars in a basement or attic, first wrap them with a paper or plastic bag if possible, then put them in a cardboard box, and stuff the box with insulation or newspaper. This will delay degradation. Just setting them in a hot attic, or a cold, damp basement, shortens their useful life.
If a jar has turned "purple", contrary to what you may have heard, that does not necessarily indicate that it is an "antique"; it does, however, indicate that the glass has been damaged by the sun's UV rays; don't buy it, and certainly don't try to can food in it. It will break.
For this reason, I don't recommend buying jars from yard sales, etc., unless you know the owner and know how old they are, and how they were stored.  After all, how much food can you afford to lose because the jar breaks in the canner?
Metal Canning Lids and Rings
There are basically two types of lids and rings available. The most common, and least expensive, are metal. The metal caps have a thin rubber ring applied to the inside; this is what creates the seal with your jar, assuming nothing gets in the way. UNDER NO CIRCUMSTANCES should you attempt to can more than once with the same metal lid. It WILL NOT seal properly.
Botulism (food poisoning) is very serious business, y'all.  The metal rings are used to hold the caps in place while they process.
Metal caps that have been previously used in pressure canning BUT DID NOT SEAL –  CAN be recycled for dry goods in glass jars; they just cannot be processed (the act of canning) more than once.
If you process a jar and it does not seal, you can reprocess most foods although they may be a little overcooked. Just clean the jar rim, boil a fresh cap and ring for 30 seconds, and process it again for the same amount of time. I usually don't re-process; I just put unsealed jars in the 'fridge and use the contents within a few days; the point is, you can – but use a NEW metal cap to reprocess.
If you have a new metal cap that arrived on a new jar that shows obvious damage, don't try to process with it. Instead, save it for dry goods storage but mark it, so you know not to process with it.
Even though books and websites tell you to do this, I say NEVER tap the center of a metal cap (there is a visible "button" area on most of them – leave the "button" alone)  to test it for sound, to determine whether it properly sealed. Tap only on the outer edges of the cap. It will give you exactly the same sound, whether it is or is not sealed.
Sometimes, if the air is not fully forced out of the jar, you can force the button in the center to collapse, which is a seal, but you still have some air in the jar; this can lead to botulism. AIR MUST EXPEL ON ITS OWN TO GUARANTEE THE SAFEST POSSIBLE SEAL.
I see a lot of posts and even books telling canners to boil these rubber-ringed caps for up to 15 minutes – seriously! Try that some time, and see what happens. Yeah; rubber ring boils right off. Guess how I know?!!
You are not trying to sterilize caps and rings by pre-boiling; they will be sterilized, like everything else, during processing. What you are trying to do is make sure they are absolutely clean and free of anything that might prevent a proper seal, including stray but minute bits of rubber. 30 seconds of boil time for both caps and rings is MORE than sufficient. Bottom line: overboiling leads to separation of rubber from metal, and it WILL NOT seal.
Tattler Plastic Reusable Mason Jar Lids
Raise your hand if you know about "Tattlers"!
Tattlers are plastic lids and rubber rings you use many times before they need replacing. Just how many will depend on the skill of the canner and how they are stored.
I do have some; I bring them along and show them at classes. But, honestly? I haven't actually canned with them yet. I know how; I just haven't done it, other than to test. If you do a lot of canning (and I do), they can get very expensive, very quickly.
They also call for a slightly different approach. They do not make that wonderful "whump!" sound I count after processing jars (a symphony to a canner's ear!); whereas you can gently tap the outer edges of a metal cap and tell by the sound whether or not it is sealed (even without looking at the center button), not so with Tattlers.
You are supposed to push up on the rim, after they are completely cooled; if they do not "push", they are sealed. Yeah, that kind of worries me, too. However, while I do have a good supply of metal caps, rings, and jars, I also have a supply of reusable Tattlers. If the shit hits the fan, and I run out of metal caps (which will take a while)  I'll still be able to home can with Tattlers.
Some people remove the rings after processing. When my jars are fully cooled, I remove them, wash jars and rings, let them air dry, then REPLACE the rings on the caps. Sometimes I will replace them the next day, as the metal needs to be fully dry, or they will rust in place.
Why keep the rings on top of the sealed lids? Because even with a box between stacked layers of jars, the cap can be damaged. A tiny opening is all that is required for an air leak, which is all that is required for botulism growth. But DO remove and wash rings and jars; if you have "messy foods" such as fatty meats, fat can get between the cap and outer ring in the canner; if it dries in place, you'll have a heck of a time getting it off – plus that little bit of food residue WILL attract ants and critters to your pantry.
Other Canning Supplies and Equipment
There are just a few tools you will need. Most of them are not expensive. Your canner will likely be your highest expense.
One of my favorite new toys is a magnetic wand. It's a plastic handle with a small, round (but powerful) magnet on the end. This device is quite handy for removing metal caps and rings from hot water, which you will do every time you can! Cost? About $3. Get more than one, because your friends are going to want one!
You will need a "jar funnel." these are all made of plastic these days, it seems. This will keep your jar mouths clean as you fill your jars. Metal ones can be found, but not usually "off the shelf".
A set of tongs might come in handy.
A "jar lifter" is required for safely lifting processed jars from a hot water. Get the newer ones with the plastic protective handles; the old, all-metal ones can burn hands.
If interested, there are some inexpensive sets that bundle many of these tools/accessories for cheap.
Cookie cooling racks are handy for cool-down, but, some people just use towels. I like racks on top of towels, to catch the drip/mess.
Never throw jar boxes out; these are "tools for storage."
And one good canning book, such as "The Ball Blue Book", so you can check for correct recipe processing without the internet.
There are a lot of cool and fun canning utensils, tools, and toys out there, but remember, the basics are all you really need.
Safety, Sizing, Troubleshooting, and Other Advice
If your canner is sputtering, leaking, etc., you do not have a proper seal. You must take it off the heat, let it cool enough to open, find the problem and fix it, or, forget about it. Food processed like this will not kill contaminants and subject the one eating it to food poisoning.
The Ball Blue Book is a common "go to" source for canning information, but, even it has a few things to say that I will not teach, because it's just wrong, based on my own experience; but, mostly it's good stuff.
Do not try to use a pressure cooker as a pressure canner. Mirro makes a cooker that can be used as a canner; it's the one with the weighted gauge in 5/10/15 pound "holes" that fit the regulator onto the vent pipe. This is do-able, but, not recommended.
The amount of pressure and time you need to can any given product is determined by: (1) what you are canning (low or high acid?); (2) the altitude where you live (over 1000 ft increases pressure needed by 2 deg. increments; and (3) whether you are canning pints, quarts. etc. If, for example, you need 12 lbs. pressure for X amount of time to safely can that food, where you live, in the size jar you want, then you can not do that with the Mirro; your only choices are 5, 10, and 15 lbs. pressure.
I do not recommend canning in half gallons (yes, you can buy these jars) , as there is no scientific info on proper times and temps per altitude, for any given kind of food. If you choose to can in half gallon jars, that's your business, but, do know it's a crap shoot.
If a recipe calls for 12 pounds of pressure…. Well, you can not safely can at 10 lbs. pressure; if the recipe calls for 12 lbs., there is a reason for it; it has been scientifically tested and found to be the correct pressure at which to process that particular food, at that altitude, in the size jar you want. Anything less will not guarantee food safety, as it may not be hot enough long enough to kill any potential toxins or botulism wannabes. Ever had food poisoning? Yes, it can kill. But even if it doesn't, you will, at least temporarily, wish it would. So, you can process at 15 lbs. pressure. That should do it, right? Sure. If you like mush. 12 lbs. pressure means 12 lbs. pressure. You will need a dial gauge to know where that is, and keep it there.
Most books and sites tell you to take your canner to your county extension office and have it tested once a year to make sure it is safe. I do teach this in my classes, but, do I do it? What do you think? I know how it should act, and, when it doesn't act right, I replace it.
What size canner should you choose? Nothing under 12 quarts, as they are not considered safe for food processing if they are smaller than 12 quarts – which makes me wonder why All-American sells a 10.5 quart model but, they do. Don't buy it. I have a 12 quart Guardian Ware (vintage) that is perfect for a leftover pint or more of soup, stew, etc. During dinner, I process my jars (in the dishwasher). After dinner, I pack and process the leftovers.
Back to what size canner. A 16 or 17 quart is the most common size; they will hold 7 quarts and 8 pints per fill. A 21 or 22 quart will hold 8 quarts and 9 pints, I believe. A 30 quart, well, now, that's a pretty big one, but nice for large batches. You must have three (3) inches clearance between the top of the jars and the inside top of your canner lid.
You do need one tall enough to allow for double-stacking pints. You will use a rack at the bottom for the first layer of jars, and a rack between layers. Water does not have to cover the jars; do not use less than 3-4 inches, however; if double-stacking, make sure water is about half full in canner.
What kind of stove will you can on? The heat source you will can on (most likely a stove) is an integral part of your canning equipment. It is possible to home can on most smooth tops; however, it is a very bad idea, and not recommended, unless you are ready for a new stove. Even radiant heat stoves can not take the prolonged heat necessary for most canning jobs indefinitely; most will do it for a while, but will eventually crack.
A gas flame is your best option for home canning. It gives you the best control over the heat, which makes your job easier.
Electric stoves work just fine, as long as they are not smooth top units.
I know people who have built "outdoor kitchens" just for canning, because they could not afford to ruin their smooth cooktop. These can be rudimentary; a tent with a gas grill and a single burner; or a Cajun cooker (though these are very hard to regulate, as well, and not recommended, particularly for a novice). Some people have purchased used gas stoves and set them up in outdoor kitchens; concrete or stone pad, with a simple roof or awning overhead.
You must take it off the heat, let it cool enough to open, find the problem and fix it, or, forget about it. Food processed like this will not kill contaminants and subject the one eating it to food poisoning.
You need to know your elevation. For pressure canning, each recipe will need a specific amount of pressure (not less than 10 lbs. in a pressure canner, which is 240 deg. F); you will also need to know the elevation of the location where you are canning. If you are canning at my BOL, for example, which is way up in the air, you would have to add 2 lbs. pressure to every recipe, whereas in my city place, less than a 1,000 feet altitude, I would need only 10 lbs. pressure for that same recipe. Increasing it would probably give me a mushy and less than palatable and attractive food product, in the city location.
If you don't know the elevation where you live (where y'at?! As we say in the South!), check it at sites like this one.
Check your canning equipment. Make sure you can see through the vent pipe (it is not blocked). This is the pipe on which you set the pressure cock or pressure regulator  or "jiggler" (three names for same thing); make sure it  has not been blocked by food residue, etc. Hold the lid up to light, look through the underside. If it's blocked by anything, clean it out before using. Make sure the overpressure plug or safety plug/fuse (sometimes called a "lid safety fuse") is in good working order. If it is still pliable (not hardened plastic or rubber), and it is not "sticking up", it is good. If it is hard, replace it. Older models may have a metal safety plug/fuse; if it is damaged, replace it; you will probably be replacing metal pieces with rubber.
Check your jars, even new ones, to make sure there is no damage to the rims; you do this by lightly running a finger gently across the mouth or rim of the jar; if there is even a "fleabite", you'll feel it. Process jars in dishwasher or hand wash in hot, soapy water and rinse thoroughly, after checking all rims for possible damage; even new jars can have fleabite chips, so, check those, too.
Make sure the bottom of your canner is not warped (should not be – just a safety check!).
Make sure you have the correct size rack to fit the bottom of the canner you choose to use for this particular canning job; no part of a glass jar should be touching the bottom of your canner while processing. This is asking for trouble.
What About Other Preservation Methods?
There are lots of ways to preserve food, and a handful that have great applications for food storage and self sufficiency.
I like dehydrating, especially veggies and some types of fruit. But there again I use an electric dehydrator and food storage canning jar attachment to keep the dehydrated food for long term storage. I have not tried to use a non-electric dehydrator, but I have thought about building one.
I have read about salt curing, but have not done it. Would really like to learn though, from someone that has actually done it. Also wood smoking would be something I would like to learn. In Texas we have a population of over 2 million wild hogs and the people I have spoken to that hunt them say they are good eating and can be hunted all year long because they are causing so much damage. Would like to smoke the meat on a wild hog. YUMMY
Canning Resources:
The USDA Complete Guide to Home Canning
Ordering replacement parts for your canners:
http://www.pressurecooker-outlet.com
http://www.cookingandcanning.net
http://www.goodmans.net/d/429/presto-pressure-cooker-parts.htm