Below is a guest article from Justus at Centerfire Antenna. If you have an interest in HAM radio's or 2 way communication – contact these guys – they know their stuff. This article was originally published at ModernSurvivalOnline.com and can be seen HERE.
2-way Primer from Centerfire Antenna
We get many questions from those that are just starting to plan their emergency communications.
Most are simply looking for a way to keep in touch with each other when one or more are out of sight but still nearby.
Many that want or need to use 2-way radios don't have the desire to get an Amateur Radio License.
And, fortunately, communicating nearby or across town doesn't require a ham license!
Whatever your specific needs may be, you need to know your options and what you can realistically expect.
"Range" is the probably the most asked question. And the simple answer is that a radios "range" is dependent on terrain.
A radio can "talk" further on flat deserted land than it can in a valley or in a city.
Below is a summary of the most common options for non-hams along with practical distances.
Keep in mind that these are strictly for close-range communications and there is really no reliable
alternative for long range communications without obtaining an Amateur Radio license.
Additionally, since these are considered "Citizen's Bands" the odds are good that you and your group
will not be the only ones using them.
1) CB:
CB radios are most likely to be the least expensive option for a group to set-up and use.
Radios and accessories are very common and can be found at truck stops and garage sales.
FCC regulations:
No license required.
40 specific frequencies between 26.900 and 27.400 MHz.
4 watts maximum output.
Base,mobile and handheld stations allowed.
Amplifiers not allowed.
Repeaters not allowed
Side Band OK
Realistic range up to 10 miles with an elevated antenna
************************************************
2) FRS (Family Radio Service)
This service is limited to 1/2 watt output.
It uses frequencies in the UHF band near 462 MHz.
There used to be several brands of radios that were FRS only.
Nowadays, it's hard to find an FRS-only radio.
They are GMRS radios that share some of their frequencies with FRS and
automatically reduce power when using an FRS frequency (or channel)
All FRS radios are handheld.
FCC regulations:
No license required.
1/2 watt maximum
External antennas not allowed
Amplifiers not allowed
Repeaters not allowed
Realistic range up to 1/2 mile.
************************************************
3) GMRS General Mobile Radio Service
This service picks up where FRS leaves off.
GMRS uses UHF frequencies near 462 MHz and 467 MHz
There are 2 classes of GMRS radio:
a) Consumer grade handhelds like Midland, Uniden and Cobra.
Most of these radios exaggerate their range and power.
Typically, the best consumer radio is actually pushing about 3 watts
and has a realistic range of about 2 miles in most environments.
b) Commercial grade equipment from Rittron, Vertex, Icom etc.
This equipment is built using the same quality chassis as ham and
public service equipment.
Very good range, depending on the equipment and terrain.
FCC regs:
A "No Test" license is required. ($80 for 5 years)
Up to 50 watts allowed
External antenna OK
Base, mobile or handheld OK
Repeater OK on specific frequencies
************************************************
4) MURS Multi-Use Radio Service
This is a low-power service that uses 5 specific frequencies in the VHF band near 150 MHz.
It is extremely popular due to the no-license feature.
FCC regs:
No license required.
2 watts maximum
External antenna OK
Handheld, mobile or base station OK
No repeaters
Realistic range: 1 mile with handhelds, 5-8 miles with an elevated antenna.
************************************************
The FCC regulations shown above are to be used as a general guideline so it's best to research before you buy.
There have been several changes made concerning radio equipment performance in the last decade.
Stay away from older radios and radios that have been modified.
Don't just buy a radio and put it on the shelf, there's more to it than that.
It's best to check and use your "system" as often as possible to be sure it will function when it's really needed.
Monthly practice drills are ideal, especially with base radios. You'll be able to find any weather related problems.
It may be tempting to purchase a radio system that is illegally modified or intended to be used by a licensed user or business.
There's no way to practice with that type of equipment since:
a) You're not licensed to use it.
b) You may be seriously interrupting lawful communications every time you key the microphone.
c) You WILL get a fine when they find out where the interference is coming from.
Justus / Centerfire Antenna
 * * * * * * * * * * * * * * * * * * * * * * * * * * * * * * * * * * * * * * * * * * * * *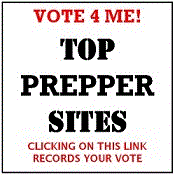 Shoppers Outlet: Interested in preparedness? Trying to be  self-reliant? Are you frugal?  Check out a few suggested items from Amazon. Amazon offers great prices and excellent customer service.
P2B Powered Peanut Butter – Great way to store peanut butter long term.
Katadyn Hiker Water Filter – FREE SHIPPING! 
CREE 7W LED Flashlight – One of the best deals ever – around $3.00 Free Shipping                 

Mechanix Gloves – a standard by which others are judged. Inexpensive and durable.

2-pack External Battery Packs – Great for charging your cell phone on the go or when power is out.

* * * * * * * * * * * * * * * * * * * * * * * * * * * * * * * * * * * * * * * * * * * * *
Recommended Book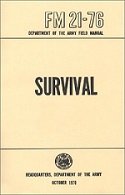 US Army Field Manual 21-76 Army Survival is the finest single source for self-reliance for all extreme circumstances. A must for anyone who wants to know how to survive in primitive conditions. The book is very straightforward with many pictures and user-friendly illustrations, written in easy to understand language. This is just some of the survival information that this book provides: All-climates: arctic, tropics, temperate forest, savannah or desert. All-terrain survival tactics. The Will to Survive. Identify poisonous snakes, as well as edible and non-edible plants. Survival Medicine. Wilderness medicine. Techniques on first aid. Survival in the hottest or coldest of climates. Survival Planning. Make polluted water potable. How to find water. Ways to trap and collection techniques of water. Covers navigation and compass use. Find direction using the sun and stars. Weapons and Tools. Recognizing signs of land when lost at sea. Building life-saving shelters. Traps and snares. How to prepare wild game to be cooked also preserving food. All types of fire making. Water Crossings. Find direction using the sun and stars. Physical and mental fitness. Disaster preparedness…..and more!!
* * * * * * * * * * * * * * * * * * * * * * * * * * * * * * * * * * * * * * * * * * * * *
LifeStraw – inexpensive clean water insurance.

* * * * * * * * * * * * * * * * * * * * * * * * * * * * * * * * * * * * * * * * * * * * *
Product Highlight
 * * * * * * * * * *
Trustfire 1000 Lumen Flashlight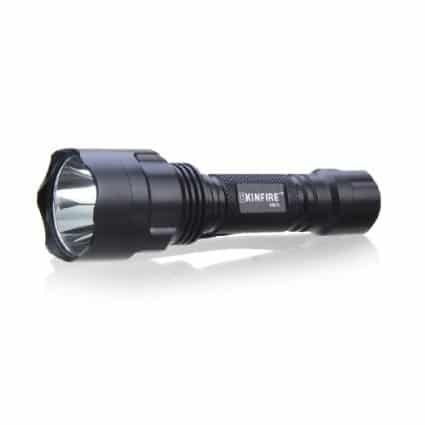 The Trustfire 1000 Lumen Flashlight is a fantastic light at a great price. I have several of them and thus far have had no issues. Although they are advertised at 1000 lumen I would estimate their power to be more around 500 – which is still a fantastic deal for a light under $10.00 including shipping.
This flashlight runs on two CR123 lithium ion batteries – or one rechargeable lithium ion 18650 battery. 
Super bright, economical, long battery life. 
HIGHLY RECOMMENDED.