I've been looking for a tent for about 2 years now, but not just any tent.
Yes, I wanted a tent in case of bugging out. Yes I wanted a small, easy to setup, tent for camping.
But I also wanted a tent that could be a play tent for the grandchildren to play in in the hay loft if they decided to camp there, a tent that I could deploy in the livingroom for the grandkids or if the power went out and we needed to cold camp in the house AND I wanted a "sick tent" that I could seal off in case of a pandemic.
Kind of asking a lot, aren't I?
Well, I think I have found it all in this Bear Grylls Rapid Deploy Tent that I bought from Sportsmans Guide on sale for $71 – priced the same thing at Walmart for $119.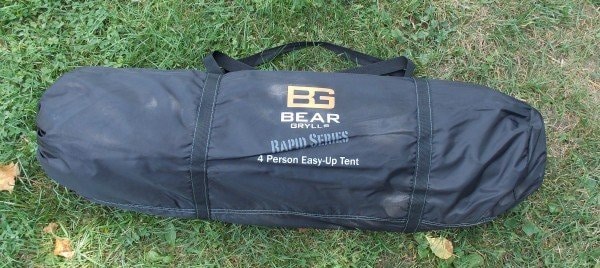 So here is the bag for the Bear Grylls Rapid Series 4 Person Easy-Up Tent, its about 36″ long and maybe 20 lbs. – not small. Now as far as I am concerned when it comes to tents, "2 person" means 1 and "4 person" means 2 and that is about right for this tent which has a foot print of about 7'x7′ with the interior height being about 5′ – not big, but not tiny.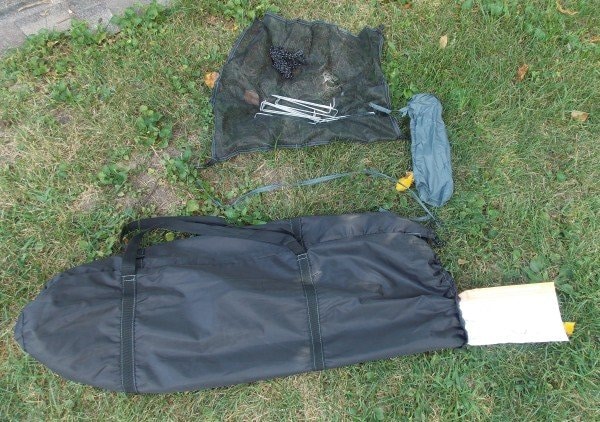 I was really excited to see if the tent was what I thought it was and immediately went to setting it up. Here is the bag dumped out. What I want you to note is that white flap on the right – the instructions sewn right into the bag. I love it! Three steps to put it up and two steps to take it down and I could read the instructions without my glasses.
It comes with its own ground tarp and has a bathtub floor, so you can feel very comfortable about no insects, scorpions or snakes getting in. It says 60 second setup – "Ya right," I thought. I laid the tarp out and the tent out and holy cow, yup 60 seconds or less! It is basically set the legs and pull and it snaps up!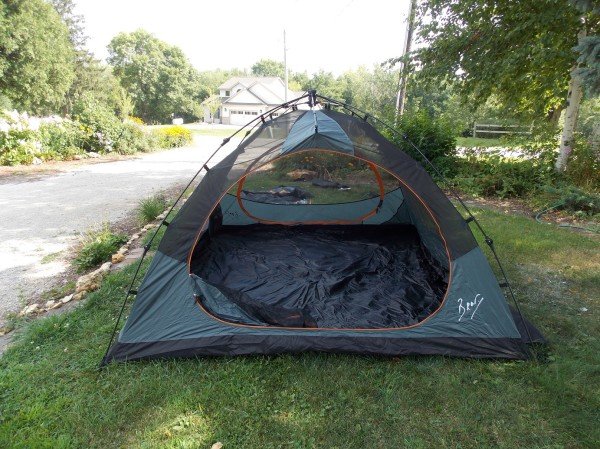 This is a three season tent, so it is all screen if you desire it without the rain fly to stay cool. With the rain fly it will create that dead air space that is so essential for no weight insulation. AND it has TWO DOORS!
Now why am I thrilled with two doors? Too much time camping in Montana where there are bears that are prone to attacking campers in their tents. Bear Grylls knew what he was doing with two doors – may never need the second one, but so nice to have it! If you have ever thought about getting trapped in a tent with no way out except to cut the tent, I would call this a prepper's tent.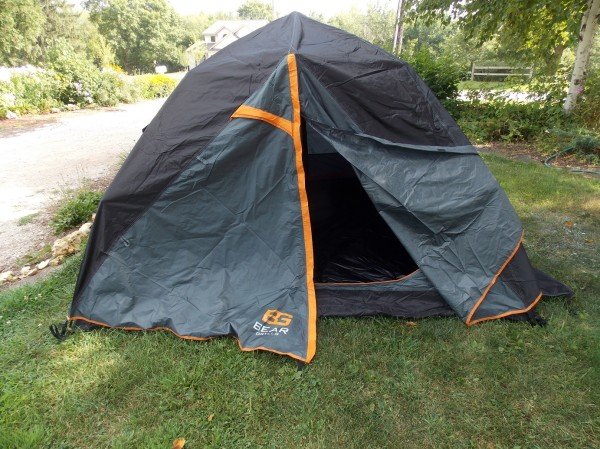 What you can't see, is that this tent is NOT STAKED DOWN. It doesn't need stakes! Yes, outdoors I would stake it, but if I want to let the grandkids "camp" in the barn loft or livingroom, or I need to deploy it in the house or garage as a "sick tent" I don't need to stake it. Also, have you ever noticed that when people are evacuated they almost always end up in a school gym or some such with NO PRIVACY? This tent could give you that privacy on a gym floor or the option of not having to stay in that evacuation area.
So what did I buy? A playhouse for the grandkids and a nice little easy-up tent for the old folks if they want to go camping (more likely to end up on the back of the Harley for Bob's expeditions), a bug out tent, an immediate small tarped area in the house to keep warm if needed in the winter and a sick room if ever needed (And I pray we never do!) all for $71.
Hard to beat the versatility of this tent in my book!