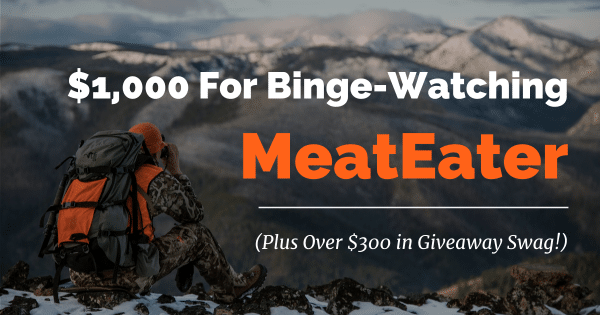 If you've ever wanted to be a "professional" TV watcher, your ship might've just come in.
Especially if you like hunting, fishing, and all things outdoors.
The outdoor website GearLobo.com recently shared that they are recruiting somebody to binge-watch all 8 seasons of the popular hunting show "MeatEater", and post about it on social media.
The reward?
$1,000 in cash and a slew of other giveaways–a year's subscription to MyOutdoorTV, shirts, knives, the MeatEater cookbook and more.
Plus…. you can add "professional TV watcher" to your resume! ;-)
Check out the full details here: https://gearlobo.com/hunting/shows/
Money or no money, if you haven't seen MeatEater yet, you should definitely check it out. From a prepper point of view, MeatEater does a great job of showing the loop between hunting game, and then how to actually prepare, eat, and appreciate the food that comes from it.