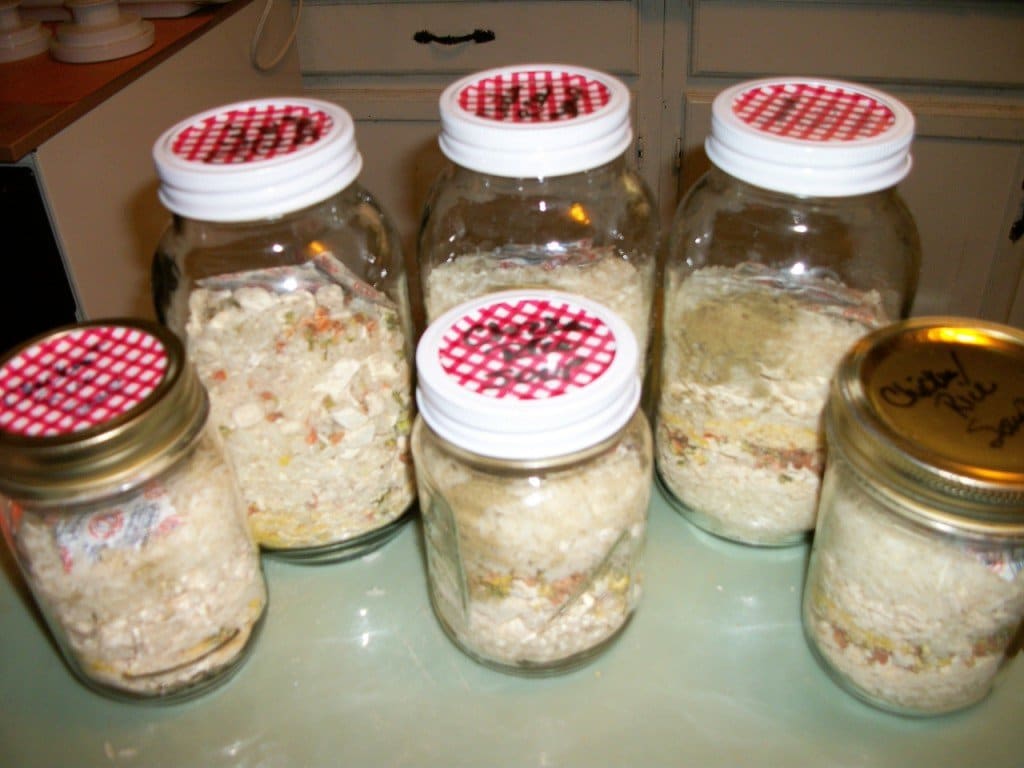 One of our favorite foods to "set back" are meals in a jar or meals in a Mylar bag.
I just opened a pint of our "Chicken and Rice Soup" and it's delicious…even though it's nearly a year old.
I'm not sure there's any specific recipe to follow other than one you'd normally use if you were making traditional chicken & rice soup.
This particular recipe is for a pint jar.
One thing I have learned though is to put your herbs and spices in first to avoid them "coloring" your instant rice and freeze dried chicken, and making it look "greenish."
For Chicken and Rice Soup, You Will Need:
2 Tbsp. Chicken bullion (or 3 cubes)
½ cup of my own dehydrated carrots
½ cup of freeze dried peas (from manufacturer of choice) must be freeze dried!!! Dehydrated peas won't reconstitute for a long, long time…if ever!
½ cup of my dehydrated onion flakes
1 full cup of freeze dried chicken chunks (these were from Honeyville)
1 tablespoon garlic powder
1 tsp. coarse ground pepper
1 tsp. powdered cumin
1 cup of instant white rice (more if you can get it into the jar) putting the rice in LAST.
1 oxygen absorber – 100 cc (just my preference for additional safety)
Directions:
When you're ready to cook, put mixture into light weight sauce pan, fill your pint jar with water to first ring, and pour into your saucepan.
Bring to a boil, cover and let set until rice is soft and other ingredients are reconstituted.
You can add a bit of powdered milk if you prefer a milkier-type soup.
You can also measure the ingredients into your jar and then pour it into a ziplock Mylar baggie (which I do for the ones we keep in our camp trailer) and store away.
Write what's in it, date it, and put it in your storage pantry in a cool, dry, dark place.