I'll pass along my mother's bread recipe. My mother taught me this probably 35 years ago, and it is so simple to remember that you don't even have to write it down.
It basically uses '1' of everything, and with a little common sense, it's easy enough to remember 1 of what.
You Will Need: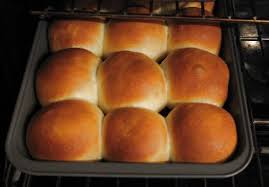 For each normal loaf of bread, or pan of rolls, use the following:
1 Cup  Water
1 Pkg  Yeast    (or teaspoon, if you use something other than the packets)
1 Tablespoon Honey   (or sugar, if you prefer)
1 Tablespoon  Butter  (shortening, whatever you prefer to use)
1 Teaspoon  Salt
1 Egg
However much flour it takes
Directions:
Mix the water, honey and yeast and let it sit for a bit in a warm place before adding the egg, salt and butter and starting to mix in the flour.  We always mix it, knead it until it feels right, let it rise in the mixing bowl, punch it down and knead a bit just to get the air out of it, form it into loaves or rolls, let it rise again and bake it.
For anyone with any bread baking experience at all, this is probably the simplest recipe you'll ever find and it works perfectly every time.
(submitted by Randy Bock)