No, we don't have any colds or flu, but I usually make up several quarts of my "Flu Soup" just to keep on hand. It's worked so good for years to relieve any type of sinus/cold/flu or congestion etc. Be sure to add your honey and lemon.  This recipe usually makes 4 1/2 quarts, and I add more water to the cooked veggies, add more ginger & cinnamon and boil it down again for 2 or 3 more quarts. The 2nd batch isn't as strong, but still useful.
You Will Need
1 large head of cabbage, coarsely chopped
5-6 large carrots, coarsely chopped
4 or 5 cloves of garlic, whole
8-10 cinnamon sticks
1 small container of ginger root (I buy from Mennonite store) or you can slice a whole root.
2 Tablespoons of course black pepper
5-6 stalks of celery, coarsely chopped
3 or 4 small onions, coarsely chopped
Directions
Add enough hot tap water to cover all the "stuff".
Bring to a boil, then simmer covered for 3 or 4 hours.
Stain into another smaller stock pot
Pour into your canning jars, quarts are my preference. I use "self-seal" lids, but you can process them with your canner according to carrots etc.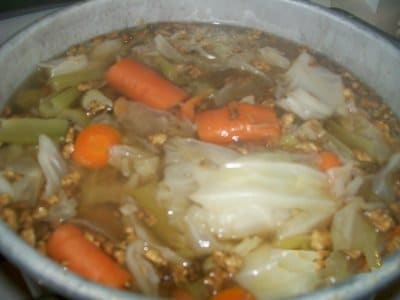 You can also just jar it up & keep it in your fridge. I keep a jar or two in there.
Do we have the flu? Nope…but it's there for colds, sniffles, sinus problems, whatever you want to use it for.