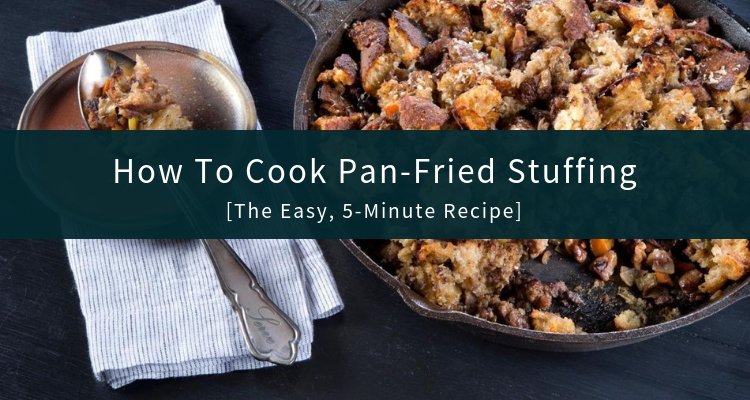 Here's another frugal and easy food choices for prepping, camping, and survival on a budget: Pan Fried Stuffing.
Learning how to cook some simple, hearty dishes is an important part of learning to be self-sufficient. It can also help you learn to utilize some items from your survival food list.
My daughter, Montana Storm, actually came up with how to make stuffing from leftover bread in a frying pan one day (she may have stumbled on this because all the pans were dirty!). I don't know how, but became quite a hit in our family. And now I always have a bowl sitting on the back of the counter to catch the heels of bread, and leftover rolls and buns that will mold if not frozen or dried, for stuffing and meatloaf, meatballs, croutons, whatever.
Frying pan stuffing takes about five minutes to make and can be (depends on how you dress it up) oh so good!  It will fill the stomach, can be eaten alone (I like it with leftover gravy) or as part of a meal.
This is the basic recipe, from here it is all what you have available and your own personal taste palette.
Pan Fried Stuffing Recipe
Ingredients:
9-10 bread end pieces (white, wheat, French, rolls, buns, garlic)
3 tbsp. butter
1 c. boiling water
1/2 med. onion, finely chopped½ tsp. sage
Salt and pepper to taste
Other optional ingredients I have used:
2 cloves garlic, minced or garlic salt
2 tbsp. freshly chopped parsley or dried
More sage
Marjoram
Rosemary
Italian seasoning
1 stalk celery, chopped
Chives
Raisins
Walnuts
Apples diced
Cranberries
Cooked potatoes, makes almost a hash
Add bouillon to the water for more flavor
I also keep ice cubes of "drippings" from roasts, etc. to create a good soup stock, broth or gravy. Nuke a couple of these and it will make your stuffing oh so much more delicious!
Dice (or tear) bread ends and measure about 4 1/2 cups.
Melt butter in a large frying pan (or pot).
Add onion and whatever else you've decided to add.
Sauté over medium heat about 3 minutes.
Add whatever you've decided to add in the way of spices and stir.
Add boiling water or broth—yes, you can simmer this to make it even more savory and bring out the flavors in the spices.
Stir and bring mix to a boil.
Fork in the bread, turn off the stove (if using gas, move to another burner if using electric), stir and cover for about five minutes before serving.
Serves 4-6. Or two if this is the meal. ENJOY!
I would love to publish a series of "basic" recipes that people can add to, to taste. Just good frugal recipes, especially those with an eye toward using rice and beans.