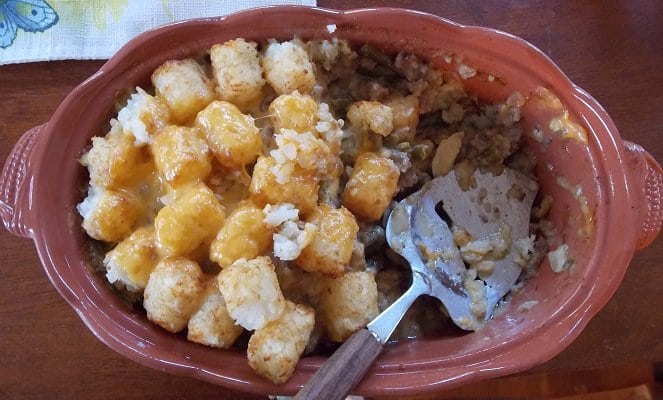 Sometimes everyday preparedness is having a meal that is easy to prepare. And if you have the standard preparedness pantry, you have ample cans of cream of mushroom and cream of chicken soup on hand – staples for building any hot dish, I believe it is casserole for the rest of the world.
You Will Need:
A bag of tater tots
A can of cream of mushroom or chicken
A can of green beans or ?
Hamburger, or a pound or whatever.
Optional:
Onion if available.
Cheese to sprinkle on top.
Salt, pepper, or season to taste – garlic salt, etc.
Directions:
Brown hamburger, mix with soup of choice and vegetable.
Put tater tots on bottom and top.
Bake for 45 minutes or so.
This is easy to make, even when the electric is out. I've done it on a cast iron pot on a Deadwood Stove. Or a regular camp stove. Or after browning the meat, bank your coals and put the pot in the coals.
There is nothing like a hot meal to make life look better!