The price of propane is skyrocketing! A natural gas pipeline blew up in Canada and every household and business in Minnesota (where I live) has been asked to lower thermostats to 60 degrees while temps. plummet tonight to -25 degrees below zero – we won't even discuss wind chills! And thousands had no heat for a while. Natural gas prices are expected to hit all time highs, so might as well keep the thermostat set down.
The south is being hit by record breaking low temperatures and snow too! What to do to keep warm?
Well, here is a project I have been putting off and today decided to get around too. And you can duplicate a semblance of this with just a $1 emergency blanket to help keep heat in OR if you are in a part of the world where you are trying to keep cool, turn the blankets to the sun and reflect that heat to the outside.
I think all we need is pictures and you will get the idea. So besides closing off rooms with quilts and blankets to heat with space heaters where needed, putting on a shawl, and wearing warmer clothes, here we go.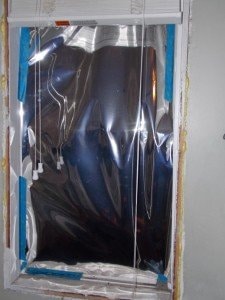 Last year I bought a 25′ x 50″ roll of 2 mil Mylar for less than $30 and being rather lazy I just cut some and taped it over the windows for both a blackout (Bob works nights) and to keep the bedroom warmer. It worked great! Every window in the bedroom and adjoining bathroom and it stayed a toasty 5 degrees warmer than the rest of the house. It is shiny on the other side too, so it worked to keep the bedroom about 5 degrees cooler in the summer as well.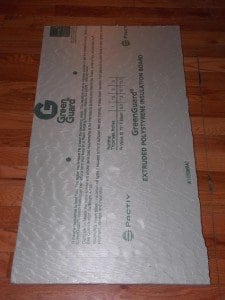 But I have to admit it doesn't look so good from the outside. A couple of weeks ago I was rummaging around the garage and found some foamboard and dragged it up planning to attach the Mylar to it and paint the board white on the other side, and maybe add some flowers in a window box decoration at the bottom.  Right now I'm not going to bother with looks, I want the heat conservation!
I have several misc. thicknesses leftover, this particular sheet is better than an inch thick. Cut with a serrated knife or score and snap. This is one of my, I don't want to spend any money projects.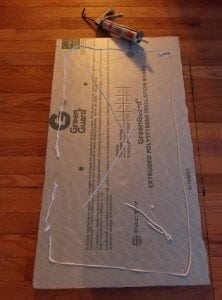 Add some on-hand caulk…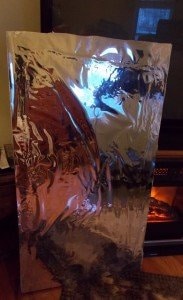 Mylar smoothed onto it…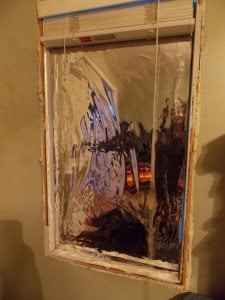 Fits nicely into the window.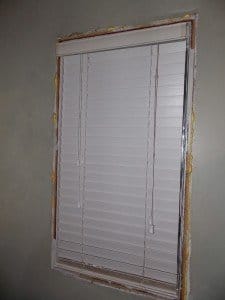 And you don't even notice it on the inside!
Don't worry if your shiny stuff isn't perfectly cut on the foam board, in fact, you can let it come over an inch all around as you can seal the drafts out even more!
And yes, I know I need to get around to that window molding…!!!
Hope this helps someone!