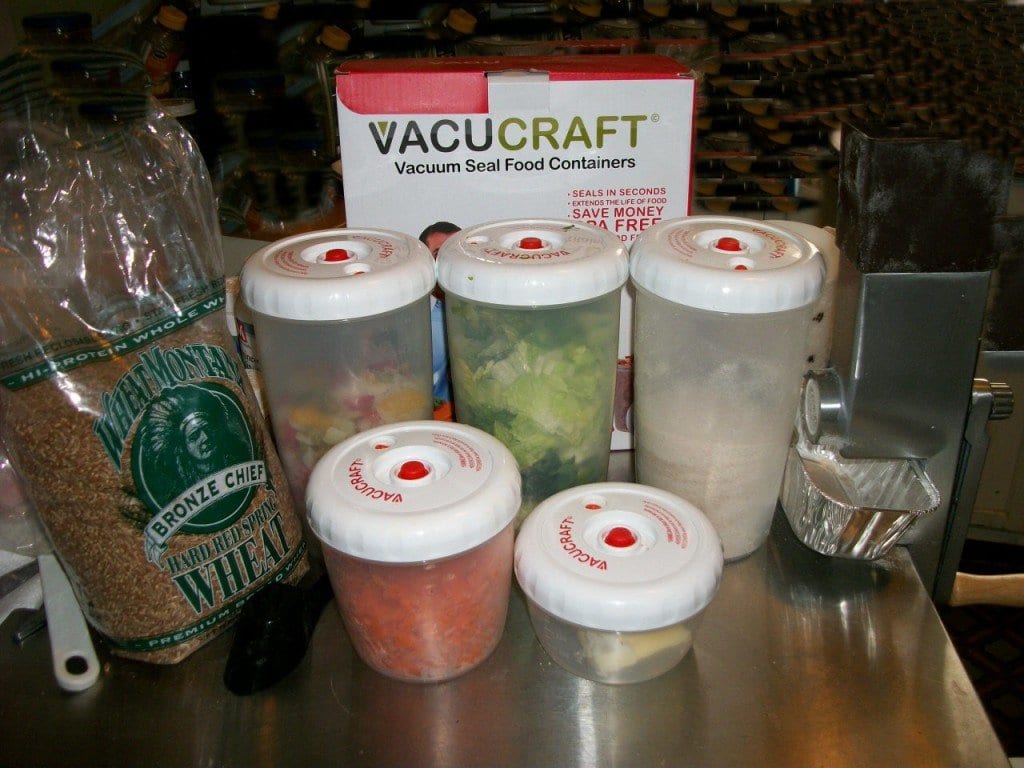 Another of my perhaps "unusual" preps is the Vacucraft canisters.  I absolutely love them and glad that I can now use them instead of my canning jars.  I've included a picture of one of the systems I own, but alas…I own 3 sets.  Each set contains 4 canisters plus the hand vacuum to seal them.
I found them at a Menard's store last year for $10 for a set, bought two and then when I saw them again just a week or so again, bought another.
I use them for just about everything, and they're dishwasher safe but I don't put the lids in since they have the gasket lid & rubber "seal" on top.  I haven't tried to microwave in them either because I don't want to damage them, or I am sure the lids wouldn't survive.
I'm sure you've all heard of "salad in a jar" … I've got a better system now!  I take a head of Romaine lettuce, slice it 3 or 4 times length wise, and then chop it cross wise to get our favorite bite sized pieces of lettuce for our salads.  Then I put them in my largest canister and press it down as much as it will go.  Then I put the lid on and using the hand vacuum, I remove all the moisture, and in the fridge it goes.
My salad lettuce is ready to go & all I have to do is add tomatoes, chunks of goat cheese, chopped almonds and our favorite homemade dressing. Sometimes I like a "sweet" salad so I add grapes, open a small can of mandarin oranges, pour some over the salad and then add some cottage cheese…yummy for me, not so for MrWE2.  He likes "salad" Oh…did I mention my salad starter lasts me about 10 days, depending on how many times I open it.  Each time I remove some salad; I just put the lid back on and vacuum seal it back down
I keep my butter in the smaller one, vacuum-sealed down and sitting on my worktable, soft and ready to use…but vacuum-sealed for freshness.
I put as much of my bell pepper and onion mix into the large one as I can get.  Also, just release the seal, take what I need, put the lid back on and vacuum seal it back until next time.  Also, lasting a long, long time and not frozen, so it doesn't take long to cook in my cast iron skillet for an omelet.
I shred my hard cheeses (mild cheddar and pepper jack are our favorites) into two of the smaller canisters, vacuum seal them down and the process goes on…fresh shredded cheeses that keep for ages.
I just finished grinding up about 6 cups or so of red wheat, and putting it into the larger size.  Keeps the wheat flower freshly sealed for whenever I want to use it.
I love the fact that the canister is a harder, dishwasher safe type plastic so if I accidentally drop one it's not shattered all over the floor like a canning jar would be (I seldom use plastic containers to store "2nd helpings") and keeps my food so much fresher than a baggie or something.  If I leave head room, I can also freeze them…but I don't.  I use the foods in them too fast
If you can find them…my advice is GET THEM AS FAST AS YOU CAN and buy as many sets as you can afford.  I haven't checked on line at the cost there, but at the Menards they were $10 a set.  At $10 a set how can anybody go wrong?