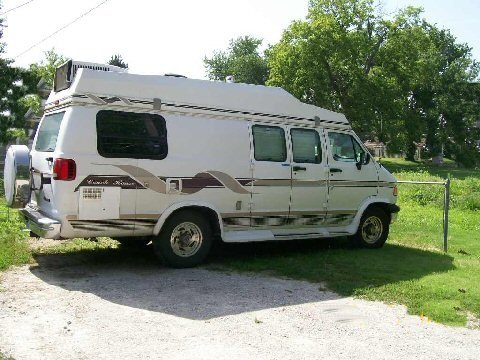 We just added another option to our "camping" capabilities.  Found an individual that was retiring from being a full time RV'er and they traded us straight across for our Dodge Caravan for this Class B Motorhome.
She's an older model & needed A LOT of elbow grease inside as well as some additional work on the tie rods, but has lots of miles left in her if we get her up to speed and keep her maintenance current.
We call her "Miss B" :-)  She's got a little bathroom with a "shower" thingy that you pull a curtain around a ceiling railing & there's a square fiberglass pan that you stand in & use a hand held shower head, a dinette in the back that makes out into a short queen bed, a 2-burner stove, a small frig, a small sink, a small pullout pantry & lots of storage.
We'll be using Miss B for shorty trips (over-nighters) if we're on a day-trip and decide to pull off somewhere & not drive at night.  She'll also be good for in the mountains & in tight spots that are hard to get to.
Thought we'd share what we consider a blessing with our SCP friends. Just another option that is possible should we need to spend some time away from home unexpectedly, in a crisis.