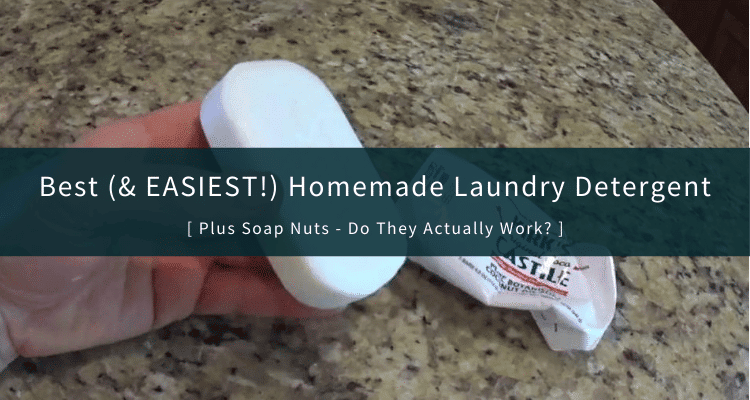 If you are planning to use some kind of off grid washing machine, it's a good idea to check out some alternative laundry detergents as well.
Why?
Because if you're off the grid, it's likely that your wastewater is being handled by a septic system. And if you use powdered detergents (or excessive amounts of liquid detergent), it's possible to clog your system, slow the processing speed, or in severe cases, block up a drain.
Additionally, many of these detergents can be serious contaminants of the ground or surface water supplies. For all these reasons and more, it's a good idea to check out some different detergent options.
Homemade Laundry Detergent for the Off Grid Homesteader
The internet is flooded with lots of DIY detergent recipes that aim to process more quickly through septic systems, cut costs, extend the life of your clothes, or be eco friendly.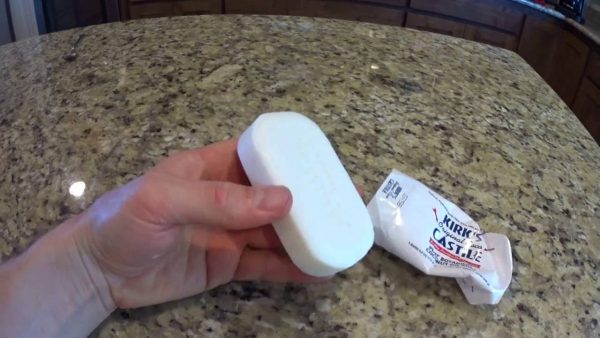 Here is a recipe that I have used:
First, get 6 bars of Kirk's Castile Soap – take out of package, allow to air dry at least 2 weeks before making detergent to "harden off" – 3 or 4 weeks is better; BTW, "harden off" all bar soap to make it last longer.
Now you will need to grate the soap; I just use an old steel hand grater, moving the soap up and down; if it's hardened off, it's much easier to grate and not nearly as messy.
Combine:
One four pound twelve ounce box of Borax
Six (6) flaked bars of Kirk's Castile soap
One four pound box of Arm & Hammer baking soda
One box of Arm & Hammer super washing soda
Bucket of Oxy Clean – this is optional, but I personally do like to add it. Omitting it will reduce cost, however. I use the "Sun" brand, which works just fine and is much cheaper than OC.
Optional: a few drops of your favorite essential oil (and I DO mean a few!) – I prefer Lemongrass Essential Oil. THIS IS OPTIONAL; feel free to omit; if for baby, omit essential oil. Your detergent and laundry will smell fresh and clean without added scent, chemical free!
Mix all together; use only about 1/4 cup per FULL load; good for sensitive skin and high efficiency washers (no, it won't "suds" all that much; yes, it will get your clothes clean!).
My first batch of this, in 2012, worked out to 18 cents per load! Yields about 18 lbs. of laundry detergent (and you can really use it clean lots of things!).
BTW, Kirk's Castile Soap has been around for a very long time, and is still as gentle and effective for bathing and showering as anything! And it's "cheap". I love the stuff.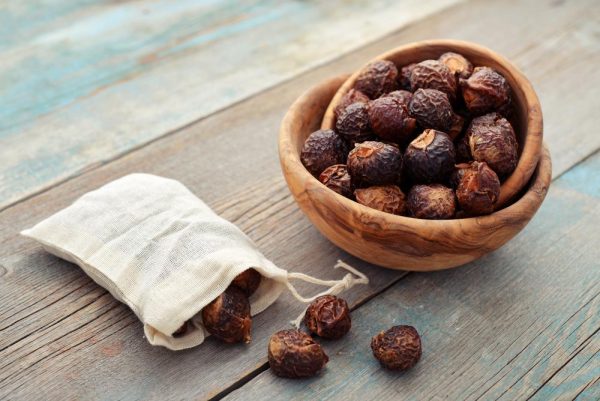 What About Using "Soap Nuts" for Laundry?
If you want an even more natural soap option, "soap nuts" might be just the thing for you.
First things first–yes, soap nuts are real, actual nuts that grow on trees. When I first heard about them, I swore I was being lied to. But no, soap nuts are in fact, a real thing. More accurately berries, they grow on the Soap Berry tree in the Himalaya mountains.
Whereas regular detergents contain chemical surfactants, soap nuts contain a naturally occurring surfactant, called "Saponin." While soap nuts won't "foam" and "froth" up like other soap, the Saponin effectively removes dirt from clothing, without all the harmful chemicals. Use 3-4 nuts, to wash 3-4 full loads of laundry.
In addition to being natural, some people have said that soap nuts leave your clothes fluffier, and don't break down the fibers of your clothing as much as other chemical surfactants.
All in all, a pretty cool option. See full details or pick up a small bag of your own here. Or if you're really serious, you might just see if you can grow your own soap nut tree!