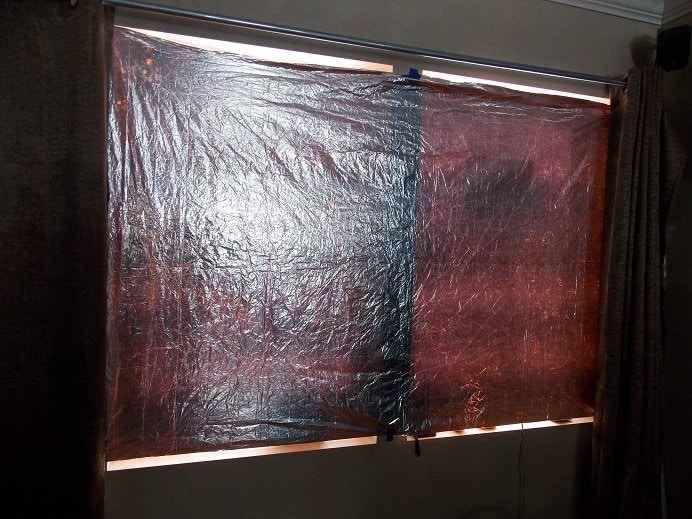 I didn't actually think this would work, but after just one hour with the heavy duty emergency blanket taped over the windows with the Mylar side in and the orange side out I decided to order 2 mil Mylar, one side black, 50'x4′.
You can put your hand at the bottom and feel cool air and your other hand at the top and feel significantly warmer air coming out! Now understand this is an east facing bank of windows and it is about noon so no direct light is hitting it. I used painters' tape so that it would remove easily when the heating crisis is over.
You could do this right now with cardboard painted black on one side facing out and a cheap $1 emergency blanket or tinfoil shiny side in over a window. Just leave an inch or so at the bottom to draw the cool air up and an inch or so at the top for the warmed air to escape.
I am totally sold on 2 mil Mylar window film and I have been working with it off and on for over a year now. I had no idea it came black on one side! And it does come white on one side also. For passive solar heating, I want the black on one side for absorbing the heat from the sun on the windows and I want the heat inside the room to be maximized by being reflected back into the room by the Mylar side.
AND in the summer, I can turn it around and reflect the heat back outside keeping the house cooler in the summer – I call that a WIN – WIN.