SeasonedCitizenPrepper.com mission statement…
A web-based community focused on a self-reliant, preparedness lifestyle.
Seasoned Citizen Prepper is a site devoted to the older prepper that believes in prudent, practical preparedness. Self-reliance, frugal living, and faith are the cornerstones of this site. Our goal is to facilitate sharing of knowledge among our subscribers in order to build a sense of community.
By Bev,
First off, YEAH Warroad, Minnesota, "Hockey Town USA", population 1,700, almost as cold as International Falls, 2 Olympians on the US Hockey Team that just beat the Russians! Okay, I got that out of my system. :-D
What did I do to prepare this week? I am still working on the Solar Cooker I started last week. Refining the design and adding another panel as it didn't cook the chicken I tried. Of course it was only +5 degrees and I had only 3 hrs. of sun. The roaster was mighty hot, but I had to finish it in the oven. Got my 50′ roll of Mylar in, but they sent white on the back instead of black – reorder! Then I made a solar/electric dethawer for my inground horse waterer. Why both? Well, Minnesota doesn't always have sun and it is stuck between two buildings anyway with only 1 hour of sun and I have electric available, so I put a cord for a light bulb in it. If it works (The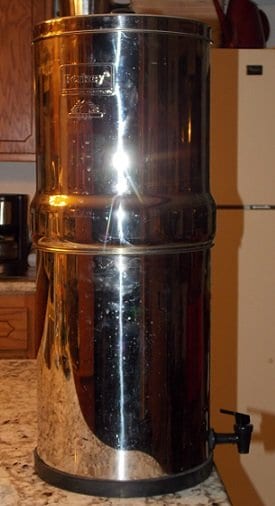 horses keep bumping it off. I currently have a piece of plywood over it – we'll see…) I'll show you what I did. And I have been working on a very lightweight version of a pop can solar collector for heat. Problem is getting the bottoms of the cans off with my old arthritic hands – not going too fast. Plus I need more pop cans.
Ah yes, and I set up my Big Berkey water filter. Sitting proudly on the kitchen counter. When they say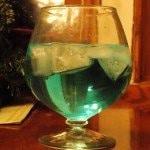 to hand tighten they mean a man's strength. You test it by adding food coloring and my water turned blue – the color I added. It also takes almost 24 hours to get 2 gallons of water to filter through with just the 2 ceramic filters that come with it. Must buy more more filters – room for 4 at a time.
We got another 4″ of snow yesterday with 4 out of the next 7 days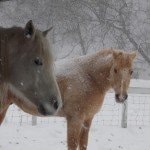 showing snow… I don't know about you, but I'm getting pretty darn tired of winter! The horses are even looking pretty disgusted. But I am finally starting to get an egg a day or so, must mean we are getting more light.
We are at least above zero now. But I think I may be getting a bit of cabin fever as I'm obsessing on Mylar.
And I did some winter sowing of perennial flowers. The ones I think you may be interested in are the Pepsi plastic singles. I put a combination of slits and holes in the bottom. Cut off the tops on the large side and made slits in those. Then I cut off the bottoms on the middle slimmer area. The tops fit right over the bottoms and duct taped them together with cottage cheese contain slices for interior markers. I scatter a few Giant Delphinium seeds in each. I think these might be perfect for "plugs" of well started plants – we'll see.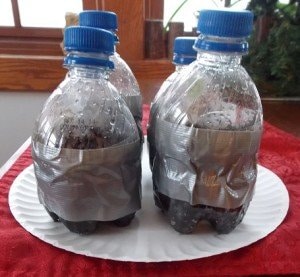 I started Romaine lettuce, onions and celery and they are growing! Put in a core of iceberg lettuce too and it actually has a sprout so we will see about that. I have a post this week on 16 different veggies you can start from kitchen scraps.
This week Coach is giving us his opinions on bugging in and a book review on Surviving in the Marsh. I believe GrammaMary is going to let us know how she is using her oven as a survival tool – me too – more natural remedies and some surprises. 
This site is all about YOU! The older prepper. SHARE!
Please email us at: scprepper at outlook dot com, checked a couple times a week by Rourke.
Or email me at my personal box: bcfossillady at gmail dot com, checked a couple times a day usually, when I'm not at my Mother's.
Okay Patriots, how did you prepare this week?
*****
John from Iowa shared this one: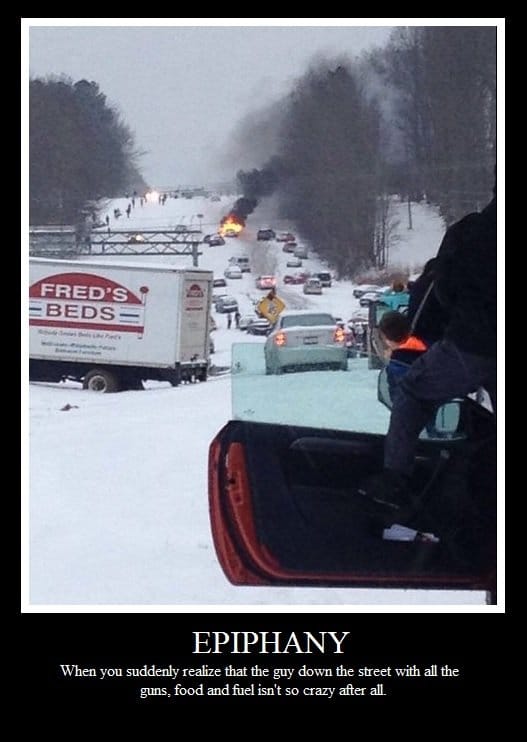 Proverbs 27:12
"A prudent person foresees the danger ahead and takes precautions.
The simpleton goes blindly on and suffers the consequences."
In God We Trust