By failing to prepare, you are preparing to fail.
What did I do to prep this week?
By Bev Sandlin, Executive Editor
Pound! Pound! Pound! "EVACUATION! EVACUATION!" Imagine waking up to that at 4 am! It happened early Saturday morning, during a pouring rainstorm, 30 miles from me. Lightening struck a tree and caught the underground gas line on fire. The neighborhood was evacuated around 4 am and everyone was told to stay gone until the gas company shut the lines off–which didn't happen until mid-day. In the meantime, a gas line fire was raging in their neighborhood. Would YOU be ready? Just another reason to have a stocked BOB ready to go!
Well, I'm still attempting to garden! We've had two floods in one week!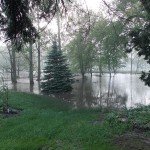 The perennials – asparagus, rhubarb, strawberries, raspberries, currants, blueberries, elderberry, grapes, and dwarf apples are tolerating the moisture. But my annuals are getting washed out! I'm beginning to wonder how much I can replant given the late planting—again. And, I don't know how it is going for farmers in other parts of the U.S., but ours have had their corn crops washed out two to three times depending on when they planted… If it isn't drought, it is flood.
Besides gardening and eating a lot of asparagus, I've been shopping in the basement in my preps. Boy, is this teaching me a thing or two! Now, mind you, it is not 100% garden and preps. I'm allotting $10 a week for groceries—what does $10 buy for two people? Butter, milk, orange juice, bread, ahhh…  Okay, that is $10 and you better spread that pound of butter to two weeks!
And the furbabies aren't getting out of this crack down either. I bought a lot of dog food but only prepped a little cat food. Given that I have fed my outside cats dog food when needed, because they can hunt for the rest of their nutrition, they are on dog food and not too happy about it.
What have I learned? You eat the good things first! It's true! I'd rather eat chili than cream of mushroom soup; ravioli than spaghettios; strawberry jam than grape jelly. Oh yeah, I'm on a learning curve here! I prefer fresh to canned and Bob still won't eat asparagus—is he cheating???
Coming up this week—Gardening Week on SCP!
Okay Patriots, what did YOU do this week to prepare?
*****
A smile for you… I liked Tom, what can I say…
In God We Trust
And just in case you are thinking I am way too cynical this week, go here and you will see that I do still have faith.
---