Wyzyrd
now browsing by tag
Crockpot "Un-Baked" Beans (if you have electricity) .
By Wyzyrd, Editor-at-Large
My New England relatives always use "Navy"beans. I had Black-eyed peas. So it goes. The couple weeks before New Year, you may want to check before thinking "I need black-eyed peas". Or not, you can always store them :)  Trying to re-create the low and slow "bean hole beans" I remembered from childhood vacations at the Pond in NH. Those got buried in cast iron Dutch ovens over coals for about 3 days. This is a lot easier. :)
1 lb black-eyed peas
¼  lb sliced raw bacon, diced  (salt pork is traditional, I didn't have any)
1 large yellow onion, diced
1 large green bell pepper, diced
1 small can tomato paste
(about) 2 tbsp dried mustard
(about) 1 qt chicken stock
(about) 3 tbsp molasses
(about) 3 tbsp tomato ketchup
(about) 2 tbsp Worcestershire sauce
S&P to taste
(Hot Sauce doesn't hurt)
Soak the beans in boiling water overnight in the slow-cooker, set on "Low"
Drain the beans in the morning, add your onions, peppers and bacon, the chicken stock, molasses, black pepper  and tomato paste.  Stir well, cook on "high" about 1-2 hours, then lower to "Low" for about another 3-4 hours. Stir a few times.
Add the Worcestershire, ketchup and more S&P,  cook another hour or 2 on "Low",  Beans, bacon and veggies should be tender.   Let 'em go until you're happy, and don't be afraid to adjust to your flavor until it's perfect for YOU. Again, stir occasionally.
My relatives would add a boatload of brown sugar, too, but I prefer less sweet and a little hot.
If timing gets off, they will last a LONNNNGGG time on the slow cooker "Warm" setting until people show up, and they just keep getting better.  :)
An Easy New Year's Day "Good Luck" Dish
by Wyzyrd, Editor-at-Large
This isn't really a soup, as such, or actually 'good luck", but it's a tasty Southern staple.
As many of you know, I'm a "recovering New Yorker".  One of the first really 'alien' things I found when I first moved to Virginia, 40-some years ago,  was that if I saw friends on New Year's Day, their first question was usually "Did you have your black-eyed peas yet?". If  I said "no", I was usually dragged bodily into the kitchen and handed a bowl and spoon and told "It's good luck".  (Some were pretty bad, some were delicious.)
I had to do some research to find out why.  It turns out that, before the Civil War, black-eyed peas (beans) were grown, but considered a low-grade animal fodder crop in the South. Both armies involved in the conflict tended to commandeer much of the "people food".  Animals, green vegetables, fruits, wheat, hay and field corn went to keep the armies fed. Civilians, black and white, rich and poor, were all very short of food. The bottom-line was that it was 'survival food', but if you had those dried beans, and maybe some smoked pork hocks to cook on New Year's Day, you were already starting off the year lucky.
I don't really believe that things are good or bad luck (except for the really obvious – it's always bad luck to purposely whack yourself in the hand with a sledgehammer), but, a really tasty century+ – old tradition needs to be remembered and spread beyond its source. Here's a modern version:
Hoppin' John, the lazy way
(not just for New Year any more…)
1 lb dry Black-eyed Peas
1 "country style" smoked ham hock
1 yellow onion, quartered
about 2 qt chicken stock
1 yellow onion, diced
1 bunch fresh thyme
1 large green pepper, diced
boiling water
chopped garlic
1/2 lb bacon, diced.
stone-ground coarse mustard (optional)
Add dry beans to a crockpot, cover by about an inch with boiling water. Set slow cooker on "Warm" and let is sit overnight to hydrate beans. Add more water if needed. In morning, drain off water, re-cover beans with chicken broth, add the ham hock, quartered onion, a 'pinch' of garlic and cook until tender on "Low" setting. When beans are tender, remove ham hock, shred and return to slow cooker, saute bacon over medium heat to render fat, until 'somewhat crispy' (my personal choice- I don't like it if it breaks when you bend it). Remove bacon and excess grease, saute diced onions, peppers and garlic until onions translucent, then add to your beans. Stir, add fresh thyme bundle, add a little more broth if needed, and cook on "Low" about another half hour. A little mustard doesn't hurt, but not traditional. Add broth or water as needed, you want some good 'bean juice' :)
Serve by itself, over rice, or with cornbread, or both. YUMMMM.
It's "good luck" to start the year with something delicious. It would be very cool to know that we're all sharing a meal, even though we're all geographically separated.
GRANDMA PENICILLIN (really magical when you're sick)   By Wyzyrd, Editor At Large
| | | |
| --- | --- | --- |
| whole roaster chicken, remove and keep all bones and skin 3 yellow onions, quartered, keep skin on 2 carrots, rough chopped 2 carrots, diced 2 stalks celery, rough chopped 2 stalks celery diced large bunch fresh thyme | | lots of minced garlic 2 fresh sage leaves olive oil slice of fresh ginger, about quarter-sized egg noodles, boiled, very al dente salt and pepper to taste |
She was right. Chicken soup really does help. The herbs help too (where do you think they get thymol for cough drops), Start by skinning and boning the whole chicken, Toss all the skin and bones into a stock pot and brown everything, Cover well with water, add rough cut veggies and herbs, bring to a rolling boil, reduce to a simmer, cover and go away for a couple hours (well, watch it and add more water, if needed). After a few hours, strain out all the veggies and herbs and discard. Let stock cool and skim off excess fat. Saute the diced veggies and add to the stock. Heat thoroughly. You may want to add more garlic and thyme :) Now, here's the secret: Do not add the noodles until you are ready to serve. Put them in the bowl, cover them with hot soup. Store leftover soup and noodles separately, and combine at meal time – the noodles won't soak up all the stock and turn into 'pudding' that needs to be thinned out again.
Survival Recipes
White rice is a basic survival storage food. This is part of a series of Survival Recipes that you can make from commonly stored foods, your garden in season, foraging wild edibles, or what is seasonally plentiful on the homestead.
KOSHARI
By Wyzyard, Editor At Large
(A delicious and filling Egyptian dish)
Caramelized onions (see Best Pizza recipe for details)
white rice, uncooked
lentils (I like orange dal, because they cook quickly)
plain spaghetti pasta
yellow onions, diced
your favorite tomato sauce (even packaged sauce will work)
ground cumin
olive oil
This is an everyday working-person's meal in most of Egypt. It tastes infinitely better than it sounds. Add 2 parts white rice 1 part lentils to a pan, cover with water (1 'knuckle' depth above surface). Bring to boil, reduce to simmer. While rice and lentils cook, break up the spaghetti pasta, add lightly brown it in olive oil. After about 10 minutes, add the browned pasta to the rice/lentil mix and continue simmering, covered, about another 10 minutes. (Do not expect 'fluffy' rice – thick and sticky is what you want.) Saute diced onions in oil, add tomato sauce and a healthy shot of ground cumin. simmer. When rice/lentils/pasta mix is cooked, place serving in a bowl, cover with caramelized onions and top with the cumin/tomato sauce. Really delicious, filling and easy. Makes a great, simple camping meal as well. (Thanks to Anthony Bourdain "No Reservations" Cairo episode for the inspiration)
Survival Soups
Soups have long been the mainstay of any cook who is trying to stretch the larder to feed more people, or the budget to save money. Soup is the basic survival food. This is part of a series of Survival Soup recipes that you can make from commonly stored foods, your garden in season, foraging wild edibles, or what is seasonally plentiful on the homestead.
"GARBAGE SOUP"
By Wyzyrd, Editor at Large
Money-saving, ecologically-sound and delicious.
Frozen (or fresh) veggie-scraps
Frozen meat (or dried, canned or fresh), skin and bone scraps
I will admit, NOT the most appetizing name, but it can save you a lot of cash
over a year's time. What do you do with the skins of the onions you use? The carrot
and potato peels? Root ends of celery? Chicken bones and skins? Shrimp shells?
They go in the trash, or down the disposal, or (hurray!) in the compost pile, right?
Try putting all of the veggie scraps into a big zip bag (yes, even the papery
skins from the onions – great color) . Put the meat scraps into another, squeeze
air out of both and just stick them in your freezer. When the veggie bag is full,
dump it into a stockpot, add garlic (I always add garlic) and some black peppercorns,
bring to a boil, reduce heat and simmer about an hour or so. Strain and press any
remaining liquid out of the veg. You now have some very tasty, and FREE vegetable
stock. The stuff in the strainer will break down in your compost pile MUCH faster.
If you want a chicken/meat/seafood stock, sear the bones/fat/skin etc in a skillet
and simmer in the veggie stock another hour or so, Strain again and skim off
excess fat. DO NOT compost the meat scraps, or you will get bad smells and rats.
You just cannot beat free food :)
Survival Soups
Soups have long been the mainstay of any cook who is trying to stretch the larder to feed more people, or the budget to save money. Soup is the basic survival food. This is part of a series of Survival Soup recipes that you can make from commonly stored foods, your garden in season, foraging wild edibles, or what is seasonally plentiful on the homestead.
"Survival" Carne Seca Adovada Recipe
by Wyzyrd – Editor-at-Large
This was completely an experiment in using only storable items, I'm surprised that it worked out as well as it did.
A few up-front notes:
This is DEFINITELY going to be a lot better if you use homemade, air-dried beef jerky vs. the commercially-made stuff. If you have to use 'store' jerky, I'd go for the 'steak nugget' style before the flat strips.

Dried Ancho and Pasilla chile peppers are available at every supermarket in areas that have any sort of Latin-American populations, or online. They are very flavorful, but not at all 'hot'. (Chiles de Arbol can hurt you – not all dried peppers are mild) They are also pretty cheap flavor-enhancers. If you prep them by breaking off the stem-ends, pouring out the seeds and vacuum-sealing, the 25th Century archeologists who discover your stash will probably say "MMMMM.. tasty…"

This is NOT a quick MRE-type meal. Just like our ancestors, if you're going to use dried, preserved ingredients, it will take a while, and you may have to plan in advance.
Ingredients:
"big handful" (or 2)  of  homemade beef jerky ("Carne Seca" in Spanish – a popular Mexican ingredient)
"handful" of dried Ancho and/or Pasilla chiles
heaping tbsp. of dried Oregano leaves
about a tbsp. of ground cumin seed
1-2 tbsp. dehydrated onion flakes
1 tbsp. granulated garlic
water
chicken stock or bouillion (optional)
salt and pepper to taste.
Preparation:
In one container, cover the jerky with boiling water, and let sit 3-4 hours to rehydrate.

In another container, add chiles, oregano, onion and garlic, cover with boiling water and let sit to rehydrate. Refrigerating #'s 1 and 2 overnight (covered) is not  a bad idea, if possible.

Grind up the chile/herb/onion/garlic/water into a thick sauce. "Abuelita" (grandma) probably used a lava-rock mortar and pestle for this. A hand immersion blender, or a food processor or a blender will work faster under ideal circumstances.

Drain the meat (save liquid) and add rehydrated meat to the chile/herb sauce. Add the meat-rehydrating liquid, if needed, until everything is submerged.

Let the meat marinate, refrigerated, as long as possible. 2 or 3 days is not a bad idea.

When ready, dump the whole batch into a pot, add water (or chicken stock) until everything is covered. Bring to a boil, reduce to a simmer, simmer covered 2-3 hours, checking liquid level – add more if needed (especially if on an open fire)

Let it simmer, uncovered, another 10-15 minutes, to thicken sauce. 
This was surprisingly good over rice and black beans with homemade corn tortillas. The meat isn't 'fall apart tender' like a normal pork shoulder Carne Adovada, but much more than just "acceptable" or "MRE" quality.
For a funny demo/HOWTO on making good beef jerky (under modern circumstances) I recommend:
http://www.youtube.com/watch?v=rIK4DVLHf7Y
Rope Tricks – Part 1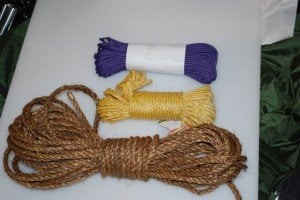 by Wyzyrd, Editor-at-Large
 I'm willing to bet that every single one of us has, at some point, dealt with a big ol' hank of some kind of rope, or other cordage, that looks like this: 
All neat and pretty and organized, UNTIL that fateful moment when you actually have to use it, and then, no matter how OCD you may be about unwinding it, it IS going to tangle, knot and kink, and you will waste time trying to get a useful piece of rope to use to fasten something.  It is an even more annoying situation if the cordage is wet and/or your fingers are cold.  The hank is also pretty big and bulky. 50 feet of 550 paracord is probably not a huge storage/carry issue. 200 feet of ½ inch rope, done this way, is almost as big as a sleeping bag in a stuff sack. My packs aren't THAT big.
Old-time mariners apparently swore by flat coils on deck to store extra line for fast deployment. (I would assume they also swore AT them a lot – imagine the daily rum ration being passed out, and Jack Tar kicking the coil, and undoing a half hour's work..)  Since I don't live on a 100-gun frigate-of-the-line with a full crew of scurvy-knave-pirates to assist me in becoming the Scourge of the Seven Seas, this bulky, non-portable cordage storage idea doesn't work real well.
Carefully-wound hanging coils also work pretty well, only a bit more tangle-prone than flat coils, but once again, they take up a lot of space, and are not at all easy to store inside a pack or EDC bag.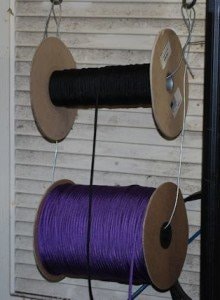 Where nautical lore fails, mountaineering-practice doesn't.  I was taught this method by a climber-friend when I was in college, and so far, it has never failed me. The "knotting method" is called a "double chain sinnet". Spend 5 minutes looking at the photographs and practicing, and you will be able to do it with your eyes closed. It works with string, mason twine, bankline, paracord, clothesline, rope, whatever you have.  NOTE: If you knit or crochet, you can probably already do this better than I can . It's basically a long line of crochet stitches. (note 2: if your cordage is already on a spool – leave it there as long as possible- spools are HANDY.).
 1)  Take the time to untangle, un-knot and un-kink your line (Spin the line between your fingers when it 'wants to go in the wrong direction').  Put the 2 ends together, and lay it out as evenly and neatly as possible. You're just making a loop half the length of your rope.
2) At the "loop" end, tie a simple slip-knot – just an overhand with a loop slipped inside – does not have to be too tight. Tight is not your friend. If the ends are not perfectly-aligned, big deal.. nobody is grading you :)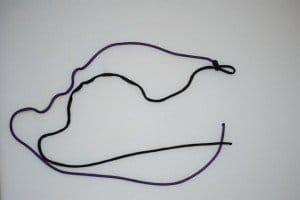 3) Take both running pieces ("bights") of the line, and pass a loop through the loop of the slip-knot.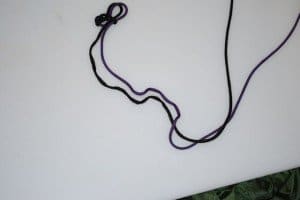 4) Tighten slightly, and pass another loop through the loop you just made.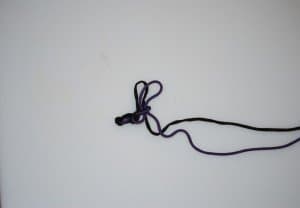 5) Repeat until you are almost out of rope.  Slip the 2 ends through the last loop, just to keep it from unravelling.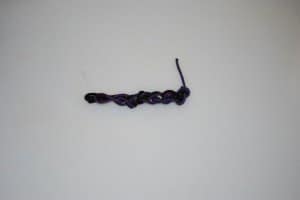 You will end up with a flat "strap" that can be used for tying down items to a pack or roof-rack, when needed. Climbers frequently carry their ropes, tied this way "Bandido Bandoleer" style, frequently with extra carabiners through the loose loops.  The big advantage is that the rope will now be able to conform to the size and shape on whatever you carry it in/on. (For example purposes, approx. 7 feet of paracord is now about 7 inches long and 1 inch wide)
To deploy your rope, you only have 1 "knot" to undo, then just give it a yank (Pull both ends outward). Assuming you didn't pull anything too tight, it all pulls free in 1 tangle-free length. Even if it doesn't save your life on a mountain or at sea, it can keep you from using a lot of bad language when you need a piece of rope. :)  On another note, this method also works well for easily stowing heavy-duty electrical extension cords from becoming tangled nests of annoyance when you need them. (In this usage, it is called a "Contractor's Wrap").
In Part 2, we'll talk about the "Cobra Braid/Survival Bracelet Braid" that allows you to cram even more cordage into a smaller space, but is a lot slower to tie and deploy. Still useful. :)
The 5 W's of  Emergency Survival
by Wyzyrd, Editor-at-Large
As "codified" by "Survivorman" Les Stroud.
These are really all "common sense" things, and not my original ideas, but an experienced close friend came within a couple feet of dying last weekend, and sometimes, we all forget the basics.
1) Water
 If you don't have a supply with you, and a way to safely obtain more, you might be dead within 3 days.
2) Weather
Is it hot? Is is cold? Is it raining or snowing? The type of shelter you set up is totally dependent on the weather. A woven hammock with a shower curtain over it will probably OK work in Virginia in August. If you do that in Canada in February, the grizzly bears will complain about frozen food.
3) Wood
You will probably need something to build your shelter, and wood (or other burnable material) lets you add additional heat for warmth, cooking or sterilizing water.
4) Wigglies
Are you in copperhead-country? Stay away from rock-piles. Been walking through grass all day? Check for ticks. Avoid red ant colonies and such things. Do you have mosquito netting or repellent? Can you sleep off the ground?  The little 'creepy-crawlies' are more likely to hurt you than "lions and tigers and bears".
5) Widowmakers
Look up before you set up camp. Do you see a big dead branch? Do you see a crumbling rockface? Look around next. Do you see evidence of flash floods? A leaning dead tree? If yes to any of the above, pick a different spot. (refer back to #2 – Weather – rain, wind and snow make these worse.)  My buddy ignored #5 this past weekend and woke up to a 30 foot dead Sycamore tree between his tent and his firepit.
Stay safe.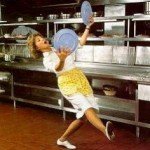 Synopsis: Household/Kitchen safety as a prep concept.
Ya' Just Don't Fry Bacon Nekkid.
 by Wyzyrd – Editor-At-Large
The SCP Proverb, "A prudent person foresees the danger ahead and takes precautions. The simpleton goes blindly on and suffers the consequences."  is a favorite quote. An old redneck friend once summed it up even more succinctly.  "Ya' just don't fry bacon nekkid, son.." If you know something has implicit  hazards, do your best to minimize them.
As generally-older folks who have been around, we mostly have the most dangerous room in the house, the bathroom, taken care of. Non-skid bathmats, maybe even grab-rails, etc.
The second most-dangerous place in your house (unless you raise Bengal tigers or cobras in your spare bedroom or something) is your kitchen. You can get hurt there, every day, and it often gets ignored.  You won't be out heroically defeating the "Mutant Zombie Biker Horde" if you spill your morning coffee, slip on the wet spot and crack open your skull on the countertop. I have been working PT as a fill-in chef for a friend's restaurant/catering service for a while, and accidents happen just about every daggone week. These folks are Pro's. It can happen to anyone.
There are basically 3 big dangers in your kitchen ( ignoring bacteria, etc. The ones that hurt you fast and make you say 'oops' or something more profane.) .
1)      Hot
2)      Sharp
3)      Slippery
Question #1: Do you have an in-date Class A/B/C  (multiple fuel type) fire extinguisher IN your kitchen?
Not upstairs, not in the car, not outside by the grill, not 'someplace', right there in the kitchen and close at hand. If not, stop reading this right now, and go obtain one. To quote an online mentor, Mr. Alton Brown, "There is only one uni-tasker in my kitchen – the fire extinguisher."
Question #2: Do you have a good first aid kit IN your kitchen?  Not just a box of bandaids. Not 2 or 3 rooms away. Something you can open quickly with 1 hand and reach bandaids, gauze, antiseptics, VetWrap, or something similar, a blood coagulant like Celox (recommended) or QuikClot and latex or nitrile gloves. If not, stop reading this right now, and go obtain one.  I  have a couple 9-fingered professional line-cook friends, and they do kitchen work 10-15 hours a day, and should have known better. You don't want to ignore a 'minor' injury, just because you may be in a macho mood, that particular day.
Question #3: Are all your kitchen knives sharp?  Yes, the 'cool' ones in your BOB and outdoor gear may well be sharper than a barber's straight razor.  How about in your everyday kitchen? Sharp knives are unlikely to bite you. They go exactly where you point them, usually, unless you get careless. Dull ones will skip across that zucchini when you lean on it with all your weight and slice open your hand or arm. Most kitchen knives in America probably haven't been sharpened since Richard Milhouse Nixon was President. Take your stones and ceramic sticks to the ones you can sharpen. Toss and replace the really bad ones (or use 'em in improvised traps, or something). Make sure you have good stones (coarse carborundum  to Arkansas stone) , a couple quick tungsten carbide "V" sharpeners , a good steel and  some ceramic 'crocksticks' in your kit. Learn to sharpen your knives. Less about cutting a 'zombie' than not cutting yourself by accident.
Question #4: Is your kitchen floor as clean, flat, waxed and shiny as the Rockefeller Center icerink?
Clean and sealed is always good, that's not the issue. But, if you work an hour or so, your back WILL hurt, and if you spill a half teaspoon of water or oil, you're probably going to slip, and at best, fall on your butt. Commercial restaurant kitchens require either sealed "textured gel mats" (at about $300 a pop) or open "non-skid anti-fatigue mats" that are cheaper, but have to be steam-cleaned weekly. Foam "garage diamond plate" non-skid mats work great, until you spill hot grease on them, then they become 'uncleanable teflon oil sponges', no matter how much you try to seal them. (I tried)  Go to your local megamart, get a few sealed, squishy gel 2′x3′ kitchen mats with a rough surface. They're about 3-4 bucks apiece. You can clean them regularly, you won't slip and your back won't hurt, even before holidays, when you're going crazy doing 20 things at the same time and standing in the same place for hours. Put one in front of your sink, one in front of your stove, and one in front of your prep area. Your back and legs will thank you, and you're unlikely to slip and take a trip to the ER. If they get too funky every couple years (my cat thinks they are great scratching posts and shreds 'em),  pitch them and replace – not a big investment for your personal safety.
Question #5: Do you cook with big stockpots or a lot of cast iron cookware?
Please consider getting a long kitchen apron and some (comfortable) steel-toed shoes (add a gel-insole and an odor-eater, and you'll feel like you're walking on soft grass).  Those pots are heavy, clumsy, hot and heavy  (even though great tools).  There is a decent chance that you (or somebody else) will drop or knock one off the stove someday, and your toes and legs will suffer. Think of it as low-tech body armor. You'll still swear like a 17th Century sailor, but you may not need an ambulance.
If you made it this far:
Next time you're at the grocery store, pick up a few packs of 'disposable' aluminum foil "oven rack liners". A little 'bending' allows 2 of these to fit the racks (and bottom shelf) in your fridge. Sit anything that might leak on a foil pan. It's easier to clean up the foil pan than wonder if the raw chicken dripped all over the lettuce. Gotta eventually remember the bacteria. Just sayin' :)
Sharing homemade food with family and friends is a pleasure, and a way to bring us all together. Just a few suggestions for keeping yourself safe while doing it.
"We're all in this together"
 - Red Green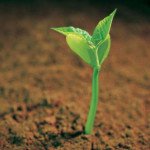 Synopsis: A very simple and inexpensive indoor seed starting setup, under $10
A  Quick and Easy Indoor Seed Starter
By Wyzyrd – Editor-at-Large
This is about as easy as it gets for home food-production. :)
It's still early, most places to think about starting next Summer's garden, but plastic containers DO go on sale right after the holidays. Be prepared.  :)
You will need:
1)      A plastic container with a transparent or translucent top
2)      clean potting mix
3)      a small unglazed ceramic pot that fits inside your container with no (or filled) drainage hole
4)      water
5)      light
6)      diluted chlorine bleach to clean everything between crops.
If your pot has a drainage hole(s) you will need:
1)      a hot glue gun and glue stick OR
2)      non-toxic silicone caulk.
3)      Small piece of aluminum foil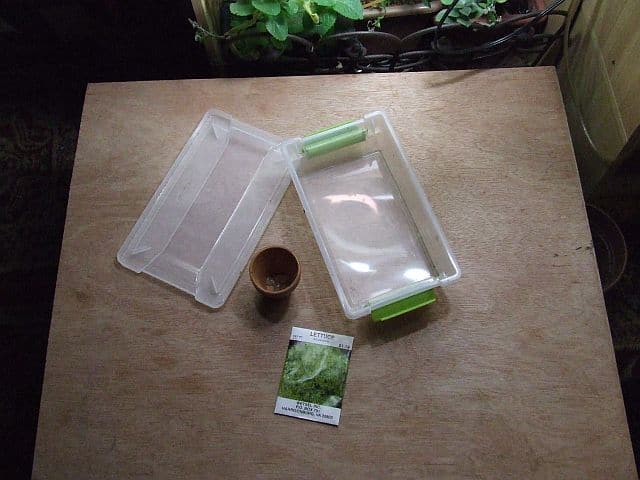 Basic Supplies
The container can be any convenient size. "Shoe box" ones are easy to find, and sometimes have clear, not just translucent tops. By dumb luck, the one shown here just happens to fit into a plastic and aluminum tubing "shoe rack" I use as a plant stand. (see final photo)
Ceramic Pot:
It has to be unglazed; plain ol' terra cotta clay with no drainage hole. If you need small ones, check your local 'megamart'. They frequently sell small succulents (cacti, etc.), all winter,  in ideal clay pots. If you need to get a small one at a nursery, etc. and it has a standard drainage hole, sit it on top of a small piece of foil, fill the hole completely with hot glue or caulk, set it set up, seal it again, let set again, and remove the foil – you're ready to roll. (You want the water you will put in the pot to slowly evaporate and seep slowly  through the unglazed pot, not pour out the hole and make a giant mudpie)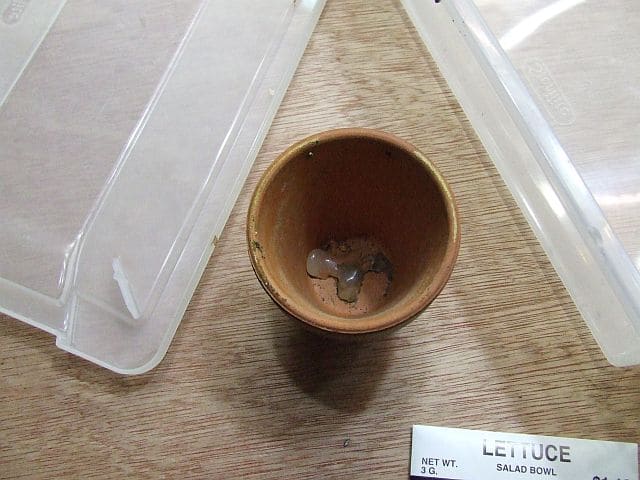 Drainage hole filled with hot glue
When your ceramic pot is ready, sit it in the middle of the container, fill the bottom of container with an inch or so of damp (not wet) potting mix, sprinkle on your seeds, as evenly as possible (yeah, right….) cover lightly with more potting mix, sit the whole shootin' match somewhere warm, with good light, fill the pot with water, put on the top (not airtight, or you will definitely grow mold- just a heads-up there) and walk away.  Check water level every few days and keep it mostly full. (if you use more than 1 type of seed in a container, use plastic soda straws or something as dividing lines and label them- young folks might remember which is which – I never do..)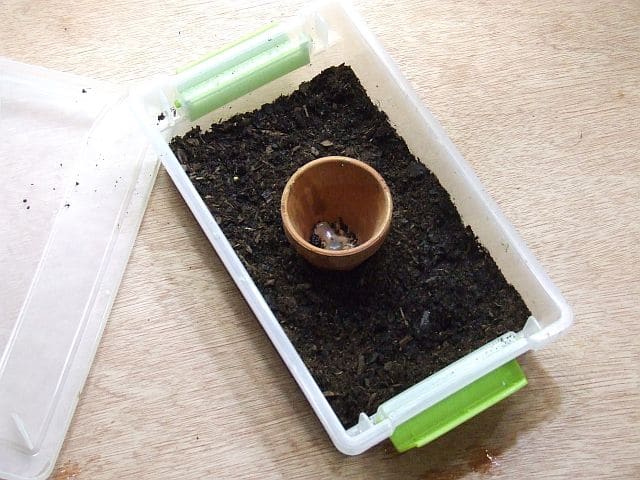 Next Steps
When your baby seedlings are ready to transplant, prick them out with an old plant label or a tongue depressor carved to a point, and re-pot in something bigger.  If you want to get all "chef-y", use some scissors to give part of your crop a haircut for "micro-greens".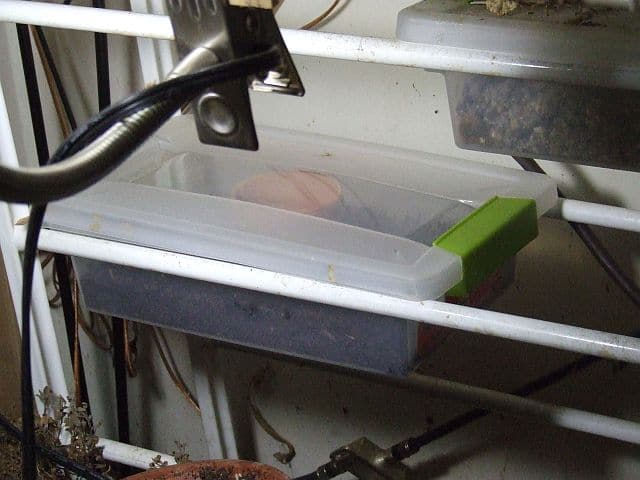 Planted, filled with water, and under lights. All done.
Easy, inexpensive, and it works like a charm.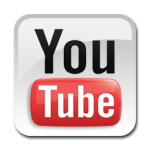 New Editor-at-Large Wyzyrd recommended this video regarding solar power. I actually have one of the kits and they are very easy to put together. Great method for getting into solar.
Thanks Wyzyrd!
 - Rourke