water
now browsing by tag
Are you sure you are prepared?
By Johnsobo 100, Editor-At-Large
I want to relate an incident that happened to my wife and me several months ago. As a former Boy Scout and current seasoned prepper, I have always tried to adhere to the Boy Scout's motto: "Be Prepared". But, as I discovered, it is easy to say you are prepared, but quite another to actually be prepared.
As most good preppers', we have our beans, Band-Aids, and bullets. We read and try to stay informed on current events, follow different blogs and websites, especially Seasoned Citizen Prepper and Modern Survival Online. We try to go by the rule of one is none, two is one, and three is better. In other words have a plan B and C. We have tried to prepare our home for emergencies that may arise, have the necessary tools on hand to fix minor repairs, the list could go on, but I think you get the idea. I'm sure most of you who are reading this article have made similar preparations, and may be thinking: so what's the big deal. At this point, I need to mention another rule that all preppers' need to be aware of, but often forget. It's called "Murphy's Law–Anything that can go wrong will go wrong".
Have you ever noticed that plumbing leaks always happen at night? Or on the week-end? When the hardware store has closed, and you can't find, or don't have the right tool? Or maybe all of the above?!
Now I realize that it is almost impossible for most of us to be totally prepared for everything, but in my case, I thought I had all the bases covered. Let me give the reader a little history. We live in an old house, built in the early 50's, and we live in the country. A trip to the store of any kind is a minimum of 30-45 minutes, one way. When we first moved here we added a new bedroom and bath, and did a lot of renovations and repairs. At that time I installed new stainless steel supply lines to all the sinks in the bathrooms, and to the washing machine; all with cut-off valves. I also had spare supply lines in my plumbing supplies, and all the tools I thought I would need. Can you guess which one I forgot to replace? Yep! You guessed it, the water heater.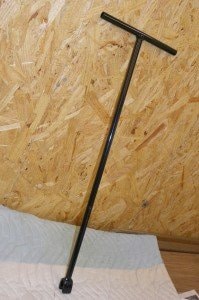 I am not the handy man that I would like to be, but plumbing has always been one of the things that I have been able to do most of the time, so when my wife said one evening about 9:00 p.m., "Where is all this water coming from in our bathroom?" My first thought was I'll just cut the water off under the sink with the cut-off valves I had installed, and finish fixing the problem in the morning.
Here is where "Murphy's Law" kicked in. When I walked into the bathroom, she was standing in water, it was spreading fast, and to my surprise, the leak was not coming from under the sink as I had thought, but was coming from a closet where the water heater was located. I opened the closet door, and was immediately sprayed with warm water bouncing off everything in the closet. The leak was coming from the supply line that connected the water heater to the house plumbing system. To my dismay, no cut-off valve, not a problem, I would go out to the garage, get my water key, and go to the water meter box located in the front yard and cut the water off to the house. By this time she was pleading "Please hurry; I'm running out of dry towels." I ran out to the garage and looked at where the water key was supposed to be hanging; you guessed right again, no water key. I had forgotten that I had loaned my water key to my brother-in-law for a plumbing problem he had. Not to worry, I ran next door to my wife's parents and asked to borrow their water key. Fortunately, they were still up, and to my surprise they knew exactly where it was. By the time I got back to the house and turned off the water, she had run out of towels and all she could think to say was: "What took you so long?" Now some of you may be saying why he didn't use a pair of pliers, a stilson wrench, or vice grips? Those are good questions. More on that later.
After we cleaned up all the mess, we took stock of everything. There was no real water damage, we both thanked God for that. We could just picture what would have happened if we had gone to bed and found the leak the next morning. We did have drinking water stored, so we could have coffee the next morning, and I could go to the hardware store to get the necessary supplies. This time I would replace both the inlet and outlet lines with new stainless steel supply lines with cutoff valves.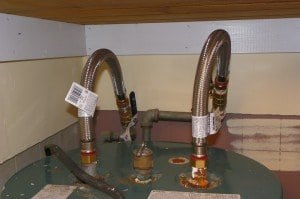 The next morning, after finally getting everything replaced and checked for leaks, we were back in the hot water business. I would like to say it was an easy repair, and things went like clock- work; but remember Murphy's Law? The big issue was the one pipe wrench I thought I had in my tool box, wasn't there. I had to get a new one.
Some lessons learned, and some advice for all preppers.
Check

all

water supply lines in your house. If they are suspect, replace them with stainless flexible lines.
Have cut-off valves installed on

all

supply lines.
Get a water key

; know where it is at all times.

Inventory your tools to make sure you have what you will need.
You don't have to have a water key to turn off the water at your water main, but they are cheap, and it is so much easier than using a wrench or vise grips, especially when it is raining, which I forgot to mention, and the water main box is full of water, which it was, and it was night time.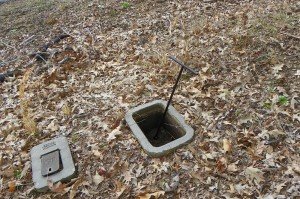 In closing I might ask: Do you know where your water main box is located? If not, you just might want to locate it when Murphy is in the neighborhood.
Be Prepared!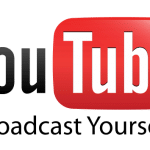 Good video showing one perspective for food and water storage -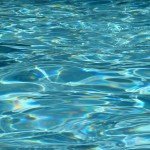 Water – gotta have it and a very basic supply within your preparedness system.
Rourke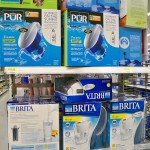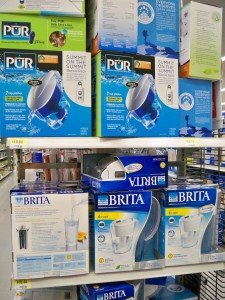 Walk into any Wal-Mart and you can find a wide array of water filters. Each of these water filters have marketing propaganda all over the packaging describing how clean the water will be with usage of the product. Are the claims true? Can these filters and purification systems be useful in a survival situation?
The short answer for me is "maybe".
The common household water filter can remove certain contaminants from water. Let me rephrase that – "The common household water filter can remove certain contaminants from water that is already pretty clean to start with." In a SHTF situation whereby water is not coming from a faucet after treatment by the city but rather from a rain barrel, puddle, lake, pond etc. – a Brita water filter for example just will not ensure the water is safe. The Brita and other similar filter will remove larger particles out of the water thus improving the taste but will absolutely leave behind biological threats. Any questionable water source can contain a liquid zoo of microorganisms ready wreak havoc on your body once ingested.
Thirsty yet?
So, does the Brita variety of water filters have any post-SHTF purpose. Sure. Water that is rendered safe via boiling and/or Clorox bleach may still have dirt and other crap in it. A Brita water filter would assist in "cleaning" the water up. Of course there are other methods as well. Another usefulness of a common, inexpensive Brita-type system is it may have a high barter-value after TSHTF.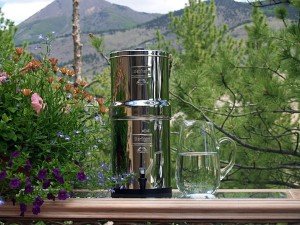 Lastly – I will tell you that I do not have have any of these systems. Rather I have chosen to utilize a Berkey Water System which can take water from pretty much any source and filter out the worst stuff and provide crystal clear water. The Big Berkey's provide low to high volume water purification second to none. Additionally – I have a Berkey Sport Water Bottle for filtration on the go and several backpacking solutions such as this, this and this.
Redundancy is good.
Rourke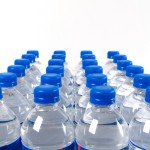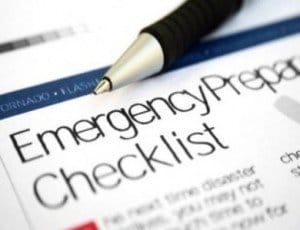 This is some advice to provide a little guidance on getting into preparedness. Whether you are a "seasoned citizen" or a 18 year old  - getting started in prepping is pretty much the same.
Depending on finances and how quickly you want to "get ready" – many preppers stock up on supplies in baby steps. It is surprising how quickly a survival stockpile can grow by just picking up a few items each week. Within a few months a good safety stock of supplies can be accumulated.
Before going out and starting to purchase and acquire supplies you need to determine what your immediate short term goal is. Do you want supplies for a few days? A few weeks? Months? Get out a pen and a notebook and start brainstorming as to what you are preparing for and what you think you will need. Make note of what you already have around the house.
If you are just starting out you may think of different scenarios that could occur such as a power outage or ice storm. Lets look at a few basics……
Food-
How may days worth of food is in your pantry right now? Set a short term goal to double it. Adding non-perishable food a little at a time can add up quickly and provide security. Easy to prepare foods such as soups, stews and pasta are good candidates to store in case of an emergency.
Consider how food will be prepared should there be no electricity and no refrigeration. Many homes in the United States have gas or charcoal grills. These would suffice as long as sufficient fuel is stored. An open fire pit can be used as well. Camping stoves are wonderful methods of cooking. The camp stoves are small and compact for easy storage and run on small propane canisters. These fuel canisters can be purchased locally and stocked up on "just in case". There are also camp stoves that run on other readily available fuel as well.
Some examples of common foods for increasing your food storage:
soup
stews
SPAM/canned ham
canned beans
tuna
peanut butter
canned vegetables
canned fruit
nutrition bars
hard candy (nice treat for when the grid is down and stress is high)
The theory behind the typical food storage program is to "store what you eat and eat what you store".
Water -
Depending upon your overall health you can live 2 – 3 weeks without food but only 3 days without water. Water is incredibly essential for the human body to function as it is supposed to.
It is commonly recommended to store 1 gallon or water per person per day. This is an absolute minimum. Consider that the one gallon of water will not only be be used for drinking, but also for washing one self as well as cleaning dishes. On gallon is not a lot.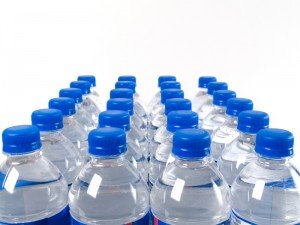 So – water is necessary and must be stored. One of the least expensive methods is to refill empty 2-liter soft drink containers with water. These should be washed thoroughly of course. Another inexpensive method is to buy 1 gallon bottles of Spring Water. Many preppers also buy cases of 16 oz bottles of Spring Water. These cases usually contain 24 bottles and are easily stacked.
Decide your method or use all. Just get it done.
Light -
Flashlights and lanterns. Make sure you have a few good flashlights and plenty of extra batteries. Always use alkaline batteries rather than normal heavy duty. LED flashlights have advantages over old school flashlights as they are extremely bright and batteries last much longer.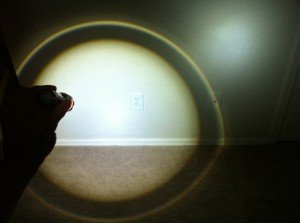 Candles are useful as well to provide a soft low-level light. Remember that candles mean flame and precautions must be taken to ensure that in the middle of a disaster another one is not created when your home burns down.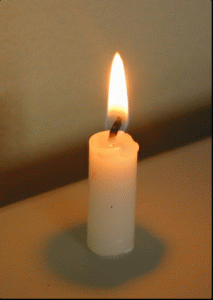 Summary:
Stocking up on food, water, and methods for lighting are good steps to getting ready "just in case". Throw in a battery operated radio for good measure.
For more information-  check out these Online Resources:
Ready.gov – http://www.ready.gov/
FEMA – http://www.fema.gov/
Prepare.org – http://www.prepare.org/home/
CDC – http://www.bt.cdc.gov/
American Red Cross – http://www.redcross.org/
Many of these sites provide printable checklists and guides.
Take care -
Rourke