food storage
now browsing by tag
If you are not familiar with Emergency Essentials – they are an industry leader in the preparedness industry. For years and years they have been offering an excellent selection of preparedness supplies at excellent prices.
Each month they place numerous items On Sale –  and May is no different.
Click on the banner above to take a gander at this months sale.
There are some great deals to take advantage of.
Rourke
Turning chickens into food
 by Harriet from Australia
Back in the 1980s when we lived on the land we had very little money. We used to purchase end of lay hens for $1 each and would kill and dress them so we could afford to eat chicken twice weekly. These old chooks were tough so needed long cooking as a stew or cooking them in a pressure cooker, but they were a valuable source of protein for our hard up family of six and the price was about a third of what they would have cost already dressed.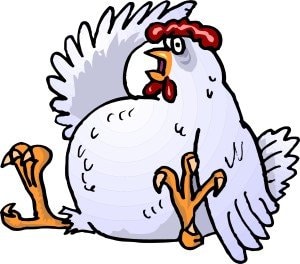 In the first season killing and dressing the chickens was a long drawn out affair over weeks. In the second and subsequent years we set up an assembly/disassembly line. First we had the chickens in boxes ready to kill. These were alongside a scaffold which had 10 cones in two rows of five. When my husband wrung their necks he put them upside down in the cones with the heads through the bottom until they stopped moving. From there I picked them out and dunked them into boiling water in the old copper that our forebears used to heat water and wash clothes in. I held on to their feet as I dipped them in the water. Then onto the plucking table where I started on their wings, down their legs onto the chests and worked around to the back. The hot water loosened the feathers. Sometimes they needed an extra dunk in the boiling water, but I was careful not to start it cooking as that meant the skin would tear as I pulled the feathers out. The feathers were swept into a bucket which was then buried deep in the compost.
After defeathering the animal went to the gutting table where my husband cut off the head and feet and took out the guts and any half developed eggs. A quick wash and the chook went into a plastic bag and into the fridge.
We set things up so we could deal with 25 chickens before breakfast, 25 before morning tea, 25 before lunch and 25  before afternoon tea. Then we cleaned up before dinner. 100 killed, plucked, gutted and into the freezer before night fall with all the tidying up done. Ideally the animals would have been hung for a couple of days to tenderize but we didn't have the facilities for that and with the heavy fly population it was better that they were first refrigerated and then frozen as fast as possible. However by the time we had done the first 25 the amount of time they had in the refrigerator was minimal. Both fridge and freezer worked overtime that day and night. We ate egg yolks for the next three days and chicken twice a week for the next year.
Maple Syrup Making!
By Bev Sandlin, Executive Editor
Freezing temperatures at night and warmth in the day and you have the perfect time to tap maple trees to make some of the most delicious syrup you will ever taste! As I was driving around Canton this last week, I saw many plastic bags hanging off maple trees at Amish homesteads. It made me think back to when my children were small, and we used to make maple syrup! Lots of fun and a learning experience!
!
But I've got to tell you, NEVER cook down in the house! I made that mistake just once! Water literally running down the walls and my wallpaper border in the kitchen fell off! It is definitely an outside project for a weekend, once you have collected enough sap.
We collected from the soft maples in the yard in five gallon pails. It is truly amazing how much sap you can harvest from one tree! Tap five to ten trees and you are in high production!
Take some time to search around YouTube for "maple syrup making" and you will find many videos on different techniques to boil down and store the fruits of your labor! I thought this was a pretty good one to get you started!
Almost 10 minute informative video on maple syrup making.
What Will You Eat When… ?
By Pam, Editor-At-Large
I watched "Doomsday Preppers" once, they showed 3 or 4 different people who were preparing for 3 or 4 different "Doomsday Scenarios". I understand that every week presents new scenarios with new people showing their solutions. Now, I have the privilege of talking to a dozen different "preppers" everyday and each of them has a different idea of what "Doomsday" will look like, consequently everyone has a different preparation priority list. While I can't fit each person into some category of sorts, I can give some broad examples of expectations and offer advice on food solutions for each situation.
First, Weather Disasters , earthquakes, tsunamis, hurricanes, tornadoes, forest fires, floods, snow/ice storms, normally fairly short term. Some folks have been or know someone who has been affected by weather disasters OR live in an area where natural disasters are a distinct possibility.
In such circumstances, life is in absolute turmoil as public services are down, water is contaminated and rescue personnel are working overtime. I have to ask, "If your house has just been washed away, are you going to be sitting in a rubber raft with 200 pounds of rice and dry beans?" "If you are stranded in your car, buried under 6 feet of snow will you be boiling water to fix dinner?" "If you are on your way to the family retreat when your car breaks down, do you want to carry 40 quarts of home canned beets for the next 20 miles (possibly two days)?"
In these predicaments, Survival Food is optimal. Survival food is lightweight, compact, high in calories, vitamins and minerals, can be stored in just about any conditions and requires NOTHING to prepare.
In weather disasters or temporary situations of civil unrest where you are confined to the home, office or storm shelter, Emergency Food is also applicable. These would be prepackaged entrées that require water and heat to prepare. It should be noted that while these prepackaged entrées are extremely quick and easy to prepare, they generally provide less than 200 calories per serving and are intended to be served with other food, ie. Salad, bread, drink and a dessert. A food storage of easy to prepare items from the grocery store, that are used regularly makes eating at home no different than any other day providing you have the means to cook them.
Second, Personal Financial Setback instigated by job loss, unfavorable changes in the stock market, illness, or death in the family. As companies regularly conduct lay-offs or selfishly choose to close the doors of American facilities only to then open production facilities overseas, oft times people are witness to their formerly "professional" neighbor suddenly delivering pizza and they thus begin to brace themselves for a similar situation. One customer told me about his car engine seizing and his personal circumstances snowballed downhill from there. An older couple lost a significant amount of money in stocks, reducing their monthly retirement income. Whatever the details, it's a personal disaster.
These situations call for food storage which can be full cupboards of grocery store goods that are used normally, home canned or dehydrated food, emergency food, long term storable food or a combination thereof.
Third, Food Shortages caused by drought, floods, world demand or oil prices, economic depression without total collapse causing hyperinflation and/or an increase in crime causing food outlet closures. The possibility of food or other resource shortage is reported on fairly regularly even in the main stream media.
There has been a return to gardening and home canning over the past 10 years because this is the prediction made by most "preppers" I talk to. GMOs, pesticides, additives and preservatives have played their part in influencing these people as well, but the greatest influence has been the rising cost of food in conjunction with the fear of food shortages on a macro scale. The potential for wide spread food shortages is also the best reason for having a long term food storage. The classical definition of Long Term Food Storage is: individual ingredients packaged in bulk in airtight containers to be stored for decades. I harbor intense concern for those who have never cooked "from scratch", and anticipate using these products for the first time under duress. My most emphatic advice is to learn to use flour before you start grinding wheat.
Fourth, Paradigm Shifting Events such as wide spread economic collapse, an EMP type event, biological warfare or/and prolonged civil unrest even to the point of civil war. This is absolutely "Doomsday", SHTF or TEOTWAWKI.
Every type of food would have its place in one of these scenarios. Ideally, the long term food supply would be used in conjunction with the garden and other ingredients from the cupboard providing the widest variety and greatest nutrition. When planning a Long Term Food Supply, one must consider the number of people to be fed and for what length of time, the ability to grow adequate fruits, vegetables and livestock, what additional ingredients are required to produce an end product, and how many calories are provided by each item being stored. Emergency Food would be used in much the same way DiGiorno, Stouffers and Sara Lee are now, for variety, when things are hectic, time is short or the cook is exhausted. Survival Food would be a necessity for those on guard duty or a mission away from home.
In a nutshell, these are the definitions one must apply for their food supply planning:
For a short term disastrous event:

Survival Food

– requiring no preparation.
For a relatively short term emergency:

Emergency Food

– requiring minimal resources and preparation.
For all other scenarios including an extended personal crisis:

Long Term Storable Food

, a necessity as a stand alone supply or to balance other sources – requiring water, a method for cooking and time to prepare.
For the longest term and ultimate sustainability, we have to rely on God and the garden.

Home Canning

has sustained many generations. With economic trends on a down turn, there is no time like the present to start gardening and learning to preserve food at home.
To be truly prepared you need a complete food storage system that will keep you nourished under any circumstances.
Author Bio
Pam and her husband have fancied themselves homesteaders for over three decades with experience in raising livestock, gardening, food preservation, using long term food storage, living off-grid and everything else that goes with the self-sufficient lifestyle. They own Mayflower Trading Company with the motto: "A pilgrimage to Resource Efficiency". The mission being: "To help others with products and/or advise in their own pilgrimage to self-sufficiency". You can visit them at www.mayflowertrading.com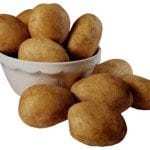 Experimenting with Potato Planting Methods
By Bev Sandlin, Executive Editor
Up here in the North Country, Good Friday is the traditional date that we plant potatoes. Although I can't see it happening this year with 18 inches of snow on the ground, frozen ground (Not the same, sometimes snow keeps the frost from entering the soil.), and just an occasional 40 degree day. But potatoes are a mainstay in my garden.
We aren't Irish, but it seems that potatoes enter a meal almost daily at our house—mashed potatoes, fried potatoes, baked potatoes, boiled potatoes, au gratin potatoes, potato soup, potatoes and creamed peas, you get the picture. POTATOES!
Potatoes are comparatively easy to grow and keep well. The only thing I don't like about potatoes is digging them!
Experimenting with the Cage Method
Last year I tried the cage method with potatoes. Create a wire ring (I used 2×4 wire I had laying around.) about 2 feet across, plant your potatoes in a ring around the outside with the eye facing out and fill with light soil and compost, even straw or hay will work. Layer upon layer, I got about 3 feet high. Wow, did I have potato foliage, but not too many potatoes. However, in all honesty, I think I let them get too dry at times. This method leaves a lot of area for moisture to evaporate from the soil. So was the lack of success me or the method?
What would I do differently? I think this year (As I have the cage already.) I might invest in a length of 6 inch PVC pipe and a cap. Drill holes up and down it, insert into the center of the ring and keep it filled with water.
Experimenting with the Bin Method
I also experimented with the "bin" method. Use an indeterminate potato (Russet flower all season long hence indeterminate.) and keep covering the plant as it grows leaving 6-8 inches of the top out of the soil. Worked okay in a bucket, not so good in a wire cage. Again, I think it was moisture given the drought year.
Bucket Potatoes
However, cutting the bottom out of a five gallon bucket and planting the potato in there and covering it seems to work! I only did a couple last year, but this year I plan to do more. What worked for me last year was 2-6 gallon buckets. I cut the bottom off with a circular saw, then cut the bucket in half—loved the two with the handles! Set on turned ground, put seed potato in eye up and cover with 8 to 10 inches of light soil. Tip over in the fall and gather your golden nuggets!
I have a new area of the garden that I am turning this year. I'm thinkin' that what I am goin' do is trench the potato row, put the buckets in side by side and use the trenched dirt to fill them. That should conserve on water if it is another dry year and save my back from both turning and bringing in coverage soil. But we'll see!
Emergency Essentials is have a special sale through March 21st. ALL Mountain House cans are discounted 20% – 25% off.
Great time to take advantage of deep discounts and stock up now.
High Recommendation!!
 - Rourke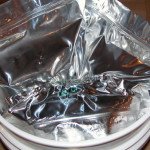 Note from Rourke: What follows should be considered a "starting point" or a supplemental addition to other food storage efforts. The levels of food suggested will not sustain a family of 4 people for one year.
Feed a family of 4 for 1 year, for less than $300 
By MsKYprepper, Editor-At-Large
You are out of excuses! 
This plan is THE fastest, cheapest and easiest way to start a food storage program.  You are done in a weekend. AND there are no hassles with rotating.  Pack it and forget.  It's space efficient – everything is consolidated into a few 5-gallon buckets.  You'll sleep content in knowing that you have a one-year food supply on hand for your family should you ever need.
With the exception of dairy and Vitamin B12, this bean soup recipe will fulfill all your basic nutritional needs.  It won't fill all of your wants, but using this as your starting point, you can add the stuff that you want. 
All of the food and storing supplies listed below plus 2 55-gallon recycled barrels to be used for rain catchment cost me $296, including taxes.  I purchased rice, bouillon and salt from SAM's Club.  You can buy small bags of barley at the grocery, but if you don't mind waiting a few days, special ordering a bulk bag from Whole Foods was cheaper.  All of the beans I purchased from Kroger's in 1-lb bags.  Buckets, lids, Mylar bags and rain barrels were from the Lexington Container Company.  Their prices are so good, with such a great selection that it's worth a drive even if you are not in the local area.   I went on a second-Saturday of the month because that's when they host free food storage courses taught by Suzanne, an energetic, delight of prepping wisdom.  http://www.lexingtoncontainercompany.com/
What you need:
8 5-gallon buckets
8 large Mylar bags
8 2,000 cc oxygen absorbers
8 gamma lids
A handful of bay leaves 
90 lbs. of white rice
22 lbs. of kidney beans
22 lbs. of barley
22 lbs. of yellow lentils
5.5 lbs. of split green peas
5.5 lbs. of garbanzo beans
1 lb. of salt
A big box of beef and chicken bouillon. 
A measuring cup
What you'll do
Install the gamma lids on the bucket and insert Mylar bags.  Place 2 or 3 bay leaves in the bottom and fill the buckets, adding more bay leaves after each 1/3 to full.  Place an oxygen absorber in the top.  Label buckets with the contents and date. 
Fill
3 buckets with rice (shake it down good.  Get it all in there!)

1 bucket each of kidney beans, barley, and yellow lentils

In 1 bucket store the split green peas, garbanzo beans, salt, measuring cup and bouillon.  (I removed the bouillon from the box and vacuum sealed it as bouillon contains a small amount of oil.)

Yep, that's a total of 7 buckets, so far. 
I place a broom handle across the bucket and wrap the ends of the Mylar bag over the broom handle to give me some support.  Then slowly and smoothly run a hot iron over the Mylar bag to seal all except the last 2 inches.  Then I press out as much air as possible before sealing the remaining 2 inches.  Make sure your Mylar is completely sealed from end to end.  Now, stuff the bag into the bucket and rotate the gamma lid into place.    This will protect your food for about 25 years.   You'll have excess Mylar bag at the top.  Don't cut it off, that way if you have to cut it open to get into it, you have enough bag remaining to reseal.
Where you'll put it
It's pretty easy to find a place for 7 to 8 5-gallon buckets even in the smallest of apartments.  Discard the box springs and lay the kid's mattress on top of the buckets, line the back of a large closet with the buckets.  I made a couch-table by stacking buckets two high between the couch and the wall.  The buckets are about 6" taller than the back of the couch.  Add a shelf and drape and it looks fine; a convenient place for a lamp and books.  Get creative.
Making your bean soup
Measure out
·        8 oz of rice
·        2 oz of red kidney beans
·        2 oz of pearl barley
·        2 oz of lintels
·        1 oz of split green peas
·        1 oz of chick peas/garbanzo's
Add 6-7 quarts of water.  Add bouillon or salt to taste.  Then add any other meats, vegetables, potatoes or seasonings you have on hand. Bring to a boil and then let simmer for two hours.  You should have enough to feed 4 people for two days.  This is thick and hearty.  You will be warm on the inside and full with one large bowl.  Kids usually eat half a bowl.  
When the emergency is over
This system allows you to open the Mylar bags, retrieve as much of the ingredients as is needed and then reseal everything after the emergency has passed.  Just be sure to replace the ingredients used so that you always have a one-year supply.
The 8th bucket – other stuff I would want
This list isn't included in the $300.  This falls into the "what I want" category.  As money and resources became available, I'd just go crazy adding all of my indulgences, starting with coffee!  You can add what you want, but I'd fill it with:
Dry onion.  Let's face it, what's bean soup without onion! Sprinkle on the onions just before serving.

"Just add water" cornbread mix packets.  I just can't eat bean soup without cornbread.

Beef jerky and Vienna sausages.  Add protein and zest to the bean soup

Instant oatmeal.  Do you really want bean soup for breakfast?  Freeze the oatmeal for 3 days before packing to kill any bugs.

10 lbs of jellybeans.  Now, don't laugh – it's a bean.  Jellybeans don't melt like chocolate might.  The high sugar content is quick energy, and a morale booster – with just enough of a high to help you over the really bad days. Easter is about here – stock up!
Before you fill the 8th bucket
Buy small bags of the ingredients and fix a big pot of bean soup for dinner.  Eat the leftovers the second night, and 3rd night, until it's all gone.  Find out now – rather than later – what your family might like to add to it.  Anything tastes great the first meal, but quickly becomes boring after the 3rd or 4th repeat.  Don't wait until the emergency happens to discover what you SHOULD have stored in your 8th bucket. … Maybe some Beano!