economy
now browsing by tag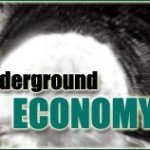 An Underground Economy?
By Johnsobo 100 Editor-At-Large
Will we have to go "underground" to revive our churches and our Nation's Spirituality, and our economy?
 Have you really ever considered how you would survive in a severe economic collapse? On the economic side of the equation, have you ever been out of work for extended periods of time, or lost your job because the company you worked for went out of business, or even worse, out of the country. The unemployment numbers we hear about today attest to this reality. You might be saying I am retired; I have my social security, Medicare, my pension, or my 401k. What would you do, if you did not have those amenities?  The basics will still continue, how will I pay the mortgage or my rent, the utility bill, and the property taxes will continue.
As a nation, we have become so dependent on the system of bail-outs, Medicare, unemployment benefits, pension plans, social security, 401k, that we are now in serious trouble.
Our churches are being bombarded on all sides. Many are worried about their tax exempt status, what they can and cannot say from their pulpits. And God is being excluded from almost everything in our country. Being "politically correct" is driving much of what we have cherished for over two centuries to "go underground".
What should we do?
About 6 months ago, my brother-in-law, who had retired and moved back home, called and said,  "Guess what? I just purchased a one man saw mill on Craig's List for a song, you need to see this." He said he had always wanted one to play with and use more as a hobby than anything else. He ask if I would help him move it to the farm, and help in setting it up, repairing or replacing parts, and cut a few trees in order to learn how to operate it.  I couldn't wait to see it.
The picture is the finished project, set up, and ready to go. Note the wheels have been removed in our set up.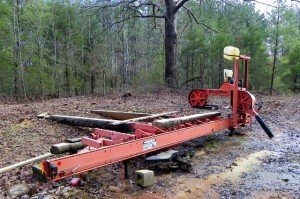 I was hooked. Neither of us had any experience in operating a one-man saw mill. Fortunately he had been studying the manual, looking at YouTube videos, and talking to the customer service rep at the manufacturer. I was mostly the helper.
As we were setting up the mill and cutting trees for practice, we talked about how we might recoup some cost with "our" new hobby.
Here are a few facts and figures:
Cost: including repairs and transportation- Less than $3,500. This particular mill (WoodMizer) had been used very little and was in excellent condition. We have found similar mills selling for more than twice that amount, when you can find them.

Cost: New Wood-Mizer mill that replaced the model you see pictured is around $11,500. That is the basic cost, not including transportation. Granted, the mill my brother-in-law bought was an older model, and the newer ones come with some features that his doesn't have.

Production: This mill is capable of producing approximately 500 to 600 board feet per hour. I need to add some qualifiers to this statement. The key words are:

"Is capable"

.  After all, we are Senior Sensible Preppers, and I don't expect we could last very long at that rate. A more sensible rate might be 200 bf/hr. It would also depend on the dimensions of lumber you are cutting. It is much easier to cut 4"x4", or 6"x6" timber than a bunch of 2"x4", s. plus the board feet add up much quicker with large dimension lumber.

 Pricing: In our area it ranges between $150-$250 per thousand board feet, depending on dimensions, quantity, and whether the logs are delivered to the mill or we pick them up.

Demand: The demand seems to be consistent to strong. As we were in the process of setting up the mill, we had several people ask us if we were ready to accept orders. One person even wanted several thousand board feet processed. Unfortunately, we were not ready, and winter has put a halt to much logging and milling in this area; mostly due to prolonged days of rain and cold weather.

Rate of return: Thinking reasonably, we could expect to gross approximately $300-$500 per week. That would be working approximately 4-5 hours a day, 3-4 days per week. That depends on several things, some of which are: Demand, breakdowns, weather, and yes even our stamina, sawmilling is very labor intensive and hard physical work.

Added value: There are some additional values associated with sawmilling. Items you can sell or barter are: the slabs and excess pieces for firewood and the accumulated sawdust for mulch.

Below is a link to a Wood-Mizer video showing the operation of a band-saw mill.
http://www.youtube.com/watch?feature=player_embedded&v=vZ1KNBPE5XY
I will try and keep you updated on our new venture.
Just to get you thinking; Have you ever considered some of the following: House sitting for people going on vacations, taking care of pets, or breeding dogs, cats or other animals, teaching various folk-art crafts such as knitting, metal working or hand forging, and pottery making; teaching firearms training and safety, free-lance writing or photo journalism, taking care of the elderly, teach people a musical instrument skill you may have, gather and sell firewood, training people how to care for and ride horses. You can see this list could be expanded to whatever your imagination may conjure up. If you are having trouble thinking of something, look in the classified section of your paper under services needed, Also, Craigslist is a good place to look.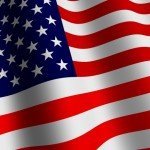 Christmas is coming; consider buying local.
Quote of the Day
"Aspire to inspire before you expire."
Author Unknown
*****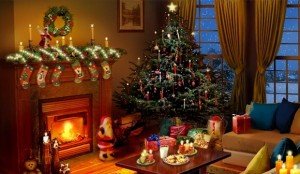 Christmas 2012 — Birth of a New Tradition
 By Bev Sandlin
 I think everyone with an email account gets a slew of forwards. This is one that I  think has merit!
 "As the holidays approach, the giant Asian factories are kicking into high gear to provide Canadians and Americans with monstrous piles of cheaply produced goods merchandise that has been produced at the expense of Canadian and U.S. labor.
This year will be different.
This year North Americans will give the gift of genuine concern for other North Americans.
There is no longer an excuse that, at gift giving time, nothing can be found that is produced by North American hands.
Yes there is!
It's time to think outside the box, people.
Who says a gift needs to fit in a shirt box, wrapped in Chinese produced wrapping paper?
Everyone — yes EVERYONE gets their hair cut. How about gift certificate from your local North American hair salon or barber? Gym membership? It's appropriate for all ages who are thinking about some health improvement.
Who wouldn't appreciate getting their car detailed? Small, North American detail shops and car washes would love to sell you a gift certificate or a book of gift certificates.
Are you one of those extravagant givers who think nothing of plunking down the dollars on a Chinese made flat-screen? Perhaps that grateful gift receiver would like his driveway sealed, or lawn mowed for the summer, or driveway ploughed all winter, or games at the local golf course.
There are bazillion owner-run restaurants — all offering gift certificates.
And, if your intended isn't the fancy eatery sort, what about a half dozen breakfasts at the local breakfast joint.
Remember, folks this isn't about big National chains — this is about supporting your home town North Americans with their financial lives on the line to keep their doors open.
How many people couldn't use an oil change for their car, truck or motorcycle, done at a shop run by the North American working guy?
Thinking about a heartfelt gift for mom? Mom would LOVE the services of a local cleaning lady for a day.
My computer could use a tune-up, and I KNOW I can find some young guy who is struggling to get his repair business up and running.
OK, you were looking for something more personal. Local crafts people spin their own wool and knit them into scarves. They make jewelry, and pottery and beautiful wooden boxes.
Plan your holiday outings at local, owner operated restaurants and leave your server a nice tip.
And, how about going out to see a play or ballet at your hometown theatre.
Musicians need love too, so find a venue showcasing local bands.
Honestly, people, do you REALLY need to buy another ten thousand Chinese lights for the house? When you buy a five dollar string of lights, about fifty cents stays in the community. If you have those kinds of bucks to burn, leave the mailman, trash guy or babysitter a nice BIG tip.
You see, Christmas is no longer about draining North American's pockets so that China can build another glittering city. Christmas is now about caring about us, encouraging North Americans small businesses to keep plugging away to follow their dreams.
And, when we care about other North Americans, we care about our communities, and the benefits come back to us in ways we couldn't imagine.
This is a revolution of caring about each other, and isn't that what Christmas is about?
BUY North American – The job you save might be your own."
What do you think? Maybe this year we make a choice to buy local?
*****
A smile for you…
Why does Santa have 3 gardens?
So he can ho-ho-ho.
What do snowmen eat for breakfast?
Snowflakes.
What do you call people who are afraid of Santa Claus?
Claustrophobic.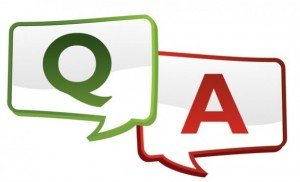 We continue the multi-part series of Questions and Answers involving several websites who each take one simple question…..and answer it. This Q&A will continue through Friday.
Seasoned Citizen Prepper Executive Editor Bev will be answering questions this week. The other participating sites are as follows:
Today's
 Question

: What's the most important thing people can do to prepare themselves in today's troubled economy?
I believe in prayer for guidance, then…
Think about all the possible things that could happen in the next 6 months in our economy–economic collapse, hyperinflation, deflation, everything just keeps bumping along…; without fear, create some mental strategies that could help you and your family cope; take a deep breath and realize that you have just overcome the greatest obstacle to preparedness–the overwhelming feeling of just not wanting to deal with it all!
Then set aside whatever food that you currently use on a regular basis, "store what you eat; eat what you store" in as great a quantity as you can afford and have room for–food prices will be going up and you can save so much money if you can buy what you need when it comes on sale!
Find some way that is right for you to feel safe! That may be more locks on your doors, or pepper spray, or a gun. Start being more aware of your surroundings and don't be a victim!
It is becoming much more frequent for the grid to go down and millions are without electricity. Consider purchasing a few items that would help you cope if you are without electricity for 72 hrs., 1 week, 3 weeks, 6 weeks…
And make a Plan!
 - Bev
OK folks – how about you? We would appreciate it if you would provide your thoughts, commnts, and maybe even answer the question yourself.
Looking forward to hearing from you. To leave a comment just click on the title of the post – and enter your info in the provided box.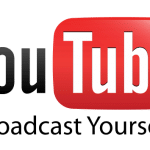 This is an excellent video that should hit home……….
Thoughts?
Rourke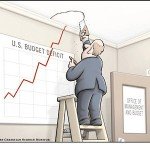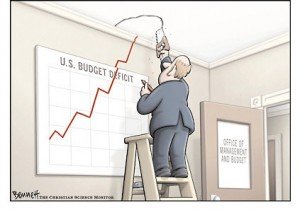 Watching the "lame-stream" media and checking out the mall parking lots it would be easy to assume that the economy is getting better…..and much better at that. More time spent flipping through channels on TV will lend to the opinion that the most important things going on in the world is what new electronic gizmo is being released, which celebrities are getting divorced, and what is everyone's opinion of Kim Kardashians "bottom" this week.
Unless you are selective of your media sources the world can appear just hunky-dory. My opinion comes form many sources as well as a very strong "gut feeling" and to me the world is becoming a more dangerous place to live.
Here are a few thoughts:
The economy is one of my major concerns. There are signs of improvement however I believe in just a few years history will show we are actually going through a significant pause in a larger decline. I do not see it possible that the Federal Government can continue to run deficits larger and larger while the Federal Reserve prints money at an unprecedented rate. I also do not see in this election nor the next that ANYONE has the solutions – just more political rhetoric.
Natural disasters such as hurricanes, tornado's, winter storms as well as heat waves are an ever present threat.
War and terrorism is often scoffed at as being a serious threat by many people I talk to. It has been many years since 9-11 and they say the government is protecting us. You know – my thoughts are it is just a matter of time before some group gets "lucky" and pulls off another major attack.
Inflation is happening and it is constant and consistent. I pay close attention to prices at the grocery store and over the past few years the prices have really gone up quite a bit. Many people don't notice because 10 cents and 25 cents here and there are not that noticeable. If the shopper really pays attention that will see more money and buying less.
These are just a few examples where prepping makes sense.
No reason to be scared and get stressed out. Just take responsibility and take some simple steps to be ready.
Rourke