car alarms
now browsing by tag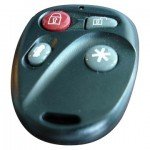 Car Alarms as defense, offense and for personal safety.
Quote of the Day
"Our defense is in the preservation of the spirit which prizes liberty as a heritage of all men, in all lands, everywhere. Destroy this spirit and you have planted the seeds of despotism around your own doors."
Abraham Lincoln
*****
Take Your Car Keys to Bed with You
By Bev Sandlin
Way back when, before there were car alarms, 3 blasts of a vehicle horn on the homestead meant "Come a runnin'! EMERGENCY."  It could be animals out or wounded, you crawled back to the vehicle with a sprained ankle and needed help, stuck in a snow bank (again), fire, whatever. But you had to be able to get to the vehicle first.
This showed up in my email box and made so much sense that I have to share it with you!
"Put your car keys beside your bed at night.Tell your spouse, your children, your neighbors, your parents, your Dr's office, the check-out girl at the market, everyone you run across. Put your car keys beside your bed at night.
If you hear a noise outside your home or someone trying to get in your house, just press the panic button for your car. The alarm will be set off, and the horn will continue to sound until either you turn it off or the car battery dies.

This tip came from a neighborhood watch coordinator. Next time you come home for the night and you start to put your keys away, think of this: It's a security alarm system that you probably already have and requires no installation. Test it. It will go off from most everywhere inside your house and will keep honking until your battery runs down or until you reset it with the button on the key fob chain. It works if you park in your driveway or garage. If your car alarm goes off when someone is trying to break into your house, odds are the burglar/rapist won't stick around. After a few seconds, all the neighbors will be looking out their windows to see who is out there and sure enough the criminal won't want that. And remember to carry your keys while walking to your car in a parking lot. The alarm can work the same way there. This is something that should really be shared with everyone. Maybe it could save a life or a sexual abuse crime.

P.S. I am sending this to everyone I know because I think it is fantastic. Would also be useful for any emergency, such as a heart attack, where you can't reach a phone. My Mom has suggested to my Dad that he carry his car keys with him in case he falls outside and she doesn't hear him. He can activate the car alarm and then she'll know there's a problem."

Isn't this a fantastic idea!

 

There are so many great emails that get forwarded, if you have one that you think is appropriate for SCP readers, PLEASE forward it to scprepper(at)outlook.com .

 

SHARE!

 

 

*****
A smile for you…
Military Common Sense Rules
A lot of life's problems can be explained by the U.S. Military and its applications of common sense…
1. "Sometimes I think war is God's way of teaching us geography."
(Paul Rodriguez)
2. "A slipping gear could let your M203 grenade launcher fire when you least expect it. That would make you quite unpopular in what's left of your unit."
(Army's magazine of preventive maintenance).
3. "Aim towards the Enemy."
(Instruction printed on US M79 Rocket Launcher)
4. When the pin is pulled, Mr. Grenade is not our friend.
(U.S. Marine Corps)
5. Cluster bombing from B-52s is very, very accurate. The bombs always hit the ground.
(U.S. Air Force)
6. If the enemy is in range, so are you.
(Infantry Journal)
7. It is generally inadvisable to eject directly over the area you just bombed.
(US Air Force Manual)
8. Whoever said the pen is mightier than the sword obviously never encountered automatic weapons.
(Gen. MacArthur)
9. Try to look unimportant; they may be low on ammo.
(Infantry Journal)
10. You, you, and you . . . Panic. The rest of you, come with me.
(Marine Gunnery Sergeant)
11. Tracers work both ways.
(US Army Ordnance)
12. Five second fuses only last three seconds.
(Infantry Journal)
13. Don't ever be the first, don't ever be the last, and don't ever volunteer to do anything.
(US Navy Seaman)
14. Bravery is being the only one who knows you're afraid.
(David Hackworth)
15. If your attack is going too well, you have walked into an ambush.
(Infantry Journal)
16. No combat ready unit has ever passed inspection.
(Joe Gay)
17. Any ship can be a minesweeper… once.
(Admiral Hornblower)
18. Never tell the Platoon Sergeant you have nothing to do.
(Unknown Marine Recruit)
19. Don't draw fire; it irritates the people around you.
(Your Buddies)
20. Mines are equal opportunity weapons.
(Army Platoon Sergeant)
21. If you find yourself in a fair fight, you didn't plan your mission properly.
(David Hackworth)
22. Your job is to kill the other person before they kill you so that your national leaders can negotiate a peace that will last as long as it takes the ink to dry.
(Drill Instructor)
23. In the Navy, the Chief is always right.
(Written on the door into the Chiefs quarters)