canning
now browsing by tag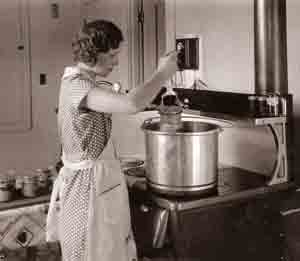 "Why I Home Can", Part 2
By Servantheart, Editor-At-Large
A friend had a surgical procedure this week which temporarily incapacitated her, although she was treated on an outpatient basis and sent home that same day. My friends are very precious to me!  My friend's husband works long, hard hours (and isn't a very good cook – but don't tell him I said that!).
I popped open a jar of home-canned chicken and whipped up a batch of my "Chicken Enchilada Casserole", using my wild rice blend, purchased tortillas (although I can make my own), and purchased Enchilada sauce (which I have not yet learned to make). Took a fresh, hot casserole to the home of my friends, and they loved it!
So, there you have it – reason # 2 to home can:
You always have something good you can throw together for a friend in need!
And here's the recipe, if you'd like:
Chicken Enchilada Casserole —  Heat oven to 350 deg. F
2 cups dry rice blend (see below)
4 cups chicken broth or water, or mix of both, for rice cooking
1 quart home-canned chicken (we prefer just the breasts, so, that's what I can)
2 packages McCormick's Taco Seasoning (or any brand that is MSG-free!)
Qty. 2 19-oz Cans Old El Paso (or favorite brand) MILD red enchilada sauce
One can corn (home canned, if you have it)
One can chili beans, whatever brand you like
8-12 large soft tortillas (we like corn, but they're hard to find)
Shredded cheese, your favorite Mexi-style blend (at least 3 cups)
PS:  If you don't have a fussy eater, this would be great with added chopped onions, etc., but we have a fussy eater, so, there ya' go!
Put rice on to cook; I use 2 cups dry; my mix is: 2 parts brown rice to 1 part white rice to 1/2 part wild rice; put 2 cups of this mixture into medium saucepan; add 4 cups chicken broth (or water, if you don't have extra broth, but I prefer the broth). DO NOT SALT. It will make your casserole too salty after you add Enchilada sauce. Cook rice over medium-high heat until it starts to form "bubbles" throughout. Cover, turn heat down to very, very low (or, even turn it off, if you like); allow remaining liquid to naturally absorb.
Open one quart of home-canned chicken into a large skillet, broth and all; add taco seasoning to taste; I add about 2 packages of McCormick's (no MSG!) per quart jar; cook over moderate heat until it starts to "bubble" a little; turn heat down and cook on low heat, stirring often, until liquid evaporates and meat absorbs spices.
When rice is fully cooked, add contents of corn, including liquid, and chili beans (get all the good chili sauce; you can use the liquid from the corn to swish around in the bean can and rinse all the good flavoring out!).
Add one-half can of your Enchilada sauce to this rice/veggie mix, stir gently.
Take a large casserole dish (15″ long is my favorite, but a 12″ long will do, just a smaller batch, I prefer Pyrex clear glass). Pour your rice/veggie mix into casserole, smoothing it out.
Fill your tortillas with a spoonful of the spiced chicken meat, roll up; place across bed of rice, seam side down, in dish short length (vertically); continue this until you have filled dish with stuffed tortillas. In a 12″ dish, you can probably do 8; in a 15″ dish, you can do up to 12! (lay 2 horizontally at bottom of 8 to 10 vertically above).
Pour remaining one and one-half (1 1/2) cans Enchilada sauce all over and around tortillas CAREFULLY, allowing it to run in between each tortilla roll, all around, etc.
Bake @ 350 deg. F for 30 minutes.
Remove from oven. Top with your favorite grated Mexicala blend cheese until thoroughly covered; place back in oven for five (5) minutes. Remove from oven. Allow to cool. slightly before serving. Enjoy!
MY DH and DD love these fresh, but are even happier with them as "leftovers", so make plenty!
Serving suggestion: a small green/veggie salad with guacamole and a cup of fresh fruit for dessert would finish the "south of the border" influence!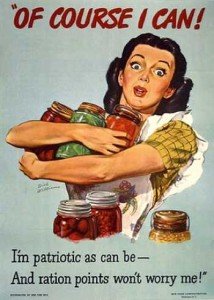 Why I Home Can…Part 1
By Servantheart, Editor-At-Large
I just opened a jar of home-canned roasted chicken; threw in a jar of home-canned chicken broth, and a jar of home-canned, locally-grown tomatoes; added my own veggies, of course, and cooked up a small batch of my wild rice blend (2 parts brown rice to 1 part white rice to 1/2 part wild rice); cooked the rice first, then added to "soup". Added onions, celery, herbs, and spices. Now simmering on top of stove.  Can't wait!
When we finish "pigging out", I'll can a few pints of our fresh batch of chicken veggie rice soup. Always at the ready!
And this is reason # 1 why I home can my own foods. "Fast food" – and you know what's in there! And, man! Is it tasty! Oink!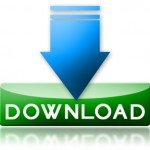 A Downloadable PDF on Canning Fruits, Vegetables, Pickles and Jellies
Canning Foods Download
By John from Iowa, Editor-At-Large
I came across this PDF: Canning Foods: Fruits, Vegetables, Pickles, Jellies published by The University of Tennessee, Department of Agriculture that I thought might interest other SCP readers.
Besides canning basics for water bath and pressure cookers, it has a variety of recipes and includes a metric conversion chart. Fifty pages of easily readable canning information! Love it!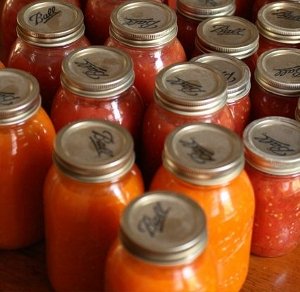 This will be placed in our Downloads tab for further reference. Enjoy!
Click image below to download the book.