books
now browsing by tag
This post was originally published over at ModernSurvivalOnline.com. It can be seen HERE.
Top 10 books for a WROL library…..
by Rourke
In a grid down, societal collapse, WROL (without rule of law) situation – what books would you want on your bookshelf?
Here are a few suggestions:
1. Without Rule of Law: Advanced Skills to Help You Survive – I am still reading this book and find it very informative. To the non-military person – like me – I am getting a lot out of it.  Very useful should a WROL situation happen.
From Amazon – "WARNING: This book contains material that may be offensive to some readers. It is an instructional guide covering tactical actions and capabilities which should only be executed in last-resort survival situations.
 
"This book was written for non-military readers who believe in self-reliance and wish to develop advanced, just-in-case capabilities for themselves and their families. It leads the reader through progressively more complex preparations and activities. "
2. Holding Your Ground: Preparing for Defense if it All Falls Apart - This book was long overdue when it came out. Great information on how to protect your retreat – wherever it is – city, country  -wherever.
From Amazon.com – "HOLDING YOUR GROUND is an instructional guide and planning tool that addresses defensive preparation of a location. If the government can no longer protect your home, farm or property, HOLDING will teach you how. HOLDING covers virtually every aspect of protecting you and your family in the event society breaks down. Many people have preparations for food, water, shelter and personal defense. HOLDING will teach you how to configure your home, train your team, and properly equip any location for defense.
Covering topics ranging from hiding in plain sight to pre-positioning of supplies, HOLDING uses common sense, military tactics and historical examples that allow you to prepare for defense without affecting your property's value or appearance."
#3. The Doom and Bloom(tm) Survival Medicine Handbook – Great medical reference to have for when there is no available urgent care of hospitals. Jam packed with information in it's 440 pages.
From Amazon.com – The #1 Amazon Bestseller "survival medicine handbook" is meant for those who want to ensure the health of their loved ones in any disaster situation, from hurricanes to a complete societal collapse. Integrative medical strategies abound for situations in which medical help is NOT on the way. This book will teach you how to deal with all the likely medical issues you will face in a disaster situation, and shows you strategies to keep your family healthy even in the worse scenarios. You'll learn skills like performing a physical exam, transporting the injured patient, and even how to suture a wound!
#4. The Urban Homestead (Expanded & Revised Edition): Your Guide to Self-Sufficient Living in the Heart of the City – This book is packed with information from gardening to making your own cleaning solutions. Tremendous value here and I have learned a lot.
Amazon.com- The expanded, updated version of the best-selling classic, with a dozen new projects.
This celebrated, essential handbook shows how to grow and preserve your own food, clean your house without toxins, raise chickens, gain energy independence, and more. Step-by-step projects, tips, and anecdotes will help get you started homesteading immediately. The Urban Homestead is also a guidebook to the larger movement and will point you to the best books and Internet resources on self-sufficiency topics.
Written by city dwellers for city dwellers, this copiously illustrated, two-color instruction book proposes a paradigm shift that will improve our lives, our community, and our planet. By growing our own food and harnessing natural energy, we are planting seeds for the future of our cities.
Learn how to:
Grow food on a patio or balcony
Preserve or ferment food and make yogurt and cheese
Compost with worms
Keep city chickens
Divert your grey water to your garden
Clean your house without toxins
Guerilla garden in public spaces
Create the modern homestead of your dreams
#5. Storey's Basic Country Skills – This book is an encyclopedia of skills that would be valuable in a grid down, WROL situation. I can't emphasize enough how much homesteading/country living information this book has.
From Amazon.com- This is the book for anyone who wants to become more self-reliant, from suburbanites with 1/4 of an acre to country homesteaders with several. The information is easily understood and readily applicable.More than 150 of Storey's expert authors in gardening, building, animal raising, and homesteading share their specialized knowledge and experience in this ultimate guide to living a more independent, satisfying life.Readers will find step-by-step, illustrated instructions for every aspect of country living including:
Finding country land
Buying, building, and renovating a home
Developing water sources and systems
Understanding wiring, plumbing, and heating
Using alternative heating and energy sources
Vegetable, flower, and herb gardening
Traditional cooking skills such as baking bread and making maple syrup
Preparing and preserving meat, fruits, and vegetables
Building and maintaining barns, sheds, and outbuildings
Caring for common farm and ranch animals, and pets
From Amazon.com - From planning an expedition, to packing essential kits, to discovering what to do on a trail, The Survival Handbook is an invaluable tool when you're in the great outdoors.Among a myriad of outdoor skills, it teaches readers how to make shelters, find water, and spot, catch, and cook wild food. And if there's an emergency, it shows which essential first-aid techniques to use when, how to mount a rescue, and even how to get yourself found. 7. Mini Farming: Self-Sufficiency on 1/4 Acre – In a long-term, grid down, WROL situation the ability to maximize food production on your land – whatever the size – will be essential. This books contains volumes of information on doing just that. One of my personal favorites and given to me by my brother.
Via Amazon.com – Start a mini farm on a quarter acre or less, provide 85 percent of the food for a family of four and earn an income.
Mini Farming describes a holistic approach to small-area farming that will show you how to produce 85 percent of an average family's food on just a quarter acre—and earn $10,000 in cash annually while spending less than half the time that an ordinary job would require. Even if you have never been a farmer or a gardener, this book covers everything you need to know to get started: buying and saving seeds, starting seedlings, establishing raised beds, soil fertility practices, composting, dealing with pest and disease problems, crop rotation, farm planning, and much more. Because self-sufficiency is the objective, subjects such as raising backyard chickens and home canning are also covered along with numerous methods for keeping costs down and production high. Materials, tools, and techniques are detailed with photographs, tables, diagrams, and illustrations.
 8. The Forager's Harvest: A Guide to Identifying, Harvesting, and Preparing Edible Wild Plants – Unless you posses the knowledge and skills to identify that which you can eat in the woods – this book is for you.
Via Amazon.com - A practical guide to all aspects of edible wild plants: finding and identifying them, their seasons of harvest, and their methods of collection and preparation. Each plant is discussed in great detail and accompanied by excellent color photographs. Includes an index, illustrated glossary, bibliography, and harvest calendar. The perfect guide for all experience levels.
 #9. Encyclopedia of Country Living, 10th Edition – Another information packed book to assist living in a tie without electricity and other "modern" resources. Excellent addition to the preparedness bookshelf.
Via Amazon.com - This book is phenomenal! Besides offering general information on
gardening and variations on the usual ways to prepare and preserve
produce, Carla Emery includes thousands of other exotic and old
fashioned recipes. That alone would be remarkable, but she doesn't stop
there. She covers information on every aspect of farming and
homesteading from buying a farm to delivering your own baby—yes, if you
are all alone when you go into labor!
Here is a general idea of what she includes, as well as some of the
weirder specifics:
How to get water – dowsing, getting it to your farm, using it, pollution
concerns
Living primitively – shelter, backwoods refrigeration, campfire kitchens
Alternative energy – information and resources, using a solar cooker (We
have one, and they really do work.)
Washing clothes by hand
Quilting
Candle making – paraffin and beeswax
Foraging – also poisonous plants and mushrooms
Wood – harvesting, heating, wood cook stoves
Fertilizing your soil
Raising earthworms for gardening, bait, or money making
Using draft horses and oxen
Grain (all kinds!) – planting; mowing by hand; binding sheaves and making
shocks to cure them;
threshing by hand, with animals, or machinery; winnowing; drying;
storing; grinding; and protecting from pests
Preserving food – canning, freezing, drying, salting, larding, fermenting,
jams and juices, making vinegar
Saving seeds for next year plants
Herbs – culinary, not medicinal
Pressing oil from seeds
Acorns – making meal and flour
Bamboo – growing, recipes, and various other uses
Wild Rice – foraging and growing your own
Flax – growing and making linen
Maple sugaring – collecting sap and making syrup
Dandelion root or chicory coffee
Beekeeping – keeping bees, harvesting and using wax and honey
Animals
Raising, feeding, and caring for all types of livestock
Building barns, fences, chicken coops, rabbit hutches, etc.
Pastures, forage, hay, feeds
Predator control
Diseases and veterinary care
Reproduction from breeding to births
Dehorning, castrating, hoof trimming
Sheep shearing and using wool
Pigs – housing, fencing, and how to catch a pig!
Rabbit raising
Poultry – chickens, turkeys, ducks, geese, guineas; hatching chicks;
preserving eggs and testing them for safety; using feathers
Dairying – milking and milk handling; all types of dairy products; cream
separators and butter churns
Butchering – preserving meat; making sausage, soap, and lard; tanning
hides; making pickled pig feet!
Home funerals and burying your dead 
#10. Holy Bible – no explanation should be needed.
Any other suggestions? Glad my shelf holds more than 10!!
Take care all - 
Rourke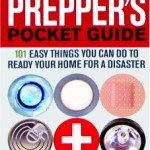 The winner of our recent book giveaway is………..
CARMEN!!!
To select the winner I went to http://www.random.org/ and used the random number generator. I entered the total number of entries (17) and clicked "Generate" and……wallah!!!  The number 7  was the result.
So….congrat's Carmen! I will be sending your copy of the Prepper's Pocket Guide to you shortly.
Rourke
Do you own a Kindle? There is a good reason for asking. For those of us that own the Kindle book reader  - we love our Kindles. These little devices allow you to surf the Internet, readers many books, read magazines, send and receive emails, and even listen to music or watch a movie. I own a Kindle Fire and use it all the time.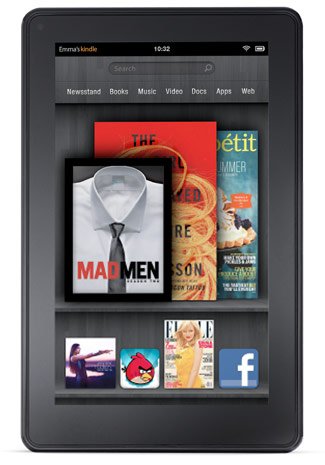 Back to why I am asking if you own a Kindle. Well - frequently Amazon has books that are temporarily available for FREE – or close to it. Simply click "Purchase" and within a short time the book appears on your Kindle. I have been considering showcasing some of those FREE Kindle books related to preparedness  - but do not want to burden readers with something that no one would be interested in.
So – if you could take a moment to participate in this poll – I would appreciate it.
Thanks,
 Rourke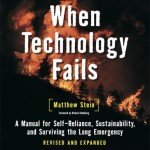 – Book Review by Servantheart, Editor-At-Large
So, I pulled out my copy of "When Technology Fails" by Matthew Stein. It's a large book, not one that will fit in a pocket, certainly, and somewhat heavy, even for a "paperback", with 493 pages of print. What Stein really means is, "when SHTF"!
I haven't pulled this book out in a while, so, it was interesting to flip through it for my notes. I'm one of those people who likes to mark my books as I read: notes in margins, highlight a few things, that sort of thing.
What struck me as I went back through this book is that I did not have the same response to it as the first time I read through it. Perhaps that is because I have learned a great deal since I first picked up this book so that now, much of it seems well, sort of "primary". But I do not want to give you the wrong impression; it does, indeed, have useful information in it.
I came to the conclusion that this book, "When Technology Fails" is a good starting point for beginning preppers.  It covers just about every area of thought one might need to consider in meeting every conceivable need when SHTF. The problem is, for the most part, it only touches on most of the subjects, and some information you might do well to research further.
I would not, for example, put much stock in the "training" available for medical and emergency health care. Having served as a volunteer for many, many years with the world's largest disaster relief agency, including teaching First Aid and CPR at various levels, I did not find the information all that useful, even though it purportedly was taken from the ARC book (what little is there). Take the class, folks. It's a hands-on thing, for sure. All you need is one person to take the class, get the book, and teach the others, if it comes to that. But much of what you learn is best learned "in live practice", not from a book. The book is a reference, not a teacher.
There are many illustrations, but they are all low-budget drawings, IMHO. I don't think they will do anyone much good, but they are better than nothing.
The one exception to the limited information, in my opinion, is WATER. Stein does an excellent job of telling you most of what you'll need to know about water, storing it, treating it, threats to it and how to handle each threat…even those "unusual" places to find water in an emergency situation; I actually bought separate books just for that information!  So I highly recommend reading the section on water.
One thing I DO really appreciate about this book is that it contains many valuable references for contact; you can spend a lot of time trying to pull this information together, where to go for what information, who to contact to learn more about XYZ subject…but Stein has made that easy. I also like that he includes Joel Salatin, a Christian and possibly THE authority on whole food eating, and well as other individuals who have proven that they know exactly what they are talking about and are qualified to teach.
The real value in this book, in my opinion, is that it raises the right questions. You won't find all the answers here, but, if you don't know what questions to ask, how can you possibly find the answers? This is a good resource for those new or young at prepping, or even just a quick review for seasoned preppers, in my opinion.
For more information……click
HERE
.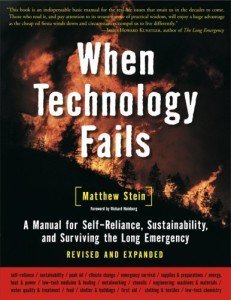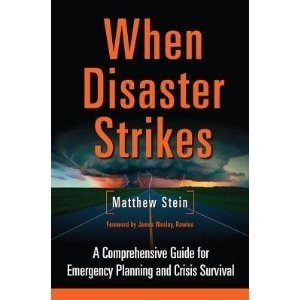 Editor-at-Large MsKYprepper recently mentioned that she really liked the book….When Disaster Strikes: A Comprehensive Guide for Emergency Planning and Crisis Survival.
Any disaster-prep book written in late 2011 has plenty of material to work with.  Matthew Stein gets right to the point reminding the reader of recent tsunamis, hurricanes, earthquakes and civil unrest.  In the first few pages of reading you might be tempted to think "there's no new news, here" but venture on.  After the author lays out level-headed justification for becoming self-sufficient during and following a disaster, the book accelerates quickly.  If you believe as I do that skills and knowledge are as important as having stuff, you'll be hooked by page 30.  
THE most valuable thing about Stein's book is in having such a wide variety of emergency preparation information in one book – and I mean EVERYTHING, in detail, for surviving a short term disaster.    
By my standard, if I can learn 3 new things from a book, then it was worth my time to read. So, I especially appreciated the water purification section. The author offers a detailed discussion on each option – when it's better and its limitations. This book is all about you having options and knowing how to decide which option to choose.  Stein also included a complete product review of each big-name water filter – which is best in what situation. I had not found this any other place. I appreciate that throughout the book the author included web site URLs and resources for more information to allow self-research.  In the medical section the author is favorable on colloidal silver and Miracle Mineral Solution (MMS). I'm now revisiting the possibilities of making CS and stocking MMS.    
Those are just a few examples; every section is carefully explained, in detail, with options and references.  
I recommend this book because it's an all inclusive review of stuff you (should) already know; it's an equipment-review guide for confident purchasing and it's a good reference for when the bad thing happens and you can't remember details. I recommend it because of  the author's writing style, it's easy to understand, concise and to the point, plus …I love lists, and Mr. Stein gives the reader lots of lists.  
In the end, I learned more than my required 3 new and important items. It may not be worth the $16 price-tag if you're already well-briefed and well-rehearsed but it's THE one book to recommend to family and friends who are not yet confident in a broad range of skills. Even though it's a 400-page book, it is a quick read. A little each night and I gobbled it up in about a week,   Go to Amazon to view the table of contents – it's too extensive to list here.  Yes, you can save money at Amazon with the Kindle edition, but like I said, it's a great reference.  …get the book …just in case… 
For more information – check it out HERE.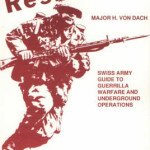 By Wyzyrd, Editor-At-Large
A couple ebooks "from the other side"
Hans von Dach – Swiss Army http://www.survivalmonkey.com/threads/total-resistance-swiss-army-guide-to-guerrilla-warfare-and-underground-operations-pdf.14237/ 
This was issued by the Swiss Army in the 50′s as a HOW TO guide, based on WWII anti-Nazi resistance movements, just in case the Soviet Union decided to move west. A "how to cripple enemies and not get caught" guide. Useful reading for everyone. Still useful 60 years later. I have NO sympathy for the next author's political or ethical position, but this was the textbook at Patrice Lumumba University in the former Soviet Union, and still used to train insurgents worldwide. A VERY practical guidebook. It never hurt to know the enemy, and learn from him. 
"Guerrilla Warfare" 
Dr. Ernesto "Che" Guevara 
http://archive.org/details/GuerrillaWarfare_856 (multiple formats) 
Yes, THAT "Che". The one on the t-shirts. I would have shot him myself, but the SOB wrote what may be the best treatise on organizing a "survival community under adverse circumstances", ever. Che's #1 priority for putting together a rural army was SHOES, not guns, or ammo, or transport, or commo. If your people can't walk, they can't get or grow the other stuff. It is written at that level of practicality. 
"Know The Enemy" and take every advantage of the knowledge. 
Just in case there are questions, I got my original paper copies when the Institute for Defense Analysis was clearing out their unclassified library, and I had to show ID from a different DoD contractor to get in – LOL
True Story Of Kill Or Be Killed In The Real Old West If you've ever wondered what it was like to strap on a six-gun in the real Old West and have a face-off-in-the-street gunfight where only the fastest gunslinger walks away – - then this recently discovered memoir by one of the Old West's most feared (but virtually unknown today) gunfighter's and lawmen puts you behind a pair of Colt .45 six-guns and immerses you in what it was like to live and die in the real Wild West.
But, you won't find this fascinating story in any of today's western history encyclopedias or glorified in the movies or on TV. But, you will find it at: www.OldWestLawmansForgottenMemoir.com
---
I love old westerns and am in the process of getting together all of Clint Eastwood's old westerns in DVD. If you like westerns like I do – you should check out this one-of-a-kind book with great details from the old west.
I am pleased to have OldWestLawnsForgottenMemoir.com as an official SeasonedCitizenPrepper.com sponsor. For more information – click HERE.
Rourke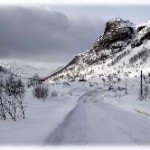 Editor-at-Large, John from Iowa, sent this manual along to share with everyone.  As the mercury continues to dip throughout much of the US – this Winter Survival Manual arrives within the Download section of this site just in time.
I also will be listing all downloads in one place  - the Preparedness Download page.
Thanks John!
Montana Winter Survival Manual