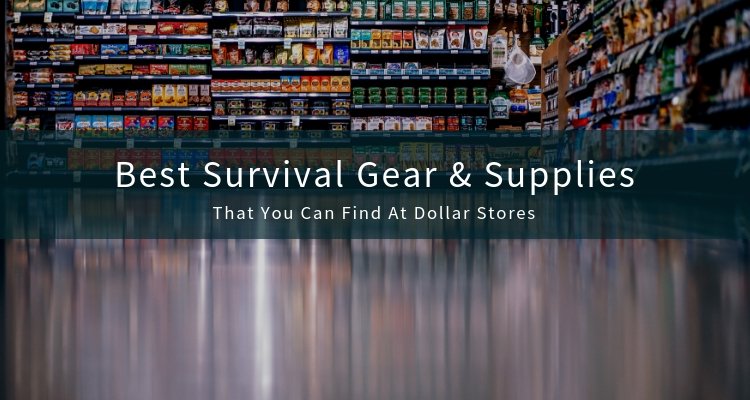 The Dollar Tree and similar stores offer a wide variety of products that those seeking to build an emergency preparedness system can take advantage of.
In today's economy every dollar counts. Many people out there are trying to stretch every dollar – while at the same time store additional supplies as part of their preparedness planning.  You may not think of a Dollar Tree or similar store as a place to buy survival supplies – but let me tell you – you would be surprised. Dollar stores offer an economical method off obtaining some needed supplies.
I go to my local dollar store about every 2-3 months and check out what they have. This past Sunday I decided to visit one of about 3 Dollar Tree's in my area and report back to you some of the supplies that I found.
Here we go:
Stocking up on toothpaste is very easy at the dollar store. They even have a "Sensitivity" type that would cost you several dollars somewhere else.
Floss is also available with many different types stocked.
Tooth brushes galore!!!! You can get a years – maybe 5 years supply – of brushes for your whole family for just a few dollars.
Above is a decent selection of cold medicines and band aids – CHEAP!!!!
Hydrogen Peroxide and Rubbing Alcohol – Just $1.00 each
Anti-bacterial hand sanitizer and wet wipes – important items to assist in keeping germs to a minimum.
Lot's of medical ointments and cremes for all kinds of problems – some you especially do not want to be dealing with after TSHTF.
Very inexpensive pain killers – great for the first aid kit.
You can even pick up a few flashlights while at the dollar store. They sell batteries too.
Do you have a young child in your group? Don't let them feel left out – get them a backpack and have them help carry a few of their supplies. These are not very durable – but carrying a stuffed animal and a small blanket they would be just fine.
In this post I have shown many items related to sanitation and first aid – but there is so much more. Go by your local dollar store and see for yourself. It is amazing how many supplies you can get for $20-$25.00.
Shoppers Outlet
Interested in preparedness? Trying to be  self-reliant? Are you frugal?  Check out a few suggested items from Amazon. Amazon offers great prices and excellent customer service.
Ultralight Backpacking Stove – works fantastic to boil water in less than 2 minutes.
Solar Powered Keychain Light – I have one of these it is actually works. Less than$3 with free shipping. Rourke
Uniden FRS/GMRS Walki Talkies – Inexpensive communication for within 1-3 miles depending on terrain.
Lifestraw Family Water Purification System – One of the best deals on the market for a water purification system with the output to supply an entire family. I own one – is is great. Rourke
Survival Seed Vault – All heirloom just as it should be.