I have the link to the orginal article below. This set up will produce purified water and even desalinize ocean water – simple and effective.
How to Build a Solar-Powered Water Purifier
Using the sun to purify drinking water is a great solar project for the do-it-yourselfer. A solar-powered purification system the size of a microwave oven can yield up to 3 gallons of purified drinking water on a sunny day.
Here's what you need for a basic solar powered water purifier like the one shown in the figure:
| | |
| --- | --- |
| Wooden or sheet metal enclosure | Reflective material like aluminum foil |
| Black paint, used for barbeque pits | Sheet of glass |
| Insulation (the white foam kind is fine) | Glue (silicon sealant or similar weather-resistant material) |
| Black tray that can absorb heat | Catch trough and container for purified water |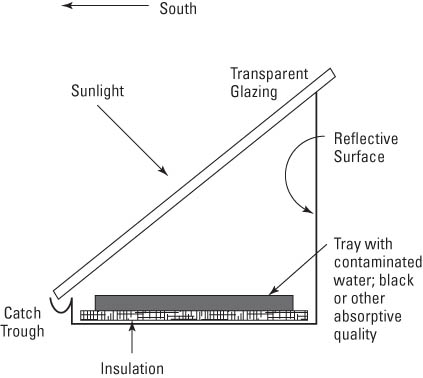 To assemble your solar-powered water purifier, find a place near a water source (for easy filling) and follow these steps:
Paint the exterior of the wooden or sheet metal enclosure  black to enhance absorption.

Install the reflective surface at the back and side walls of the enclosure and glue the insulation to the bottom.

Put a tray of contaminated water inside the enclosure and place the glass on top.

Arrange the catch trough at the bottom of the glass, angled downward to a container (like a plastic jug) to collect the purified water. 

Aim the contraption toward the sun.

That's it — you're done!
The first few times you use this device, the water may taste a little odd. Let the system "sweat" for a few weeks, and the bad taste will go away.
Another fairly simple way to purify water is the put clear plastic over an umbrella frame, put a hula hoop at the bottom and push the plastic up around it. Now dig a pit for your water container. Put something black in this plastic tent – could even be dark pots of water. You can use an emergency blanket of Mylar on the bottom to reflect back the sun's rays onto the pots and increase the evaporation. Cut one end of the hula hoop where the container is or just tip the plastic into the container. You should have a slight slope to this toward the container. Again, you will have purified water and can also use this to desalinize water.
Also works just on the ground with no water to "leach up" water from that spot. Works well on grass. But you can actually use this in your garden to give your plants a little drink by bringing the plastic catch into the root system of the plant. Then move it right a way so you don't broil the plants! Bev :-)
Go HERE for the original post and the plans for a solar shower and attic fan.
Bio Sand Filter DIY Step-by-Step