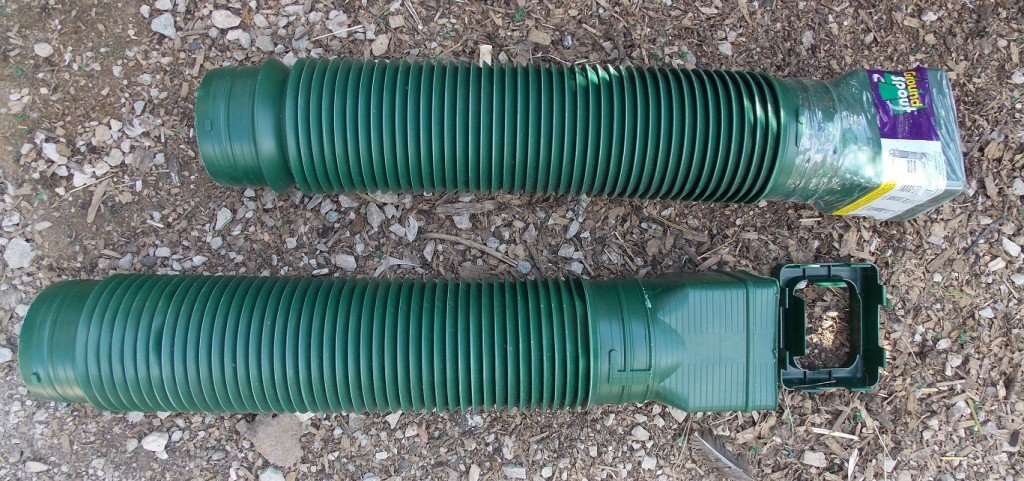 For less than $7 you can create a DIY downspout diverter for your rain barrel that looks good and will remove in the winter in less than 30 seconds and the unit will self-store!
My Experience Creating a Rain Barrel Diverter
I've had my rain barrels for two years now trying to figure out a way that I can divert the rainwater from the gutters into the barrels without breaking the bank – I've seen diverters for as much as $50! Plus, I didn't want to take apart the gutters to add the diverters, and I have four rain barrels so this was sounding like a lot of work and very costly.
After two years of contemplating the problem (occasionally) I came up with this solution and LOVE IT!
The first one I put in was horizontal. I tested it by throwing a hose on the roof, running water into the gutter and out the water came! That is when I noticed that I needed caulk (Note the dribble on the right side.), which was easy enough to add after the fact.
These are created from the "Ground Spout" which I purchased at Menards for something like $5 or $6 apiece (if you don't have a Menards near you, any other hardware store should have them or Amazon does).
They will mount either vertically or horizontally on a standard 4″ down spout. Because not all of my pictures turned out for the first horizontal installation, so I am showing you the vertical installation with a few of the horizontal pics that turned out.
How To Make a DIY Diverter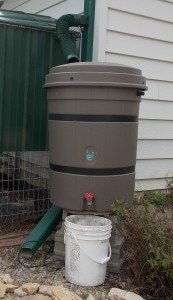 First you need to install and level your rain barrel. I used four cement blocks stacked because it would get the spout high enough to put a five gallon pail under it.
I also created treated plywood bases for my barrels. It was easy to level (actually I tipped them slightly forward) because under the board I put a slip of wood where I needed it.
If you have a lot of wind where you are your empty barrels may want to tip over. If needed – placing a cement block on top will hold it in place.  Be sure to note where your overflow valve is pointing.
Then you need to find a leftover piece of vinyl flooring and cut it. You should be able to tape the photos to make them larger if needed.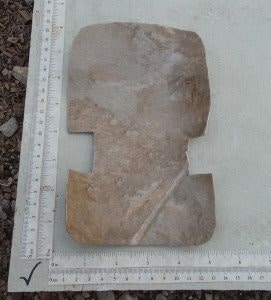 Now figure out where and how you want your diverter placed on the down spout. Pre-drill the rectangular piece of plastic in the corners for your screws.
Take the rectangular piece and trace around the inside with a Sharpie marker and mark your screw holes so that you can pre-drill for the holes (this took a smaller marker for me).
Now drill some fairly large holes INSIDE the marked out hole so that you can insert tin snips (that is what I had on hand, but it would work easier with a jigsaw and metal black).
Once you have cut out the hole (Don't sweat this as it won't show or very little of it will only during the winter. Just mash the edges down with a pliers if you are concerned about the sharpness).
Pre-drill the screw holes with the appropriate bit. I am using small diameter self-tapping metal screws. Perhaps a man could get them to self-tap, but I couldn't. Now put caulk all around the hole. I used clear silicone caulk.
Set your screws into the plastic first – Trust me, it is easier having dropped a half dozen screws trying to put them in without starting them first. Now screw it into the downspout.
Next, fold the long side of the vinyl flooring for insertion. Then, insert the vinyl into the hole and push to flatten again the sides.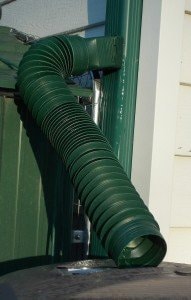 Make any adjustments you need with a scissors to the vinyl.  Now put the ground spout hose on and clip it in. If you have any bend at all it won't stay put.
Pre-drill a hole through the top of the rectangular piece for the cotter pin and pre-drill a hole in the bottom round into the round for another cotter pin. Take it down and drill a couple of holes where you need to for some fishing line.
Note: You could just use a nail or a screw but I wanted something very easy to detach some winter and I wanted it to self-store. Fishing line is pretty much invisible and extremely weather resistant. I can pull the pins, not lose them for next year, pull the vinyl and shove it into the spout and lay it to the side until spring.
Now put the spout back in place and insert the pins. If you have a wicked turn, you may need a screw. Try to put it where you can reach it without going on a ladder come winter. More useful information about rain barrel/tanks installation and accessories can be read here.
Done for the year!