These recipes can be seen in their original form here – – – http://homestead.org/JeanetteLeadingham/Grandma'sPantry/LostRecipes.htm
Special thanks to "flutterby" for sending it in…..
Stuffed Banana Peppers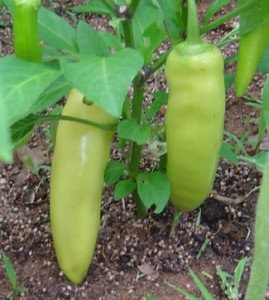 4-5 large banana peppers per quart jar, depending on size

4-5 standard size hot dogs per quart jar

Tomato sauce to cover peppers 
Cut tops off peppers and remove seeds and membranes. Stuff hot dogs into peppers.  Place 4 to 5 stuffed peppers into each quart jar.  Heat your favorite tomato sauce and fill jars to cover peppers.  Wipe jars clean. Adjust lids and bands.  Process in a hot water bath 45 minutes.   
A couple years ago, Andrew Zimmerman was patrolling the hills of West Virginia on his show "Bizarre Foods America."  Being a Mountaineer through and through, I will watch anything that has to do with my "Home Country."  One of the delicacies presented was corn cob jelly. Zimmern proclaimed that the recipe showed the resourcefulness of the mountain people.  This was not new information for me.  After asking around, I found many West Virginians that fondly remembered their grandparents making this treat.  Another name for this jelly is West Virginia Honey because it has a golden appearance and smells and tastes much like honey.  Best of all, it recycles something that most people throw away.  My family usually goes through quite a lot of corn every year.  I take cut the kernels off the cob to freeze for winter dinners.  The cobs are then boiled to make jelly, and finally, the used cobs are given to the chickens to pick clean.  Once again, this is one of those recipes that have been passed down to use whatever you have on hand.  It is adjustable to the amount of cobs left over after the kernels have been removed for other uses.