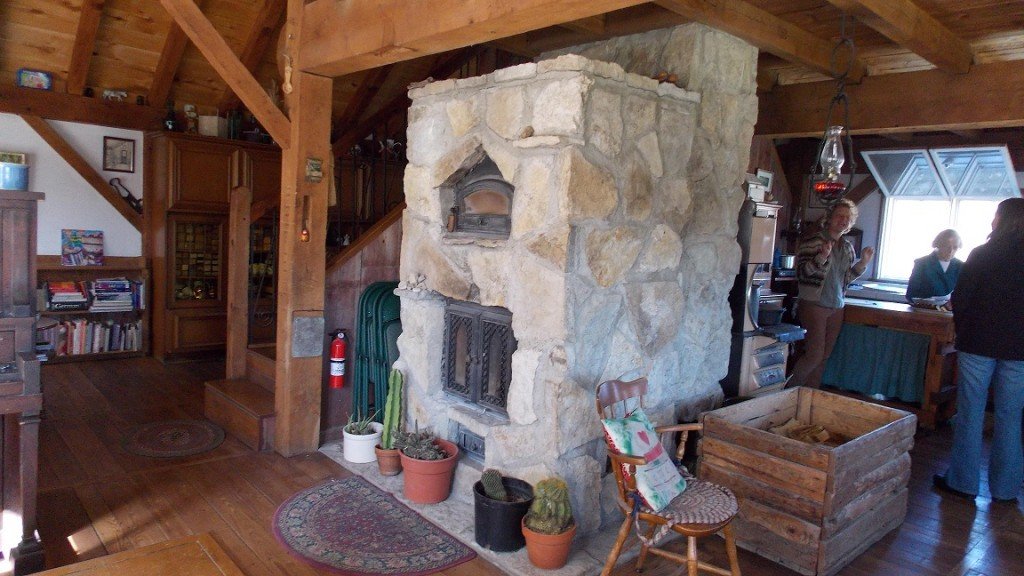 The heart of a homestead is the hearth. And when our off grid family was making building decisions, the choice to have a masonry heater was the first one they made.
Their masonry wood heater was a DIY project built from native limestone and includes a baking oven. It was built in the center of the home so that its warmth could radiate outward and upward to keep the whole home cozy and warm in the northern winters.
Only the doors, firebrick, piping and mortar were purchased to create this mammoth heater. The cast iron doors were purchased from a masonry stove dealer in Vermont, and the rest locally.
So just how efficient is it?
Well, the owners of this masonry stove said they only need to burn a fire once a day to keep the whole house warm unless it is below zero, then two fires a day suffice. And they only used three cords of wood between the masonry heater AND the wood cook stove last year!
I was very impressed with that, given that I used an average of seven cords of wood every winter for my very efficient wood stoves.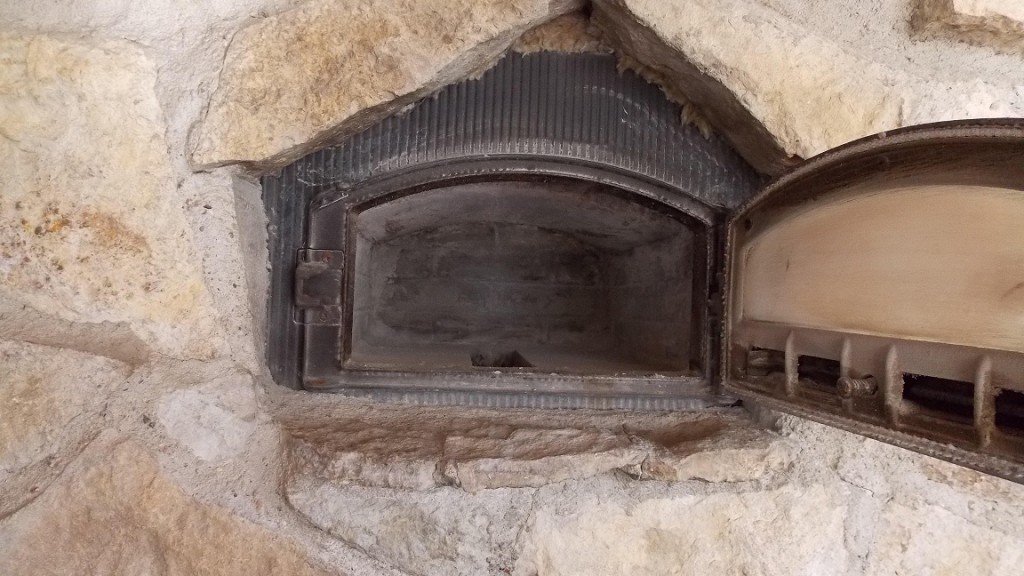 The upper stove is a baking oven. The owners often bake bread and pizzas in the oven, just after the fire has died down, or use it was a "warming drawer".
In the basement, directly below the masonry stove is this ash can—a large galvanized trash can. Note the strength of the cement block wall to hold the weight of the stone above it. If you have ever dealt with wood stoves you realize immediately how convenient this is to clean out the ashes! Plus the wood ash is excellent for making lye and enriching the garden (do not use wood ash where you plant potatoes as they will scab).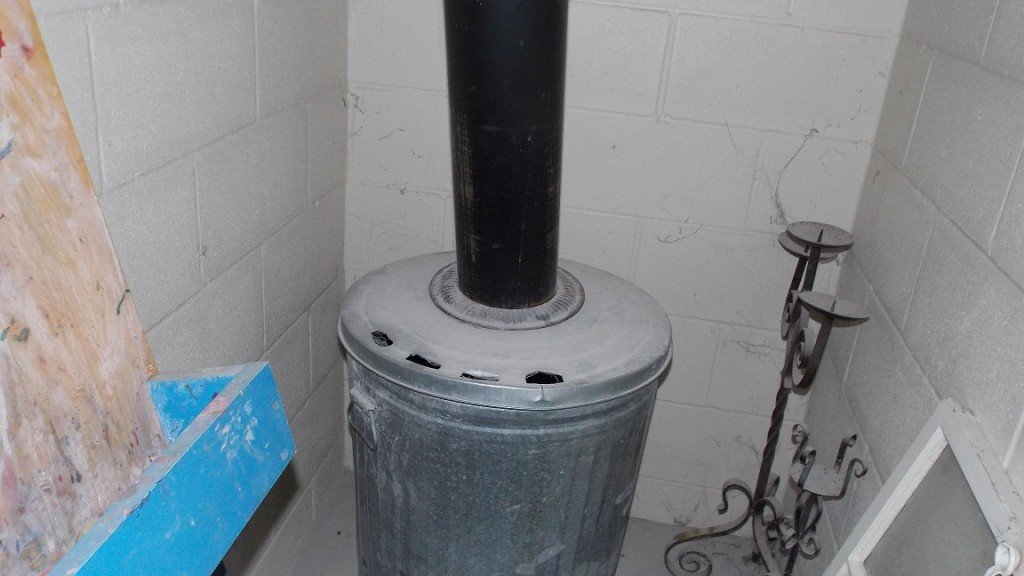 With the masonry heater being the first decision that was made in building this homestead, the rest of the home was designed around the concept. Heat rises and fills the upstairs sleeping areas with warmth. A round antique heat vent in the upstairs of the home allows the radiant heat to rise more efficiently than just through the stairwell.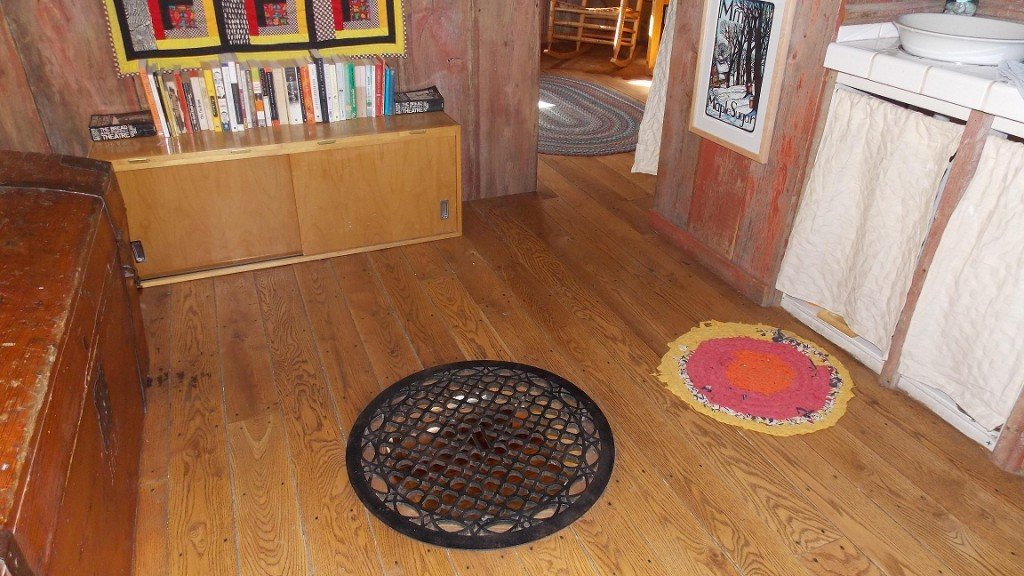 A Brief History of Masonry Heaters
The earliest known use of masonry heating technology dates back all the way to the Neoglacial and Neolithic periods of human history. These ancient civilizations are said to have used the smoke of fires to provide radiant heat for their underground homes.
In all of human history, the Kang bed-stove is one of the earliest known instances of modern masonry heater technology. From as early as 5000 B.C., these Chinese "bed-stoves" were multi-person dwelling units primarily made of huge blocks of masonry to retain heat in colder climates. Around the world, forms of masonry heat grew organically in low temperature areas like Eastern Europe and Northern Asia, adopting various forms and names in countries like Russia and Sweden.
Eventually, masonry heaters lost popularity to forms of electric and gas heat found in most homes today. With that said, masonry heaters have seen a renewed popularity in recent years for its ability to provide a sustained off-grid source of heat.
Other Names for Masonry Heaters
Masonry heaters have been used in many different cultures and have therefore been called several different names. Here are some of the most common alternative names for masonry heaters:
Masonry Fireplace
Masonry Oven
Masonry Furnace
Masonry Stove
Russian Stove
Additionally, some masonry fireplaces are covered in tile. In these cases, a masonry oven can be referred to as a:
Cocklestove
Kachelofen
Tilestove
Or Ceramic Stove
Why do People Like Masonry Heaters?
People have been using masonry heaters, or early forms of the device, for thousands of years. This is because they are one of the best ways to heat a home for long periods of time, without being overly expensive to run.
Masonry fireplaces can easily warm a dwelling for an entire day, with very little upkeep required. Primarily, masonry furnaces are fueled with firewood. In the right areas with a lot of tree coverage, this makes the system very sustainable and inexpensive for ongoing use.
How do Masonry Heaters work?
Masonry heaters are devices that can be used to warm an interior space with radiant heating (similar to baseboard heaters, or hydronic heating in a floor). As they are named for the material, masonry heaters are made up of masonry, which is typically brick, soapstone, stone, tile, stucco, or a combination of several materials.
To put it simply, masonry heaters work like a sponge. A wood fire is burned rapidly, usually one to two hours. Heat from the fire is captured within bricks, stone, or tile and "soaked in." Once these materials have been warmed, they will continue to radiate heat for many hours. In an enclosed space like a living room, the radiant heat from a masonry furnace can be used to keep interior temperatures high, even in the dead of winter.
Masonry heaters are designed to be easy to both use and clean. Typically, a masonry furnace can be loaded with firewood and burned safely with the smoke escaping through a chimney. When in use, there are a few basic mechanical features that allow for people to safely operate the system, maximizing the amount of heat without comprising safety.
Upkeep is extremely important when considering the lifetime of a masonry heater. In addition to continuously unloading of the burnt ashes, the interior of a chimney should be accessible so that it can be properly cleaned regularly.
Even in the oldest conditions, well constructed masonry heaters typically only need to be fed twice per day at an absolute maximum. The heat-harvesting properties in masonry materials allow for radiant heat to last for up to 24 hours after the fire has been set. Because of the open flame, masonry heaters should only be used when people are present to monitor the potentially dangerous system.
Because the fire burns hot and rapidly, it burns clean and there is no creosote buildup in the stove or chimney. The radiant heat is steady and cozy, and does not dry the skin or sinuses like traditional wood stoves. This is also a very safe way to heat with wood, as the fire can be timed to be out before you go to bed or leave the house.
Masonry Heaters Designs & Plans
Okay, its time to get into the nitty-gritty. Now that it is apparent that masonry heaters are great for generating radiant heat, let's discuss how they are able to accomplish this.
The Basic Anatomy of a Masonry Heater
Depending on budget and resources, masonry heaters can be both relatively simple or extremely elaborate. In order to best understand the anatomy of a masonry heater, take a look at this diagram from North Line Express. Below, this image provides a great look at a cross section of a typical masonry furnace.
As you can see, there are many smaller parts that make up a whole masonry oven heating system. Although different designs and adaptations may be different, the diagram above is one of the most detailed looks at a standard masonry heater.
Below, we will go over each of these components in a bit more detail.
Mortar Crown (also known as Fireplace Crown, Chimney Crown, or Chimney Wash) – The mortar crown is at the very top of the masonry heater. Its job is to cover the flue and chimney from outside elements. It is typically built as a downward slope, so that rain water is diverted away from the flue.
Flue & Flue Lining- (also known as flue tile or ceramic flue) The flue of a masonry heater is just like that of an ordinary fireplace. It is built to allow smoke to travel to the outdoors. Flues are typically vertical openings built in to the chimney, or else a specifically installed duct or pipe.
Smoke Chamber – The smoke chamber is one of the most important parts of how a masonry heater works. Here, the smoke is transitioned from the fire burning below up to the flue above. Even though a properly built, properly used masonry furnace should burn very clean, it's still possible for the smoke chamber to accumulate highly combustible creosote and soot, so it should be cleaned regularly. The smoke chamber is roughly the shape of an upside-down funnel. This allows the smoke to make its way up the angled walls through a process known as "corbelling."
Smoke Shelf – In order to prevent smoke drafting downwards back into the room, the smoke shelf is built horizontally below the smoke chamber. This shelf is also used to catch any rainwater or debris that may sneak into the chimney from above. Many people believe that the smoke shelf is the most important part of a safe fireplace, with some first-time builders making a grave mistake with its omission.
Lintel – The lintel is an essential part of a modern fire place that extends down past the smoke shelf and into opening of the firebox. As you can see from the diagram above, the lintel hangs down to the left of the "modern" fireplace. Here, the air is able to circulate and continue to warm. Typically, the lintel is made of a tough, non-combustible material such as steel.
Damper – A damper is a mechanical device that is used to regulate the draw of airflow between the firebox and the chimney. Here, a damper is opened to allow smoke to pass through. Masonry stoves are designed so that they can be used with the damper remaining wide open. Once the fire has burned out, the damper is shut to retain a room's heat from escaping.
Throat – The throat is the narrow tunnel which allows smoke to pass through the damper and up into the chimney. Below, is a diagram from The Chimney Guys that offers a bit more of a detailed look into this critical, and somewhat complex portion of a masonry heater.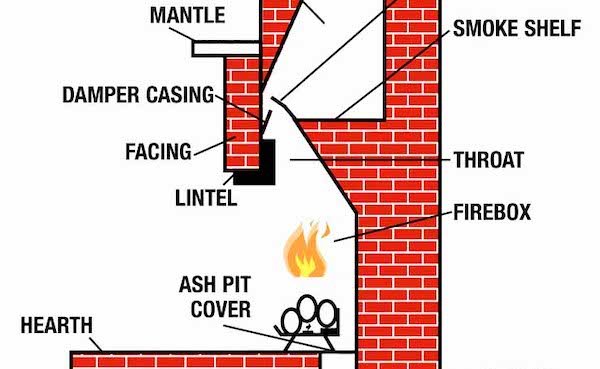 Firebox – Here's where all of the action happens! Masonry heaters work by burning fuel within the firebox. The firebox area is typically large enough to accommodate a large fire. Occasionally, users place racks within the firebox to quickly light the firewood from below.
Hearth – The hearth is the area in front of the firebox. It is also made of masonry. Hearths are known as the "foot of the fireplace," as they extend from the base of the firebox out into the living area. Here, many people take the opportunity to add artistic, homely touches in the arrangement of the hearth's tiles, stones, or bricks.
Door – Although it is not pictured in most cross section diagrams, the door on a masonry heater's firebox is a necessary part in creating the best overall heating system. Like in the photo below from Solid Rock Masonry, a sturdy door made out of non-combustible materials will help keep smoke out and heat trapped within your masonry.
Ash Dump – As the name suggests, the ash dump is, well, where you dump your ashes. Ash dumps are made to sit directly below the firebox area so that it is very easy for the ashes to fall down into the designated area. These containers need to be regularly cleared when the debris build up has reached its limit.
Clean Out Drawer – Although the first diagram missed this, the clean out drawer is an essential part of any masonry heater with an ash dump and raised firebox area. If you are depositing ashes regularly into an enclosed area, you will thank yourself later if that area is easy to access and clean. The image above features a optional clean out drawer that is located outside of the home.
Foundation (also known as the footing) – Of course, a heavy, brick oven will need to be built on a solid foundation. In order to meet modern building codes, foundations may be required to be properly reinforced and built to a specified minimum depth and width.
Additional Masonry Heater Designs & Plans
In addition to the component breakdown diagrams above, here are some more helpful visual resources to explore more complicated designs for masonry heaters.
More Thermal Mass for Increased Energy Efficiency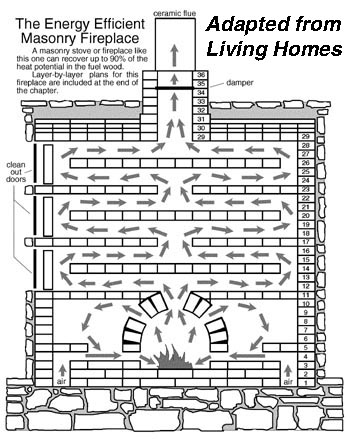 In the diagram from dirtcheapbuilder.com above, this masonry heater is designed to work by adding thermal mass to the equation (in this case, more bricks!). Layers and layers of bricks are heated from a single fire source. Here, the damper is placed high, and above a network of bricks that allow the heat from the fire to cover more surface area. It is also important to notice the clean out doors, which allow for easy access to cleaning up any built-up soot.
Masonry Heater With a Cookstove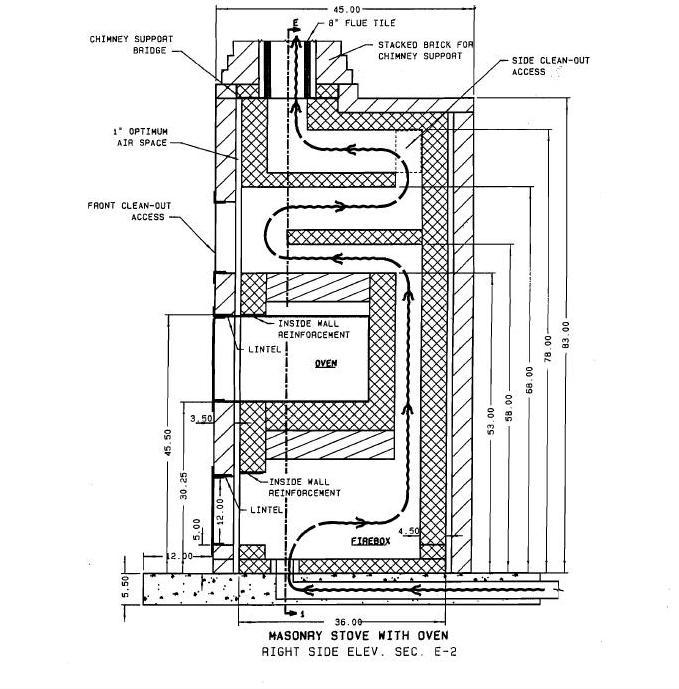 Above, here is a diagram for a masonry stove that also has the smoke and heat travel through a maze-like interior chimney. In addition to the exact measurements, you may also notice that this masonry stove design from the Green Living Library, also has an oven built right in. Because the masonry becomes very hot, this oven can be used to cook food or boil water with radiant heat. The oven has its own lintel and would also require a door for optimal results.
Masonry Heaters for Floor Heat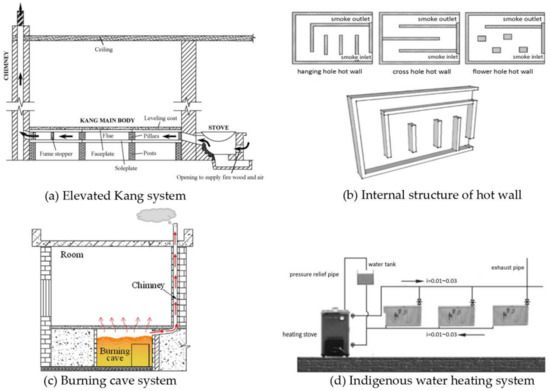 To make things even more complicated, above are some diagrams from MDPI that illustrate how a masonry heat system can be used to heat floors. In the images (a) and (c) above, the "stove" and "burning cave" areas on the diagrams are where the firewood is burned. From there, the heat is captured by the masonry in the floor as the smoke travels over and upwards. In this sense, these masonry heater systems work horizontally before the hot air travels to the vertical chimney column.
DIY Guide for Masonry Heaters
Continuing a tradition that will likely span most of human history, many people are electing to building their own masonry heaters at home. The truth is DIY masonry heaters are easy to build, extremely economical, and leave plenty of room for adding personal touches.
In terms of the overall cost, masonry heaters are one of cheapest and easiest ways to heat your home for an extended period of time. To help you get started, here are some helpful things to know when building your own masonry heater.
How to Build Your Own Masonry Heater
Although every project is going to be different, here are some steps you can take to build your own masonry heater.
Learn Everything you Can – Before starting your project, give yourself a fair background education. Consider whether or not a masonry heater is right for your home by taking into consideration the availability of firewood versus other alternatives. In addition to reading this helpful guide, it is always a good idea to watch explainer videos for DIY tutorials or even visit a fully-functioning masonry heater in person.
Find the Best Location – First thing fist, you will want to consider where you are going to build your masonry heater. For best results, a masonry furnace should be built in a centralized room on the ground floor of the home. These things are heavy, so make sure that area is properly suited to support a massive installation. Masonry heaters should also not be built into an exterior wall, as that would allow for heat to escape outside.
Choose Your Materials – Although masonry to most people simply means "bricks" masonry heaters can also be built with stones, stucco and other materials. If tiles are easy to come by, adding them to the outside of a masonry furnace is a very popular choice for both aesthetic and long-term heating solutions. In addition to the main material, you will also need to purchase additional components. This includes the lintel, damper, and door. Even if you are building the entire system yourself, most people tend to source the metal components from a third party.
Build from the Ground Up – Once you've got your materials, then its time to get building! First, you will want to start with the firebox. Here, you will need to lay the base and walls of your firebox very tightly, sealing any potential holes with mortar. From the base of the firebox, you will need to add an ash catch for raised fireplaces. This can be built as a trap door, with emptying access from the side or back.
Design Your Chimney – From the examples above, it is clear that a masonry furnaces can take on many shapes and sizes. If you have enough materials and space, then you may want to consider adding several different "layers" to your chimney. This means that you can arrange chimney bricks in such a way that the smoke and heat has to pass through a maze-like structure, heating more and more materials along the way. Keep in mind that the less direct the smoke path is to the outdoors, the more complications that can occur with getting a good "draft", which is ultimately what helps your fire to burn (and what takes the smoke away).
Add the Extra Components – Once your heater has taken its shape, it is time to install all of the necessary extra components in order to maximize the functionality of your system. This includes installing the doors, ash catcher, lintel, and any customized components you may have chosen.
Safely Operate Your Device – Although this is not technically part of the building process, safe operation of you masonry furnace is the most crucial step of any devices's life. Light your fire safely in the firebox by burning only dry wood. Once the wood has nearly all burned, continuously poke the embers so that any remaining parts of the wood are burned to a crisp. Then, you can close the damper in order to retain the heat indoors.
DIY Tips for Masonry Heaters
Perhaps the most important tip to keep in mind when building your very own masonry heater is that you are only limited by your own creative potential. As this will be a functional piece of furniture, you have the opportunity to expand and utilize the heat from your furnace.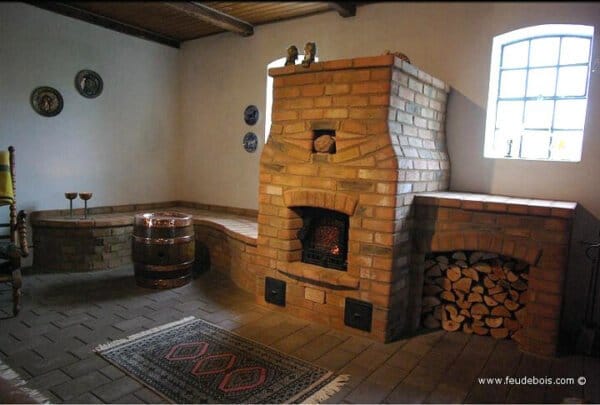 In the image above, you can see that the builder has installed a brick bench on the side of the fireplace (similar to what you might see in a rocket stove). By doing so, the heat from the fireplace will absorb within the bricks, creating a cozy and warm sitting area to enjoy by the fire.
Not only are these heated seats a cool function normally reserved for luxury vehicles, but the brickwork just looks sweet!
Speaking of functionality, the image above (via Insteading) showcases a few more great things that a masonry stove is capable of inside of a home. Here, the brickwork provides a clear divide between the kitchen and the next room, while bringing the fireplace to a central, focal point. Additionally, there are several fully functional, sturdy shelves built right into the brickwork. Here, you could warm your hot cocoa or just show off some cool decor.
Of course, great design is achieved when functionally meets aesthetics. If you are planning on continuously loading your masonry heater with firewood, then you will need somewhere to place it. In the image above, you can see how a creative solution was drawn up when considering firewood storage.
Things To Keep In Mind
Wherever you are in the world, the building codes and regulations are going to be different. With that said, most residential areas have some sort of code that must be taken into consideration when installing a masonry heater. Although they may seem tedious, codes are in place so that you can safely heat a residence with an open flame. At a practical level, not building codes can become a nightmare if/when you ever try to sell your home.
Mostly, measures must be taken to assure your masonry heater is not at risk at causing a fire or collapsing the floor. For these reasons, brick furnaces are usually required to be built a defined distance away from any combustible materials. Additionally, added reinforcement may be necessary in securing the heavy weight of even the smallest masonry heater.
Lastly, before starting your DIY masonry heater project, you may want to take a step back to consider whether or not you are qualified to do so. Although laying bricks may not seem overly complicated, the truth is that masonry furnaces can be potentially dangerous if not build correctly.
As they are an integral part of a home, you will also want to be sure that a masonry furnace is attractive and sturdy. For these reasons, you may want to consider hiring a professional contractor with specialized experience before building the system yourself.