Everyone – 
I am very excited!  Starting today a six part series is being published written by Bev Sandlin (SeasonedCitizenPrepper.com's Executive Editor). This series highlights an incredible multi-family off-grid homestead. Since I have had the opportunity to preview all six parts I will tell you that we can all benefit. From a preppers point-of-view, being frugal and as self-reliant as possible is just smart and represents a common sense approach to preparedness.
I implore all of you to comment and share your thoughts. Whatever awaits us in the future – let's work together now to benefit all of us in the future.
 – Rourke
**********************************************************************
"A farmer travelling with his load Picked up a horseshoe on the road, And nailed if fast to his barn door, That luck might down upon him pour; That every blessing known in life Might crown his homestead and his wife, And never any kind of harm Descend upon his growing farm."
The Start of an Adventure: Off-Grid!
By Bev Sandlin
I recently visited a land cooperative of 4 families owning 60 acres in a northern state—opsec. These families came together with a common dream of owning land in the country over 15 years ago, but that is where most of the commonality ended.  Each family has a home site, but also cooperatively makes decisions about land use.
One couple started building their home themselves in 1995. It is completely off grid, not even having solar energy by choice!
The thing that I find so unique about this off-grid home, and the family that owns it, is the total absence of electricity. Most off-grid homes have an alternative source of energy that provides electricity—solar, wind, hydro…
What does no electricity mean? No cell phone, no radio unless battery powered, no TV, no lights, no running water… So many of the things that we are prepping to maintain, this family has chosen to either do without or found a non-electric alternative.
The pay-off to this homeowner built homestead? The only bill they have is ¼ of the property taxes on 60 acres of land!  Think about it, what would you be willing to give up for the freedom of having only one bill a year?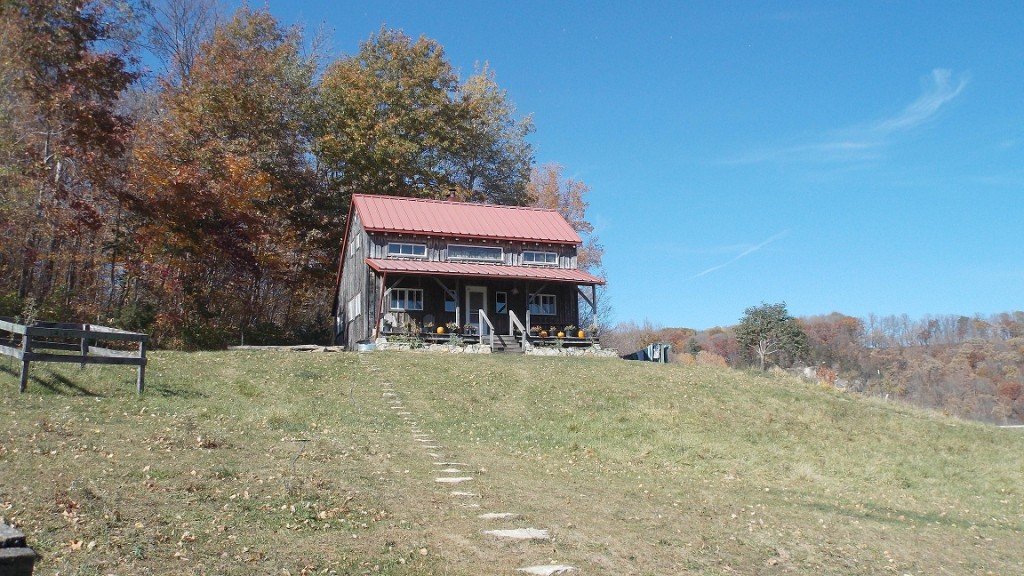 Totally Off-Grid Home
One family started a few years later and have a full solar array next to their home.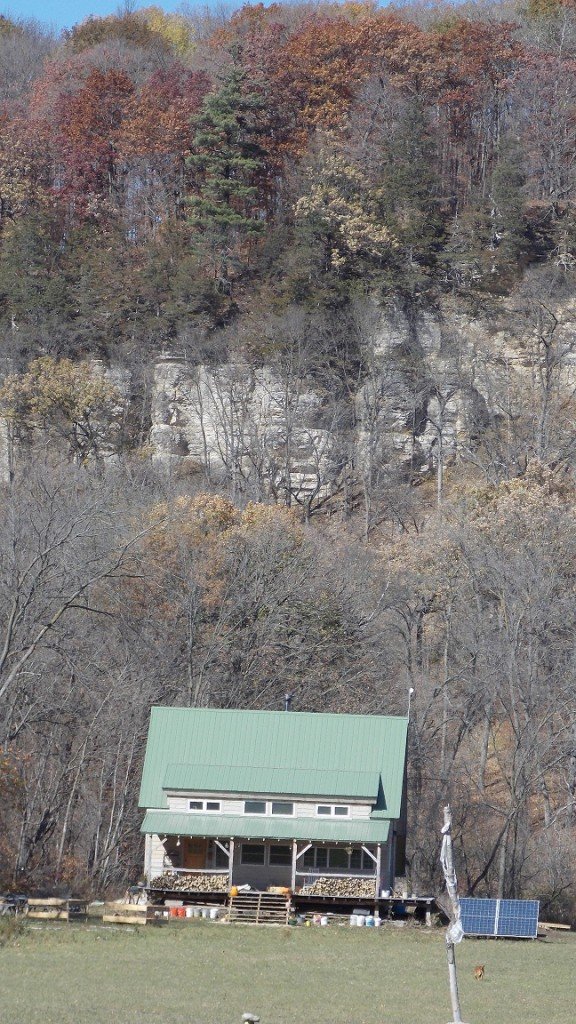 Off-Grid Solar Assist
Two of the families visit on weekends and help when they can on communal buildings. Someday they may decide to build, but not in the near future.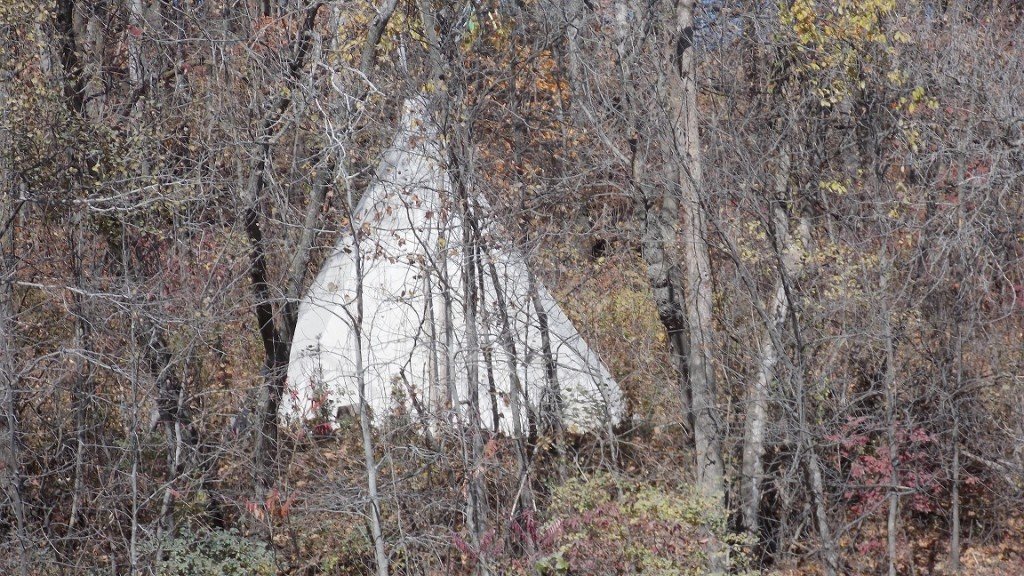 Teepee
Families, visitors, and interns often share the communal house on the property.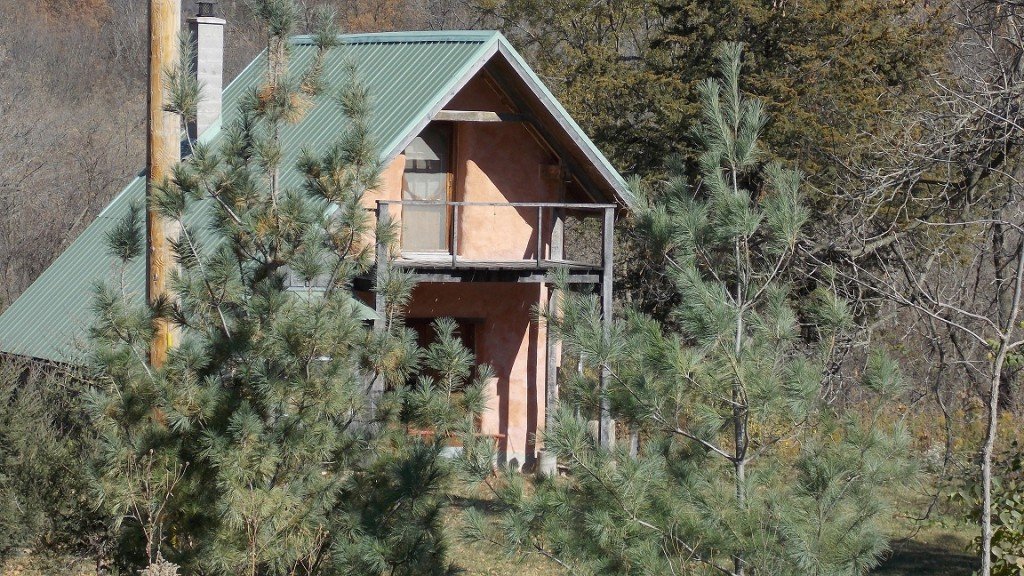 Communal Building
The aspect of a land cooperative tickled my brain. I did a google search for land cooperative and came up with a very interesting article on:
The Miccosukee Land Cooperative (MLC) is an intentional community on 344 acres in Northwest Florida, United States. It was formed in May 1973 by the Small Change Foundation…. The first members moved to the land in June 1974. The community consists of about 100 households and is governed by a "town council" consisting of representatives from "neighborhoods" within the community. Co-op members privately own their own homesteads, which range in size from 1 acre to several acres each. Over 90 acres are maintained as a nature preserve—the Common Land owned collectively and enjoyed by the entire membership. Both private and shared land is heavily restricted to maintain its natural state.
MLC members are drawn together by a desire to live in a "community of friends in the country" where the land and environment are respected and interaction between neighbors is a sought-after experience. After nearly four decades members have come to share a sense of the meaning and practicing of community. All activities (other than paying assessments for necessities such as taxes and insurance) are voluntary, allowing each person to choose the level of sharing and socializing preferred.
Although formed in a time of recession, very tight financing, and failing land developments, and in the midst of a "hundred-year flood" rain that soaked the land (but revealed where it was safe to build), and despite the fact that the land was not yet planned, restrictions on the resale of MLC property effectively prevented speculation and the expectation of profit on resale, and the publicity budget totaled $50.00, the community was fully subscribed within six weeks of its being offered to the public and fully financed shortly thereafter. Each prospective member was required to attend an evening presentation at which the intentional and conservation aspects of the community concept were emphasized. The land was priced initially at about $2,500 per acre on terms of $200 and $35 per month per acre, with a third of the proceeds set aside for community development purposes. Because the available residential acreage was sold prior to its being subdivided, the planning process was based on the preferences of members for the kinds of land and areas of the community they preferred, with any conflicts being decided on the basis of who joined earliest—although in practice a spirit of compromise prevailed. (Several lots were planned around particular live oak trees, one of which became a tree house residence for its owner, and one lot is a perfect circle.) Roads were planned around those choices… For more information:
http://en.wikipedia.org/wiki/Miccosukee_Land_Co-op
From this article, I proceeded to "an intentional community":
An intentional community is a planned residential community designed to have a much higher degree of teamwork than other communities. The members of an intentional community typically hold a common social, political, religious, or spiritual vision and often follow an alternative lifestyle. They typically share responsibilities and resources. Intentional communities include collective households, cohousing communities, ecovillages, communes, survivalist retreats, kibbutzim, ashrams, and housing cooperatives. For more information on this:
http://en.wikipedia.org/wiki/Intentional_community
From there I selected the "survivalist retreats":
A retreat is a place of refuge for those in the survivalist subculture or movement. Retreats are also sometimes called Bug-Out Locations (BOLs). Survivalist retreats are intended to be self-sufficient, easily defended, and are generally located in lightly populated rural areas.
I found this article fascinating because my ex-father-in-law actually established a survivalist retreat in the '60s in the panhandle of Idaho. Having lived the movement, I can say that the wikipedia entry is fairly accurate. If you aren't familiar with the history of the survivalist movement (the homesteading movement is much older) you will find it interesting. For more information:
http://en.wikipedia.org/wiki/Retreat_(survivalism)
This is the first of a six part series, I am going to take you on a tour of the off-grid home without solar assist and a walk around the farm.
My hope is that you will enjoy the experience as much as I did and perhaps learn, or remember, a bit of an older/newer lifestyle.
*****
A smile for you…
DOCTOR TO TECH SAVY PATIENT
"Ever notice the older we get, the more we're like computers?
We start out with lots of memory and drive,
then we become outdated and eventually
have to get our parts replaced."