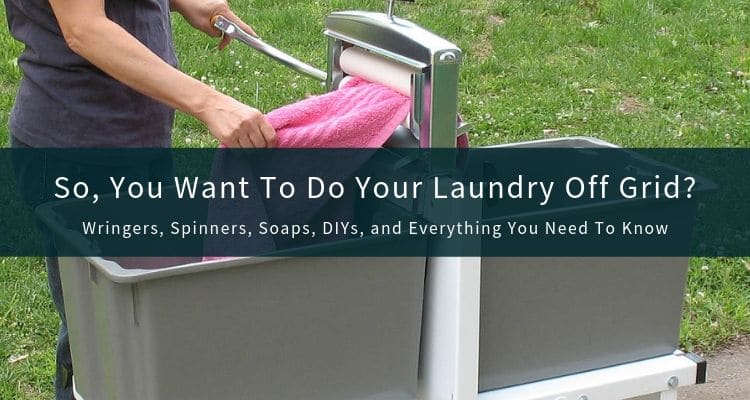 Off grid laundry has come up a number of times as a self-sufficiency topic. It makes sense for a couple reasons. First of all, because many people in our crowd are wanting to be self-sufficient of the electrical and water grids, and need find another way of washing clothes. Secondly, because we are also usually looking for ways to save money.
If you fall into either or both of these categories, read on…
First, Know This: Old School Washing Machines Are NOT For The Faint of Heart! (I literally got my tit in the wringer!!)
It was only about 20 years ago when I finally upgraded enough to quit using my old wringer washer. In the winter time, we hung the clothes out to "freeze dry" on the line, bringing them in and standing them up against the walls to eventually "dry" out enough to be useable again.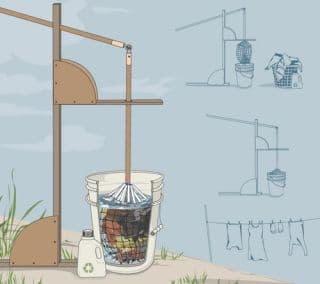 When my daughter was little and helping me, she ran her fingers through the wringer more than once. And never wear a ruffled blouse while doing laundry… I literally got "my tit in a wringer." Not fun!
Those are not fond memories of a simpler time, as washing like this makes the hands and fingers raw. However, if you can learn a handful of do's and don'ts, and deal with some inconveniences, there are lots of ways that you can do your laundry "off the grid." For folks living independent of the grid (or at least on a minimized grid) these are a great option for using less electricity and water.
Ready To Give It A Try? Keep These Things in Mind:
First of all, remember that if you live in a true "4 seasons" climate, winter is a nasty time to to air dry your clothes. With freezing temps and very little sun, it's easy for clothes to turn to ice on the line.
Remember that buttons and zippers will have a hard time passing through a wringer, and can actually be broken by it. In order to avoid this, just zip tie a thin sponge around either end – enough give to not break anything, but still get the water out. A manual clothes wringer and a few other types of off grid washing machines allow you to control how fast the clothes go through, so you can keep a closer eye and more careful touch on "problem clothing."
Watch fingers, hair, clothing… and…. other body parts near the wringer!
Not Sure What Kind of Washing Setup? Check Out These Off Grid Washing Machines, Spinners, Wringers, and Even a Couple Dryers
Use this puppy when you are washing your clothes in a 5 gallon bucket. It is simple, agitates well, and has very few parts that can break.
This hand-crank, manual washing machine is simple and no fuss. Load it up and get crankin'.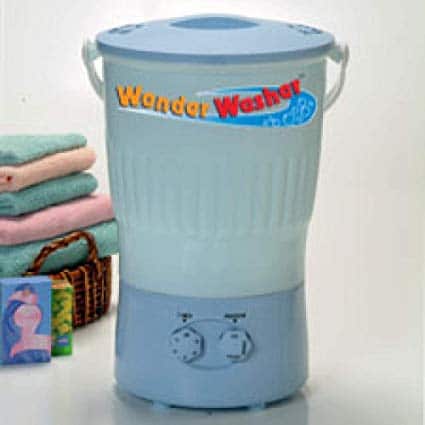 Sounds deceptively close to the Wonder Wash, but this unit is electronic, and an altogether different beast.
Holds about 6 liters of water and is easy to use washing, spinning, and draining.
This puppy has a 12-pound capacity, and can get clothes 90% dry in just 3 minutes.
FAQ on Washers, Wringers, and Spinners
So, what is a "wringer" or a "spinner?" Or are they the same thing as a manual washer? All good questions.
Wringing and spinning are both ways to get the water out of your clothes when you are done washing them. You can find wringers and spinners that are electrically powered or manual, although if you're reading this post, I assume you're probably thinking about going off grid (or at least "grid minimal").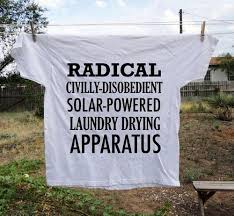 Wringing your clothes sends them through 2 rollers that tightly squeeze almost all the water out. On the other hand, spinners use centrifugal force to pull water out of clothes as they are quickly spun around. Exact same concept as a washing machine that spins around at the end of the cycle.
Depending on how elaborate of an off grid laundry system you have, a wringer or spinner might be attached somehow or part of your washing machine, or if you're washing your clothes in a bucket, it might be the only contraption you actually have.
On the whole, spinners are usually a better option. They are faster and less effort, and they tend to squeeze more water out of your clothes. Instead of having to crank your clothes through, 1 by 1, you can do a bunch at one time, and then hang them up to dry.
Off Grid Laundry Soap for the Homesteader
If you are planning to use some kind of manual washing machine off the grid, it's a good idea to check out some alternative laundry detergents as well.
Why?
Because if you're off the grid, it's likely that your wastewater is being handled by a septic system. And if you use powdered detergents (or excessive amounts of liquid detergent), it's possible to clog your system, slow the processing speed, or in severe cases, block up a drain.
Additionally, many of these detergents can be serious contaminants of the ground or surface water supplies. For all these reasons and more, it's a good idea to check out some different detergent options.
The internet is flooded with lots of DIY detergent recipes that aim to process more quickly through septic systems, cut costs, extend the life of your clothes, or be eco friendly.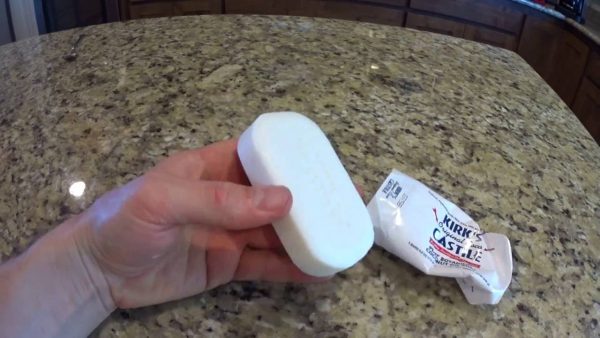 Here is a recipe that I have used:
First, get 6 bars of Kirk's Castile Soap – take out of package, allow to air dry at least 2 weeks before making detergent to "harden off" – 3 or 4 weeks is better; BTW, "harden off" all bar soap to make it last longer.
Now you will need to grate the soap; I just use an old steel hand grater, moving the soap up and down; if it's hardened off, it's much easier to grate and not nearly as messy.
Combine:
One four pound twelve ounce box of Borax
Six (6) flaked bars of Kirk's Castile soap
One four pound box of Arm & Hammer baking soda
One box of Arm & Hammer super washing soda
Bucket of Oxy Clean – this is optional, but I personally do like to add it. Omitting it will reduce cost, however. I use the "Sun" brand, which works just fine and is much cheaper than OC.
Optional: a few drops of your favorite essential oil (and I DO mean a few!) – I prefer Lemongrass Essential Oil. THIS IS OPTIONAL; feel free to omit; if for baby, omit essential oil. Your detergent and laundry will smell fresh and clean without added scent, chemical free!
Mix all together; use only about 1/4 cup per FULL load; good for sensitive skin and high efficiency washers (no, it won't "suds" all that much; yes, it will get your clothes clean!).
My first batch of this, in 2012, worked out to 18 cents per load! Yields about 18 lbs. of laundry detergent (and you can really use it clean lots of things!).
BTW, Kirk's Castile Soap has been around for a very long time, and is still as gentle and effective for bathing and showering as anything! And it's "cheap".  I love the stuff.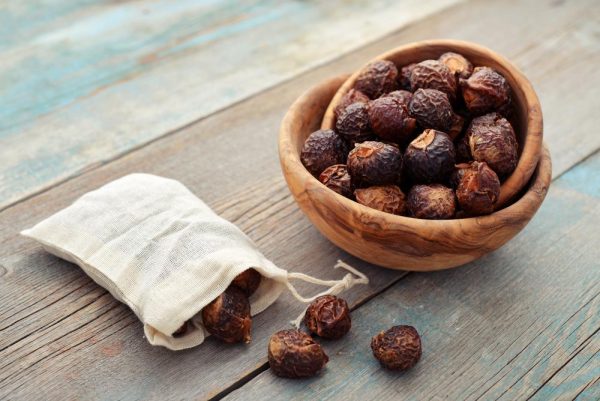 Yes, Soap Nuts Are Real, Actual Nuts That Grow on Trees
If you want an even more natural soap option, "soap nuts" might be just the thing for you.
When I first heard about them, I swore I was being lied to. But no, soap nuts are in fact, a real thing. More accurately berries, they grow on the Soap Berry tree in the Himalaya mountains.
Whereas regular detergents contain chemical surfactants, soap nuts contain a naturally occurring surfactant, called "Saponin." While soap nuts won't "foam" and "froth" up like other soap, the Saponin effectively removes dirt from clothing, without all the harmful chemicals. Use 3-4 nuts, to wash 3-4 full loads of laundry.
In addition to being natural, some people have said that soap nuts leave your clothes fluffier, and don't break down the fibers of your clothing as much as other chemical surfactants.
All in all, a pretty cool option. See full details or pick up a small bag of your own here. Or if you're really serious, you might just see if you can grow your own soap nut tree!
DIY Washing Setups
The Windmill
I live on the edge of the prairie and we have several great wind farms within 10 miles of here. I've had a hankering to try building this wind driven washing machine for a while just as an experiment to see if I have enough wind to make this work as this property is nestled in a valley with an old RR truss blocking the west wind and that is what got me back on the subject of laundry.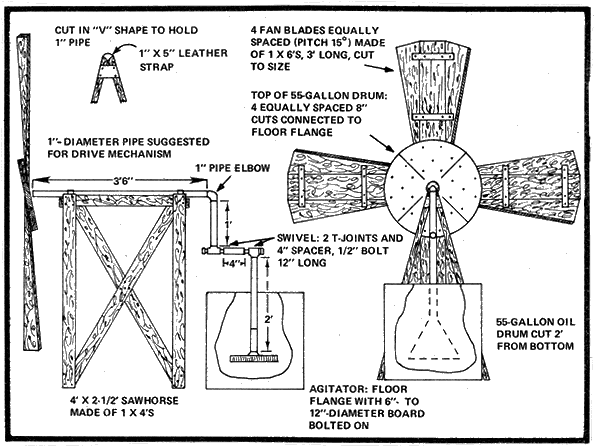 3-Bucket Setup for Rinsing and Wringing
I stumbled across this wonderful series of 3 posts on laundry off grid that have some unique ideas that I thought you may find valuable.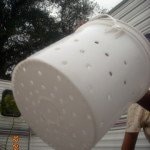 She is working with a standard plunger type manual washer in a bucket, but her rinse setup is what impressed me! Three 5 or 6 gallon buckets, bottom one holds the grey water for reuse, middle one is full of holes to press the water out of the clothes, top one has a lid and you just sit on it to rinse the water out of the clothes. Very simple, low cost, and ingenious!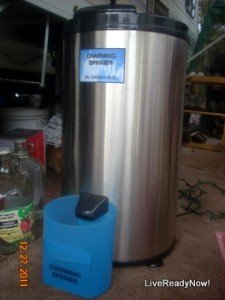 And what about getting the clothes even drier? The Charming Spinner! Amish built, or at least sold, works with an off-grid battery type setup and regular electric, and Lordy, I want one!
There is no such thing as an energy efficient dryer. Although the ones that have a solid top with the lint removal in front toward the bottom are about 20% more efficient. The thing is that the clothes come out of the washing machine wet, even if you spin them twice. She swears that this little spinner can save 1/2 the time in drying clothes – and yes, you have the grey water to reuse.
So I called the Amish owned store in Charm, OH at (330)893-3033 and chatted with them – about $240 and he wasn't sure of the shipping. The gal asked that you mention her website when calling, not that she gets a kickback, it is just good will, I did:  LiveReadyNow.com  She said, "They are great at answering questions and giving tips about using it as well.  We've used ours for four months now, five days a week, and we are happy!  No more sore fingers from wringing out by hand."
I save an easy $75 a year hanging my clothes out during the summer. However, the winter is dryer time. I'm thinking the Charming Spinner would pay for itself in about 2 years and be there in a preparedness situation. Please let me know if you have any experience with this little machine as I had not heard of it before.
The Industrial Mop Bucket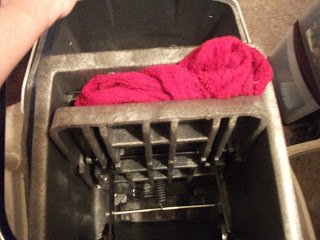 Then I ran across this really neat manual washing machine with an agitating basket. And then I ran across this article by a gal who is using a simple janitor's bucket to rinse and wring out her clothes – accessible, simple and effective.
And then all of the bad memories flooded back in with this gal's article on winter manual laundry. And then manual drying tips for winter drying here.
Plus I ran across some very intriguing pictures of different setups for manual drying in the house. Manual drying in winter in the house adds needed moisture to the air, especially if you heat with wood. Food for thought as winter is just around the corner.
Post written by Beverly Sandlin