The Peppers Proverb: Store What You Eat; Eat What You Store
Do you have favorite frugal recipes or tips you would like to share? Please contact us at scprepper(at)outlook.com.
Part I.
"I hate leftovers!" growled my husband.
I, on the other hand do not mind leftovers at all! Using leftovers to create delicious entrees or side dishes is a challenge worth taking. By being frugal with your food budget, you can put back more in your stores for that rainy day you are preparing for. But, how do you please the man of the house while still being frugal?
Below is part one of a four part series of recipes using chicken. The first roasts a whole chicken and relies on already cooked meat to be combined with the other recipes (which saves on cooking fuel and time), and don't forget to save your drippings for recipe four.
OR, if you have a fussy husband, like mine, there is a link to a video on how to cut up a whole chicken. You can roast half a chicken or just the breasts. Freeze the rest and serve it in pieces with the following recipes over the next month—Wall La, no leftovers, but most of the savings!
All recipes are base recipes. Add or delete ingredients according to taste and availability.
Recipes from: http://www.myrecipes.com/ingredients/chicken-recipes/cheap-chicken-recipes-10000001891426/
How to cut up a chicken link:
http://www.myrecipes.com/how-to/video/cutting-up-whole-chicken-10000001860637/
Roast Chicken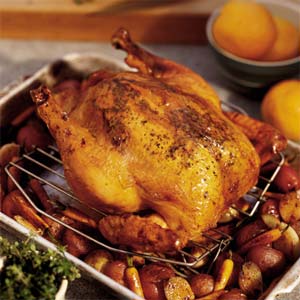 Add flavor to Roast Chicken with fresh thyme sprigs, lemon, and garlic. This is the perfect main dish for a holiday, family gathering or Sunday meal.
Recipe Time
Prep Time: 20 Minutes
Other: 1 Hour, 40 Minutes
Find local grocery deals. Edit your ZIP code and select your favorite grocery stores to see what ingredients are on sale right now.
1 3- to 4-pound chicken

Olive oil

1/2 teaspoon  salt

Pepper

Optional:

1 bunch fresh thyme sprigs

1 lemons, cut into 1-inch chunks

1 head of garlic, separated into cloves

1/2 cup white wine or dry vermouth
Preparation
Rinse the chickens and pat dry. Heat oven to 375° F.

Place the lemon and garlic in the chickens' cavities. Tie the legs together. Rub the bird with some oil, then sprinkle with the salt and lots of pepper. Tuck some thyme sprigs between the breasts and the thighs and wings. Put the remaining sprigs in the roasting pan and place the chicken on top. Roast for 1 1/2 hours or until an instant-read thermometer inserted in the thickest part of a thigh reads 180° F. Remove the chicken  to a platter. Pour any juices that accumulate back into the pan. Discard the thyme. Place the pan over medium heat, add the wine, and bring to a boil, scraping up any brown bits from the bottom.

Pour the pan juices into a cup and place in the freezer for about 10 minutes to hasten the separation of the fat. Discard the fat (Never! That is the tasty part! Use to make gravy or keep for soup stock.) and heat the remaining juices in a saucepan or in the microwave. Serve with the chicken. Wrap and refrigerate the other chicken for another meal.