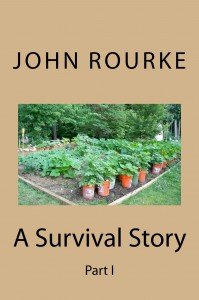 What follows is just one part of an ongoing survival fiction series written by John Rourke and has been published on Amazon. It is being made available here for free. A new entry is published every day. The story is written in a daily journal format.
August 15th   What if we need to bug out?
Things are going decent in the neighborhood. We have contacts a couple miles away (Walnut Street) as well as Ben down in Chester. M asked me today – What if a large gang comes and overwhelms us?
Good question.
We talked a bit and decided we needed to be prepared in case the need to leave in a hurry arises. In the Jeep I have some supplies – the same supplies I had when M and I left Athens after The Event. There is a BOB (bug out bag), spare fuel, water, maps, some tools, extra serpentine belt, small air compressor, and a few more things. Really need to have more supplies ready if we are to leave and not come back.
Worked on it some today and hopefully will finish by this weekend. I pulled the small flat trailer out from behind the shed in the backyard. Inflated the tires and cleaned it off and moved it in the garage. Basically I am setting up the trailer to be able to hook it up to the Jeep and head out – pronto! The trailer will hold the supplies we will take to our destination. Where will that be? Man, I really should have planned all this out – even before The Event happened.
Today I brought in quite a bit of deck wood that I had stored behind the shed and will use it to build up some walls on the trailer as well as provide divided areas on the trailer to store stuff. I have several totes already being used to store things. The totes can be attached to the trailer as well.
Brainstorming here  – will need to consider:
shelter

food

water

medical

defense

clothing

cooking

sanitation

information

light

power

fire starting

general supplies
Not sure how complete I can cover all those categories on one trailer and inside my Jeep. Prioritizing will be necessary. 
 – Jed