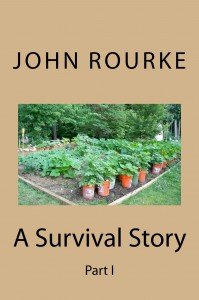 What follows is just one part of an ongoing survival fiction series written by John Rourke and has been published on Amazon. It is being made available here for free. A new entry is published every day. The story is written in a daily journal format.
July 15th   Trip to Ben's…….
Rained today – which was great. My rain barrels filled back up and many in the neighborhood were able to gather some rain via different methods. Some used kiddie pools, some used upside down umbrella's and soda bottles, buckets, etc.  This will be a big help to all those that have just started their gardens. Rainwater seems to just do the trick for a struggling garden.
I took M over to Ben's today. Great trip for the community. We drove the Jeep over and it was mostly uneventful. As usual back roads were driven and I did not see very many people. We did see a few houses that were burnt down and also lots of evidence of vandalism – cars with broken windows and graffiti on buildings.  Some of the graffiti consisted of racial words sprayed on the sides of a couple houses. Pathetic.
When we arrived to Ben's his front gate and property had signs that read "IF YOU CAN READ THIS SIGN YOU ARE ALREADY IN RANGE!" I wondered if I should even attempt to contact him. The front gate was locked so I walked up his driveway while M waited in the Jeep ready to drive off if things went bad. I left my AR in the Jeep with M and walked with my Smith & Wesson M&P 9mm on my hip. Ben came out of his single floor cabin-looking house and met me with a handshake.
We were very glad to see each other and he said he had been wondering how I was doing. I filled him in on the community and the challenges we had moving forward (food, water, security). He filled me in on what has been going on around his property:
His son Jeff and family had made their way to Ben's place. Jeff is an excellent metal fabricator and welder.
Ben's nephew Jeremiah also made it to Ben's place. Jeremiah spent 6 years in the military including 2 tours in Iraq.
Ben's best friend – Matt, and family also took residence on Ben's farm. Ben and Matt grew up together.
Ben told me that they have had some violent encounters since The Event. On two occasions people have tried to sneak in and steal food out of the gardens or steal eggs from the chicken coupes. The first encounter resulted in the person getting run off – scared. The second did not go so well. Ben had to shoot the trespasser after the man pulled a pistol. He said he felt horrible about it but he had to do it.
We ate a good mid-afternoon meal of fresh eggs and some bread and butter. Talking about how good the fresh eggs were and how the freeze dried eggs and bacon we had been eating just wasn't a comparison – Ben made us an offer. He offered up some chickens for the community in exchange for some help building a small shelter for storing firewood. I could tell he was really just helping us out – charity.
Of course I accepted. We agreed to come the next day to help and when we were done we would bring the chickens back. When M and I got back to the neighborhood I talked to Eric about the chickens. He is going to get with the Gardening Team and build a chicken coop tomorrow.
I love eggs.
– Jed