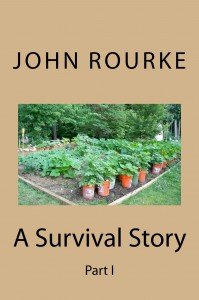 What follows is just one part of an ongoing survival fiction series written by John Rourke and has been published on Amazon. It is being made available here for free. A new entry is published every day. The story is written in a daily journal format.
August 11th   The future…..
This morning I woke up thinking about the future. What does it hold? How will this small neighborhood make it? What about Karl, his family, and the rest of Walnut Street? What about Ben? What about the children of today like Aaron and Caleb? So many questions and so few answers.
Can this country rebuild? Can it rebuild to be something even better than it was before? I guess there is not much I can do about the rest of the country but maybe right around here something can be done. It has only been a little over a month since nuclear bombs detonated in 12 cities in this country. Chemical weapons were used on other targets to create mass terror and several major electrical power stations were bombed. The community beyond this neighborhood needs to try to come together…..somehow.
I decided to go see Karl again. I talked to him about going to see Ben. We drove down to Ben's place and was welcomed by those same signs on his fence – "If you can read this you are within range!" Love that. Ben was happy to see me. Over some warm sweet tea I talked to Ben about what has been going on recently, including Karl's street. I also talked to both of them about the need for the community to start coming together and the sooner the better it will be for everyone. Ben agreed and asked how we should get started.
I told him the first involved communication. We have my place, Karl's place, and Ben's place. We need to form a communications network to share news and information. I asked Ben if it was OK if I gave Karl one of the handheld HAM radio's that he gave me. Ben said that was fine by him. I figured that the three of us would be able to communicate and that could be the start of a new communications system in the area.
Next – and probably the most important….is God. We need to create a place to worship and give thanks to God. Though services may not be held on a regular basis – it needs to be done. Karl and Ben agreed. I told them that one of my neighbors had been training to be a minister before The Event. I think his name is Joel.
We finished the meeting with a prayer, shook hands and agreed to meet up again in a week. This endeavor needed some brainstorming.
I dropped Karl off at his place and headed home. Before leaving I gave him a 100-rd. box of CCI Mini-Mag's for his Ruger 10/22 and a BX-25 25-rd. magazine. He was very thankful. When I got home M met me at the door, worried because I was gone so long. We crawled into bed and I told M my thoughts on the community – and getting started on moving forward instead of falling behind. She said she was proud of me and from what she had seen of me since the reunion….if anyone could make it happened it was me.
Wow!
 – Jed